Dakota Fanning interview: How to grow up gracefully
The teenager has avoided the excesses of other ex-child stars to become a fully fledged adult artist. Kaleem Aftab meets her
Kaleem Aftab
Saturday 05 April 2014 03:17 Comments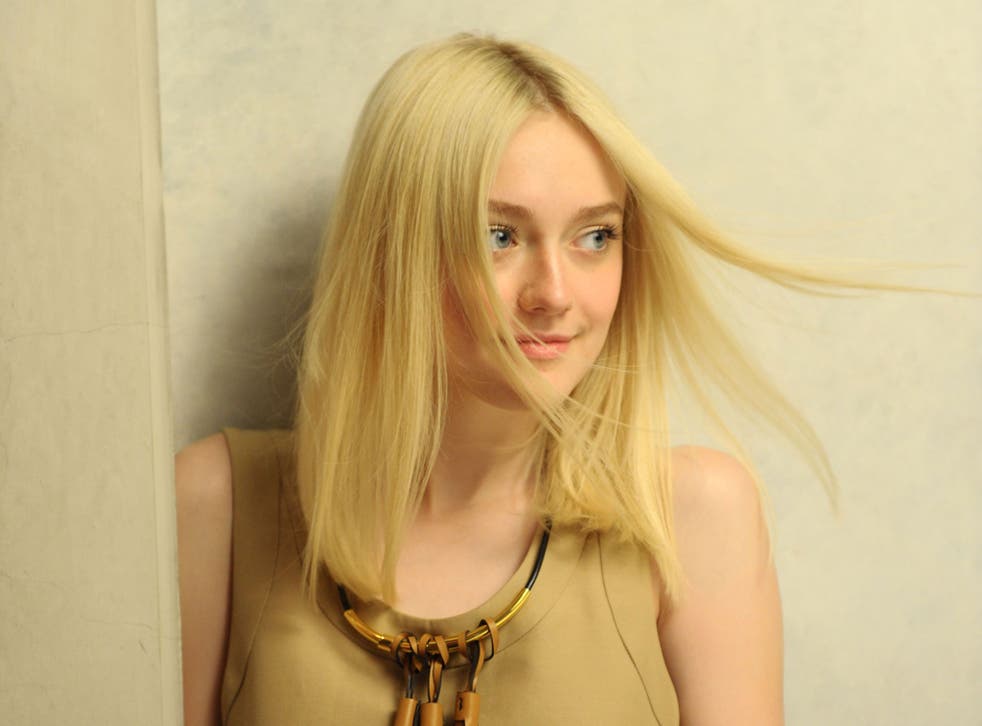 "I'm kind of a self-aware and confident person," says Dakota Fanning, in a moment of confident self-awareness. As she makes the move into adult roles, she's proof that being a successful child actress doesn't necessarily lead to rehab, jail or something worse.
In February, Fanning left her teenage years behind having successfully avoided the pitfalls of early fame endured by Drew Barrymore, Lindsay Lohan and Jodie Foster. Her career started in commercials at the tender age of five.
Two years later she made her film debut playing Sean Penn's daughter Lucy in 2001's I am Sam, and promptly became the youngest nominee for a Screen Actors Guild Award.
From that moment on the films just got bigger - Man on Fire (2004), War of the Worlds (2005), and she's just come off playing Jane in The Twilight Saga.
The biggest hiccup was probably the uproar about her appearance in Marc Jacobs's Oh, Lola! perfume campaign in 2011, where she's dressed in a thigh-length pink dress with an oversized perfume bottle placed between her legs. The Advertising Standards Authority banned the advert in the UK arguing that, although Fanning was 17, she looked under 16 and consequently the advert could be seen to "sexualise a child".
Now that she is 20 no one is complaining about her adult performances. First up is The Motel Life, an adaptation of the debut novel from musician and writer Willy Vlautin. She plays Annie James, who, forced into prostitution by her mother, breaks up with her drifter boyfriend Frank. Six years later Frank tries to rekindle the flame. Fanning says of the role, "She's a young girl who has grown up in motels with no stability. She's seen things that no young girl should see. The biggest challenge in playing Annie was aging those six years. The changes are slight but I found a way to show a progression in her maturity."
Fanning studies at New York University. Part of the downside is that she will occasionally be photographed by paparazzi, especially when she's with her boyfriend, British model Jamie Strachan. She says it's not usually a problem being the famous kid on campus. "It was actually harder when I was at high school. I went to an amazing school [Campbell Hall School in North Hollywood] that worked with me and I was able to both have an average high-school experience and work. Now I go to Gallatin in NYU and it's designed to be much more independent and classes are individually structured, so everything is tailored around the person and their individual needs."
At the moment she is studying the portrayal of women in culture and in film. "Last semester I did a study about female directors and whether the movies they make breakdown the stereotypes of women, or do they even care about that at all. The one thing I've looked at about women in film is that it's very rare to find a female character that is not in some way validated by a relationship with a man and so I'm kind of interested in that."
The recent decision by four Swedish cinemas to rate films according to the Bechdel test, that gives a pass to films in which two women talk to each other about something other than a man, brought this issue into the public consciousness. Yet Fanning admits that her film choices don't always reflect her studies. "It's weird because my studies and my work totally correspond and connect, but it's almost like I use two separate parts of my brain, and when I'm working I don't really think about it in the same way. But I think that sort of being informed by the history of women in film and studying that will only help with the choices I make, or even spark something inside me that I'm inspired to do, or find."
Access unlimited streaming of movies and TV shows with Amazon Prime Video Sign up now for a 30-day free trial
Sign up
She's in the fortunate position of being able to bring first-hand experience to her studies. Fanning stars in Kelly Reichardt's Night Moves playing environmental protestor Dena Brauer. Together with her boyfriend Josh Stamos, played by Jesse Eisenberg and former marine Harmon (Peter Sarsgaard) they plan to blow up a hydroelectric dam in Oregon, which they believe is causing environmental damage.
It was through the work of her favourite actress that Fanning became familiar with the work of Reichardt, one of the most unique voices presently working in American cinema; "I love Michelle Williams, so I initially became familiar with Kelly through watching Wendy and Lucy and Meek's Cutoff. I was taken with the pace of her films that they are slower and thoughtful and give the audience time and space to see everything."
The focus on her character, despite the central romance, is on her political beliefs rather than her love life. Brauer's middle-class family has little time for environmental activists, whom they view as terrorists. Yet the film, which has it's UK premier at the Birds Eye View Film Festival, showcasing films made by female directors, makes room for all sides of the argument.
"I like that Kelly likes things to be natural and real, being made to not look so good and not have to worry about that, that part of it is fun," argues Fanning. She also liked the way that Reichardt trusted the actors with the performance, rather than relying on strategic cuts in the edit. "We would do these long takes and sometimes messing up and having her say, 'well people stutter, it's OK, we'll leave it in, it's no big deal'. Kelly only does one take, maybe two, and that sort of immediacy of the process was exciting."
Born in Georgia, her mother, Heather Joy, played tennis professionally and her father, Steven, minor league baseball. She's also the older sister of 15-year-old Elle Fanning, who has been carving out an equally spectacular career in films such as Somewhere and Super 8.
She says of the sibling relationship, "I don't feel responsible for her in her work, but I feel protective in her personal life, just because I'm her older sister and she'll always be my younger sister. I very much think that what she does and what I do is so personal and I won't try to enforce my opinion on her. We don't talk about acting ever. Of course I feel a protectiveness of her."
The actress, who will next be seen playing Effie Gray, the wife of Victorian art critic John Ruskin, in the Emma Thompson-scripted Effie, shies away from using the term 'role model'.
"I guess inadvertently I am a role model to her. I think that role model is kind of a weird thing because obviously you are, but I try to make good choices and good decisions for myself for me to have a good life, if that inspires someone else that is great but I think you should do good for yourself and your own happiness."
'The Motel Life' comes out on 4 April. 'Night Moves' plays Birds Eye Film Festival, London ( birds-eye-view.co.uk) on 11 April and will be on general release in the summer
Register for free to continue reading
Registration is a free and easy way to support our truly independent journalism
By registering, you will also enjoy limited access to Premium articles, exclusive newsletters, commenting, and virtual events with our leading journalists
Already have an account? sign in
Join our new commenting forum
Join thought-provoking conversations, follow other Independent readers and see their replies