20 best movie dogs: From The Artist's Uggie to Widows's Olivia
Recognising canine achievement in cinema
Christopher Hooton
Tuesday 22 January 2019 12:45 Comments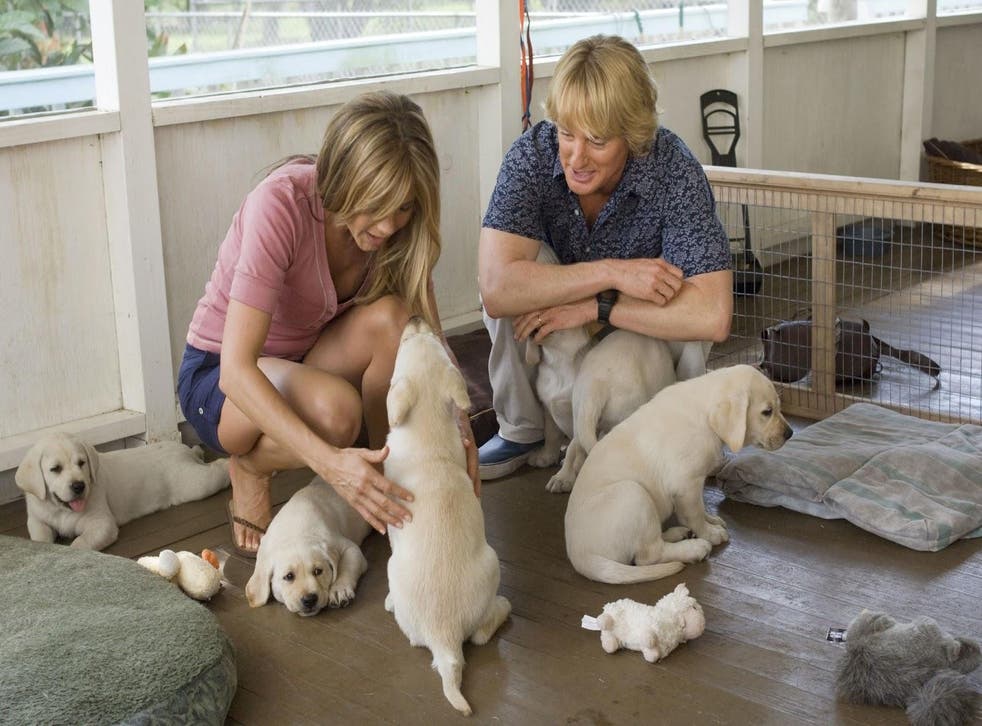 In the face of declining Oscars viewing figures, The Academy is floundering. A Best Popular Film category was posited earlier this year as a remedy, only to be embarrassingly ripped apart by filmmakers and viewers alike.
The new award that would actually boost ratings is, of course, Best Dog. The fact that Oscar winners are chosen by their peers would pose an issue with this prize, plus the ceremony's stage might have to be made more pup-accessible, but it would all be worth it, if only for the more succinct acceptance speeches.
With no official Hollywood film bodies honouring canine achievements in film right now, we thought we'd better pick up the mantle.
20. A Day with the Meatball
When you make as many films as Adam Sandler does, sooner or later you're going to be able to find some work for your dog. Sandler shared the screen with his bulldog, Meatball, in this short film released alongside his 2002 feature, Eight Crazy Nights.
19. The Mask
Stanley's (Jim Carrey) dog Milo is pivotal in this comedy ­– the pup even dons the Mask himself at one point and dispatches a few henchmen. One of the more diminutive dogs on this list, but also one of the smartest.
18. K-9
As "cop gets dog sidekick" movies go, K-9 doesn't have the chops of Turner & Hooch, which oddly enough was released only three months later. Jim Belushi plays a San Diego detective who gets saddled with a drug-sniffing police dog ­– named Jerry Lee – for a partner. Like all the best movie cops, Jerry is unorthodox, but dammit does he get results.
17. White Dog
Easily the most controversial dog-based film on this list, White Dog centres on a black man attempting to retrain a stray that has been taught to attack people of colour. Though it had an anti-racist message, White Dog was ultimately shelved by Paramount following pressure from the NAACP.
16. Anchorman
A border terrier was uncredited in his role as Ron Burgundy's loyal "little gentleman" Baxter in Anchorman. It's a shame, because Baxter was pivotal to the plot due to his being punted off the San Diego–Coronado Bridge, which leaves Ron in a "glass case of emotion".
15. Widows
"People live with dogs, so let's be true to the reality that we live in," director Steve McQueen said of his decision to have Viola Davis's character almost permanently carrying her West Highland Terrier. it was a big year for the Scottie – real name Olivia – who also appeared in Game Night and Insatiable.
14. Beginners
There aren't a huge number of substantial roles for dogs in indie cinema, but Cosmo landed one in 2011's Beginners. The Jack Russell served as a confidante to Ewan McGregor's character and was notable for providing commentary through subtitles.
13. Marley & Me
The site Does the Dog Die was likely inspired by this 2008 romcom, which famously suckers you in with a cute golden Labrador puppy, only to have it die from a nasty bout of recurring gastric dilatation volvulus at the film's conclusion. Because the film's timeline spans 14 years, Marley was played by 22 different dogs.
12. Men in Black II
Frank, an alien disguised as a pug, was such a hit in his brief role in the first Men in Black film that he was given a job at MiB head office in the second. He was played by a trained pug named Mashu, who got his very own black suit and tie in the sequel (though sadly no Ray-Bans).
11. Benji
A canine icon, Benji has been the subject of 11 feature films, two documentaries, a TV series and a video game. He was first played by the golden mixed breed, Higgins, in 1973's Benji, a rare dog movie to earn an Oscar nomination.
10. The Jerk
Dogs often get cutesy names in films, but not this pooch, who went by the name Sh*thead in the Steve Martin comedy. Sh*thead is involved in many of the film's gags, a grump with a penchant for wearing baseball caps and sunglasses.
9. Cujo
Most of the dogs on this list are friendly types who end up saving the day. It's important to remember the canine villains though, like Cujo the rabid St Bernard played by Moe in the 1983 adaptation of Stephen King's horror novel.
8. Air Bud
Few dogs can say they played themselves in a movie, but Air Buddy managed it. The stray, who found in the Sierra Nevada, was so talented at basketball that a whole film was made about him. Sadly, Buddy didn't live to appear in the sequels.
7. Hachikō Monogatari
There are a lot of emotional dog movies, but this one might be the most heartbreaking. Hachikō Monogatari tells the true story of an Akita who waited for his owner, Hidesaburō Ueno, for more than nine years after Ueno's death in 1925. An icon of loyalty in Japanese culture, a bronze statue of Hachikō stands watch over Shibuya Station in Tokyo to this day.
6. Wiener-Dog
A dachshund was used to tie different stories together in this idiosyncratic comedy from Todd Solondz. The wiener-dog in question is passed from dysfunctional owner to dysfunctional owner (Gret Gerwig, Danny DeVito, Julie Delpy and more), making an impact on the lives of each.
5. Old Yeller
This 1957 film's climactic scene in which the central dog is taken out and shot is so iconic that it's still used as an analogy in regular conversation to this day. Old Yeller was played by the lop-eared yellow Mastiff/Labrador Retriever mix, Spike, who went on to enjoy a long career in Hollywood.
4. Goodbye to Language
Humans' close relationships with dogs expose our yearnings for a simpler life, and this topic gets a whole narrated section in Jean-Luc Godard's 3D film Adieu au Langage (Goodbye to Language). The experimental director's own dog, Roxy Miéville, has a prominent role in the film, as much a main character as the two human leads.
3. Beethoven
Let's hear it for Chris, the 12-year-old St Bernard who played the title role in perhaps the best-known dog movie, Beethoven. This bruiser can play drama as well as comedy, and even dodges a bullet at the film's climax.
2. Turner & Hooch
Duos don't come much more likeable than Tom Hanks and a slobbery French Mastiff. Beasley played Hooch and had his very own stunt double named Igor. Henry Winkler was the original director of the film but got fired thirteen days into shooting, later recalling: "Let's just say I got along better with Hooch than I did with Turner."
1. The Artist
You might not think the death of a Jack Russell would make global headlines the world over in 2015, but then not all are as memorable as Uggie, who played a major role in 2012's Oscar Best Picture winner, The Artist. There was a campaign for Uggie to be recognised at the Academy Awards, but sadly he was ruled ineligible. This didn't stop him from attending as a guest, however, and stealing the show on the red carpet.
Register for free to continue reading
Registration is a free and easy way to support our truly independent journalism
By registering, you will also enjoy limited access to Premium articles, exclusive newsletters, commenting, and virtual events with our leading journalists
Already have an account? sign in
Join our new commenting forum
Join thought-provoking conversations, follow other Independent readers and see their replies