Gayle Kirschenbaum: Filmmaker tells of life with the mother from hell
Gayle Kirschenbaum made the frank and painful documentary with her mother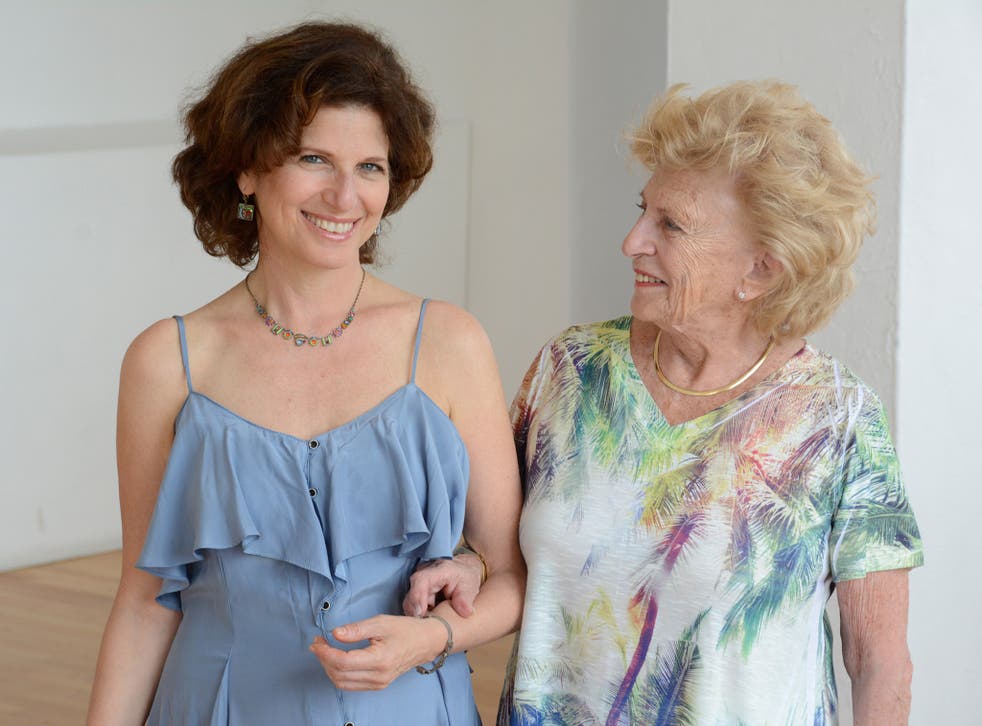 She's the opposite of the stereotypical Jewish mother who cossets her offspring with cake, chicken soup and unconditional devotion. Mildred Kirschenbaum was more of a Jewish Mommie Dearest – at least to her daughter Gayle. "I lived in fear of what she would do to me," confesses the award-winning film-maker who believes her mother's behaviour left her with a lifelong fear of intimacy.
"Being abused from the get-go when I had done nothing wrong, while watching my brothers being loved and adored, my earliest thoughts were that I must have been adopted."
Her mother even harnessed Gayle's brothers as proxies to hurt and restrain their little sister, as Gayle's brothers now testify. And there was no protective father to step in, either – Gayle calls her late father, Gerald, "the German Shepherd my mother sicked on me".
But where most ill-treated children might have put parental abuse behind them by middle age, Gayle refused to give up on why Mildred was so cold, critical and bent on inflicting pain and humiliation. The documentarian decided to take her mother to task, with family and friends bearing witness and therapists as referees, and record the whole saga on camera. The result is a frank and painful journey through close on a century, an emotional rollercoast both for Gayle, now 60, and Mildred, still going strong at 92 with as biting a tongue as ever.
"One of the reasons I might not have been nice to her as a child is that she was a bitchy little girl growing up," snaps the mother defiantly in the film, not apologetic either about her own favourite Mommie Dearest moment, when Gayle came back an hour late from a date: "When I saw her drive up with a boy, I threw a glass of water in her face." Gayle quietly finishes the story, remembering Mildred's words as she threw the water: "'I don't care if you get raped, if you weren't already.' Then she had me go up to my bedroom, ripped everything out of my closet, then screamed at me to put it all back."
Look At Us Now, Mother!, which has picked up awards at film festivals around the USA and will screen in London and Manchester this weekend, is all the stronger for the corroborating voices that prove Gayle is not suffering from false memory syndrome: "I remember going nuts with Mom for how humiliating and mean and cruel she was – what she did to you," volunteers big brother Irwin, now contrite about the part he was made to play in contributing to her torture. "A major criticism about you was your looks. Your hair was always a major topic, how you dressed, your make-up. Mom wanted to mould you into someone you didn't necessarily want to be. There were times I felt she was jealous of you as you were growing up, that attention would be given to you and not to her."
The film is all the more poignant because Gayle and her late father were such diligent archivists, so there is footage of the family from birth – Mildred, an elegant, narcissistic beauty, stealing every shot – and Gayle's early diary entries, which spell out in childish print how she tried to placate an unpleasable mother on a daily basis.
A school friend chimes in, too: "To me, her mother was somewhat of a shadowy figure... I remember not liking her. I remember her being intrusive, disrespectful and scary and it being unpleasant. She was this loud, shrill voice in the background; she was to be avoided."
And avoid her Gayle did, for a while: "At 17, I was on the first train out." She went to college, became a film-maker, worked on TV programmes such as America's Most Wanted and enjoyed a moment of celebrity for a documentary about her beloved, now deceased dog, the only creature to whom she ever allowed herself to form an attachment: "She taught me how to love and trust."
Another film was about her mother's preoccupation with Gayle's prominent Jewish nose: "We lived in an area where nose jobs were a rite of passage, and although my mother never got one, she had facelifts and got her eyes done," explains Gayle. When My Nose went on the festival circuit, it brought the filmmaker into contact with like-minded souls: "Audience members would queue up to tell me how they were abused by their own parents."
But although she started coaching people in how to overcome and transform difficult relationships – "I became an accidental therapist" – Gayle realised she had a film inside her that couldn't be denied: "I never imagined I would one day share personal footage never intended to be shown, or display my childhood diary entries, and I could barely figure out how to tell my story and not come over like a victim.
"However, my mother agreed to come on the journey with me, and was willing to go to a therapist for the first time ever. She said yes, she couldn't care less – she likes attention. So I went for it."
In the office of psychologist Pam Thompson, who has written about surviving difficult mothers, Gayle finally learned what made Mildred tick. For the first time in nine decades, she spoke of the father who had twice tried to commit suicide, the little sister who had died as a baby, and – most pertinently – the angry husband who had been so sidelined when his own baby sister came along that Mildred over-compensated with her own baby girl: "Because of the infant in your father's life who made him the left-out, unwanted third child, I was not going to treat you better than the boys. You were not going to be a little queen and your brothers pushed aside. Maybe I did go overboard."
A few road trips and a visit to one more shrink later, this likeable woman and her strangely engaging mother, who has mellowed slightly with age, did find some closure.
Mildred proved that 90 was not too old to say sorry, while Gayle reveals that she forgave her mother even before their journey began.
But it has not been without cost: "The whole experience was really, really excruciating as I relived the trauma and fear," admits Gayle. "It manifested itself then as headaches, nausea and dizzy spells, and in the reliving I developed an auto-immune disease which left me with dry, cracked, bleeding skin. I didn't realise how painful it would be to make the film, and had I known, I might not have taken this journey. But once I learned the exercise of looking at my mother as a wounded child herself, it took away her power to hurt me.
"She was exposed to a lot of things she shouldn't have seen, was cheated of life in her childhood, and now I can trace her relentless criticisms of me back to our heritage, both of us being the same gender, and the generation gap."
Look at us Now, Mother! is a funny film as well as a tragic one, given that both women have a sharp sense of humour, and the tone is deliberate, says Gayle: "I pulled out some of the darker stuff, because the point was to show the dynamic, help viewers understand that my mother is a troubled person too, and this is how I came to forgive her. To anyone who may relate, my message is: you can do it too."
Look at Us Now Mother shows on 21 November in Manchester, 22 November in London, followed by a Q&A with Gayle Kirschenbaum. ukjewishfilm.org. It will screen in cinemas next year
Join our new commenting forum
Join thought-provoking conversations, follow other Independent readers and see their replies