Gone Girl film director David Fincher on his potential Oscar contender
Gone Girl director David Fincher tells James Mottram that the casting of British actress Rosamund Pike was crucial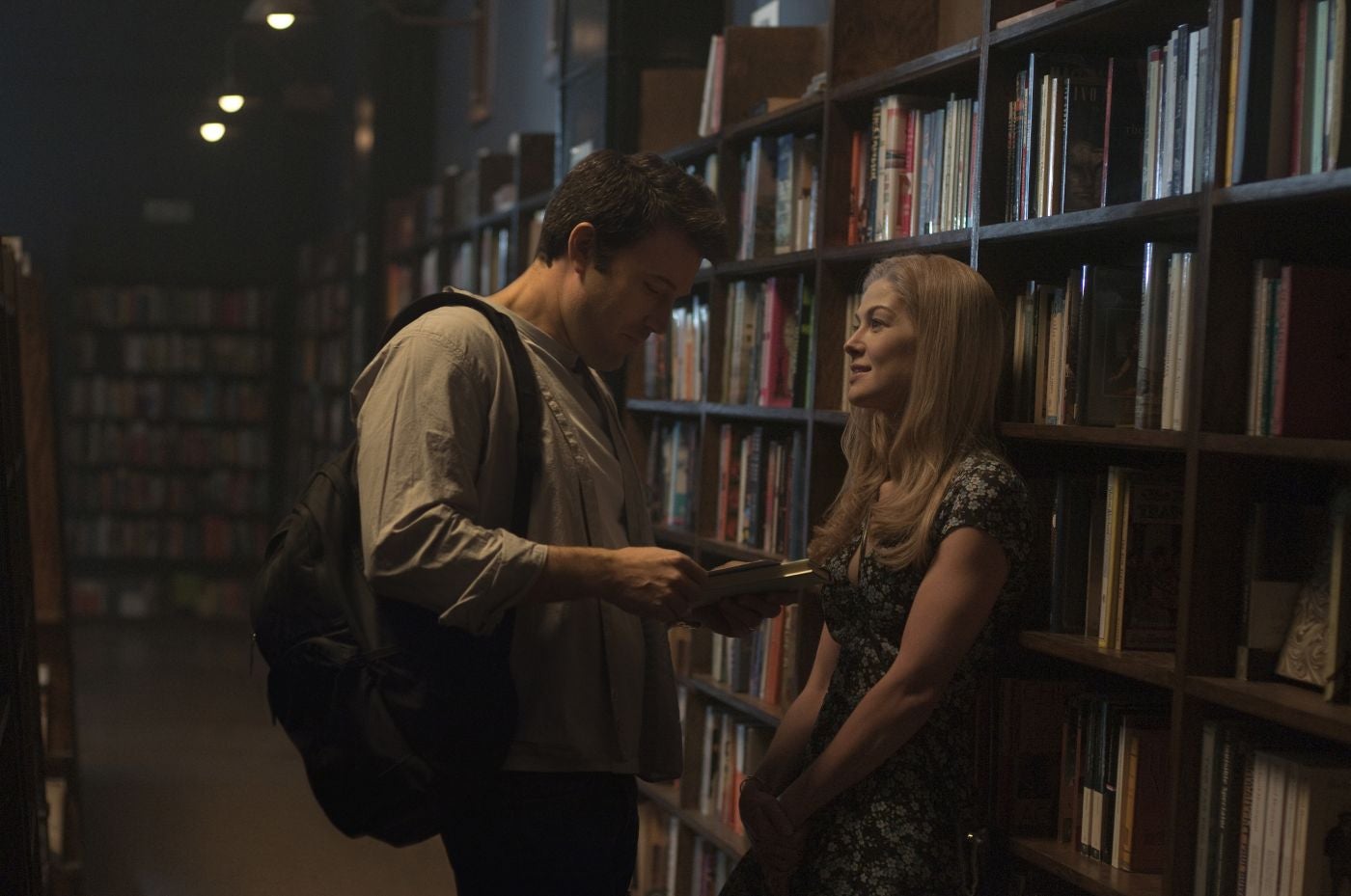 David Fincher is sitting in a London hotel suite, feet up on the table. He looks relaxed, having just come from a 12-day holiday in Stockholm, where he shot his last film The Girl with the Dragon Tattoo. "It was nice," he smiles. "I rode a bike. My Mom came over, and I spent some time with her. My daughter [20 year-old Phelix, from his five-year marriage to model-turned-photographer Donya Fiorentino] was there, and we hung out. It was good." It's not a side you see very often of the 52-year-old director: the devoted son and father.
The Fincher most of us know is the self-proclaimed "malcontent and miscreant" – the director who put Gwyneth Paltrow's head in a box in Se7en and mangled Brad Pitt's features in the nihilistic Fight Club. More recently, he's been tapping the zeitgeist – beginning with his sublime The Social Network (for which he was Oscar-nominated), retooling the origins of Facebook as a modern-day Greek tragedy. Then there was House of Cards, the Kevin Spacey-starring US adaptation of the BBC parliamentary drama – now the jewel in the crown for Netflix, the streaming site that bankrolled the project.
Now he's on to Gone Girl, the 10th film of his career – and once again produced by his partner Ceán Chaffin, who has produced all of his films since 1997's The Game. Based on the bestselling novel from Gillian Flynn, it's his second consecutive adaptation of a must-read page-turner after Dragon Tattoo, though he bristles at the idea that he simply took on Flynn's book because it was popular. "When I got involved with this, it had maybe sold a million books, something like that. It hadn't sold six million books. I don't go phenomenon-hunting."
Nevertheless, he's the perfect director to take this on – a Grand Guignol marital mystery with jack-in-the-box surprises. Rosamund Pike plays Amy Dunne, who disappears on the morning of her fifth wedding anniversary, seemingly the victim of a violent kidnapping, leaving behind her husband Nick (Ben Affleck) in the midst of a media-frothed maelstrom, as his in-laws, the police and neighbours begin to doubt his innocence. In a story riddled with potential spoilers, it sets out to show just how impossible it is to know the person you're closest to.
For a director who made one of the great procedurals in the past decade, 2007's ambiguous, terrifying Zodiac, based around the hunt for the real-life Zodiac Killer, Gone Girl might seem conventional by comparison. But Fincher, who worked with Flynn on the script, refuses to see it as a straight-up genre piece. "It's a relay. It starts as a mystery and you hand off the baton and it becomes an absurdist thriller, and then you hand off the baton and eventually it becomes a satire. That was really striking. When I read that, I thought, 'I have never seen that before. I've never seen that attempted.'"
It's why Fincher is reluctant to dub Gone Girl as this generation's Fatal Attraction, which touched a nerve in the 1980s for its portrait of a marriage in turmoil. "There was an Aids metaphor attached to that. And that was extremely literal, extremely simplistic... it had a kind of passion behind it, and that's what swept people away." He pauses. "I think the story [in Gone Girl] is a little more… I wish that it had that kind of friction. I think it's a little more oblique than that. What's interesting to me about this movie is the narcissism – I'm going to present the best version of myself, to my parents, to my teacher."
Where the film scores highest is in its depiction of the media frenzy that surrounds Nick, and the way he is forced to court public opinion on daytime chat-shows. Affleck has had his own media run-ins – when he was regularly swamped by paparazzi during the days of his relationship with Jennifer Lopez. "He has interesting baggage; all actors do," says Fincher. "In our case, it was just too perfect." Still, the studio must've been delighted when Affleck got cast as Batman in the upcoming Batman vs Superman: Dawn of Justice, I venture, given the added attention it will bring Gone Girl. "They were very happy with Ben before he was Bruce Wayne."
Snagging Affleck isn't the only impressive feat of casting in Gone Girl, which is already being touted as a frontrunner for Best Picture at next year's Oscars. How I Met Your Mother star Neil Patrick Harris is an inspired choice to play the impeccably manicured Desi, Amy's former boyfriend who comes into the frame later on. Then there's Tyler Perry, the comic actor/writer/director best known in the US for his series of films built around Madea, a grouchy elderly woman that he plays. Seeing him as Tanner Bolt, the slick attorney who Nick hires to defend him, took vision.
Pulling off casting coups is something Fincher has always done well – certainly if you think back to hiring Helena Bonham Carter (then only known in the US for corset dramas) to play the love interest in Fight Club. Typically, Fincher doesn't ascribe any great mystery to the process. He doesn't speak about conjuring chemistry; rather he approaches everything from a pragmatic point of view. "I think casting is so much about the problems that you have to solve. It's almost never about, 'Who do I want to see? Who do I want to look at?'"
Access unlimited streaming of movies and TV shows with Amazon Prime Video
Sign up now for a 30-day free trial
Sign up
Access unlimited streaming of movies and TV shows with Amazon Prime Video
Sign up now for a 30-day free trial
Sign up
In pictures: Gone Girl
Show all 15
In the case of Rosamund Pike, who beat off the likes of Charlize Theron, Natalie Portman and Emily Blunt to win the role, the British actress makes for a convincing Amy. But were the studio happy? She's clearly not as well known as her competitors. "Definitely they wanted to know why. I told them. I told of my experience with her, when we met. But it was her actual unknowability from the previous four, five movies that I had seen – that's what I needed. I needed somebody who was inscrutable. I needed a bottomless well. Even if you have previous experience, you have no previous opinion of."
While Fincher is known for multiple takes on set, putting A-list stars through their paces, he's evidently an actor-magnet. His last three films have all scored Oscar nominations for the leads – Rooney Mara in Dragon Tattoo, Jesse Eisenberg in The Social Network and Brad Pitt in The Curious Case of Benjamin Button, his CGI-drenched fantasy about an old man ageing backwards (that scored Fincher his first Oscar nod for Best Director). Pike and Affleck can have high hopes, then, that they'll be in the frame next February.
Born in Denver, Colorado, Fincher has always been attached to the media's tendrils, given his father was a bureau chief at Life magazine. Later, after spending his early years in Marin County, California, making movies on a portable 8mm camera, he produced a local television news show while he was still at high school. But by the time he was 19, his head turned towards film, winning a job at Industrial Light and Magic, the special-effects house formed by George Lucas, and working on both Return of the Jedi and Indiana Jones and the Temple of Doom. "It was a great film school," he says, earnestly.
Four years after joining, he quit to carve out his own career as a director. Moving to LA, he got signed by a commercial production company, but found it "the antithesis" to his days at ILM. "It was, 'Don't worry, kid, you're never going to get a chance to do a Coke commercial. You just keep doing your little hippie music videos.'" But these "hippie music videos" eventually led him to working with the likes of Madonna, George Michael and, significantly, Nine Inch Nails (whose creative force Trent Reznor has scored Fincher's last three films, including Gone Girl).
Co-launching the hugely successful promo/commercials company Propaganda – which also cultivated the talents of Spike Jonze and Mark Romanek, among others – Fincher's aggressive-but-creative streak was nurtured further. Inevitably, he locked horns with the suits – notably on his debut feature, Alien³, which was plagued by script problems and clashes with executives. Even now, when I point out he's reached his 10th film, he refuses to acknowledge his first movie. "I still think I've made nine. I was there [on Alien³] but I was hardly in charge."
Thankfully, his second film, the grimly compelling biblical serial killer thriller Se7en hit big. But you get the impression he'd have been just as happy to return to Propaganda. "I'm a director," he states, simply. "I do music videos. I do commercials. I would do live theatre. I would do musicals. I would do the opening of the Olympics. I live to try new stuff. I don't think of doing a television commercial as slumming. I don't think of doing a music video as slumming. It's different muscles." So what drives him now? "You want to do stuff that's naughty or fun... [it's a] constantly evolving road trip."
Television is where his focus currently is, with plans afoot to adapt his second British television series after House of Cards. Reuniting with Gone Girl author Gillian Flynn, Fincher is currently working on reworking Channel 4 series Utopia for HBO. He grins when I tell him the C4 version is one of the most violent television shows Britain has ever produced. "This is more violent. This is beyond," he says. "We're standing on the shoulders of giants. It's a great story to begin with and we're looking to make it even more morally objectionable." Now that's the Fincher we all know.
'Gone Girl' opens on Thursday.
Serial thriller: Four from Fincher
Se7en (1995)
Brad Pitt and Morgan Freeman starred as homicide detectives investigating the case of a sadistic serial killer played by Kevin Spacey who bases his murders on the seven deadly sins. Fincher's dark thriller, also starring Gwyneth Paltrow, was a hit with critics and a commercial success, but Pitt, Freeman and Fincher were not nominated for any Academy Awards.
The Curious Case of Benjamin Button (2008)
This film, based on the 1922 short story of the same name by F Scott Fitzgerald, starred Brad Pitt as a man who ages in reverse and Cate Blanchett as the love interest. The film was most memorable for its visual effects and make-up that made Pitt seamlessly morph from ancient-looking to young, but despite winning three Academy Awards, the reviews were pretty disappointing, claiming it was tedious and pointless.
The Social Network (2010)
Fincher's hit film about the founding of social networking website Facebook and the resulting lawsuits starred Jesse Eisenberg as founder Mark Zuckerberg. Fincher won the Golden Globe Award for Best Director and the Bafta Award for Best Direction for the film, which had an Oscar-winning soundtrack by Nine Inch Nails' frontman Trent Reznor and Atticus Ross.
The Girl with the Dragon Tattoo (2011)
His English-language adaptation of Stieg Larsson's bestselling 2005 novel, which followed the original 2009 Swedish film version, starred Daniel Craig, taking a break from playing James Bond, and Rooney Mara as journalist Mikael Blomkvist and computer hacker Lisbeth Salander. It had favourable reviews and earned an Oscar nomination for Mara.
Join our commenting forum
Join thought-provoking conversations, follow other Independent readers and see their replies