Harrison Ford: 'I'm in it for the money'
The famously crabby 'Indiana Jones' star has a new tear-jerker movie out, but is refreshingly honest about his motivations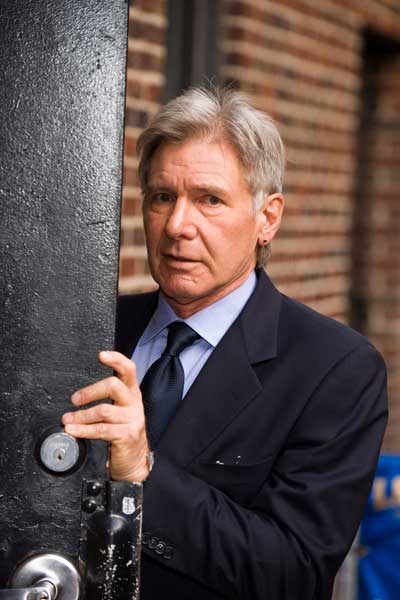 When you've been in the business as long as Harrison Ford has there are two ways of approaching the media: charm, schmooze, and trot out colourful anecdotes about your career; or tell it how it is – with no frills.
Ford long ago adopted the latter approach. He is, to put it mildly, a man of few words. I distinctly recall the first time I met him, when he was playing a US president in Air Force One in 1997. It was shortly after he'd had his ear pierced and I asked if his new earring was for a role: "No, it's for my ear," he snapped.
Ford's story is the stuff of dreams for any underachiever who ever dared to imagine a career in Hollywood: "C" student, ungifted in sports, moves to Hollywood and works as a carpenter to support then wife and two small sons. There he meets legendary film-maker George Lucas after building cabinets for him and is cast by the director first in American Graffiti (in 1973) and, later, as Han Solo in Star Wars. Despite this fairy tale, though, there's nothing remotely dreamy about this pragmatic man. On a good day, he'll crack a smile on that craggy, chisel-jawed face and you'll remember why he is one of the highest-paid movie stars in the world. On a bad day, he's like a cranky grandfather; belligerent and contrary.
He is a grandfather, actually. The Indiana Jones action star, 67, has four grown children from his first two marriages. Ever the stiff-upper-lipped actor, he has softened somewhat during his nine-year relationship with the 45-year-old actress Calista Flockhart, sharing parenting duties of her son, Liam, whom she adopted not long before they met.
For his latest role, he reverts to type, playing a prickly pioneering scientist to Brendan Fraser's poignant portrayal of real-life father John Crowley (a pharmaceutical executive forced to go beyond the parameters of his job after his two children are diagnosed with a terminal disease) in the emotional drama Extraordinary Measures.
But trying to get him to talk about his work with children, despite the fact he's playing a scientist who finds a cure for a hitherto incurable childhood disease, is like getting blood out of the proverbial stone.
"To be quite honest, I have children and I really feel very sympathetic but I don't see this as an opportunity for me to suddenly leap on a soapbox and begin to talk about the pharmaceutical industry or the desperate plight of sick children. I do what I can, in my world, but I don't have the bona fides to do that right now," he says.
I suggest that it might be tough keeping up with his boisterous nine-year old son and he scowls: "I've got five kids in total, so it's not my first rodeo. Yeah, obviously I'm getting older but I don't relate to it very much. It doesn't interest me as something to dwell on. I have a nine-year-old kid at home. I feel like the father of a nine-year-old kid. My older children have taught me a lot about parenting. My first child was born when I was 25. I reckon I'm a little better at it now."
The actor's first marriage to Mary Marquardt lasted 15 years and produced sons Benjamin, 43, and Willard, 41, while his subsequent 18-year marriage to ET screenwriter Melissa Mathison – mother to Malcolm, 23, and Georgia, 20 – crumbled after Ford entered into a brief period of mid-life--crisis-like activities, partying in strip-clubs and cavorting with scantily-clad young women. Today he has two grandsons, one of whom is twice the age of his son with Flockhart. "I have those obligations, and that's my life. I don't think so much about how old I am," he adds. So far, so cranky.
Access unlimited streaming of movies and TV shows with Amazon Prime Video
Sign up now for a 30-day free trial
Sign up
Access unlimited streaming of movies and TV shows with Amazon Prime Video
Sign up now for a 30-day free trial
Sign up
But then, somewhere half-way through our interview, a funny thing happens. Ford drops the grumpy routine and starts making jokes, for reasons I still cannot fathom. Perhaps they put something in the coffee at the Beverly Hills Four Seasons that day.
"Are there any characters he's not yet played that he'd like to?" I ask. "I've never played a woman! And I've never played a fish! Other than that I would like to play a female fish, yes."
OK, then...
"Given your incredible success, is there anything left you still wish for?"
"Yeah, I want to be rich and famous!" the actor replies, inexplicably shaking with laughter.
Taking advantage of his sudden outburst of mirth, it seems like a good time to ask about the internet rumours that he and Flockhart are getting married: "I'm engaged, we're engaged. But don't trust the internet. Nothing on the internet is true."
Despite a five-decade career filled with blockbusters – even without Star Wars and Indiana Jones, his résumé is littered with huge hits including Working Girl, Witness, Presumed Innocent, Patriot Games, The Fugitive and Clear and Present Danger – Ford is one of few notable stars not yet to have won an Oscar.
Does he feel he's missed out? "I don't care very much about awards. I'd rather make a living at what I do and have time to do what I want to do with my family and the rest of my life. I'm not naturally drawn to the kind of performance that usually nets awards. I don't have any expectation in that area. I'm flattered when people recognise my work and wish to honour it, but it's not an important part of my process. And I'm not Indiana Jones or any of the other roles I've played. I'm an actor. I just work here. And it's important for my career to play different kinds of characters."
Ford is both executive producer and lead actor for Extraordinary Measures, casting himself in the role of Dr Robert Stonehill, a grumpy and solitary scientist who prefers molecules and laboratory equipment to real-life patients. The film is based on a Wall Street Journal article by the Pulitzer Prize-winning writer Geeta Anand and her subsequent book entitled, The Cure: How a Father Raised $100 Million and Bucked the Medical Establishment in a Quest to Save His Children.
The real-life pharmaceutical executive Crowley did, indeed, buck the system in searching for a cure after his two children Megan, then 15 months old, and four month-old Patrick were stricken with the incurable Pompe disease in 1998.
"Looking at the project as a producer, it was always a given to me that parents would relate to the dilemma of John and Eileen Crowley – that bit was easy," says Ford. "But how to make a film that would continue to sustain their interest and give some breadth to the emotional context; a film that would be both informing and entertaining and, even, bring humour?
"There are many textures; to have a story that gave reference not only to the issues of health care and the difficulties of bringing a drug to market but also the complications in the human relationships like the one that John Crowley and Dr Stonehill have; to talk about the difference between a physician that has a wonderful bedside manner and another guy that lives in a lab in a world of football and operating on a cellular level.
"He's not your usual physician, but a physician-scientist who'd never really met a person with the disease that he's passionate about addressing. He's passionate about his science but is not moved by compassion. That's interesting for somebody who is motivated to try and save his children's lives."
Stonehill is a composite character, made up of various research scientists. "A number of different people were involved in the event, and the net result is Dr Stonehill, a character wholly invented to help tell the story."
Ford's Stonehill character doesn't seem much of a stretch from the public perception of the actor: loner, short-tempered, doesn't suffer fools...
"Neither am I alike or unlike the characters that I play," he says, eyes slightly narrowing at the question. "I create a character out of those things that I hope will tell the story. I try and behave emotionally and realistically in the context of the moment. So I don't have anything to work with except my own experience, my own understanding, my own empathy. So if you see a character that I play, as different as that character may be from me, the emotions are emotions that I understand and that I feel that I can convey."
There's a line in the film where Ford's Stonehill says: 'I don't care about money. I'm a scientist.' The actor has never shared his sentiment. "No. No, I'm in it for the money. And I mean that in the nicest possible way," he says today. "This is my job. I don't have another job. It's my craft that I spent my whole life working on. I want to get paid to do it because, otherwise, I'm not being responsible and I'm not valuing what I do for a living.
"When I came into this business I didn't even know the names of the movie studios. A year-and-a-half after I came out here, I was under contract for $150 a week. And the one thing I learned was that they had no respect for a person who was willing to work for them for $150 a week. So I always knew that what value I put on my own work was the value I would have."
A life-long Democrat and close friend of former president Bill Clinton, Ford is clear about not using Extraordinary Measures as an open referendum on the state of President Obama's debate on health-care reform. "We're all against creating polemics; a bully pulpit to proclaim our point of view about these things," he says. "We wanted to present the reality of the situation and let the audience decide for themselves. That's why we didn't take the easy swipe at the pharmaceutical industry. I think we portrayed it the way it really is. And we wanted to concentrate on the kids and on the human relationships and not get into that level of detail.
The debate on health-care reform is "a whole other bag of beans, you know. My personal beliefs are quite liberal so I believe we should be trying to offer universal health care, but I don't know whether we can afford it. There's so much involved in these kind of equations that sitting here, as an actor, making pronouncements about it is ridiculous. As a citizen? I voted for Obama. I believe in his ambitions. I believe in his quest for social justice. I would like to see that happen. But I don't know whether, or how, it can happen."
Extraordinary Measures is a tear-jerker, something one doesn't usually associate with Ford. Does he enjoy a good sob? "I cry when the bus is late, man!" he says, again cracking himself up. Presumably it's been many years since he last took a bus. "All right then, I cry over spilt milk..."
No interview with Ford is complete without enquiring about the state of play on the next Indiana Jones. "If we find a script and we're able to develop a story in less than the 18 years it took to make the last one, then yes, there'll be an Indiana Jones 5. If I'm still alive by then, I'll make myself available."
'Extraordinary Measures' is on release from 26 February
Join our commenting forum
Join thought-provoking conversations, follow other Independent readers and see their replies