The Saturday Interview
Hayley Atwell on Mission: Impossible, Marvel and Tom Cruise – 'There were weird rumours... it feels a little dirty'
The Marvel star tells Jessie Thompson about tackling those Tom Cruise stories while shooting 'Mission: Impossible', why he wouldn't let her play small or flirtatious, and the importance of her twenties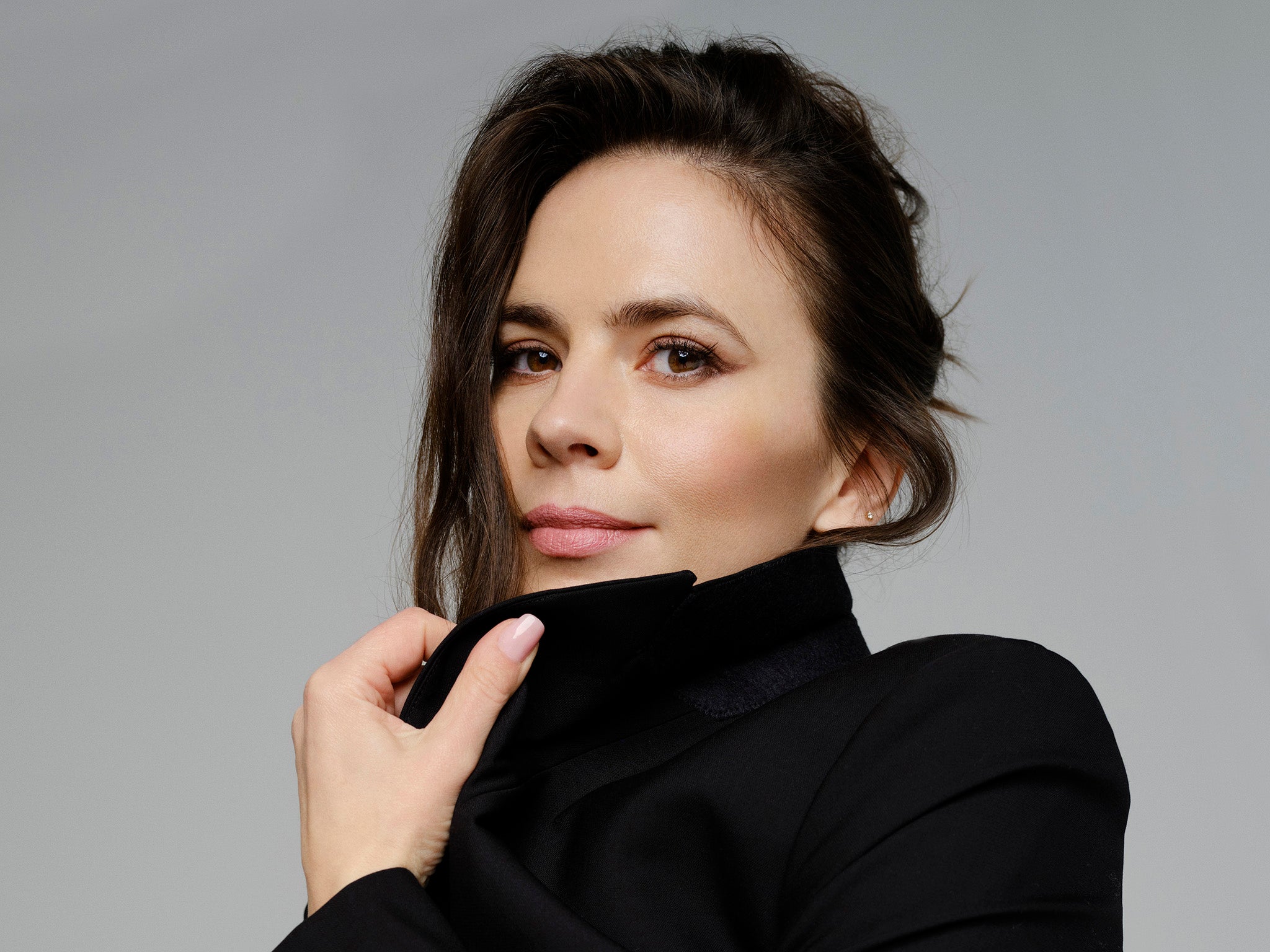 Hayley Atwell had a hot date to the Mission: Impossible premiere: her mum. In fact, the whole four-year process of making the seventh instalment, Dead Reckoning Part One, was a "family affair". Even Atwell's dogs were frequently on set. "It's very special in that regard," the newcomer to the franchise tells me, revealing that it wasn't just her grandmother who got a surprise helicopter ride from Tom Cruise (as per recent headlines) but her mum, too. So, what do I have to do to get a helicopter ride from Tom Cruise? "It's only a matter of time!" Atwell jokes. "Hang out with us more, and you will!"
That would be fun! Except, regrettably, I don't think it's going to happen. Because Hayley Atwell is Hollywood famous now. One sign of that: trying to speak to her for more than 20 minutes has become a process more complicated than childbirth. Another sign: the persistent rumours that she and Cruise have had some hot dates of their own. But the truth, Atwell tells me, is that she looked on Cruise and Mission's director, Chris McQuarrie (or "McQ"), as "sort of two uncles". And who doesn't love seeking advice from their uncle about the fact that the world thinks you're courting? "I would be like, 'Ooh, there's some weird rumours, and it feels base, it feels a little dirty, it feels grubby, it's not what I'm about,'" she explains. "Why are things being assumed or projected onto me about my relationship with my work colleague and boss?" Atwell found it "upsetting" because "it's involving people in my actual life, my personal life, who have to be on the receiving end of that. It becomes invasive."
But Cruise, who Atwell says "carries his fame like a loose garment", knew exactly what to say. "When I've talked to him about it, he'd be like" – here she turns to me intensely and looks directly into my eyes – "'You know exactly who you are. You know what you're about. And that is the only thing that matters. It doesn't matter what people think of you, if you are in integrity with yourself, if you know what your value system is." This is clearly incontrovertible evidence that there were no shenanigans; I've had sexier chats with the postman.
Today, in a monochrome hotel room, Atwell is an arresting presence – and not just because she's wearing something resembling a pair of bright red, silky pyjamas. "I can lunge in it," she says, and duly shows me, one heeled foot in front of the other. "I could go for a nap in it..." Wearing a sparkly rock on her finger (she recently became engaged to songwriter/composer Ned Wolfgang Kelly), she drinks from an ice-cold glass of cola; everything about her seems to gleam. In conversation, she's cerebral (before acting, she planned to study philosophy and theology at Oxford), speaking in elegant sentences. Occasionally, she's almost comically earnest. "McQ once said to me, 'You know, it's been a real privilege to get out of your way,'" she says at one point. When we speak again a few days later, she's in Abu Dhabi for the next leg of Mission's epic cross-continental press tour. Another Hollywood royalty giveaway: no discernible sign of jet lag.
Cruise's brash action spy franchise might not seem like the kind of thing an actor like Atwell would sign up for. At the start of her career, her high cheekbones and air of classic glamour saw her cast repeatedly in period dramas, from steamy "other woman" romance The Duchess with Keira Knightley in 2008, to playing Mary Crawford in a 2007 small-screen Mansfield Park adaptation and Lady Julia Flyte alongside Ben Whishaw's Lord Sebastian in the 2008 film of Brideshead Revisited. She stepped further into the mainstream by joining the Marvel Universe as agent Peggy Carter – in 2015, she became the first woman to have her own Marvel show (although it was cancelled after two series) – but has mainly stuck to relatively offbeat, thoughtful roles. In 2013, she was in what is to my mind Black Mirror's best episode, the heartbreaking exploration of grief and AI, "Be Right Back", while in 2017 she played Margaret Schlegel in a BBC adaptation of Howard's End. On stage, she has done Ibsen, Arthur Miller, and a #MeToo-inspired take on Shakespeare's problem play Measure for Measure at the Donmar, in which she and Jack Lowden swapped the roles of The Duke and Isabella.
The stage is where Atwell's heart seems to truly lie. She was starring in a revival of Alexi Kaye Campbell's The Pride in 2013 when Mission director McQ, who was in the audience, decided he wanted to work with her. It feels a little incongruous that a Terence Rattigan-ish drama about suppressed desires in sleepy suburbia would lead to a role in Mission: Impossible – could she have imagined that at the time? "I think I have been surprised sometimes at an opportunity that's presented itself to me, that's come out of left field," she says.
Actually, it's really not that jarring that an actor as thespy as Atwell should be starring in Mission Impossible. She and Cruise may not be romantically connected, but as collaborators at least, they are a match made in heaven. They take this entire business deadly seriously, applying great care and thought to the process, deploying their craft delicately. Aware that Atwell has often been described as someone who prepares punctiliously for each role, I ask what went into the character of Grace, a pickpocket with ambidextrous gifts whom Cruise's Ethan Hunt first encounters when she's being shifty at an airport. Before long, she seems to have found herself on a mission (with little option but to choose to accept it).
Cruise and McQ liked the way Atwell was portraying Grace as someone hypervigilant, a bit of a lone wolf, so Atwell wondered, "What makes someone like that?" She approached the question with the same seriousness she might have given to discussing Nietzsche. "If we're saying that human beings are built and wired for connection and attachment from our primary caregivers in order to survive, and that it's an innate human need to belong – whether that be to a family, a tribe, a socio-economic environment, a belief system, or a religion – then what happens when someone denies themselves the thing that, at the core, they need?"
Phew. Scholarly she may be, but in fact, this sincerity pays off. Mission: Impossible is an exquisite blockbuster, and Atwell is excellent in it: droll, chic, intelligent. Across the film's almost three-hour runtime, the stakes are masterfully raised with each scene, the action sequences gripping, the stunts breathtaking. Yes, the plot is essentially about trying to track down a lost key (it's needed for a scary AI computer that's going to take over the world), and no one ever has a conversation about anything other than criminal masterplans. But it's exhilarating entertainment, made for the big screen with the fastidious eye of a landscape painter with a giant canvas.
Access unlimited streaming of movies and TV shows with Amazon Prime Video
Sign up now for a 30-day free trial
Sign up
Access unlimited streaming of movies and TV shows with Amazon Prime Video
Sign up now for a 30-day free trial
Sign up
Cruise has been the star and overlord of the franchise since the first film in 1996, and Atwell thinks it's too easy to be sceptical of his qualities. "I truly feel you could meet him and go" – here she affects a voice of dry cynicism – "'He's nice; he's charming; he's charismatic; he knows how to make people feel good about themselves. So that's just a tactic for total manipulation, because he's probably just an egocentric.'" She rolls her eyes. "Or whatever bulls*** people want to make up about people. But over time, you're just watching him, going: he really works hard, he really cares, he's really interested in people and wants to engage with them, and he believes in the power of cinema as much as he did when he was five years old." Going into the franchise, she says, he made her feel "safe".
After landing the part, Atwell did five months of full-time physical training, "in the studio every day looking at mixed martial arts disciplines". Together with Cruise and McQ, she watched old-school films like Paper Moon, The Thomas Crown Affair, What's Up, Doc?, The Sting and Broadcast News – "heist-y movies with a sense of levity and wholesomeness" – in order to decide the film's tone. That tone, I'd argue, is also genuinely progressive. Women feel like equal agents, rather than window dressing, dressed in cool but practical clothes. ("Not objectified, you mean?" Atwell laughs.)
Plus, Atwell describes creating the character of Grace as a genuinely collaborative process. "Even the way they phrased it: 'We're looking for an actor to work with' rather than 'We've written this character'. You go, 'Your language is always giving me back power and agency. You want things for me and not from me?' It's beautiful parenting!" Refreshing, too, is the fact that Atwell and Cruise's (genuine) onscreen chemistry isn't sexual. They worked out that Grace and Ethan had a "sibling thing" – but were also aware that fans love the tension Ethan has with Ilsa (played by Rebecca Ferguson). "The audience would not want someone else coming in and going, 'Oh, excuse me' – you'd have to earn that." She adds, almost as an aside, "You can tell that I'm quite an independently minded person, and quite strong." Cruise and McQ like to "be surrounded by really strong, intelligent women"; the pair "love seeing women thrive and be in their own power, so if I ever tried to play small or flirtatious, or play damsel, they would probably be like, 'What are you doing? That's not you!'"
Given the value she ascribes to having agency over character-building, I wonder how the Mission: Impossible process compares to making Marvel movies. Atwell previously admitted that her brief role in Doctor Strange 2, in which an alternative version of Peggy Carter was killed by Wanda Maximoff, "was definitely not the trajectory that I see for Peggy". Today, she's diplomatic – all jobs are "very different, filmmaking style and taste is very different" – but does add that "it's very unusual to be in an action franchise where there is that amount of creative freedom, and that they had cast me based on my experience from theatre, from franchises, but also across the board in all mediums. It meant that I have a clarity over the process in which I work, and a confidence that means I can relax, regardless of the size of the production."
As for the level of fame Mission will bring her, Atwell is "really pleased" that it's happening now, when she is 41 and has two decades of experience under her belt. "Because I have a work ethic. And I know why I'm doing what I'm doing. It's very clear to me what a creative life is about, what I love, what I naturally gravitate towards, and where I can be discerning about areas of it that become a natural by-product that doesn't need my time and isn't my business." (Presumably she's referring to those pesky rumours again.)
In the past, it hasn't sounded so easy. In 2017, she told The Times that "throughout my twenties there were periods of depression", and in 2013, she told the Evening Standard that during the making of The Duchess she was thinking, "'I'm dead, I'm so depressed'". When I bring it up, wondering if she attributed it to anything in particular – sudden celebrity, certain projects – she's dismissive. "Oh God. Did I?" she scoffs. "I don't think, for me, my experience of my twenties was particularly different internally from the average person just trying to make their way in the world and figuring out who they are. The difference, obviously, is there are pockets of time where I just had more public scrutiny."
"I think if I've learnt anything," she adds, "it's that what I say in the public eye carries a bit more weight to it. So just to be more mindful about the kinds of things I say, so they don't become generalised statements that try to capture a whole period of time in my life." Meanwhile, I mentally set fire to the dozens of interviews I read in preparation for our interview. "I had an incredible decade in my twenties, I travelled the world, I met idols, I played the [National Theatre] Olivier stage by the time I was 24, I was nominated for an Olivier award in my twenties. I'd met people who would go on to become my mentors, like David Oyelowo and Emma Thompson, I was able to be part of juries and give back to members of my own community by mentoring younger students. There's so much when I look back; I realise I just covered so much ground in my twenties that set a foundation for the work ethic I have later on in my life."
Atwell comes across as inordinately focused, and I was charmed to read that, when she was younger, she wrote letters to her future self, including one to open when she turned 40. That milestone birthday came last year, so I'm curious as to whether she opened the letter – but even this innocuous question, referencing a previous comment, arouses Atwell's suspicion. "I can't find it, to be honest," she tells me, before later adding, "Again, it's something that was picked up and decided to roll with, a public narrative that I will be ridiculously associated with, where it was just a passing comment."
She's happier talking about the art and literature she loves. Atwell is clearly a voracious reader, regularly championing brilliant female writers on her Instagram, indicating sophisticated tastes from Rachel Cusk to Rebecca Solnit to bell hooks. And she loved Robert Icke's three-hour production of Hamlet starring Andrew Scott so much that she saw it three times. Recently she's been listening to Mercury Prize winner Arlo Parks, and went to see the queen of feminist pop Self Esteem live, and on her reading pile is Annie Ernaux's A Girl's Story, the French Nobel Prize-winning author's reflection on adolescent sexuality and shame. "It's beautiful. The economy of the language, the emotion underneath – it feels very, very deep, never sentimental or dramatic. There's a crushing clarity to her work that I find intriguing." In a heartbeat, Atwell can rattle out a list of "the titans of British theatre that I would love to court in some way": directors Icke, Lyndsey Turner, Ian Rickson, Simon Stone and Jamie Lloyd. Yes, Atwell is Hollywood famous now – but I don't think it will keep her from a few hot dates with the stage.
'Mission: Impossible: Dead Reckoning Part One' is released in UK cinemas on 10 July
Join our commenting forum
Join thought-provoking conversations, follow other Independent readers and see their replies