Hilary Swank interview: 'I'm living my bucket list'
Hilary Swank's life changed when she realised  that being in the spotlight wasn't everything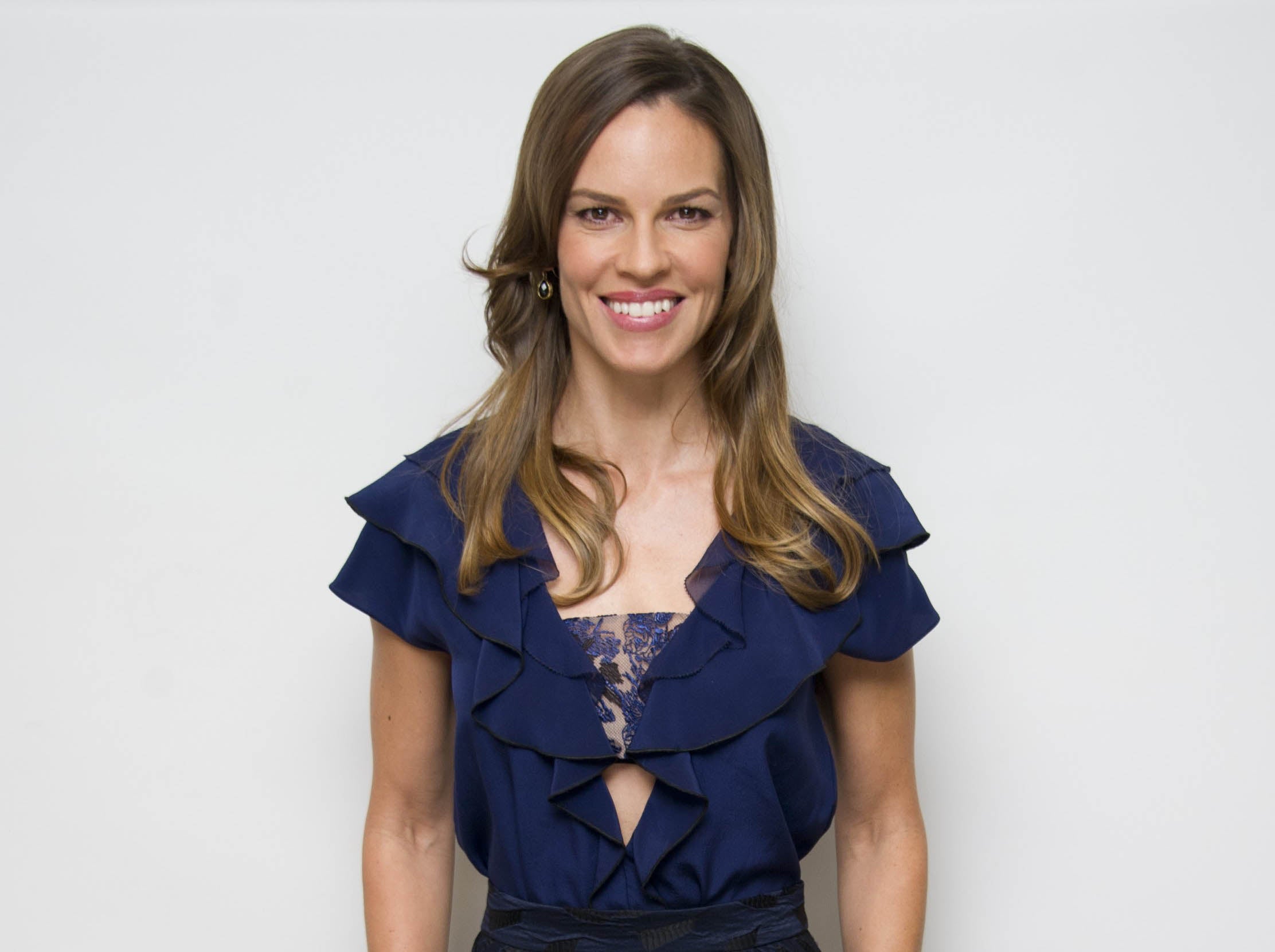 Success does not always guarantee happiness. Nor do shiny acting awards solve everything. Two-time Oscar-winner Hilary Swank knows these harsh lessons better than most. If her own two golden statues failed to provide immunity against life's lows – she was divorced in the aftermath of her second Oscar – then today she has learned it is the simpler things in life that bring joy.
"I made a vow to myself a couple of years ago to spend more time with my family and my loved ones. None of us knows how long we have on this planet so it's important to never take a moment for granted," says the actress who has been helping nurse her formerly estranged father, Stephen Swank, back to health after a lung transplant.
Famously raised in a trailer park in Bellingham, Washington, Swank's parents were divorced by time she was 13. Her passion for drama began at elementary school. "I was nine years old when one of my teachers had us write a skit and perform it in front of the class. That was my moment of, 'my gosh, I love this'. I felt so alive. At nine years old I didn't realise that I could do that with my life, that I could become an actor. My teacher wrote to my mom on my report card: 'Hilary has a real talent for this. I think you should support it and have her do some school plays.'"
Her mother, Judy, believed in her daughter's potential and drove her to Los Angeles where the pair lived in their car while Swank auditioned. It was a gamble that quickly paid off; Swank won guest spots on the television series Buffy the Vampire Slayer and Growing Pains before landing her first major movie role in The Next Karate Kid, aged 18. For many years, she rarely saw her father, a former travelling salesman, to whom she has recently become very close.
"I have been helping my dad who was recovering from a lung transplant so we've been together in Los Angeles and I took some time off with him," she says. "Now whenever I'm thinking about somebody that I love, I pick up the phone or I immediately text them and say: 'I want you to know that I'm thinking about you'. Instead of letting time go by. That's become a really important thing to me. Time flies and the next thing you know, you haven't talked to someone that you love for a long time. I think most women have a nurturing capacity that wants to take care of other people and usually take care of other people to a fault."
The "catalyst" for her deeper understanding of love and gratitude was, she says, You're Not You, Michelle Wildgen's 2006 novel about a pianist living with amyotrophic lateral sclerosis (ALS), a neurodegenerative disease. Swank was so moved, she bought the rights to it, going on to produce and star in the film of the same name. This week, after a long absence from the spotlight, she glided along the red carpet in Louboutin heels at a screening of the film at the 28th Tokyo International Film Festival.
So, what first attracted Hilary Swank to Chechnya's brutal tyrant?
Show all 12
"None of us know what's going to happen from one moment to the next and I think that's one of the things we have to be able to do, to never take a moment for granted. Today, I'm living my bucket list. Life is short and we have to make the most of it every day. If you were told you had a year to live how much different would you live your life than maybe some of the things we take for granted or we worry about? They're so absurd in the overall scheme of things," says the actress who has been busy visiting and working in orphanages in India, helping to set up schools in Ethiopia and launching her own charity, called Hilaroo ("my name and my late dog Karoo's name put together") which will bring abandoned children and animals together "to help heal each other".
In the aftermath of her divorce from actor Chad Lowe in 2006, Swank had a six-year relationship with agent John Campisi. For the past three years she has been in a relationship with a French real-estate broker Laurent Fleury, 39, and today divides her time between the father-of-two's Paris apartment and her own home in Los Angeles. She turned 40 last year and was, she says, "really excited" to do so. "Mostly because all of my friends who are either already in their forties or through their forties said that their forties were their best time of their life; that all the things that they used to worry about just kind of fell to the wayside.
They were more confident in who they were as women and just didn't sweat the small stuff and became more confident in who they were and in their imperfections and their messiness. They just didn't put the same kind of pressure on themselves that they did before."
Access unlimited streaming of movies and TV shows with Amazon Prime Video
Sign up now for a 30-day free trial
Sign up
Access unlimited streaming of movies and TV shows with Amazon Prime Video
Sign up now for a 30-day free trial
Sign up
Swank won her first best actress Oscar for Boys Don't Cry in 1999, and her second in 2004 for Million Dollar Baby, directed by Clint Eastwood. She was the third-youngest person to receive two Best Actress Oscars and now, as an Academy member, she takes her voting duties very seriously. "I really try and watch every movie because Boys Don't Cry was such a tiny movie, it was the little engine that could, and I think everyone really rallied to see it.
"There's a lot of movies right in front of us because they have the most dollars for advertising so they get the most attention, but I always make sure I see every single film so I can think about every single performance in every category."
The message of Boys Don't Cry continues to resonate 16 years later. "I chose that film because it was a human story about a real person who thought they should live their life the way they should live it and got killed for it. I wasn't trying to send a message, but it just happened to be about shining a light on something and starting a conversation."
Remarkably, her subsequent films – among them The Black Dahlia with Scarlett Johansson, biopic Amelia, portraying legendary US pilot Amelia Earhart and last year's frontier drama The Homesman with Tommy Lee Jones – have failed to receive a wide audience despite being critically acclaimed. "I usually do a movie a year. It's sometimes hard to find movies that inspire me enough to want to make them," she admits. "I have to want to do the movie with every fibre of my body because I just put too much of myself into it." Next year she will begin work with Birdman director Alejandro Gonzalez Inarritu – "a true visionary with such a unique voice" – on his new television series The One Percent.
"I also work at stopping and just taking a break," she adds, "whether it's a hike or just to sit with my dogs or read a chapter of a book or anything not related to work, and then I'm also always looking for my next project. So I'm also looking for material, whether that means reading a script or an article or meeting with a writer. My days are pretty full."
She longs to create movie magic again with Eastwood, whom she considers a mentor.
"I adore Clint Eastwood for all the reasons everyone else does. We actually have been talking about trying to find something. It's a matter of aligning our schedules, but I would do anything if he asked. I wouldn't even need to read it, I would just say, 'yes!'."
Join our commenting forum
Join thought-provoking conversations, follow other Independent readers and see their replies