Isabelle Huppert interview: 'I feel so far from being an intimidating person'
The actor on why her roles are often mischaracterised and what it was like to play a version of herself in 'Reinventing Marvin'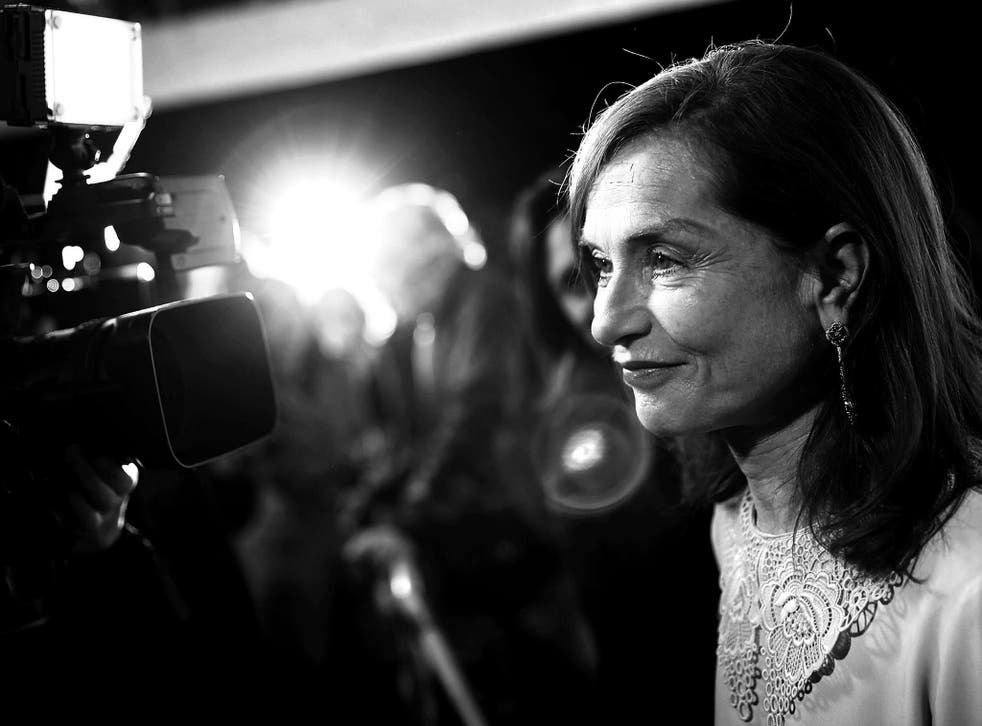 Isabelle Huppert doesn't consider herself scary – though that's how just about every interviewer describes her. One recent article wrote of the French actor's reputation as a "chilly, forbidding figure"; another of her "haughty froideur". In 2010, a writer for this publication described an assistant knocking on her dressing room door "with the kind of nervous deliberation traditionally inspired by royalty". It's a narrative that feels entirely alien to Huppert.
"I feel so far from being an intimidating person!" she says today. "I mean, when I hear that, I don't even understand who they are talking about."
The only explanation, according to Huppert, is that people confuse her with the roles she plays. There have been more than 120 of them over the course of her nearly 50-year career – each as complicated and ambiguous as the next. She played a quiet, masochistic musician in Michael Haneke's acclaimed The Piano Teacher; an impulsive nihilist in David O'Russell's I Heart Huckabees, and earned her first Oscar nomination in 2016 for Paul Verhoeven's brilliant, controversial Elle.
In that, she played a video-game executive determined to exact revenge on her rapist – though her intentions gradually transformed into something murkier and more troubling.​ Huppert's poised, unflappable manner, combined with her strikingly tiny frame, resulted in a character who seemed at once vulnerable and deeply resilient. But she wouldn't describe that role as "intimidating" either.
"It's a way of... misnaming the true nature of my roles," she says, grappling for the right words. Though her English is conversationally fluent, she often launches into intricate thoughts and concepts before realising her internal translator can't keep up. A few times, after circling around what she's trying to say, she lets out a frustrated "Comment ça se dit?", before offering a far simpler answer than she'd like. Sometimes, her brevity is just because she doesn't believe the subject warrants much of her time: she answers several questions with an affirmative, a silence, and then an "mm hmm" to confirm that she's finished. But catch her on something she cares about and she's warm and engaged.
"I just think in my roles I try to explore as many complexities as possible in feminine behaviour," she elaborates, carefully. "But they're not intimidating, not harsh. These kinds of adjectives are slightly deceptive, and reductive. It's a way of simplifying the reality. But never mind!"
I wonder whether male actors come up against the same issues. "No that's certainly..." she says, pausing to think. "Yes. If I really wanted to push it – maybe this is dangerous what I'm going to say – but there is a slight misogyny in this perception. Because you wouldn't say that for a man."
Perhaps Huppert's latest role, in Anne Fontaine's Reinventing Marvin, can set the record straight. Huppert plays herself (albeit a version written by Fontaine) in the film, which was loosely inspired by Edouard Louis's bestselling 2014 autobiography The End of Eddie. It follows the life of Marvin Bijou, a gay man who moves to Paris from rural France, where he endured an oppressive, violently homophobic childhood, to become an actor. Through an older man with whom he's been sleeping – a man who collects young proteges "like stray cats" – he meets Isabelle Huppert, who becomes something of a mentor.
"It's a really beautiful and interesting relationship – the way that this young, aspiring actor meets this, let's say, famous actress," explains Huppert (given that she's widely regarded as the "French Meryl Streep", that probably isn't an excessive claim). "There was a kind of generosity and special attention that she gives to this young person."
Access unlimited streaming of movies and TV shows with Amazon Prime Video Sign up now for a 30-day free trial
Sign up
There's no instant connection between the pair, though – Fontaine's script, and Huppert's performance, is too subtle for that. When Marvin, whose bruising childhood has rendered him extremely timid, is first introduced to Huppert at a party, he is dumbstruck. Just as he finally takes a breath to say something, she turns to talk to someone else.
It's a little heartbreaking. Does Huppert, in her real life, often find that people are overawed by her? "Oh yes, of course, of course. All the time." This is Huppert's first time playing herself, though she doesn't see much of a difference from her other roles.
"Even if you play yourself," she says, "you still play a fictional role. It's not like being in a documentary. Also if you play a fictional role, you always play a little bit of yourself, you know what I mean? So at the end of the day, it doesn't really make any difference because… you always play yourself."
This makes sense coming from Huppert, who brings a naturalistic but inscrutable quality to every character she plays, and refuses to paint her emotions in anything but the finest of strokes.
Her preparation for such roles is effectively nonexistent – she simply steps into them, always bringing something unwritten and unexpected in the process. In a recent interview, she described Daniel Day-Lewis's famous method acting approach as "so much the opposite of the way I relate to my work". Is she cautious about such an approach because it might kill the spontaneity? "No, no, no, I'm not cautious!" she says, half a decibel away from shouting. "I don't put a hierarchy between the two processes. Certainly not." This isn't the first time I've been put in my place. Huppert might not be intimidating, but she certainly doesn't suffer fools – or foolish questions – gladly. "Daniel Day-Lewis is probably one of the greatest actors ever! That is not my point. No, no, no."
The fact is, she says, it's simply "not my way of doing it. Maybe the roles don't really necessitate it." She's open to the possibility, though. Yesterday, she was watching a documentary on TV about an auctioneer. "All of a sudden I thought, 'Oh, it must be really interesting to play a role like this.' If I was going to do a role like this, then I'm sure I would have this kind of very... complete approach." She's also been thinking about playing a politician. "You have to talk publicly. It's the kind of role I've never really done before."
Still, if she did turn her hand to such roles, it would be as much to explore their inner psyche as to learn their trade. Whatever her character's profession, she relishes the chance "to really explore complex theories of mankind and human behaviour, and any kind of relationship – power, sexual. Once you start exploring these kinds of things, of course, it doesn't go without very dark edges, and a lot of complexity. Although, I always try to put a little bit of humour in it. It makes the whole thing more bearable, I think."
Does Huppert ever learn anything about her own psyche through exploring human behaviour in this way? "No. I don't think so. I don't think I learn anything, no." Fair enough. "Because it's just imagination. A little bit imagination, a little bit your own conclusions, but I never can say that I learn something."
"It's also a game," she continues. "Even though, for me, acting is about bringing as much truthfulness as possible, it's a game. That's why acting is really fascinating, because it's always ambiguous. It's always difficult to tell the difference between something completely imaginary and something really true. At least, the spectator is always wondering."
"The actor, of course," she adds with a conspiratorial chuckle, "knows perfectly."
Reinventing Marvin opens in UK cinemas on 14 September
Register for free to continue reading
Registration is a free and easy way to support our truly independent journalism
By registering, you will also enjoy limited access to Premium articles, exclusive newsletters, commenting, and virtual events with our leading journalists
Already have an account? sign in
Register for free to continue reading
Registration is a free and easy way to support our truly independent journalism
By registering, you will also enjoy limited access to Premium articles, exclusive newsletters, commenting, and virtual events with our leading journalists
Already have an account? sign in
Join our new commenting forum
Join thought-provoking conversations, follow other Independent readers and see their replies