Elle review: Paul Verhoeven's richest, most complex, and troubling film yet
There is not a single moment in the entire movie in which we are able to guess what she will do next – and that's what makes Elle such a wild and surprising ride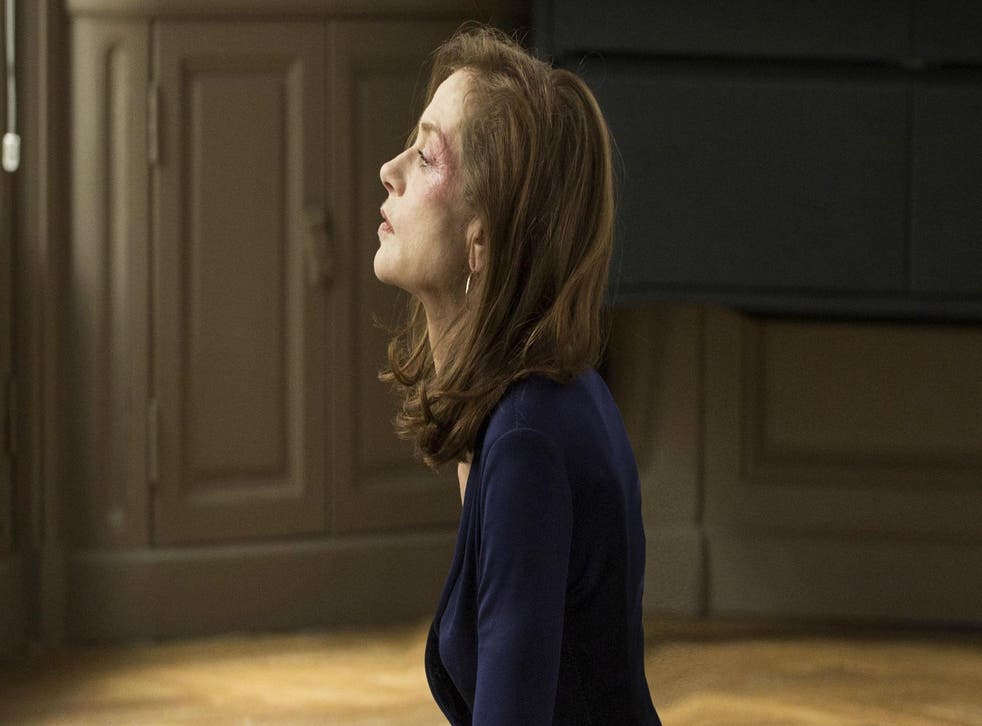 Paul Verhoeven, 131 mins, starring: Isabelle Huppert, Anne Consigny, Laurent Lafitte, Charles Berling, Virginie Efira, Judith Magre, Christian Berkel, Jonas Bloquet
If Paul Verhoeven had made Elle, as was originally intended, in the US, the chances are it would have turned out to be a formulaic and distasteful thriller. He would almost certainly have been accused of misogyny and of trading on memories of Basic Instinct. Instead, by keeping the story in France (where the Philippe Djian novel is set), Verhoeven has delivered surely the richest, most complex, and troubling film in his career so far.
There is nothing basic at all about the instincts the Dutch director exposes here. This is a film which continually confounds audience expectations – that plays one moment like a very grim thriller about sexual violence and the next like one of Luis Bunuel's barbed, surrealistic comedies reflecting on the discreet charms of the French bourgeoisie. It helps that there is an astounding performance from Isabelle Huppert as a character who is both victim and arch-manipulator.
Huppert plays Michele, the boss of a video game company. We see and hear her being assaulted during the opening moments of the film. A man in a black mask breaks into her home and attacks her as her pet cat watches on impassively.
In a more conventional thriller, Michele would spend the rest of the film trying to identify her assailant and plotting revenge. That's not her behaviour at all. She doesn't even report the incident to the police. The assault is followed not long afterward by a very jarring scene in a cafeteria in which a passerby deliberately spills a tray of food in Michele's lap and curses her. Again, Michele takes the incident in her stride. She is the boss ("le patron, c'est moi" she dresses down a surly programmer at her company). If she is going to be a victim, it is only going to be on her own terms.
The menfolk who surround her are pygmies by comparison to Huppert. There is an ex-husband (Charles Berling), a struggling novelist who seems meek enough but was violent towards her during their marriage. There is her good-natured but dim-witted and impecunious son, who has a job in a fast food shop and is an expectant father. She can't stand his girlfriend. Then there is the good-looking neighbour Patrick (Laurent Lafitte), a seemingly charming banker with a very dark side.
Elle Exclusive Clip: Shooting
Verhoeven extracts maximum comedy from Michele's family members, paying special attention to her elderly but still lustful mother, Irene (Judith Magre), who has pumped herself full of Botox and taken on a much younger lover. Michele is disgusted and amused by her mother's antics in equal measure.
Elle wouldn't be a proper Verhoeven movie unless there were at least one or two prurient scenes in which he tried to shock or titillate us. Here, we see a character masturbating as she watches her next door neighbours putting out their Christmas nativity ornaments. A hostess at a dinner party plays footsie with another woman's husband.
Huppert has a flair for understated, deadpan comedy. The film is frequently very funny as it shows her ironic response to her family and neighbours. At the same time, you can't forget the horrendous violence with which the film starts – a violence which keeps on recurring. What is most disturbing – and could easily have seemed grotesquely misogynistic and clichéd – is the sense that Michele takes a masochistic pleasure in this violence.
Access unlimited streaming of movies and TV shows with Amazon Prime Video Sign up now for a 30-day free trial
Sign up
The film's approach is deliberately open-ended and ambiguous. Verhoeven shot Elle digitally with more than one camera. This gives an unlikely fluidity to proceedings. The rape itself is choreographed like a very grim ballet.
Films to get excited about in 2017

Show all 13
The director observes his characters but doesn't judge them. Instead, he leaves us to make up our mind about their behaviour and motivations. If Michele wants to vandalise her ex-husband's car or betray her closest friend, she isn't going to explain why. The only clear emotion that she shows is a bitter hatred for her father.
Even at the most traumatic moments, Huppert's Michele never loses her poise or that strange sense of detachment, as if she is looking in on her life rather than living it. There are many aspects of her character that are alienating, verging on repellent. She can be withering in her put-downs and very cruel to those around her. She betrays her best friend. She's as sly and inscrutable as her pet cat, which Verhoeven shows sitting idly by at the most traumatic moments or toying with an injured bird that has flown into the window.
What's remarkable about Huppert's performance is that she makes such an aloof and sharp-edged character seem so sympathetic. Humour plays a big part in this process. You can forgive a lot in a character who makes you laugh as much as Michele does. There is a magnificent hauteur about her too, an absolute refusal to apologise for anything or even to acknowledge embarrassment. The closest she comes to revealing her true feelings is when she says cryptically, "shame isn't a strong enough emotion to stop us doing anything at all."
The remark hints at a guilt and self-loathing she never shows. She is fascinating precisely because she is so hard to read. There is not a single moment in the entire movie in which we are able to guess what she will do next – and that's what makes Elle such a wild and surprising ride.
Elle hits UK cinemas 10 March.
Register for free to continue reading
Registration is a free and easy way to support our truly independent journalism
By registering, you will also enjoy limited access to Premium articles, exclusive newsletters, commenting, and virtual events with our leading journalists
Already have an account? sign in
Register for free to continue reading
Registration is a free and easy way to support our truly independent journalism
By registering, you will also enjoy limited access to Premium articles, exclusive newsletters, commenting, and virtual events with our leading journalists
Already have an account? sign in
Join our new commenting forum
Join thought-provoking conversations, follow other Independent readers and see their replies