The Independent's journalism is supported by our readers. When you purchase through links on our site, we may earn commission.
JK Simmons interview: 'Being demanding to the point of being abusive is just not how I want to live my life'
The 'Whiplash' actor tells Clarisse Loughrey about life after his Oscar win and why he won't conform to what people expect of him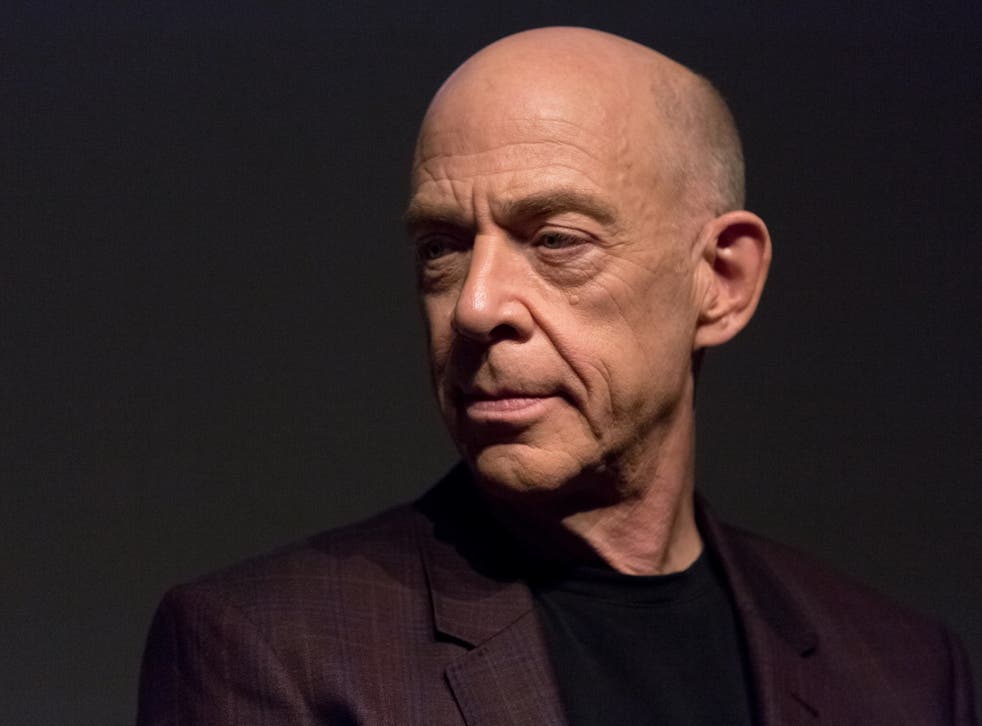 JK Simmons didn't want to get stuck playing "maniacal sadistic bastards". But after his gripping turn as a callous jazz teacher in Damien Chazelle's Whiplash, it was all he was offered. For a while, almost every role sent the 64-year-old's way was "the guy who abuses everybody and screams at people".
It was all very new to him. Over the past two decades, Simmons has been one of Hollywood's reliable types – well-regarded, sure, but never the centre of attention. Whether it's as the soft-hearted dad in 2007's Juno or the neo-Nazi inmate in the TV drama Oz, he simply put in the work and was quietly respected for it. If he was recognised on the street, it was most likely for his role as J Jonah Jameson, the newspaper editor fixated on Spider-Man, in Sam Raimi's superhero trilogy. You might call Simmons an exemplary character actor, had he not previously dismissed the term – "To me that kind of just means, he's not as good-looking as George Clooney".
But in 2015 it all changed: he won an Oscar for his role in Whiplash, the second film by a then unknown 29-year-old director. Chazelle wrote the film in a moment of frustration, as he struggled to get La La Land, his dream project, off the ground. Neither director nor star knew things would turn out so well. "You know, I was 60 years old when that happened," Simmons who is promoting his new film, A Boy Called Sailboat, says of his Oscar win. "So, obviously, there was quite a lot of water under the bridge in my case. I had already gotten to a level I'd never dreamed I would be. But, when the Whiplash phenomenon occurred, it multiplied the number of opportunities significantly."
A few years down the line, and the questions Whiplash raises about Simmons's character – who pushes a young drummer to the brink of destruction – have proven more relevant than ever. As the #MeToo movement has grown, it has exposed the abuses of power in creative spaces, and prompted broader reflections on how we create art. Why do we excuse directors like Lars von Trier or Stanley Kubrick torturing their actors, simply because the films they make are so beloved?
"If your discipline doesn't come from within, I don't think someone being abusive is likely to be all that helpful," Simmons says. Although he's had "very, very few negative experiences", he doesn't tolerate that kind of behaviour when it does occur. "At my age, I have no patience for anything that approaches that kind of attitude from a director or producer or whatever," he says. "I think being demanding to the point of being abusive is just not how I want to live my life. You know what? We're at work 13, 14 hours a day. I mean, it's already a pretty ridiculous lifestyle so, you know, let's at least enjoy ourselves and have fun together while we're there."
47 brilliant films that didn't receive a single Oscar nomination

Show all 47
Since Whiplash, Simmons seems to have done just that. He's worked again with Chazelle (on La La Land) and frequent collaborator Jason Reitman (on Men, Women & Children and The Frontrunner), joined the DC Cinematic Universe as Batman's ally, Commissioner Gordon, and voiced Zootopia's lion mayor. Not only does the phone ring more often now, but Simmons has been able to invest time in smaller projects. The kinds of films that might benefit from having an Oscar winner in their ranks. "Lord knows, it's a very crowded marketplace now," he says, "so trying to get attention for an independent film is a challenge."
That includes writer-director Cameron Nugent's debut, A Boy Called Sailboat. The film, in which Simmons appears as a car salesman named Ernest, is a charming tale of a boy who comes across "a little guitar" in a roadside junk pile. After his deathly ill grandmother asks him to write a song for her, the boy writes a tune that mesmerises the people of his hometown, which sits isolated on the US-Mexico border. Anyone who attends the boy's performance is reduced to tears, and upon leaving, starts to experience vivid, inspiring dreams. Simmons's Ernest is a folklorish sort of character, whose lot appears to exist miles from any sign of civilisation, but who won't be dissuaded from regularly practising his sales pitches.
The actor got involved in the film after a phone call from friend and Renegades co-star Sullivan Stapleton, a producer on the project. He was instantly charmed by Nugent's screenplay, which he calls "truly quirky". It's a term often misapplied, especially to smaller films, but here he means quirky in a "very new and creative and human and ultimately touching way". "They were able to schedule it so that all of my scenes were shot in two days," he adds, "and I jumped in my car and drove to New Mexico, joined the family for two days, and came back home and rejoined my family."
A boy called Sailboat: Official trailer (2018)
Simmons is aware of the immense privilege he's now afforded as an actor, but clearly doesn't feel the pressure to conform to how an Oscar winner should navigate their career. There's a calmness and self-assuredness to the way he talks. He'll often pause for a small chuckle, often at himself, or the "ridiculous career" that is acting. He'd much rather describe himself as "an itinerant carnie", hopping from job to job, "just doing the best work I can do".
Access unlimited streaming of movies and TV shows with Amazon Prime Video Sign up now for a 30-day free trial
Sign up
Beyond A Boy Called Sailboat, Simmons has been toying with a few options. He might make a return to the stage, on Broadway or the West End, in the next couple of years. After graduating from the University of Montana with a music degree in 1978, he worked for nearly two decades in the theatre, starring in musicals such as Guys and Dolls and Peter Pan (where he met his wife, Michelle Schumacher). "I haven't been onstage in over twenty years," he says. "So it's both exciting and, honestly, a bit daunting to exercise those muscles I haven't been using for so long."
He'll also likely reunite once again with Reitman, having starred in all of his films except 2018's Tully, to which he wasn't able to commit due to scheduling clashes. "I always joke that there's a complete lack of imagination on the part of a director who keeps working with the same actor over and over again," he says. He pauses for a moment, then adds: "I'm not sure that joke plays well in print, though."
Many would assume that Simmons will appear in the director's forthcoming Ghostbusters sequel. The actor was "one of the first people that [Reitman] whispered about this to as a concept", but he can't share any details – "under penalty of death". He will say that Reitman isn't intimidated by taking up his father's mantle (Ivan Reitman directed the first two Ghostbusters), despite the fact his career's turned out wildly different to his. A master of low-key comedy dramas, he's not the most obvious choice for a goofy, slapstick supernatural flick, but Simmons argues: "He does want to make movies that people want to see. He doesn't want to be this idiosyncratic auteur who will be looked back on a hundred years from now as having been a genius. He wants to make good, smart, fun, popular, funny, and/or thought-provoking films. And you know, this is just going to be the latest example of that."
There's another option for what comes next for Simmons. He might just not do anything at all. At least for a little while. The ironic luxury of having won an Academy Award is that the actor's been able to turn down more work than ever. "I thought, you know what? I don't think I'm going to have to sweat whether I'm going to have job offers coming up," he says, "so maybe I can take more time off and enjoy being with my family. My priority is real life."
A Boy Called Sailboat is available on Digital Download from here
Join our new commenting forum
Join thought-provoking conversations, follow other Independent readers and see their replies