Judd Apatow on his Netflix comedy 'Love', Trainwreck vs The Martian, and writing female characters
​He gave Lena Dunham and Amy Schumer their break but he's been criticised for poorly written female parts. As Judd Apatow's new series starts, Sarah Hughes asks whose side he's on
Sarah Hughes
Tuesday 16 February 2016 18:05 Comments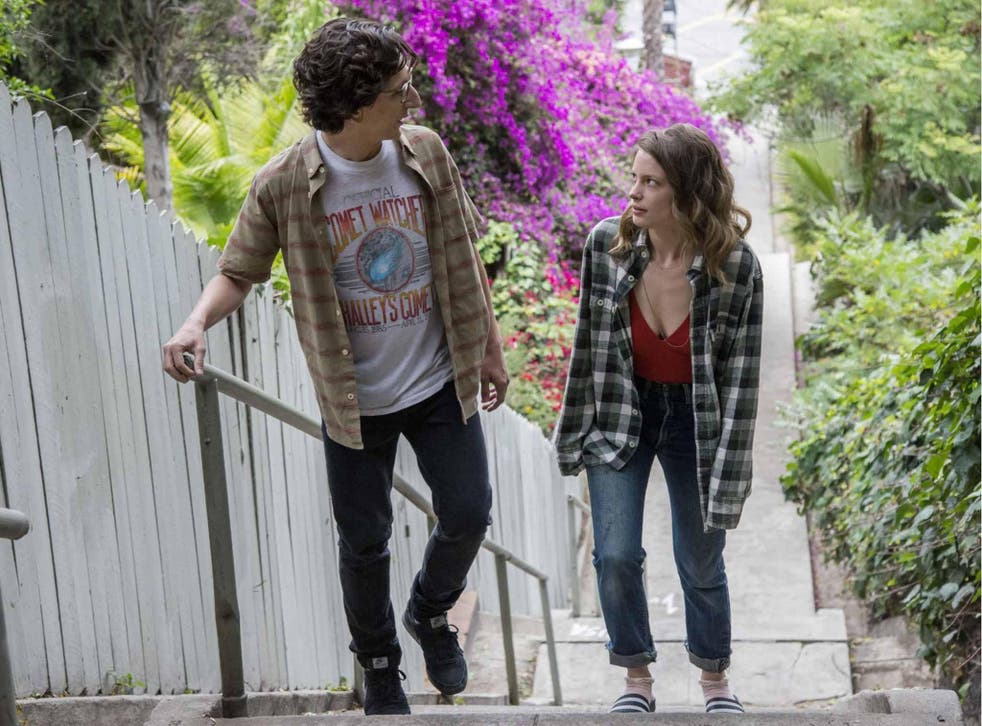 We all know how a Judd Apatow comedy plays out. There's a guy and a girl: they meet, fall in lust, have issues, split, get back together, settle down. Along the way there's drink, embarrassing misunderstandings, occasional prescription drug abuse, at least one gross-out moment and some sharp one-liners.
It's a winning formula and has stood the 48-year-old Apatow in good stead through most of the films he's directed (The 40-Year-Old Virgin, Knocked Up, This Is 40, Trainwreck) as well as those he's simply produced (Superbad, Forgetting Sarah Marshall, Bridesmaids).
His latest project, the 10-part comedy Love, which arrives on Netflix this week, sticks closely to this pattern. Nervous nice guy Gus (comedian Paul Rust) lives with his girlfriend in Los Angeles and makes ends meet by tutoring bratty film kids; meanwhile, drunken mess Mickey (the excellent Gillian Jacobs) has a boyfriend she disdains and a life she clearly wants to escape from. Can Mickey help Gus live a bit, and will his Midwestern geniality rub her more abrasive edges away?
So far, so standard – yet Apatow is quick to insist Love isn't simply one of his films in longer form. "Well, it sort of is, but only because I don't find it easy to tell stories in 90 minutes, so I think of this as a chance to make a five-hour movie, which is really all I've ever wanted to do," he admits, laughing. "But it is different. It's a show about everything that happens to a couple from the moment they see each other – it almost plays out in slow motion, every single detail of how this relationship works. That was a lot of fun to do because it shows all the moments that you usually skip over."
We're sitting in a hotel in Los Angeles. It's the day after the Golden Globes, in which Apatow's Amy Schumer-led comedy Trainwreck was passed over in the best comedy category in favour of Ridley Scott's space drama The Martian; Apatow declines to comment on the decision, choosing instead to praise Schumer's performance. A few weeks later he will be less diplomatic at the Critics Choice Awards, saying: "We only have one award… I'm like a nerd on the schoolyard and you stole my milk money. Can we just pick whatever category we want to be in? We have an Asian man in our movie – can I go foreign film now?"
Perhaps it's for the best that Apatow is concentrating on television for the moment. As well as Love he has the last two seasons of Lena Dunham's Girls to produce (series five will air on Sky Atlantic from next week and shooting begins on the sixth and final series in spring); he's also working with the comedian Pete Holmes on a new comedy, Crashing, for HBO.
"What's fun about TV as opposed to movies is that there's only so many endings to a movie. It generally is either happy or it's No Country for Old Men and he gets shot at the end," he says. "I mean there's not that many ways to go. You either rescue the guy or you let him die. But a TV show allows you to show all the nuances and end episodes with happy moments and sad moments and melancholy moments, and it's much more truthful because you don't have to tie it up with a bow."
Certainly, there's a streak of melancholy running through Love. We meet Mickey and Gus at a difficult time in their lives; and the script, which Apatow wrote with Rust and Lesley Arfin, is happy to highlight their loneliness and the way they're struggling to get by.
"I think people want to see characters struggle to find happiness," he says. "We all feel that way, that it's a bumpy road and we're trying to figure ourselves out. Shows should represent honest journeys – the mistakes people make, how they feel about that. Something like Girls may not speak to everybody because it's about a very specific subculture of an area of New York, but at the same time there's a universality in that it's about a moment when you're young and make mistakes and are trying to figure out who you are. I've had my version of their bad dates. I can relate to that."
Access unlimited streaming of movies and TV shows with Amazon Prime Video Sign up now for a 30-day free trial
Sign up
He might be able to relate, but at least on the surface the affable Apatow's life is far removed from that of his sad-sack characters, with their yearning for love. He's married to the actress Leslie Mann, who starred in Knocked Up and This Is 40, and they have two teenage daughters, Maude and Iris, who also often feature in his work: 13-year-old Iris plays a bratty teen star in Love. "I thought she was very funny, she's a good actress," her father says.
His career has also progressed smoothly since he got his first break volunteering at, and then producing, benefit concerts for HBO's Comic Relief (a comedy fundraising event based on the UK charity) as a teenager. After completing the screenwriting programme at the University of Southern California he paid his dues on a variety of shows including The Larry Sanders Show. He faced the standard setbacks – pilots that weren't picked up, prematurely cancelled shows such as the ahead-of-its-time Freaks and Geeks – but throughout it all Apatow continued to build a reputation for solid work and a willingness to collaborate.
How does he feel about his reputation as the kingmaker of comedy? He laughs. "You know how some people are really into trying to figure out who's going to be the next great basketball player? Well, I've always enjoyed looking at people and thinking, 'Oh, I'd like to work with that person. They really seem like they're capable of bigger things,'" he says. "That's one of the great pleasures of what I do."
He admits to being a comedy obsessive: "Absolutely. As a kid I used to watch Andy Kaufman and Michael Keaton and think, 'Oh I'm going to track everything they do.' It was like my own version of scouting. So, you know, I liked [Jerry] Seinfeld and [Jay] Leno, right when they first started, and I would follow everything they did throughout their careers. And I guess I still do that with people I like – except now I can make something with them or help them get to the next stage."
There's no doubting Apatow's ability to nurture new talent: as well as supporting Dunham and Schumer he is credited with boosting the careers of everyone from Seth Rogen and Jason Segel to Paul Rudd and Kristen Wiig. But he has also faced repeated criticism for the way his projects treat women. In Knocked Up, Katherine Heigl's character is an uptight shrew. In This Is 40 Mann's character is a frustrated nag. In Trainwreck Schumer's hard-drinking reporter only finds happiness after she accepts her one-night stands were driven by self-loathing.
He rejects the idea that his male characters are more carefully depicted than his women. "When my wife and I got married we would talk a lot about how bad the scripts were and how the female characters were just there to serve the male parts of the story and were really underdeveloped. I made a real effort in writing to go deeper and make stronger choices." He pauses, and then adds: "That said, I don't know if I had any conscious thought about helping the cause. I just thought, 'Oh, Kristen Wiig is funny. No one is funnier than her right now. I'd like to work with her.' Or, 'Lena seems brilliant, so I want to talk to her about doing this.'"
King of bromance: Judd Apatow

Show all 5
Does he think comedy has changed since he started working in it all those years ago? "Yes, but it's not changing quickly enough," he says. "Take the female Ghostbusters I hear about, that I think [Paul] Feig is making with Kristen Wiig, Melissa McCarthy, Lesley Jones and Kate McKinnon. That sounds awesome, but other people are less happy. Then again, I think sometimes the people complaining are 28 nerds in their parents' basements. Most people are thrilled they're going to make the movie and so they should be. Movies need both men and women and it should all equal out."
He shrugs. "Look, I would never say I had any intention of changing the world. I was just coming from the point of view that men and women are equally talented and funny, and seeking out the people I thought were best. That's all I've ever done."
'Love' starts on Netflix on Friday; 'Girls' series five starts on Sky Atlantic next Monday at 10.45pm
Register for free to continue reading
Registration is a free and easy way to support our truly independent journalism
By registering, you will also enjoy limited access to Premium articles, exclusive newsletters, commenting, and virtual events with our leading journalists
Already have an account? sign in
Join our new commenting forum
Join thought-provoking conversations, follow other Independent readers and see their replies