Justice League: Why the DC movie's $281.5 million opening weekend is being considered a disappointment
Where does Warner Bros. go from here?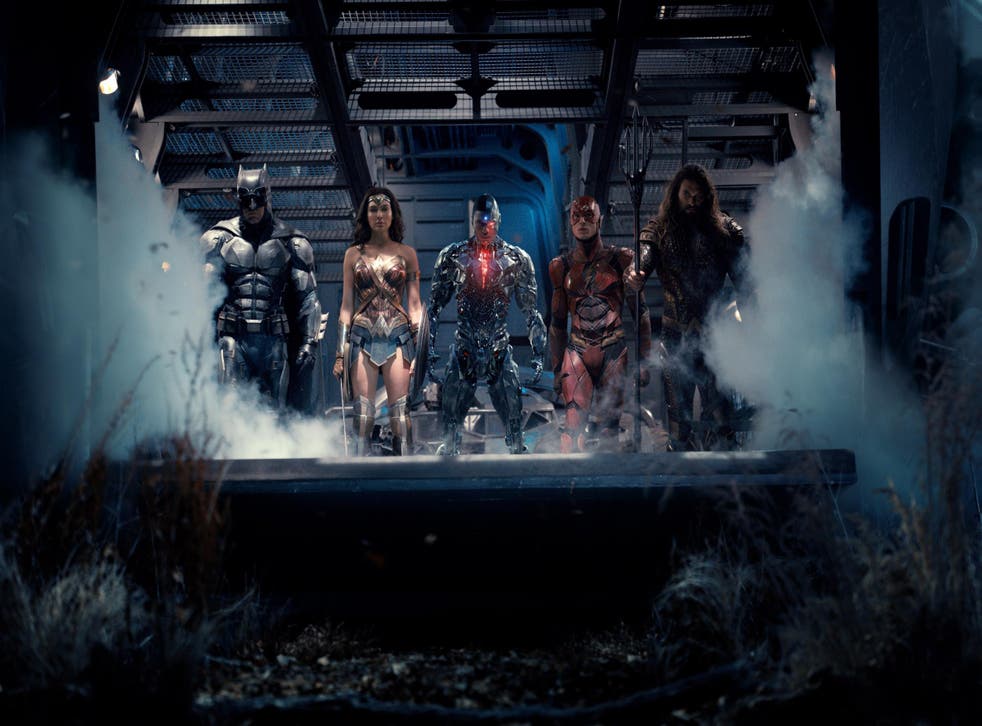 For most Hollywood studios, a film debuting with a $281.5 million weekend would be more than enough reason to fill a swimming pool with 1961 Dom Pérignon and drink until the new year. Yet, Justice League has taken that staggering amount worldwide and no-one's celebrating.
Forbes has called the film's US domestic gross of $96 million a 'disaster' for Warner Bros., their analyst saying the movie "may well become the biggest-grossing 'bomb' of all time". The Telegraph has questioned whether this will be "the end for DC?" Variety has called the outlook "gloomy".
But why? When every other studio would be acting like Scrooge McDuck in a bank vault, why is Warner Bros. questioning the future of their blockbuster franchise?
First off, they are definitely going to continue pumping out superhero movies — Aquaman has already filmed — so there's no point in having that discussion. Past Aquaman, though, the future of the DC Extended Universe (DCEU) could look very different (we'll come back to that later).
Numbers-wise, the studio are looking at only just breaking even with Justice League. According to Deadline, for Warner Bros. to make any profit, the Avengers-style team-up — featuring the superheroes Batman, Superman, Wonder Woman, Aquaman, Cyborg, and The Flash — needs to make upwards of $750 million. That's because the production cost a reported $300 million (including getting Joss Whedon on board after Zack Snyder suffered a devastating personal incident), while prints and advertising costs reportedly amount to an additional $450 million.
27 films to look out for in the first half of 2018

Show all 27
Of course, Warner Bros. would not have spent such huge amounts of money without expecting certain returns. Justice League was initially tracking for a rather mild domestic run of between $110 million and $120 million, with an expected $325 million global taking. With all these fan favourite characters finally meeting up, plus the large amounts of fanfare, many thought those estimates were slightly conservative.
Unfortunately, Justice League's $96 million domestic haul makes it the lowest DCEU opening in the US to date, below Wonder Woman ($103.3 million) Man of Steel ($116.6 million), Suicide Squad ($133.7 million), and Batman v Superman ($166 million). For comparison, Avengers took $207.4 million, Age of Ultron made $191.3 million, and Thor: Ragnarok, which came out three weeks ago in the US, took $122.7 million.
For the flagpole instalment of the DC franchise — ten years in the making — to have stumbled at the starting gate, that's indeed quite worrying news for the studio.
Many commentators have pointed to Justice League hopefully having legs. However, historical DCEU releases don't bode well for the blockbuster. Batman v Superman — which grossed $422 million worldwide — dropped 69.1% weekend on weekend. Suicide Squad dropped similarly, falling 67.2%. Man of Steel made headlines for dropping 65%. Only Wonder Woman has bucked the trend, dropping 43.3% weekend-on-weekend.
Access unlimited streaming of movies and TV shows with Amazon Prime Video Sign up now for a 30-day free trial
Sign up
Justice League Interview With The Cast
Unlike Wonder Woman, though, Justice League will likely suffer from negative reviews and relatively average word-of-mouth. On Rotten Tomatoes, the team-up holds a 39% approval rating, behind Wonder Woman's 92% and Man of Steel's 55%, while ahead of Batman v Superman (27%) and Suicide Squad (26%).
Ignoring the critics and focusing on the CinemaScore — which judges the general audience's reaction — Justice League holds a B+, the same as Suicide Squad, and far behind Wonder Woman (A).
Then there's superhero fatigue. Considering the success of Thor: Ragnarok, people certainly aren't bored of seeing men in leotards punching each other. However, the well-received Chris Hemsworth-led film came out very recently, likely leaving casual superhero fans slightly exhausted. Then there's Marvel's The Punisher, which came out on Netflix the same day Justice League reached cinemas. While chances are people didn't overlook DC's tentpole instalment for the series, this may have had a slight effect on those who already spent their money on Thor.
Finally, we should also consider Batman v Superman having a widely negative effect on Justice League. Zack Snyder's trilogy — starting with Man of Steel — has been met with some very negative reactions. Those who saw Batman v Superman and didn't enjoy the film (which scored a B CinemaScore rating) were perhaps soured by the experience. Plus, unlike when Avengers — which saw Iron Man, Hulk etc meeting for the first time — fans have already seen the Dark Knight and Superman on screen together.
Overall, it's not exactly a bright outlook for the highly-anticipated blockbuster. Of course, there's some hope. It's possible Justice League could follow in the footsteps of Fantastic Beasts and Where to Find Them which had a $74.4 million debut and grossed $234 million in the US. A similar multiplayer for Justice League would put the movie at around the $300 mark. That's just domestic — Justice League could buck the DCEU trend and perform similarly to Wonder Woman overseas. Only time will tell.
So, where does this all leave Warner Bros. and the future of the DCEU right now? Chances are, Justice League may very well recoup $750 million. If Justice League does break even, though, this opening weekend will still have some lasting impacts on the studio's superhero output.
Many have pointed out how Superman was not part of the marketing for Justice League, Warner Bros. attempting to keep up the illusion the character was dead (despite Batman v Superman strongly hinting at the hero's return). This could have damaged the film's appeal but also meant the official announcement of Man of Steel 2 was delayed, as to protect the illusion. Perhaps Warner Bros. will rethink the sequel altogether considering the character's appeal seem to be waning.
Justice League - 'Thunder' Trailer
Then there's Ben Affleck's Batman. The actor's continued presence in the DCEU remains highly debatable, some publications speculating Jake Gyllenhaal may replace the actor for Matt Reeves' upcoming solo outing. Considering Affleck has received the majority of criticism — whereas Gal Gadot has remained unscathed — and the actor has spoken candidly about still being unsure whether he'll return, we may get a new Dark Knight sooner than previously thought.
Whether anything will actually change, though, who can say? But be assured, there are some very interesting talks happening behind closed doors at Warner Bros. right now. Oh, to be a fly on the wall.
Register for free to continue reading
Registration is a free and easy way to support our truly independent journalism
By registering, you will also enjoy limited access to Premium articles, exclusive newsletters, commenting, and virtual events with our leading journalists
Already have an account? sign in
Register for free to continue reading
Registration is a free and easy way to support our truly independent journalism
By registering, you will also enjoy limited access to Premium articles, exclusive newsletters, commenting, and virtual events with our leading journalists
Already have an account? sign in
Join our new commenting forum
Join thought-provoking conversations, follow other Independent readers and see their replies