Kate Hudson on girl power, childhood and female body scrutinising
Kate Hudson describes how she mixes Hollywood stardom with research and writing about body image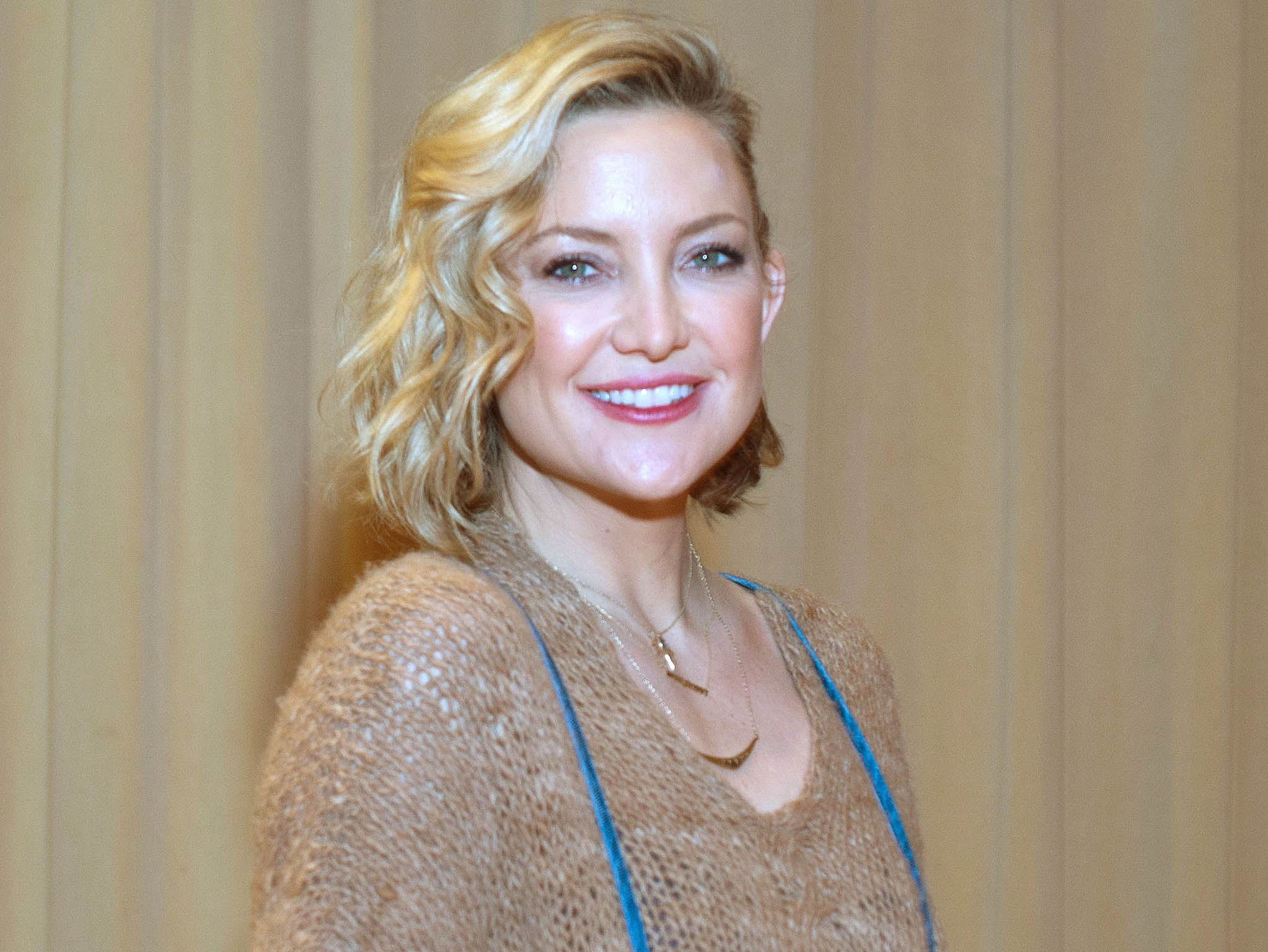 "Sorry, I just need to reply to this text," smiles Kate Hudson, flashing her phone where the screen displays the recipient's name as "Daddy".
As mother of two sons with different fathers, "Daddy" is open to interpretation, but she quickly tosses her phone aside, explaining how the text is from own dad, Kurt Russell.
"I know. It's confusing," she laughs. "Lots of daddies." If she seems delightfully scatty, it's because, hours after we meet, she's flying overnight to Shanghai for the Chinese premiere of her latest film, Kung Fu Panda 3.
She's travelling with the rest of the cast and hasn't packed her bags yet.
A newcomer to the all-star cast of the animated Kung Fu Panda franchise, featuring the voice talents of Jack Black and Angelina Jolie Pitt, among others, she's delighted it's a film her boys can enjoy although she's sad they can't accompany her on this particular visit, especially since she's scheduled to meet a baby panda in Chengdu.
"Hopefully I will return with my boys next year if I do this project which, funnily enough, is also about pandas, although I can't talk about that yet because it's not confirmed," says Hudson, who took over an overly confident panda named Mei Mei after Rebel Wilson dropped out.
It was easy to embody the girl-power style of her panda alter-ego: "When you grow up with three boys you're forced to be in touch with your girl power and you develop a pretty thick skin.
Films to watch in 2016
Show all 30
"My brothers really toughened up my constitution. I have a girly side to me but there's a fierce one in there too which comes out when I'm working, and every once in a while it comes out in friendships and relationships with partners too."
She has grown up in the public eye. First in the reflected spotlight of her mother Goldie Hawn and step-dad Kurt Russell, and later as a movie star in her own right receiving early acclaim for her break-out role in Cameron Crowe's Almost Famous 16 years ago.
As Hollywood royalty, she acts gracefully, with none of the arrogant spats with paparazzi or overblown indulgences that typically accompany newly-minted celebrity.
Access unlimited streaming of movies and TV shows with Amazon Prime Video
Sign up now for a 30-day free trial
Sign up
Access unlimited streaming of movies and TV shows with Amazon Prime Video
Sign up now for a 30-day free trial
Sign up
She challenges the compliment, reasoning that today's celebrities exist in a different era.
"It's changed a lot. I think that once upon a time, the art, the creators and the stars were far more protected and nurtured."
Despite the dizzying fame surrounding her own parents, Hudson and her siblings enjoyed a happy childhood, which has equipped her today with the necessary skills to juggle her own career with raising sons Ryder, 12, from her six-year marriage to Black Crowes rocker Chris Robinson, and four-year-old Bing, from her four-year relationship with Muse singer Matthew Bellamy.
"I think my parenting style is pretty similar to my own parents," she says. "We had a beautiful childhood. It's not that it didn't come with family stuff like a lot of families have, but we were lucky and were so close and remain close which today I think is very rare.
"I hope I can emulate a lot of what our parents gave us, and maybe there's some things that I am not so interested in emulating but, for the most part, they really knew what they were doing.
"We had a traditional upbringing, progressive, but very family-value-oriented, but there were also extraordinary things that we didn't realise were extraordinary until you grow up and go, 'oh that's who that was in our house that day', or that I am able to say that as a kid I saw the opening of The Phantom of the Opera on Broadway and other cool stuff."
Hudson grew up with brother Oliver, 39, half-brother Wyatt, 29 (from her mother's relationship with Russell), and Russell's son Boston, 36.
A quintessential California blonde with an easy-going demeanour and strong sense of practicality, she makes no big deal of co-parenting even when the love is gone.
Continuing to divide her time between Los Angeles and London, where Bing's British dad lives, she says: "We'll spend anywhere from four to six months in the UK depending on the year. I've always loved London and I'm so happy there.
"I feel at home there so its nice now to have a son who's half US citizen, half British! I'm a fan of Notting Hill and I love central London, especially Marylebone. I'd live there a little bit more but Ryder is in school in LA. When Bing is older, I'd love to have him in an English school, so we'll see."
Currently single, and turning 37 next month, she longs to extend her family. "I do want more kids, for sure," she says.
As a parent, she knows perfection is impossible. "I do my best. We'll see what happens as I get older. I think I'm an easy-going mom but I'm pretty strict too when it comes to manners and things like that. I love being a mom. I'll have more children, yeah. Second round."
She is no stranger to fractured families. Her mother divorced her birth father, musician Bill Hudson, when she was an infant, Kurt Russell later stepping in as father to both Hudson and her older brother.
She is especially close to Russell, and the pair will share the screen for the first time this year in action drama Deepwater Horizon, based on the real-life story of the 2010 offshore-drilling explosion that created the worst oil-spill in US history.
At January's Golden Globes ceremony in Beverly Hills, she shared presenting duties with Russell while her mother watched on TV at home, although the evening later took on a sober note after news of David Bowie's death broke.
"I ended up going home early because it felt like…" she says struggling for the right words. "My friend Guy Oseary told me, and he went home early too. It made me feel so sad. It was such a loss and I found myself looking around the room at all these amazing artists thinking: 'Wow, the beat goes on.' But it was also one of those feelings of: 'Wasn't he supposed to live forever?' And you know what? He does and he will. Bob Marley will live forever, David Bowie will live forever."
Best known for comedies like How To Lose a Guy in 10 Days, Bride Wars and You, Me and Dupree, she next appears in Garry Marshall's all-star comedy Mother's Day alongside Julia Roberts and Jennifer Aniston.
One of the most photographed women in Hollywood, regularly gracing the covers of women's magazines, she admits how she has struggled in the past with self-esteem issues prompted her to write her new book, Pretty Happy: Healthy Ways to Love Your Body.
"I think women are programmed to not feel that great about ourselves. Our bodies are constantly telling us that we're not good enough.
"And I think that's because we're so highly scrutinised – our image, our beauty or the idea of beauty – whatever that is because I believe it's subjective," says the actress who radiates an inner glow, be it in a figure-hugging gown on the red carpet or today dressed in a beige cashmere sweater, high-waisted denim flares and jewel-encrusted sandals.
Having done much research into body dismorphic disorder, she concludes: "We need to stop scrutinising each other and start supporting that we're all on this trajectory together of youth into womanhood into getting older and what's really going to shine and feel healthy and live longer is feeling good about ourselves.
"I got that from my mom because she's always been that way, so I want to encourage girls to feel good about themselves, no matter what their sizes are, and to feel motivated to be healthy and strong."
'Kung Fu Panda 3' is released on 11 March. 'Mother's Day' is out in the UK in June
Join our commenting forum
Join thought-provoking conversations, follow other Independent readers and see their replies