'Women have been handed a power card': Kathryn Hahn on Time's Up, and why she's glad she never got stuck in 'push-up bra' roles
The actor discusses her wide-ranging career, and how, with 'Hotel Transylvania 3', she's finally in a movie she can show her kids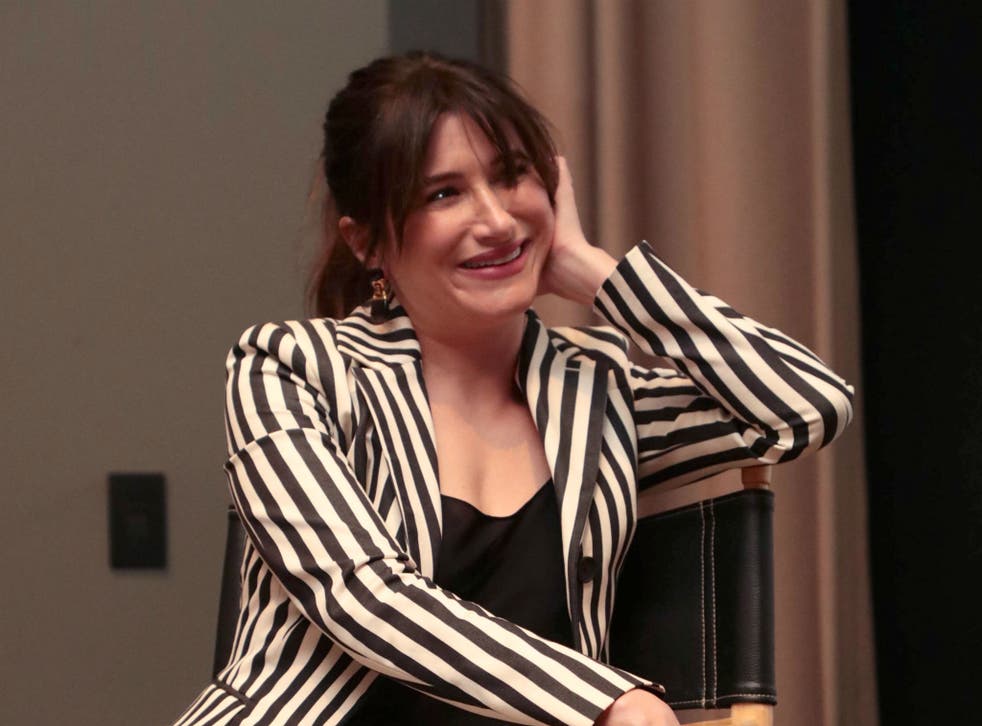 If you need an actress to keep a straight face while hot-waxing scrotum hair from a naked man, then Kathryn Hahn is your gal.
If there's any common thread to this wildly versatile performer's work, it's that she's game for anything. As well as that part as a beauty therapist in Bad Moms, she's also been seen in recent years as a revolutionary mother raising her kids in the wilderness in Captain Fantastic, and even a rabbi in Transparent.
More importantly, she can pull off anything. There's no gag too blue, no emotion she can't reach, or laughter she can't induce.
Meeting her in person does not disappoint. She's resplendent in a bold black and white striped trouser suit which just screams Beetlejuice.
It wasn't even a wardrobe malfunction. Earlier, her stylist had delivered a series of demure dresses and, just for laughs, had thrown in the stripey number to wear to our interview for her voice role in Hotel Transylvania 3: Summer Vacation.
"Why not? It's a monster movie! Not that Beetlejuice was a real monster, he was a pretty cool," muses Hahn, who admittedly doubted her sartorial choice after being teased by her sedately-attired costars Selena Gomez, Andy Samberg and Keegan-Michael Key, none of whom felt it was in their contract to rise to the monster theme.
But the 45-year-old is practically giddy at being welcomed to the animation party: a small club of actors who regularly voice characters in popular family franchises.
Better still is the fact she can finally show her work to her kids.
"Are you kidding me?" she laughs. She's best known for her work in R-rated movie Bad Moms, We're The Millers, and This is Where I Leave You, or on TV's I Love Dick and Transparent.
"I don't think they've ever been able to see any of my movies before. But now I even get to take them to the premiere."
Access unlimited streaming of movies and TV shows with Amazon Prime Video Sign up now for a 30-day free trial
Sign up
Making her debut in Hotel Transylvania 3: Summer Vacation as cruise captain Ericka, a descendant of legendary monster-hunter Van Helsing, was as good as it gets for her.
It was also handy to record at Los Angeles' Sony Studios, just a few miles from the home she shares with actor-writer husband Ethan Sandler and their kids Leonard, 12 and Mae, nine.
"Not a lot of shoots are in LA anymore which is why this is the greatest mom gig ever," she says, recalling how she was able to drop her kids off at school in her sweats before heading to work.
For all of Hahn's raunchy roles, she relishes her solid family life, having met her husband when they were both freshmen at Northwestern University outside Chicago.
"We joke how it's fun that I get to work out all this stuff on camera because my real life is very boring. I think I would go crazy if I didn't have this job. It keeps me a sane parent," she says.
"I love being mother to those two kids and I love my husband and my dogs and my rabbit. The downside is that they don't have the security of knowing that I'm going to be home every single day.
"Being a parent is beautiful chaos, and not at all like how you imagine."
Nor has her career turned out to be how she imagined. But she is grateful that she didn't become a so-calld It girl, have her moment in the sun, then disappear.
"I love that I'm a character actress and get to do so many different and interesting roles. There's really no reason that I can't continue on forever because I've never been typecast as one thing."
Even so, she still experienced first-hand the sexism of the industry.
"I've subtly experienced it many, many times," she says. "I remember very distinctly doing a reading for something, and a female producer having to sheepishly call my agent and say, 'Can she wear a push-up bra? Can she glam it up for this?' And she was embarrassed."
More than anything, she was shocked that it was a fellow woman who was forced to make that call. "That she had been told to do so by some man. That was a real bummer and an eye-opener too. I definitely felt tokenised."
The Yale-trained performer was almost relieved when she didn't get the role.
"It was for a shitty movie that I didn't even really want to do – for a wife part that had no meat on it at all. But I was very young at the time so all work is precious when you're starting out," she says.
She began her career on TV, progressing to supporting roles on big screen comedies How To Lose Your Guy in 10 Days, Anchorman and Step Brothers.
She's also loud and proud when it comes to #MeToo and #TimesUp.
"I am so excited that my kids are able to grow up with this sort of consciousness," she says. "There's still a lot that needs to happen, but it's almost as if women have been handed a power card so that any room you walk into, you can call it out if you see it. And there are no ramifications or consequences now, because it is swift and it is large.
"So it feels powerful to have that card – just to be like: I dare you! That feels very powerful for all of us women."
Swerving the push-up, glam-up roles has helped her career in the long run, she thinks. And despite all those early comedies, directors soon noted how Hahn's range stretched far beyond the laughs, and cast her in more nuanced dramas like The Secret Life of Walter Mitty, Revolutionary Road and starring alongside George Clooney in Tomorrowland.
After appearing in successful supernatural movie The Visit in 2015, she longs to work more in the horror genre. "I've always been a fan of horror because I feel like it is one of the last genres where you need to see at a theatre, sharing in this profound experience of seeing it with a community of people."
Raised in a Catholic family in Ohio, certainly her mother would be happy to see her in less profane roles.
"Thank god my mom doesn't have the greatest hearing," she says. "She tells me; 'I can only imagine what was coming out of your mouth!' I live in this bubble cause my kids have no idea really what it is that I do."
No wonder she embraced the family-friendly Hotel Transylvania 3: Summer Vacation. "As a mother, I've seen a lot of animated movies and, I've got to say, there's so much crap out there for children. So when you see something like this, it's genuinely refreshing."
Sharing a nostalgic glimpse into her own childhood holidays, she recalls, "One year my dad thought a good vacation spot would be a ski-lodge in Pennsylvania in the summer because it meant cheap hotel rooms. But there was literally nothing to do, stuck on top of a mountain.
"There's pictures of us all sitting in a ski-lift bored in the sun. It was called Blue Knobs which made my brothers and I laugh so much."
Perhaps Hahn's next project could be to write her own comedy script – although it might still be too rude for the kids.
'Hotel Transylvania 3: Summer Vacation' opens on 27 July
Register for free to continue reading
Registration is a free and easy way to support our truly independent journalism
By registering, you will also enjoy limited access to Premium articles, exclusive newsletters, commenting, and virtual events with our leading journalists
Already have an account? sign in
Register for free to continue reading
Registration is a free and easy way to support our truly independent journalism
By registering, you will also enjoy limited access to Premium articles, exclusive newsletters, commenting, and virtual events with our leading journalists
Already have an account? sign in
Join our new commenting forum
Join thought-provoking conversations, follow other Independent readers and see their replies