The Saturday Interview
Kevin Bacon: 'I've been told I'm more well known for being well known than for anything I've acted in'
He's been a movie mainstay since the Eighties but has always evaded celebrity, instead gravitating towards grisly characters other actors wouldn't dream of touching. Adam White meets a true Hollywood original
Saturday 10 October 2020 08:12 BST
Comments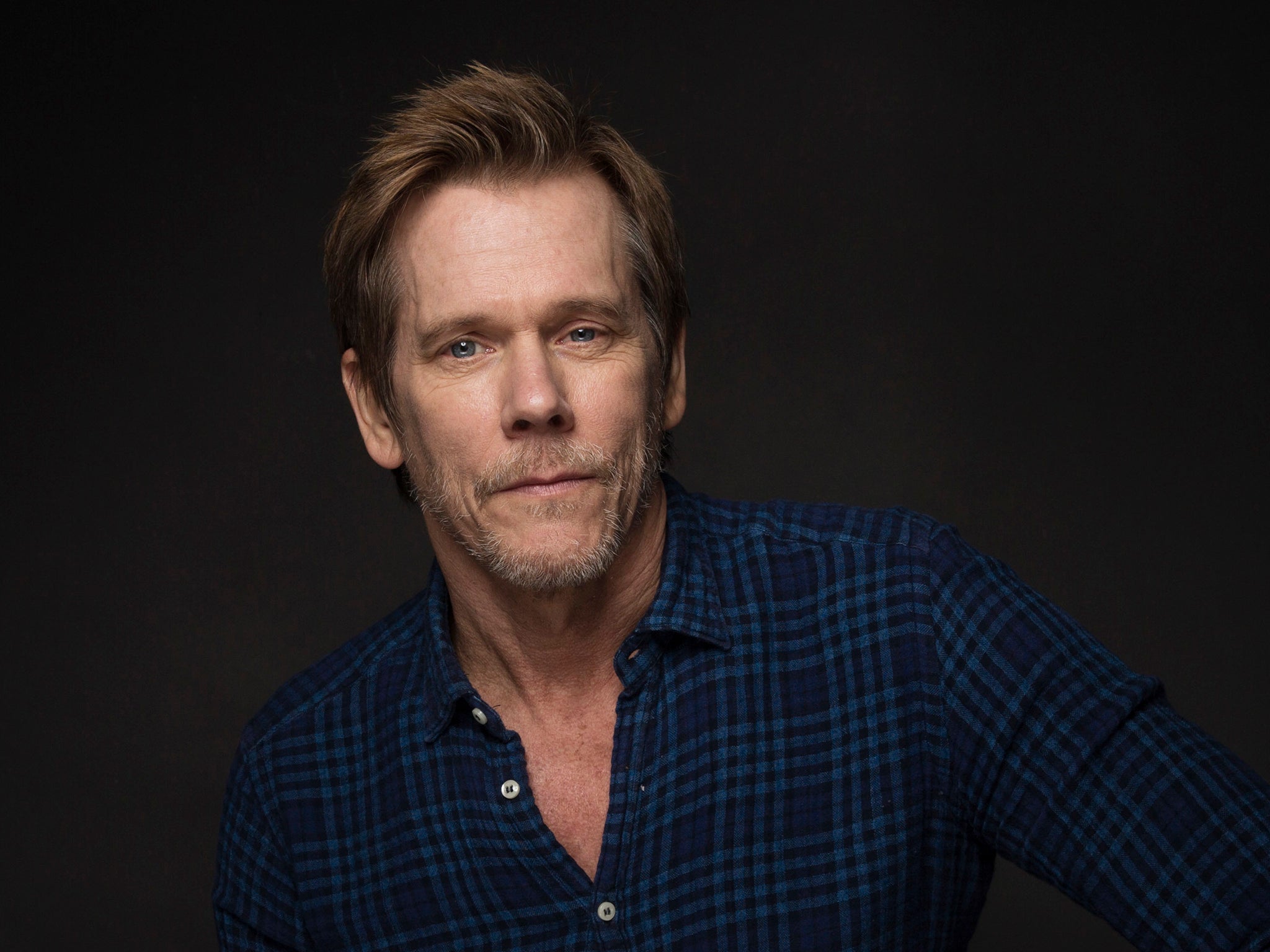 Kevin Bacon was dressed in a red leather catsuit and dancing in front of Britney Spears when he realised something. "It was the strangest of things," he remembers, laughing. "I was there thinking, 'Wow, my life is pretty interesting – look where it's taken me.'" The unlikely pair met in 2016 while filming an advert for EE, the phone operator Bacon has been the face of since 2012. In it, he's caught by Spears strutting down a busy London street while listening to "Oops! I Did It Again". He liked her. "She was very nice, and fascinating. It was interesting meeting somebody that's grown up with that kind of intense celebrity from such a young age."
Bacon, 62, has similarly always had a complex relationship with fame. Like the singer, he is a pop-culture icon everyone recognises. Unlike Spears, however, the source of Bacon's success is somewhat trickier to place. "Someone once told me that I'm more well known for being well known than for anything I've ever acted in," he remembers. "Which hurt my feelings a little bit. I mean, I've done all this work, you know what I mean? I've tried my best to be a good actor. And now you're telling me that I'm famous because I'm famous?"
In fairness to this mystery person, they had a point. Everyone's favourite Kevin Bacon movie is different. There are the 1980s hits that made him a star (Footloose; Friday the 13th), the glorious trash he's been in (Wild Things; Hollow Man), the cult classics (Tremors; Flatliners), the depressing indies (Sleepers; Murder in the First) or the ones your dad likes (Apollo 13; JFK). When he's approached in the street, Bacon says no one film is mentioned more than any others. "Maybe, if you really had to add it all up, it would be Footloose – but even that I'm not sure about." Within that eclectic range of favourites, though, is a universal sense that it's always nice to see him. His new film, the psychological thriller You Should Have Left, marks his first starring role in a movie in five years, and watching it feels like reuniting with an old friend.
You Should Have Left is a reunion between Bacon and filmmaker David Koepp, 20 years after their atmospheric supernatural horror Stir of Echoes – a 1999 flop that has developed a much-deserved cult following in the decades since. In their new horror, Bacon plays a man who may or may not have been involved in the death of his wife. While holidaying in the Welsh countryside with his daughter and new wife (Amanda Seyfried), a Hollywood star tired of being repeatedly pushed into filming gratuitous sex scenes, Bacon's character is haunted by a terrifying spectre that seems to distort time and plague the family with jealousies and nightmares.
He is quick to boast of the many themes the film touches upon, from the #MeToo movement to middle-aged male insecurity. "Men are all about power," he explains. "We think about it all the time – in sports, in the office, or when it comes to money or the horsepower of our cars. The film explores what happens when those powers start to slip away." He says that the fact his character is "too old to have a little girl, that he's in a relationship with a woman who is way too young for him – all that eats away at him and plays so much into his paranoia."
"We didn't set out to make a movie that comments on #MeToo or what's going on in society at that moment," Bacon continues, "but it did dovetail nicely into a lot of stuff that was happening."
There are other parallels with the current moment, too. "We're in a pandemic and we're all stuck at home, and here we come with a movie about people stuck in a house," says Bacon.
The horror genre tends to reflect the world right back at those watching, he says. "The kind of horror that I most appreciate is psychological or intellectual horror, like Rosemary's Baby or The Shining, or things like Stir of Echoes. And it's really blowing up now because of Get Out. One of the things that was so amazing about Get Out was that it existed on three different levels: it was scary, it was funny and it was social commentary. Getting those all into one movie is really difficult. But I think we're seeing more of it."
Bacon's performance in You Should Have Left gets to the root of what makes him such a compelling actor – you never quite know where you stand with him. It's much the same in reality. Bacon has a reputation for being a stern interviewee, thoughtful and interesting if sometimes exasperatingly closed-off. Today though, calling from the LA home he shares with actor wife Kyra Sedgwick (the pair are among the longest-lasting couples in Hollywood, having been married since 1988), he's upbeat, open, engaged. Perhaps it's because he has a vested interest in the movie he's promoting (he helped produce it, and he's been good friends with Koepp since 1999), or maybe it's the comforting hum of the pet dog at his ankles, whose blissful snores serenade the conversation.
Access unlimited streaming of movies and TV shows with Amazon Prime Video
Sign up now for a 30-day free trial
Sign up
Access unlimited streaming of movies and TV shows with Amazon Prime Video
Sign up now for a 30-day free trial
Sign up
He tends to evade the soul-destroying side of the movies. "I think of myself as an actor, and not a movie star," he explains. "I've always had a love/hate relationship with the other aspects of the business – the press and celebrity and, you know, the 'Hollywood' kind of lifestyle. Being at the right parties and all that stuff. Do I like that kind of thing? Not really."
It took a while for Bacon to come to that realisation. While he is today more recognised as a character actor, there were times when he flirted with something a bit showier. He would try on the ill-fitting suit of mainstream recognition in the wake of Diner, the 1982 comedy-drama that saw him anointed one of the most promising new faces of Eighties cinema. Outside of Footloose, however, audiences didn't flock to see his work.
"I definitely wanted name-above-the-title movie stardom," he confesses. "I had a moment, you know? But I also knew I was gonna try and be in this for the long haul, and that what I really wanted to do was to play as many different kinds of people as I could. I do appreciate being in successful movies though – like if something does gigantic box office or you get some awards or you're in something that people adore, it gives you an opportunity for more work. It's what keeps the train running."
In the early 1990s, following a run of mainstream flops like the push-bike action film Quicksilver (1986) and the romcom He Said She Said (1991), Bacon would start to experiment. He'd begin to play killers and oddballs and find a home in provocative dramas. His films would also regularly draw moral ire: there was Jane Campion's seductive In the Cut (2003), with its graphic sex scenes; Where the Truth Lies (2005), an erotic thriller slapped with an NC-17 rating due to a bisexual orgy involving Bacon and, of all people, Colin Firth; and The Woodsman (2004), in which he played a paedophile attempting to integrate back into society.
The latter boasts one of Bacon's greatest performances, though few saw it. He remembers the film's producer, Oscar nominee Lee Daniels, expressing surprise at how fearless Bacon was in taking on the role. "He said, 'Why would you want to do a movie where you play a child molester? That's like the kiss of death for actors!' And yet I found the script compelling and interesting. I don't have to [play] a nice guy all the time, or be the hero all the time – there's a level of vanity to that, and I don't really prescribe to it in terms of my ideas about what being a real actor is."
Bacon doesn't believe that the work he's been drawn to in the past is necessarily harder to get made today – he cites Michaela Coel's I May Destroy You as something new that is driven by "really difficult, touchy stuff". But he says that that work still represents what moves him the most. "I don't worry that people are going to feel a certain way about me based on the characters that I've played," he explains. "Those things don't frighten me. You can't homogenise things too much in the creation of art. I don't mean to get high and mighty about it but art has a responsibility to push the envelope and push boundaries and deal with difficult subjects. Not all the time, but when it can."
Still, he admits that being drawn to dark characters is a mixed blessing, because he's now rarely asked to do anything else. "I'm eager to do more comedy but it's hard to break into," he says. "I find it to be a little cliquish. I think that there are certain actors who are good at it and find their way into these groups of comics and, because they're there, they get opportunities to do it again and again and again."
Unusually, when he is allowed to be funny, it's when he's playing Kevin Bacon in something. He's appeared as exaggerated versions of himself in Will & Grace, Bored to Death and SMILF, and even those EE ads traffic in a similar kind of self-satirisation.
"It might be a chicken or the egg thing," he theorises. "Maybe other people aren't willing to make fun of themselves? I'm not quite sure why I get asked to do it so much, though. Maybe it has something to do with the game?" The game he's referring to is the ubiquitous "Six Degrees of Kevin Bacon", which started somewhere in the mid-Nineties and posits that every actor imaginable can be traced back to Bacon somehow, project to project, in six steps or less.
Whatever it is, he seems to take it in his stride, along with his reputation and broodiness. "I know that people think I'm an intense and dramatic sort of actor," he says. "And somebody who always plays the bad guy, which is something you want to avoid doing too much. But more than anything, I just love being on a set and the time between action and cut. To be able to be a performer and get paid for it? I have a tremendous amount of gratitude for that."
You Should Have Left is released on Blu-ray and DVD on 12 October and is available on-demand now.
Join our commenting forum
Join thought-provoking conversations, follow other Independent readers and see their replies