Kristin Scott Thomas: 'It's weird when you're 38 and your love interest is 60'
The actor talks to Alexandra Pollard about new film 'Military Wives', losing two fathers to the armed forces, and why working on 'Fleabag' made her feel 'very, very inadequate'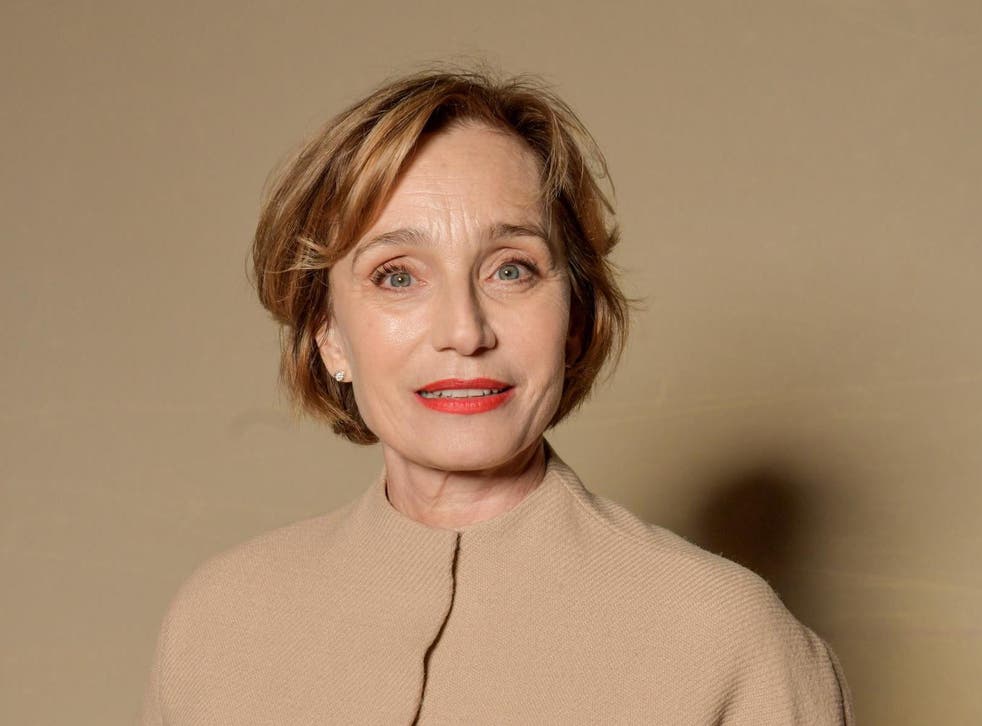 Oh, no..." Kristin Scott Thomas, poised, immaculate, draped in a long black gown, has just caught sight of me. "Did you get caught in the rain? That's miserable."
Even the most glamorous actors are usually far more ordinary in the flesh. Not Kristin Scott Thomas. The 59-year-old is just as remarkable in real life as she is on screen. Think of her as Fiona in Four Weddings and a Funeral (1994), leaning against a door, lighting a cigarette, telling Hugh Grant she's in love with him. It's so beautiful that when the bumbling Charles turns her down – he's in love with Andie MacDowell's Carrie – it feels preposterous. KST's charms must be employed responsibly.
Through her 30-year career, Scott Thomas has become a master of restraint. With the slightest arch of an eyebrow or twitch of the mouth, she can convey a thousand feelings, enlisting your sympathy even for characters who don't, on the surface, warrant it. She broke out in 1988, taking on one of the great monsters of contemporary literature – A Handful of Dust's Brenda Last, the unfeeling, unfaithful wife of an aristocrat – and emerging victorious. She was less nefarious, though no less adulterous, in The English Patient (1996), which earned her an Oscar nod, and after a brief fling with blockbusters in the form of Mission: Impossible (also 1996), she retreated into the arms of French cinema. The best of that period was the harrowing I've Loved You So Long (2008), in which she played a woman ostracised from society for killing her six-year-old son.
"A lot of my characters are prickly and unsympathetic in the beginning," says Scott Thomas, wafting towards me from the window and arranging herself on a chaise longue. "And then you try and peel the onion and find out why they're like that."
Her role in Military Wives – a charming tear-jerker loosely based on the real-life Military Wives Choir – certainly fits that description. As Kate, the emotionally stifled spouse of an army officer who's off to fight in Afghanistan, she is gloriously unlikeable. Taking it upon herself to rally the women left behind at the barracks, she forms a ramshackle choir with Sharon Horgan's Lisa, and proceeds to condescend and domineer. But she is grieving, too. Her son died in action, and she is doing all of this in a desperate attempt to distract herself.
"She controls her own emotions," says Scott Thomas, "by being in charge of everybody else. This woman's so tightly wound up, when she loses it, it has to be big and shocking and sort of revolting. You want her to be quite repulsive."
They are very different films, but the role reminded me of Scott Thomas's turn in the Oscar-nominated Darkest Hour (2017), in which she played Winston Churchill's wife Clementine. She said, then, that she wanted to explore "what it's like to be married to a man who's dedicated his life to his country". The same could be said of Military Wives. "Well, there you go," she says. "Yes, it is something that I've… Well I suppose, actually, that's what we did."
She means her own family. Born in Cornwall, Scott Thomas spent large portions of her childhood on military bases. Her father, Simon, was a pilot in the royal navy. When she was five, the plane he was flying as part of a training exercise crashed off the Dorset coast, and he was killed. Her mother remarried, but Scott Thomas's new stepfather, also in the navy, was killed in another plane crash when she was 11. "They dedicated their lives to a country instead of their family, which is, um…" There's a pause. "That's what I've been talking about with these films, I suppose. I wanted to show the bravery, and the commitment, of the people who are left waiting."
She struggles with the moral implications of armed combat. "War is a horrible thing," she says. "It's really tricky, because soldiers are trained to fight, and as a family of that person, you don't want them to. So you're sort of caught. But you still have to be…" She sighs. "It's a very, very, very tricky subject. What people don't realise is that even in peacetime, it's an incredibly dangerous job. You're moving pieces of machinery, you're flying, you're running, you're dying on the moors. It is really dangerous. But somebody's got to do it. Apparently."
Belinda – the businesswoman Scott Thomas played in Fleabag, Phoebe Waller-Bridge's pitch-black, sharply observed comedy – had her own theory about war. "Women are born with pain built in," she told Fleabag in a scene that went viral. "We carry it within ourselves throughout our lives. Men don't. They have to seek it out. They invent all these gods and demons so they can feel guilty about things, which is something we do very well on our own. And then they create wars so they can feel things and touch each other, and when there aren't any wars, they can play rugby. We have it all going on in here, inside."
Scott Thomas was delighted to get to work with the "utterly brilliant" Waller-Bridge. Filming the episode proved more difficult than she anticipated, though. "I really did think it was going to be a walk in the park, but actually, Phoebe has a very specific way of speaking. Her vocabulary is incredibly specific and, quite rightly, she's very, very, very obsessive with the way you say things. So she only wants them to be said a certain way. And because it's almost the way I speak, but not exactly, I kept getting things wrong. So I felt like a six-year-old. I felt very, very inadequate doing it."
I'm surprised she felt inadequate. Is that… "a hobby of mine?" she interrupts, with a laugh. Well, she's such a seasoned actor. You'd think it would have been a breeze. "Yeah, but if you don't hit it immediately, whack it into the net… There's more pressure. You've got to be good. When you're an older, as you say 'seasoned', person, they expect you to nail it the moment you walk on. You're not allowed to be bad, because" – her tone affects an air of tragedy – "that would be so disappointing to everyone."
Still, she loved working alongside such a youthful cast. "It's fantastic working with younger people," she says. "I love it. When I was young, until I was about 50, I only ever worked with people who were much, much older than me. Especially when I was in my thirties. When you're 38, and your love interest is 60, it's kind of weird."
I mention an article I read lamenting Hollywood's tendency to pair younger women with older men. According to research, as men age, the women they're attracted to don't. "I do think it is sort of biological," says Scott Thomas. "The male perception is that the woman at his side has to be young, fertile. I think that's just an animal thing. And it's unfortunate, because we all have to be filmed. And men generally look better when they get older."
I'm not sure I agree with that. "Well, the thing that's difficult," she says, "which is also kind of repulsive, is that it's much more difficult for men to get away with a bit of tweaking. 'Tweakments', as they say. Women are expected to look a certain way – to have a face that's been manipulated. But men, the moment they do it, they just look a bit mad."
I start to ask another question, but she's still thinking about old men. "DYED HAIR!" she shouts with a start. "Dyed hair! Oh no! A man with dyed hair is just not happening. That just cannot be accepted. Don't you agree?" Erm. "But we're supposed to dye our hair all the time!" She throws up her hands.
Didn't she once fire someone for suggesting she get work done? "It was my agent, yep," she says. "Well I was very young. I wouldn't say no to it now, though! Bloody hell, bring it on."
I think she's joking. Not just because, a few months shy of 60, she looks great. But also because she seems to have embraced getting older. It's another thing that drew her to Belinda, who described the menopause as "the most wonderful f***ing thing in the world", because then, "you're free. No longer a slave, no longer a machine with parts. You're just a person. In business."
"When I read it," says Scott Thomas, "I thought, 'Oh my God, this is genius. This is exactly what I've been saying for years.'"
She's not lying. Before Belinda even existed, Scott Thomas described youth as a terrible weight to carry. She smiles when I remind her of that. "It is, isn't it?" she says. "Everybody knows that."
Military Wives is in UK cinemas now
Join our new commenting forum
Join thought-provoking conversations, follow other Independent readers and see their replies