Can Liam Neeson's career survive the racism scandal?
The 'Taken' actor has caused controversy after saying he branded a cosh and hoping to kill a 'black bastard'. Will his career continue like Mel Gibson's, or perish like Kevin Spacey's? Ed Power examines
Tuesday 05 February 2019 19:19 Comments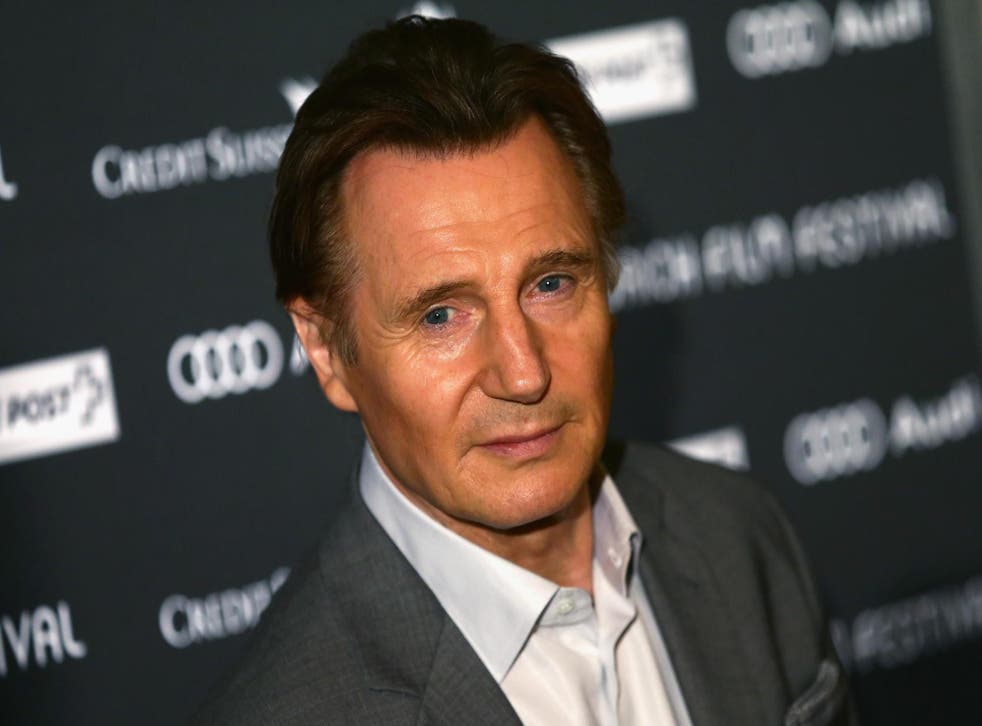 Is there any way back for Liam Neeson? The reverberations from the actor's extraordinary confession to The Independent that he plotted to cosh a "black bastard" as revenge for the rape of a friend have continued to rock the entertainment industry. With the furore rumbling on, 66-year-old Neeson was perceived as doing himself few favours when he went on Good Morning America and sought to explain his remarks – rather than merely offer an abject apology.
"The topic of the film [Cold Pursuit] is a dark comedy but its base is revenge and the lady journalist was asking me how I tap into that and I remember an incident, where a dear friend of mine was brutally raped," he said.
"We all pretend we're PC," Neeson continued, after insisting he would have reacted similarly had the rapist been "a Brit, a Scot, a Lithuanian". "Sometimes you scratch the surface and discover this racism and bigotry. When we were shooting Schindler's List in Poland and hearing remarks from drivers taking us to the set, they were making anti-Jewish comments."
:: Read the original, exclusive interview that started a global conversation
While there is general agreement that Neeson's comments were shocking and outrageous, what's less clear is how they will impact on his career.
In this post-#MeToo era, the celebrity scandal roadmap has become rather predictable. A famous person – usually a man, typically of a certain age – is accused of unacceptable behaviour and Hollywood unites to cast them into the wilderness. Is Neeson, too, about to be shoved down the chute into thespian purgatory?
The difference, of course, is that Neeson's comments about roaming the streets in the hope a black person would "have a go" at him were raised by the actor himself, speaking to The Independent's Clémence Michallon.
Liam Neeson: 'I walked the streets with a cosh, hoping I'd be approached by a 'black b**tard' so that I could kill him'
He was promoting his new thriller, Cold Pursuit, in which he plays the now familiar archetypal everyman on a vengeful warpath. Neeson clearly wasn't proud about having become prisoner to his anger – and offered the anecdote up as an example of how our demons, when unleashed, can diminish us.
"It's awful," he said. "But I did learn a lesson from it, when I eventually thought, 'What the f*** are you doing,' you know?"
The baked-in contrition notwithstanding, the racist component of his remarks are clearly unacceptable. For a celebrity to utter "black bastard" in any context – even when interrogating their own worst selves and using air-quotes – is so far beyond the boundaries, you have to wonder what Neeson was thinking. Sat next him, his co-star Tom Bateman was shocked, offering a stunned "holy s***" during the interview.
Access unlimited streaming of movies and TV shows with Amazon Prime Video Sign up now for a 30-day free trial
Sign up
Is it over, then, for Neeson? He's enjoyed a lucrative autumn to his career as an action-movie granddad. Beginning with 2008's Taken and extending all the way to Cold Pursuit, he's carved out a unique space as the quiet man who, as per the cliche, has had enough and isn't taking it anymore.
Liam Neeson through the years

Show all 23
In this iteration he has proved staggeringly bankable. Neeson had assumed the original Taken would go straight to DVD. But it earned $239m (£185m) and made the actor who breathed life into both Oskar Schindler and Michael Collins famous as a not-to-be-messed-with dad on the trail of his daughter's kidnappers.
Ever since, he has remained a sure thing at the box office. Last year's Commuter, in which he portrayed – how did you guess? – an ordinary guy pitched into an extraordinary situation, brought in $119m on a $40m budget.
That's a full decade of success essentially playing variations of the same character. To the extent Hollywood has a sure thing, Liam Neeson looking a bit annoyed as his already packed schedule is interrupted by international kidnappers/terrorists, etc, is it.
Nor is he a bank-breaking hire. He hasn't featured on the Forbes list of highest-paid stars since 2015, placing No 22 with $19.5m earned. Considering the reliable profitability of his features, he's almost a bargain.
On the other hand, Hollywood has no lack of ageing actors who could potentially reinvent themselves as grumpy action heroes. Thus, Neeson may be about to discover he's just as disposable as Harvey Weinstein and Kevin Spacey.
Indeed, with the countdown underway to his next big role, opposite Chris Hemsworth and Tessa Thompson in Men in Black: International, you wonder if studio heads are even now debating the feasibility of scrubbing Neeson and recasting the part.
That, after all, is exactly what Ridley Scott did with Spacey to rescue his 2017 thriller All The Money in the World.
Scott had just nine days to re-film all of Spacey's scenes with Christopher Plummer, adding $10m to the production costs. But with Men in Black: International not due until 14 June, director F Gary Gray may conclude that he is well placed pull off the same trick.
Gray is himself African American and grew up in one of the American West Coast's spiritual black heartlands of South Los Angeles. He started out directing music videos for rapper Ice Cube and retold the story of NWA in the hit Straight Outta Compton. Where he comes from, when someone calls you a "black bastard", they are usually a corrupt cop with a truncheon.
What's different, of course, is that the crimes of which Spacey and Weinstein are accused had individual victims. And while the shock and upset engendered by Neeson's "black bastard" remarks should not be understated, in the end he did not follow through with the violence he had considered committing.
That said, the last thing the industry needs now is further negative publicity. Awkwardly, Neeson's next big gig, according to the Internet Movie Database, is Charlie Johnson in the Flames – described as "a political thriller about an American journalist who travels to Africa to hunt down a murderous colonel and bring him to justice".
The eponymous hard-hitting BBC war correspondent is obviously to be played by Neeson. But are audiences really in the mood to see an actor who has just expressed the urge to beat up the next available "black bastard" getting into the thick of it in politically charged central Africa? Right now, it seems like the worst idea in the world.
One perspective is that this is an older sort of Hollywood scandal. Mel Gibson burnt his reputation to the ground for a good decade when embarking on an antisemitic rant to the patrolman who had pulled him over for suspected drink-driving in 2006.
Support free-thinking journalism and attend Independent events
Of course the huge difference between 2006 and today is social media and the rolling thunder of online outrage. Would Gibson have been allowed to slink into irrelevance had he made his remarks in the era of Twitter?
See also Mark Wahlberg, who, as a 15-year-old in 1986, chased three black school children, taunting them with a racial slur. Two years later, he attacked a middle-aged Vietnamese man, calling him a "Vietnam f***ing s***". He was arrested and charged with attempted murder, pleading guilty to assault.
With no internet, Wahlberg's rise to stardom was not impeded. Gibson, for his part, eventually achieved redemption. He was Ocar-nominated for Best Director for 2016's Hacksaw Ridge and will this year appear alongside Sean Penn and Natalie Dormer in historical drama The Professor and the Madman.
Gibson served his sentence – as Hollywood saw it – and was eventually readmitted into its magic kingdom. Whether the rules have changed in the wake of #MeToo, the gates shut in Neeson's face for all time, is something he is about to discover.
Register for free to continue reading
Registration is a free and easy way to support our truly independent journalism
By registering, you will also enjoy limited access to Premium articles, exclusive newsletters, commenting, and virtual events with our leading journalists
Already have an account? sign in
Join our new commenting forum
Join thought-provoking conversations, follow other Independent readers and see their replies