Mads Mikkelsen: 'I'm still looking for my identity in the English language'
In an interview with The Independent, the Men & Chicken actor discussed being Hollywood's go-to villain, Rogue One reshoots, Doctor Strange, and returning to Hannibal for season four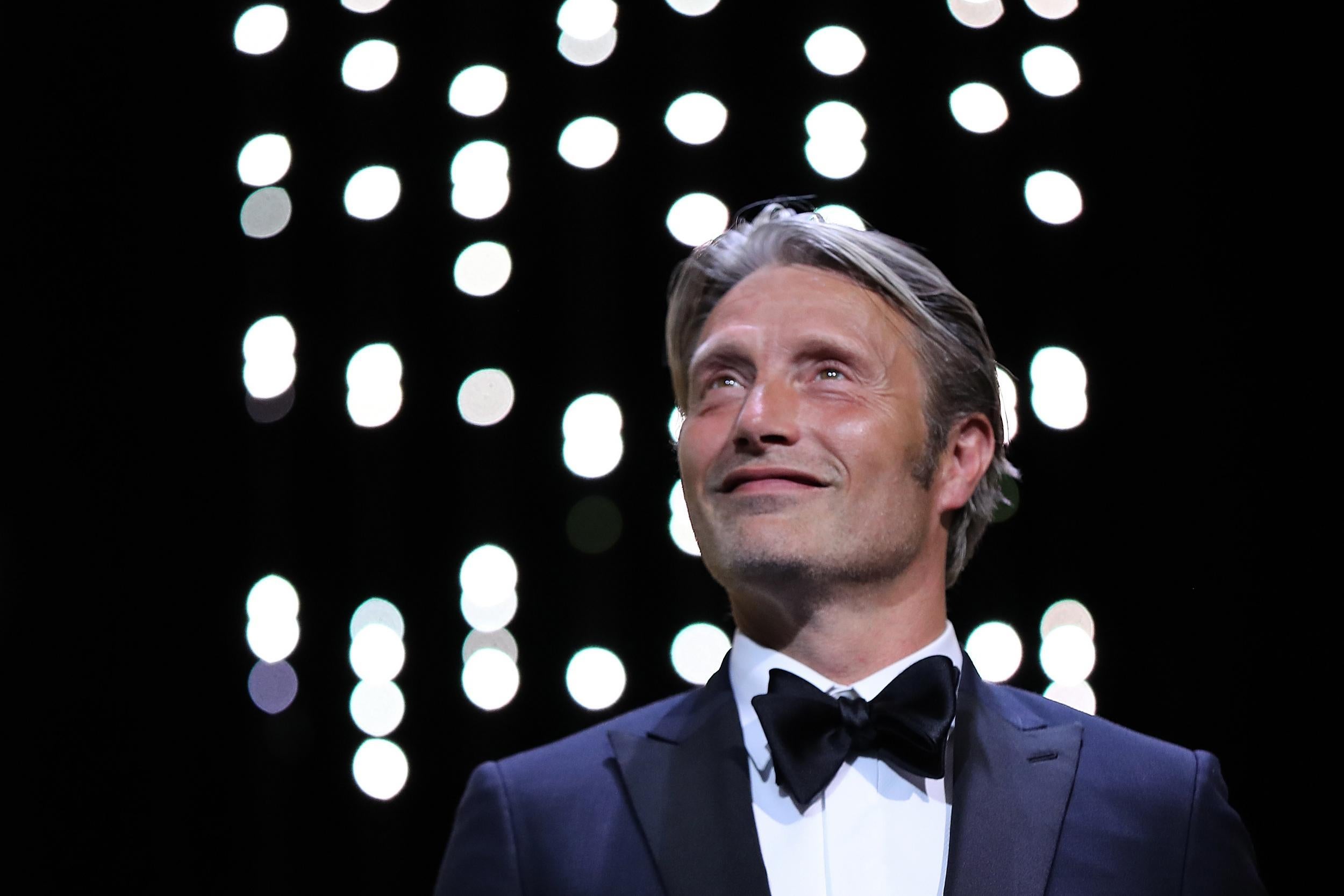 From Le Chiffre in Casino Royale to the titular character in the presently cancelled Hannibal, Mads Mikkelsen has become internationally renowned for playing a fantastic villain.
However, back in Denmark, the 50-year-old's home country, things are slightly different; while the Danish are familiar with his Hollywood blockbusters, Mikkelsen is recognised equally for his work with acclaimed director Anders Thomas Jensen, the pair collaborating on The Green Butchers, Adam's Apples, The Salvation and Men & Chicken.
The latter film, a particularly dark comedy, features Mikkelsen as a grown man with a child's intelligence. Our first introduction to the character, Elias, includes an awkward meeting with a therapist about his masturbation problem, a recurring theme throughout the film. Like Elias, his brothers have minimal understanding of the world around them, leading to a story of intrigue, discovery, and rather morbid humour.
In a phone interview with The Independent to promote the film, the actor discussed being Hollywood's go-to villain, his upcoming roles in Doctor Strange and Rogue One, while also touching on the chances of Hannibal returning.
How long has it been since you worked on Men & Chicken?
Two years exactly from today since we shot it. But it's only a year ago in my head.
The film has quite a dark sense of humour, it's very offbeat. What attracted you to the script and - in particular - the character you're playing?
The darkness of the humour was one of the biggest attractions for me. It's always difficult with different approaches to comedy, and mine is the same as [director] Anders Thomas Jensen. That was attractive. I love the characters, that they're children trapped in grown up bodies, behaving basically like children, which is a wonderful way to tell a story about gigantic, poetic things. You use the tools of children to do that and it's genius.
There are these quite weird undertones to the movie and particularly your character, Elias. He's constantly masturbating yet has an innocent mind. Was it interesting taking on this unorthodox character?
You say the undertones, the undercurrents, they're not something that's an undertone for the character. It's obvious he's masturbating, it's not something he keeps secret, like children. What's to be read between the lines is not obvious.
It must have been relieving taking on this different character, particularly when you've played so many villains recently in American films.
Access unlimited streaming of movies and TV shows with Amazon Prime Video
Sign up now for a 30-day free trial
Sign up
Access unlimited streaming of movies and TV shows with Amazon Prime Video
Sign up now for a 30-day free trial
Sign up
I've done it before with Anders Thomas Jensen, and most of my work in Europe is the opposite of the bad guy. It's just very interesting to work with Anders Thomas, which is why I took on the role.
In these European films, The Hunt for example, you are often these 'good' characters. Yet, in Hollywood blockbusters, you are the villain. Why is that?
It's hard to say. It's been very popular to use British actors to play the villains, but - for some reason - they need an even funnier accent to play the villain which is the Scandinavian one. We're the villains right now. Why they're doing it, it's hard to say, but I'm glad as, if the alternative was not to work in the States, I would do villains forever. I've been crazy lucky to be part of some wonderful projects, like the Bond film and Hannibal, where it's very difficult to call it a one-to-one villain. I've been very fortunate.
Men & Chicken has a very different sense of humour to what many are used to, how does Scandinavian humour compare to that in Britain and the US?
I always thought we had a lot in common with the English. We grew up with the English sense of humour, particularly Monty Python, which has a certain amount of madness in there. We always loved it and identified with it. Anders Thomas doesn't necessarily represent the Danish humour, he's very much himself. You won't find anyone else doing what he's doing and it's very hard to compare what he's doing with other people. It's a clone of the Coen Brothers and David Lynch but it's still very difficult to identify him.
How does it compare working on these smaller productions to the bigger blockbusters?
The big blockbusters, you wake up and say hello to 500 people whereas here you're talking to 20 or so. The magnitude of the whole thing is very different, but - having said that - you sit down, discuss the scenes, what we're about to make, and you try to make them intimate, no matter how big this whole thing is. We work as hard as we can within the frames that we're given and I think that's what everyone does, even though we're dealing with something extremely big. That's the only way you can approach it.
Which one do you prefer doing?
Both. There's something wonderful about flying around on a wire with a sword, and doing the exact opposite. If you can go back and forth, you're a very lucky person.
Do you perhaps feel most comfortable doing these smaller projects?
I felt very comfortable doing this project because we've done it before. Then, I also feel comfortable doing the dramas and those blockbusters. My basis, being Danish, would really lead me to feel that Danish dramas, where it all started, are where I feel best. But I've expanded since then.
Certainly. You're in some massive films, including Rogue One, where you're apparently playing a semi-villain who is 'not a bad guy', is there anything you can tell me about the character?
I'm not sure how much I'm allowed to say without killing you. I play someone in the film, yes. So far, so good.
There is a lot of talk about the ongoing reshoots, are you involved with them?
I have one day. I can't remember when. In two weeks I think.
It's been very mixed in the press, with two sides; some sources are claiming the film will undergo big changes while others are saying it will be very minimal. What's the feeling you have from being involved with the film?
Basically, all the big films I have done always have reshoots, it is part of their budget. They're either not super happy with a scene bit, the way we were acting, or maybe there's something they want to add. It's not a new thing, it happens with every film. Whether it's bigger or less, I have no idea, I have nothing to compare with. It's the same film, it's just adding little bits here and there to do the final polishing. That's my feeling.
It's interesting because, obviously, films get reshot all the time but, for this one, it has been talked about everywhere.
That's also interesting, to make the right goal and all the rumours happening. [Disney] love that, it's free publicity.
Another project you probably can't tell me anything about, Doctor Strange. First of all, what's it like being in these two Geeky universes?
It's been very different because the characters are different, but the fans have been great about both. However, Doctor Strange is the hardest film I've ever made, and I'm 50 years old. It's something I would have jumped on quickly when I was 20, but luck has it I'm 50, and that's the way it goes. I loved every second of it, a couple of injuries - I'm still suffering here and there - but that's part of the game I guess.
Are there any details you can give me on the character? We've seen you in the trailers with the dark eyes. [Note: this interview was conducted before his character's name was revealed.]
I can give you a little bit. Whether he's bad or good, that's up to you guys. He believes in a better world as well. His means of doing that, however, are just different than Doctor Strange's, and there we have an issue and a conflict, but he does want to make a more beautiful place, like every good leader.
It must be difficult not being able to talk about these things but having people such as myself trying to get you to talk about them.
It's a little tricky because it's obviously something that is very interesting to all of us. One day we'll be free, it's just not yet I guess.
One last project I'd like to discuss is Hannibal, which was so fantastic but got cancelled. Have there been any developments on season four?
It ended where it ended. It's one of those rare shows where you can pick it up whenever you want, in years from now, because the story itself jumps about. Whether or not it happens, we don't know. It's all in the hands of Brian Fuller. We simply cannot do it without him. He's the mastermind and the genius behind the show. I don't think anyone could do it without him. If he can persuade a TV channel to do it, I think he can persuade the whole gang to come back.
There's such a feverish fanbase behind it, I'm guessing people are hoping Netflix or Amazon will pick it up.
Normally, when you've worked on something for three years, you don't want to come back, but I must say, there wasn't a single boring day on that show. It was going places we could not imagine.
Well, I certainly hope it comes back at some stage.
So do I.
All these projects we've spoken about are in English. I'm presuming acting in Danish is still your preference?
It's tricky because Danish is my language. I don't have to think twice about it. But, then again, I don't have to do that when speaking English. I'm still looking for my identity in the English language, and once you have that, you can start playing characters from there. I'm getting there, the more I spend time in England or America. But then you meet someone from f***ing Australia and you start changing your accent again and you're back to square one [Laughs]. You're definitely influenced when it's not your first language. I found freedom, especially in Hannibal with his extremely tricky words, and I enjoyed it tremendously. Yet, Danish is my first language, and without any doubt, it's the easiest to follow.
Films to watch in 2016
Show all 30
Other than those projects we've mentioned, have you got anything in the future planned?
Not really. I've pulled the plug, just started to enjoy the sun. I'm going to lean back and then start reading stuff, see if there's something out there that peaks my interest.
It's interesting that you've had such a massive boost in your career in your later life. Are you hoping to wind it down or continue at this level?
I'm hoping it continues, as it's fantastic and interesting, and there's a good reason it's happening now. I started late as an actor. I did my first thing when I was 30, and my first thing in America when I was 40. So it happened pretty fast in my career and I can't complain that it's late in my life, I was just slightly late.
People who become actors when they're older seem very different to those who are thrust into it when they're younger.
I only started when I was 30 and had no interest until I was 30. So that was good for me, the perfect timing.
What spurred that on at 30?
I was a gymnast, and - for strange reasons - I became a dancer for 10 years. And through that, I found my way to acting. I was in love with the dancing more than I was with the aesthetic. So I asked myself the question, 'why don't I just apply for drama school?' It was never a childhood dream, it was just something I stumbled on.
Do you think the acting culture is different in Denmark to overseas?
When you meet actors around the world, they are the same species. I believe that Hollywood has a star system we don't have in Denmark. You have extremely massive stars in America, and then you can have incredibly good actors nobody knows about. We don't really have that. We have actors who turn out to be good or not-so-good, and they will become stars in their own terms in our small country. We don't have the star thing going on, but the approach to acting is pretty much the same all over the world.
'Men & Chicken' is currently in UK cinemas while 'Doctor Strange' and 'Rogue One' are out later this year
Join our commenting forum
Join thought-provoking conversations, follow other Independent readers and see their replies