Martin Scorsese: 'The movie that plays in my heart'
The director Martin Scorsese explains why Michael Powell and Emeric Pressburger's British classic 'The Red Shoes' is so special, and reveals that it inspired other film-makers including Francis Ford Coppola and Steven Spielberg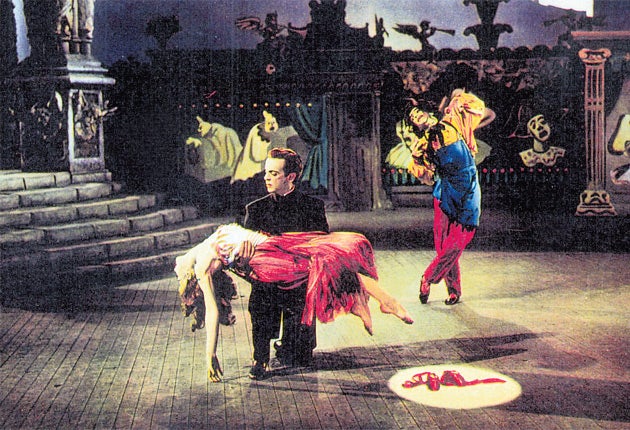 I saw The Red Shoes (1948) aged nine or 10. My father took me. Seeing it that first time was an overwhelming experience for me. My father, who worked in the garment district in New York, certainly wasn't an educated man but he did like films. For some reason, he took me to see The Red Shoes. I certainly don't think he was a ballet enthusiast. I believe that the film had picked up an audience here in America. Everyone was talking about it and so he wanted to see it.
My father liked the film very much too. We always used to talk about it. He liked it for its sense of mystery in terms of the character of Lermontov (the driven ballet impresario played by Anton Walbrook) and the kind of mystical endeavour of art that it showed. I don't say he said that. But there was something inevitable about what these people were doing. On his level, he would talk about the wonderful film it was and that it was a good show. It was obviously very different from many of the musicals that were coming out of America at the time in that the nature of the story had a very dark element to it. This was something unique, especially served up in such a beautifully made and crafted way. I don't think my father understood the impact the film had on me at the time until years later, when he met Michael Powell. We all became sort of a family, my mother and father and Powell.
Over the years, I have been told that I am like Lermontov. I maybe tend to agree. I really don't know. There is something about the Lermontov character and the world that he controls that is, I guess, the pool that I go back to for sustenance. It has to do with the mystery of art – the mystery of the passion to create and the darker side which can can take over. I think that will always be fascinating to me. It could very well have been an inspiration for the types of characters I tend to gravitate toward in the types of pictures I make.
The first word that comes to mind about Moira Shearer in The Red Shoes is "radiant," particularly in the way she was lit in the film and the angles used in her close-ups. The combination of actor/dancer seemed so natural for her. The nature of her physical build said so much about the character, even just a glance from her or a close-up.
There is something about the use of colour and the impact of the movement in the frame. It is to do with the high drama, even melodrama, within the lives of the characters and how seriously they took what they were doing. It was also their actual journey in creating something and the difficulty they faced. You could really feel the work that was being done by these dancers and by Lermontov and by the Marius Goring character (the young composer.) It made it very visceral.
The colour, the way the film was photographed by the great Jack Cardiff, stayed in my mind for years. The film would be shown every Christmas on American television in black and white, but it didn't matter – we watched it. Even though it was in black and white on TV, we saw it in colour. We knew the colour. We still felt the passion – I used to call it brush-strokes – in the way Michael Powell used the camera in that film. Also, the ballet sequence itself was like an encyclopedia of the history of cinema. They used every possible means of expression, going back to the earliest of silent cinema.
I met Michael Powell through (the publicist) Michael Kaplan, who had worked with Stanley Kubrick and was beginning to work with Robert Altman. I and others had been asking about Michael Powell and Emeric Pressburger pretty much throughout the late 1960s. We really couldn't find anything definitive written about them in any of the histories of British cinema.
Among my colleagues – Coppola, of course, Spielberg and Brian De Palma and pretty much everybody who was beginning to make films in the early 1970s – whenever we spoke about a film and we couldn't remember the title, it was invariably something we had seen on television in black and white, written, produced and directed by Powell and Pressburger. We were all wondering who they were, where they were and whether they were still alive. If they were alive, we wanted to know what they were doing now. If we could meet them, we could ask them how they did that work together. That "written, produced and directed by Michael Powell and Emeric Pressburger" is one of the most unique title credits in movie history, both sharing the same credit card.
Kaplan said: "Oh, I know Michael – he is living in a trailer. If you'd like to meet him, I can arrange that." I was in London for a couple of days and we met at this restaurant. He (Powell) sat across from me and we shared a glass of wine each. I was rather effusive about him and his work. I couldn't believe we had found him! We brought him up to date about the appreciation of his and Emeric's work among the younger film-makers. My friends and colleagues were still trying to find good colour copies of the work or at least extant copies of A Canterbury Tale (1944). I do talk rather quickly. I was excited. He seemed rather modest and somewhat taken aback. Quite honestly, I guess I spoke so much, I don't remember what he told me.
Access unlimited streaming of movies and TV shows with Amazon Prime Video
Sign up now for a 30-day free trial
Sign up
Access unlimited streaming of movies and TV shows with Amazon Prime Video
Sign up now for a 30-day free trial
Sign up
Powell had gone from making "quota quickies" (low budget British films) in the 1930s on to his collaboration with Pressburger and then on to a film like Peeping Tom (1960). When I was at Washington Square College, which was part of New York University at the time, there was a very, very small film department. Peeping Tom became a legendary film. Even if people had missed it, they talked about it. It really fed directly into a wonderful film made by Jim McBride at the time, who was also a student, called David Holzman's Diary (1967). Peeping Tom was one of the key influences on that Powell was really influencing an entire generation.
I believe he was living in this small trailer. It looked like an Airstream. He was trying to work. Now, looking back, I know he was in dire circumstances with finances and pretty much everything else.
I was more of a close friend of Michael Powell than of Emeric Pressburger. Michael came to New York. He came to California when I was living there. We were around each other a great deal of the time. I only met Emeric a few times. It's hard for me to comment on their collaboration. I don't think anybody could have a fair sense of how something like that evolved. The results are so extraordinary. We look at that remarkable title card that says "Written, Produced and Directed By" and we realise that one couldn't do without the other. Pressburger brought a certain European sensibility to the work. That fascinates me because it's not only British. Michael grew up in the south of France. Emeric Pressburger's home country was Hungary. From what I read and know, they worked very closely and well together and the results were quite extraordinary – masterpiece after masterpiece.
I keep coming back to The Red Shoes. If I come back from shooting a film at 3am from a night-shoot or at dawn and it's on, I find it is difficult to got to sleep. It is a film that I continually and obsessively am drawn to. It was very hard to see good colour copies of the film. I sought out whatever theatre they were playing in. The big prize was to get a good 16mm colour print. That was like a major coup to get that – or, at least to see it if not to own one. That become a kind of obsessive search.
The funny thing about it is the nature of possessing a print of the film. It's not about the celluloid. It's not about the print. It's about the nature of the film itself and how the film changes in my mind when I see it or it changes in my heart when I see it. I always say that film doesn't really exist. When you see it, it's just reels of celluloid. One has to project the film. You need electricity. Then the film plays out in your mind and your heart. It continually does that for me. Over the years, looking at The Red Shoes, I have begun to see the analogy with the world I am in. It keeps giving me the energy to keep moving on.
Volume two of Michael's autobiography (Million-Dollar Movie) is quite unique. He talks not just about his period of success but also about when things went bad. After The Tales Of Hoffmann (1951), things became more difficult. Peeping Tom was the finish. In any event, from reading the autobiography and knowing Michael from 1975 until 1990 (when he died), I think he and Pressburger were as skilled as politicians as they could have been in that world. Working for J Arthur Rank, they were able to create a string of masterpieces. That changed. It's the nature of the way the world has changed.
Martin Scorsese talked to Geoffrey Macnab
SCREENING THE RESTORED THE RED SHOES
Taking a break from post-production on their new film "Shutter Island", Martin Scorsese and his editor Thelma Schoonmaker will be in Cannes today for a screening of the restored version of Michael Powell and Emeric Pressburger's "The Red Shoes".
"Marty and I have always, over the years, tried to promote the work," says Schoonmaker of her and Scorsese's attempts to bring the works of Powell and Pressburger to wider attention. She was introduced to Powell by Scorsese and ended up marrying him in 1984. Powell died in 1990.
The negatives of "The Red Shoes" that had been made by the British Film Institute were fast becoming worn out. "It became clear that we had to think about a major new restoration," Schoonmaker recalls. The restoration was made from the original three-strip Technicolor materials. These were in "bad shape," scratched, dirty and suffering from serious mould damage. Now, they have undergone an extraordinary transformation. Scorsese and Schoonmaker both say they were "knocked out" by how vivid the colours appear.
"The Red Shoes" is one of the most innovative films in British cinema. In Lermontov, it features a character as driven and uncompromising as Scorsese himself. Schoonmaker says of Scorsese: "The sense of courage, daring and of being willing to die for your art appeals to him immensely."
Tonight, alongside Scorsese and Schoonmaker will be relatives of many of the other key collaborators on "The Red Shoes". Pressburger's grandson Andrew Macdonald (producer of "Trainspotting"); the daughter and grand-daughter of the film's star, ballet dancer Moira Shearer; and the widows of Marius Goring and cinematographer Jack Cardiff, are all due to attend.
'The Red Shoes' screens tonight in Cannes at 7:45pm in a version restored by UCLA Film and Television Archive in association with The British Film Institute, The Film Foundation, ITV Global Entertainment Ltd, and Janus Films, with funding by the Hollywood Foreign Press Association, The Film Foundation, and the Louis B Mayer Foundation. Martin Scorsese and Thelma Schoonmaker-Powell will attend. A special-edition DVD and Blu-ray of rthe film will be released at the end of June.
Join our commenting forum
Join thought-provoking conversations, follow other Independent readers and see their replies