Michael Madsen interview: How The Hateful Eight star ducked and dived his way through Hollywood
Michael Madsen's been on quite a ride since he broke into acting as a wayward youth 35 years ago. Is that why he keeps getting the call from Quentin Tarantino? Tim Walker finds out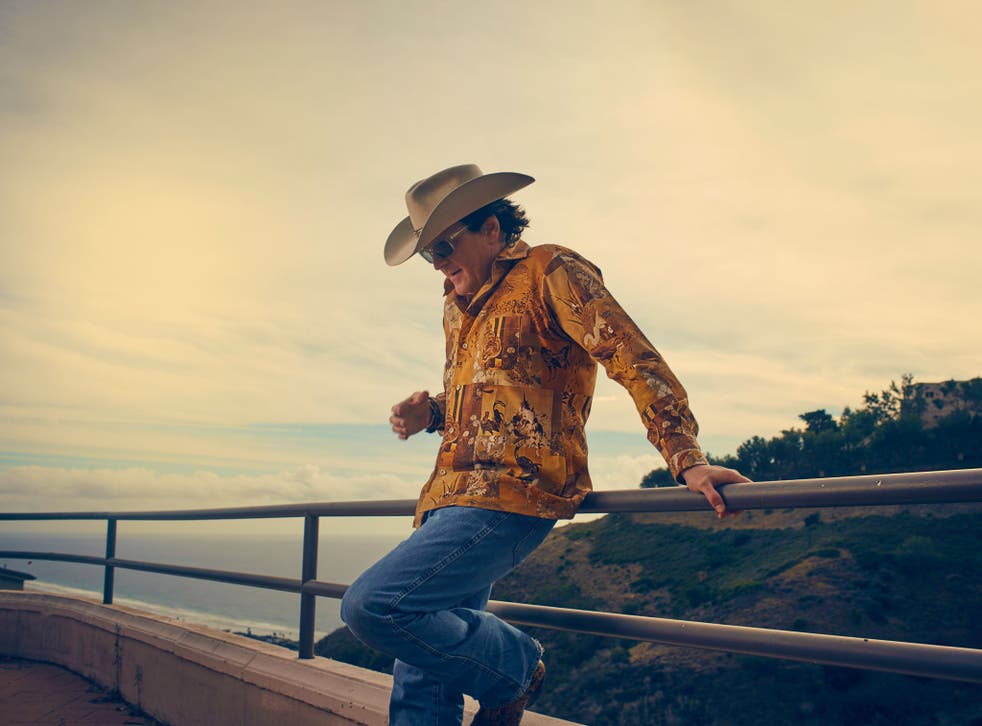 For many years, Michael Madsen's career was blighted by bad decisions and worse luck, so perhaps it should come as no surprise that he didn't even want the part that made him famous. In 1991, when tyro writer-director Quentin Tarantino offered him the role of Mr Blonde, the icy crook who boogies to Stealers Wheel before cutting off a cop's ear in Reservoir Dogs, Madsen resisted.
"I wanted to play Mr Pink," he says of the part eventually assigned to Steve Buscemi. "Because he had more scenes with Harvey Keitel." Madsen's agents weren't convinced he ought to do the movie at all, but Madsen was so adamant that Tarantino allowed him to audition for Pink, the guy who doesn't tip.
"I had never met Quentin before. I walked in the room at the 20th Century Fox lot and he was standing there with his arms folded, Harvey sitting on the couch in bare feet," he recalls.
"I made my case for playing Mr Pink, and Quentin said: 'OK, show me what you got.' For one of the only times in my life I'd rehearsed the dialogue, so I did a couple of Mr Pink scenes. When I was done, Quentin looked at me and went: 'Is that it? OK, good. You're not Mr Pink. You're Mr Blonde – and if you're not Mr Blonde, then you're not in the movie.'"
He was Mr Blonde. He still is.
Culture news in pictures

Show all 33
Madsen laughs his craggy laugh as he tells the story, sitting on a terrace at his home high above the Malibu coastline. The actor is 6'2", taller still in his cowboy boots, with long, ageing rocker hair, a semi-permanent squint and the gravel-strewn voice of a guy who only gave up smoking last year, at 56. His most recent audition for Tarantino was also a foregone conclusion.
The director had Madsen in mind to play Joe Gage, a dandyish, man-of-few-words cowpoke, in his magnificent new ensemble Western, The Hateful Eight. "I hadn't heard from Quentin in over a year," Madsen says. "But he called and asked me to go to his house, so I went over and he got out a script and asked me to read a few pages. I'd only read about five lines when he clapped his hands and said: 'OK, Mike. That's great. I'll see you on set in December.'"
The Madsen home is a menagerie. Between them, the actor and his wife DeAnna have six sons aged between 10 and 25: one from DeAnna's previous marriage, two from Michael's and three from their own. A tropical bird squawks incessantly in a cage. There are three dogs, including an old mutt that Madsen found scavenging on the streets of Romania while he was shooting a film there, and a friendly rescue pit bull named Bandit.
A few of the boys' friends have stopped coming over since their parents heard there was a pit bull in the house. They're misunderstood animals, Madsen says, reaching for the cliché before I can: Bandit, he mutters, reminds him of himself. "People have been afraid of me because of the parts I played. Nobody remembers that I was the dad in Free Willy."
Madsen's acting résumé comes in an abridged and an unabridged version. The shorter list would be the envy of any working actor: three Tarantino movies, one Bond, a supporting role in a stone-cold classic, Thelma & Louise, and respectable turns in four-star fare such as Donnie Brasco. But the longer list is very, very long: the actor has more than 200 acting credits to his name, most of them in shonky B-movies that would be forgettable only if you'd heard of them in the first place. "Some of them I'm only in for 10 minutes," he says, "but they bought my name, and they bought my face to put on the DVD box with a gun. What people don't always understand is that I established a certain lifestyle for my family back in the days of Species and Mulholland Falls and The Getaway. I wasn't about to move my six kids into a trailer park. So when people offered me work, it wasn't always the best, but I had to buy groceries and I had to put gas in the car."
Access unlimited streaming of movies and TV shows with Amazon Prime Video Sign up now for a 30-day free trial
Sign up
Madsen's younger sister Virginia is also an actor, best known for her performance in the Oscar-winning indie, Sideways, but theirs was not a theatrical upbringing. They grew up in Chicago with a third sibling, Cheryl, and their parents Elaine and Calvin, who split when Michael was 11.
Elaine, who worked in finance, would later become an author and an Emmy-winning documentarian. But Cal, who died in October, was a lifelong Chicago firefighter – and he expected his son to follow a similar path. "My dad didn't give a sh*t about my career," Madsen says. "He didn't think movie acting was very masculine or dignified."
The two had a distant relationship until the last few years of Cal's life. This summer, Madsen took his youngest son, 10-year-old Luke, to see his grandfather in Chicago for the Fourth of July, which happened to be Cal's birthday. The actor arranged for a cavalcade of Hell's Angels and off-duty motorcycle cops to escort the three generations of Madsen men to a fireworks display.
"My dad was 89, and I think that was the first moment when he actually realised I'd accomplished something in my life, because why else would those people do that for me? I told him I'd just finished making a western, and he said: 'Wow, I wanna see that.' He had never said that about any of my movies before. I so, so wanted him to see it. But he died too soon."
Virginia had always wanted to be an actor. But as a teenager her brother was more interested in motor racing; his idol was Nascar champ Richard Petty. That all changed, he says, after he saw Robert Mitchum in the 1957 movie Heaven Knows Mr Allison, a wartime romance directed by John Huston. "When I saw that movie, I thought, 'I could probably do that'."
The young Madsen worked as a mechanic, and later a paramedic, until 1980, when a friend took him to see a production of Of Mice and Men by Chicago's Steppenwolf Theatre Company. Bowled over by the play, he wandered into the wings and found its star, a twentysomething John Malkovich, removing his make-up. "He asked for my address and said he'd send me a brochure for acting classes," Madsen recalls. "I thought he was just trying to get rid of me."
But Malkovich was true to his word, and a couple of months and several scene study classes later, Madsen found himself back on the same stage in another Steppenwolf production of the same play. In a debut that arguably set a template for his career, he was cast as Carlson, the ranch hand who kills an innocent dog. "That f**king dog was the best acting teacher I ever had," he says now.
"When I was really into my character, the dog would get scared and I'd have to drag it offstage before I fired the blank gun. But if I wasn't into my performance, the dog would just be happy, and when I walked off it would follow me, which was just as upsetting for the audience! I'll never forget that dog. He was so tuned into me that he became an actor, too."
When he first moved to Los Angeles in search of work, Madsen made money doing what he knew best: working with cars. Every day after his shift at the Union 76 gas station in Beverly Hills, he would ride his Harley-Davidson down Sunset Boulevard to the beach at Malibu. "I'd park the bike and sit looking at the ocean, telling myself: 'One day, goddammit, I'll actually live here'."
He spent the 1980s taking bit-parts in TV shows like St Elsewhere, Miami Vice, Cagney & Lacey and Quantum Leap, until he finally got his movie break playing Susan Sarandon's tough but tender boyfriend in Thelma & Louise in 1991. The scene he shot with Harvey Keitel was cut from the film, but it got him in the room with Tarantino.
Reservoir Dogs was a career turning point, but it was followed by a far less fortunate one. Tarantino wanted Madsen to play another small-time hood, Vincent Vega, in his second movie, Pulp Fiction. Madsen, though, had already committed to rehearsals for Kevin Costner's latest epic western, Wyatt Earp. The rest is history: Earp was a turkey, while Vincent Vega earned John Travolta an Oscar nomination. Tarantino's mooted plan for a movie starring Madsen and Travolta as the Vega brothers never came to fruition.
There was further bad fortune in store. Oliver Stone wanted Madsen for the murderous leading man in Natural Born Killers, from Tarantino's script, but the studio had other ideas. "Warner Bros had just done Indecent Proposal with Woody Harrelson. Oliver Stone called me and said, 'If I make this picture with you I get $2.5m and the budget of the movie is $20m. But if I do it with Woody, I get $30m and my fee is $5m. So that's what I'm going to do'. Meanwhile, Quentin was calling me, saying: 'Don't do Natural Born Killers with Oliver, he's gonna f**k it up!'"
Madsen may have had promise as a movie star, but he never made the moves to capitalise on it, shying away from the obligations of showbiz. "I'm not a publicity hound," he says. "I don't care about being on the cover of GQ or Vanity Fair. There was a time when I could have done that, but I didn't have a publicist. And I think the studios decided I was some sort of renegade or malcontent."
It's also possible that Madsen is simply a man out of time. His hallways are filled with framed posters for classic movies: Psycho, Point Blank, a rare Junior Bonner print that was a gift from Tarantino. A car thief in his youth, a biker still, he comes from a breed of bad boy that Hollywood has hunted almost to extinction: Mitchums, Marvins, Hoppers, Rourkes. "I'm a leading man trapped in a bad guy's body," he agrees.
Today, the actor acknowledges having wasted years of his career. He fought a bitter divorce battle with his second wife, which cost him millions. ("I had an entertainment lawyer when I should have had a divorce lawyer.") He filed for bankruptcy after borrowing large sums of money from friends including Tarantino and Pierce Brosnan, all of which he has since paid back. In 2013, he fired his manager and his agent and hired a casting director friend, Bruno Rosato, to represent him. "There's a reason Jesus got the Italians to market him," he says. "They did a damn good job."
That scorched-earth strategy appears to have worked. These days, Madsen plays a superhero in the sci-fi drama Powers for the Sony Playstation TV network; he's just narrated a lavish documentary series for the National Geographic channel; he has his own line of hot sauces, American Badass; and, of course, he's back in the Tarantino stable alongside Samuel L Jackson, Kurt Russell and Tim Roth, his erstwhile Reservoir Dogs co-star. "Quentin just said to me yesterday: 'Hey Michael, how does it feel to be back in the big show?' Well, it feels pretty good."
Meanwhile, after many years, he has at last come to terms with being Mr Blonde. "A couple of years back I was invited to throw out the opening pitch for the Cubs in Chicago on the first day of the season. As I walked out on the field, the commentator said: 'Ladies and Gentlemen, hometown hero Michael Madsen will be throwing the opening pitch… BEST KNOWN AS THE PSYCHOTIC MR BLONDE!' I was like, 'Why did he have to say that?! I've done some other stuff!' But then again, I can think of some pretty big-name actors who never had a role like that."
'The Hateful Eight' is out in UK cinemas from Friday
Register for free to continue reading
Registration is a free and easy way to support our truly independent journalism
By registering, you will also enjoy limited access to Premium articles, exclusive newsletters, commenting, and virtual events with our leading journalists
Already have an account? sign in
Register for free to continue reading
Registration is a free and easy way to support our truly independent journalism
By registering, you will also enjoy limited access to Premium articles, exclusive newsletters, commenting, and virtual events with our leading journalists
Already have an account? sign in
Join our new commenting forum
Join thought-provoking conversations, follow other Independent readers and see their replies