'I didn't have a clue what the show was about' – The story behind the iconic Mission: Impossible theme tune
Lalo Schifrin, the jazz genius behind some of Hollywood's greatest music, finally gets an Oscar honour. Martin Chilton tells the strange tale of his most famous composition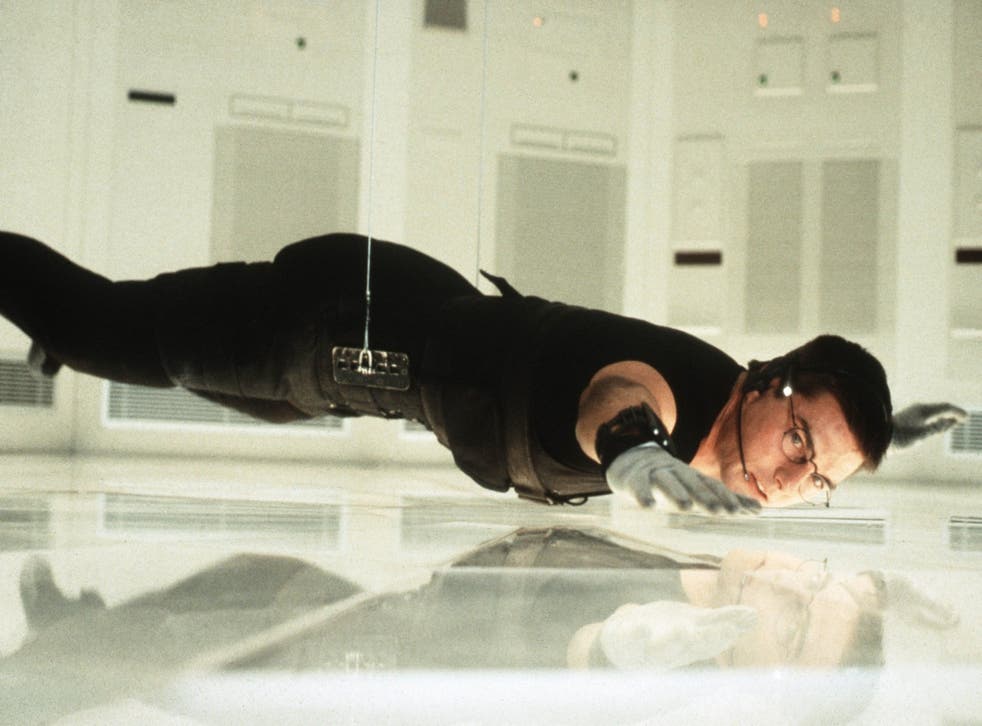 A
t a red-carpet screening for Mission: Impossible, the 1996 movie that kicked off the franchise, Tom Cruise made a beeline to embrace a bookish-looking 64-year-old Argentinian musician. "When Tom Cruise saw me, he hugged me twice," Lalo Schifrin told a Montreal radio station. "He said he grew up with the television series and the music was one of the biggest elements that convinced him to get involved in the movie project, not only as an actor but as the co-producer. So he made my day."
Schifrin's bongo-driven composition, written for the title sequence of the 1966 CBS TV show, is one of the most instantly recognisable themes ever written. The simple syncopation, in an off-kilter 5/4 time, makes each sharp percussive blast of brass and woodwind sound like a pounding step in a sensational chase sequence. His unmistakable music helped turn a TV show about secret agents into a smash hit. The show's mixture of dazzling race-against-time plots, clever gadgetry and elaborate disguises spawned a movie franchise, which reached its sixth instalment with 2018's Mission: Impossible – Fallout.
Schifrin will finally get his hands on an Oscar on 18 November, when the board of governors of the Academy of Motion Picture Arts and Sciences recognises the 86-year-old's body of work. The composer has previously received six Oscar nominations, for the original scores for Cool Hand Luke (1967), The Fox (1968), Voyage of the Damned (1976) and The Amityville Horror (1979); for the original song "People Alone" from The Competition (1980); and for the adaptation score for The Sting II (1983).
The music for Mission: Impossible came about almost by accident. "I didn't have a clue what the television show was about at first," said Schifrin, who was born in Buenos Aires. In 1966 he was a hugely respected jazz arranger and producer and had just finished scoring the Steve McQueen movie The Cincinnati Kid when his agent phoned to tell him that a producer called Bruce Geller wanted Schifrin to write music for the pilot show of a new TV series. Schifrin's mission, should he choose to accept it, was to create the perfect music for a drama about covert operatives. The assignment was also going to be a race against the clock. "It was a bit of a production panic, because they were so late with their deadlines," Schifrin recalled.
The composer, who is based in Hollywood, was invited to Desilu Studios in Culver City, California, to watch some of the actors, including Martin Landau, Steven Hill and Barbara Bain, film parts of the pilot. The episode was written by the show's creator Geller and was about the spy organisation's quest to find two missing nuclear warheads, which had been taken to a Caribbean island.
Schifrin was initially baffled by his commission. There were no title credit sequences available for him to study, because Geller had rejected the first draft from the graphics company creating them. "I did not understand anything, because I had never been to a TV shoot," Schifrin told Soundtrackfest. "Everything was very slow, and everything went in different order. Without the script, when one of the characters said something, I did not understand anything. Bruce didn't have time to ask me for anything specific with the music."
Best films on Netflix

Show all 28
All he was able to glean from his first contact was that each episode was likely to begin with the image of a fuse being lit by a match. His instructions amounted to the vague request for "something exciting" around the image of a burning fuse. At first, Schifrin played around with the idea of music that would fit the "paramilitary" style of the secret government agents, who were called the Impossible Missions Force (IMF) in the show. When Geller heard Schifrin's first offering, a march tune called "The Plot", he said he liked it but wanted something much more dramatic, more fitting to the big start of a spy drama, for the credit sequence.
Schifrin was then shown a rough edit of the pilot. "I want you to write something that will get people's attention," Geller told him. "Make it sound like a promise that there's going to be a little bit of action. Like, when they're in the kitchen having a soft drink and the television set is on in the living room, they'll hear it and say, 'Oh, Mission: Impossible is on!' Then they'll run immediately to the living room."
The composer said he suddenly realised that what he had been conjuring was "too soft and mysterious". "I knew what I had to write. I understood, it had to be like a call to the viewers to watch. What I needed to compose was like a logo for Mission: Impossible," Schifrin said.
Schifrin returned home to work at his desk (he rarely composed at the piano) to create a track that had the working title "Burning Fuse". "I had a very short time to write it. I had to do it right away," said Schifrin. "I sat at my desk and wrote that theme in exactly one-and-a-half minutes. It was not inspiration; it was a need to do it. It was my own little mission impossible! The whole thing – including the chorus, the bongos, everything you hear – took me maybe three minutes. I was creating sound of impossible missions and making them swing. I didn't know it was going to be so successful."
At the time, the 32-year-old was a dab hand at composing jazz tunes with four beats in a bar, but for this composition he went for an unusual (and deliberately unsettling) 5/4-time signature. "I suppose the Dave Brubeck Quartet's 'Take Five' was in my heart, but the 5/4 tempo just came naturally. It's forceful, and the listener never feels comfortable," Schifrin told The Wall Street Journal.
Landau, who played Rollin Hand – the "man of a million faces" and forerunner to Cruise's Ethan Hunt in the film franchise – had gone to watch the show's music being recorded and was impressed by Schifrin's single-mindedness. Schifrin brought in some leading West Coast jazz musicians – including Bill Plummer and Bud Shank – for this historic session, telling them they were aiming for a "crime jazz" suspenseful sound. "Lalo raised his wand to the musicians and I heard 'dun dun, da da, dun dun, da da' for the first time, and it was deafening," said Oscar-winning actor Landau. "Lalo interrupted the band and said, 'no, no, it should be like this.' They resumed and before we could say anything, they had recorded it. I was stunned. It was so perfect. I came out humming that tune."
The TV critics loved it. The public loved it. The instrumental single sold more than half a million copies in America, was a no 1 throughout Europe and Australia and reached no 7 on the UK singles chart. Within a year, Schifrin had recorded the official soundtrack album, featuring master jazz musicians Shelly Manne and Ray Brown. The album went on to win two Grammy awards, for best instrumental theme and best original score for a motion picture or TV show.
Schifrin showed his mischievous side during a jazz tour of Austria that followed. A journalist in Venice asked why he had written his famous tune in 5/4 time. "What are you going to say to that? I am a jazz musician so I improvised immediately," he said later, recalling that he had answered, with a straight face, that the US government had recently found an extraterrestrial with five legs. "The people in outer space have five legs and couldn't dance to our music, so I wrote this for them," Schifrin told the press conference. "The reporter believed it and all the magazines in Vienna published it," added Schifrin. "My agent called me and said, 'what the hell are you trying to do?'"
What is so remarkable about Schifrin's career is the range of his accomplishments. As well as his movie work, he is a pioneering jazz arranger, a brilliant composer of Latin jazz, a classical musician of immense standing and a superb pianist. He had been expected to follow in the classical music footsteps of his violinist father Luis Schifrin, the concert master of the Philharmonic Orchestra of Buenos Aires. However, the young Schifrin grew up loving jazz, especially bebop master Dizzy Gillespie, and it became a family in-joke that whenever he left the house, he would shout out to his mother, "If Dizzy calls, tell him I'm out."
When he told his parents he was set on being a jazz musician, Schifrin was admonished by his father for choosing a life full of "drugs, alcohol and ladies of the night". His father tried to halt the ambition by sending his son to study law at Buenos Aires University. When Lalo rebelled and gave up law to study musical composition at the Paris Conservatoire, his father "abandoned him".
When he returned to Argentina at the age of 23, already a fine jazz pianist, he came to the attention of Gillespie, who was on tour in Argentina. The trumpeter liked Schifrin's arrangements and asked him to join his band. It marked the start of a period touring the world and playing with legends such as Count Basie, Ella Fitzgerald and Miles Davis. Over the next decade, Schifrin produced and arranged more than 100 fine jazz albums, including for Gillespie and Stan Getz. He was the mastermind behind organist Jimmy Smith's Grammy-winning The Cat (1964).
Throughout the 1960s and 1970s, jazz continued to infuse his growing body of soundtrack work. He was adamant that a "cool jazz sound" was right for the 1968 Steve McQueen classic Bullitt. "If you look carefully, Bullitt, Mission: Impossible and Dirty Harry, all have a jazz background and a jazz rhythm section, because I could never completely leave the jazz," Schifrin said.
He created also stylish, atmospheric scores for Patton, The Eagle has Landed, Cool Hand Luke, Once a Thief, The Fourth Protocol, The Amityville Horror and Rush Hour 2. His work with Bruce Lee scoring the film Enter the Dragon remained one of Schifrin's favourite movie experiences. Lee used to train to the music of Mission: Impossible and persuaded the middle-aged composer to take up martial arts. Schifrin gained black belt status under Lee's tutelage. To this day, Schifrin keeps a life-size mannequin of the late kung-fu star in his house.
Schifrin, who was also a good amateur football player as a youngster, was thrilled to compose the grand finale music for the 1990 World Cup Finals in Italy. The concert, performed by the three tenors Luciano Pavarotti, Placido Domingo and Jose Carreras, became a global hit record. In a career of remarkable triumphs, his one disappointment seems to have been when the music he wrote for The Exorcist was rejected for being "too dark".
Even with this fantastic body of work, for the general public his music for Mission: Impossible – which over the past half-century has been recorded and reworked by musicians as diverse as Kanye West, Adam Clayton of U2 and Sly & Robbie – is his defining creation. His title sequence music has appeared in all six films in the series. John Williams was originally asked to score the first adaptation, but when he insisted on creating his own theme tune he was rebuffed by Cruise and director Brian De Palma, who were adamant they had to stick with Schifrin's classic opener. They hired Danny Elfman to score the movie instead.
Composer Lorne Balfe wrote his own score for the sixth movie instalment Mission: Impossible – Fallout (the box-office triumph that is out on DVD and Blu-ray in December 2018) and included Schifrin's iconic music. Balfe admitted he had been "petrified" about how Schifrin would react to his score. "He loved it, fortunately," said Balfe. "I can die a happy man now that I've got the blessing of Lalo."
Schifrin has always been sanguine about being known for a TV theme rather than his other triumphs, insisting that he didn't even mind hearing it when it chirped out as the ringtone on a stranger's phone. "The Mission: Impossible music changed my career because it became so popular, and it opened doors for more serious commissions," Schifrin remarked.
Thirty years after Schifrin was awarded a star on the Hollywood Walk of Fame, this master of film composition will finally take home an Oscar statuette.
Mission: Impossible – Fallout is available on digital download now and 4KUltra HD, Blu-ray and DVD on 3rd December, courtesy of Paramount
Join our new commenting forum
Join thought-provoking conversations, follow other Independent readers and see their replies