Nicole Kidman: Queen of Cannes rides high with The Killing of a Sacred Deer, The Beguiled and Top of the Lake
Things have certainly taken a turn for the better for Kidman since her last time in Cannes, when she starred in the flop 'Grace of Monaco', which opened the 2014 edition
James Mottram
Wednesday 24 May 2017 19:41 Comments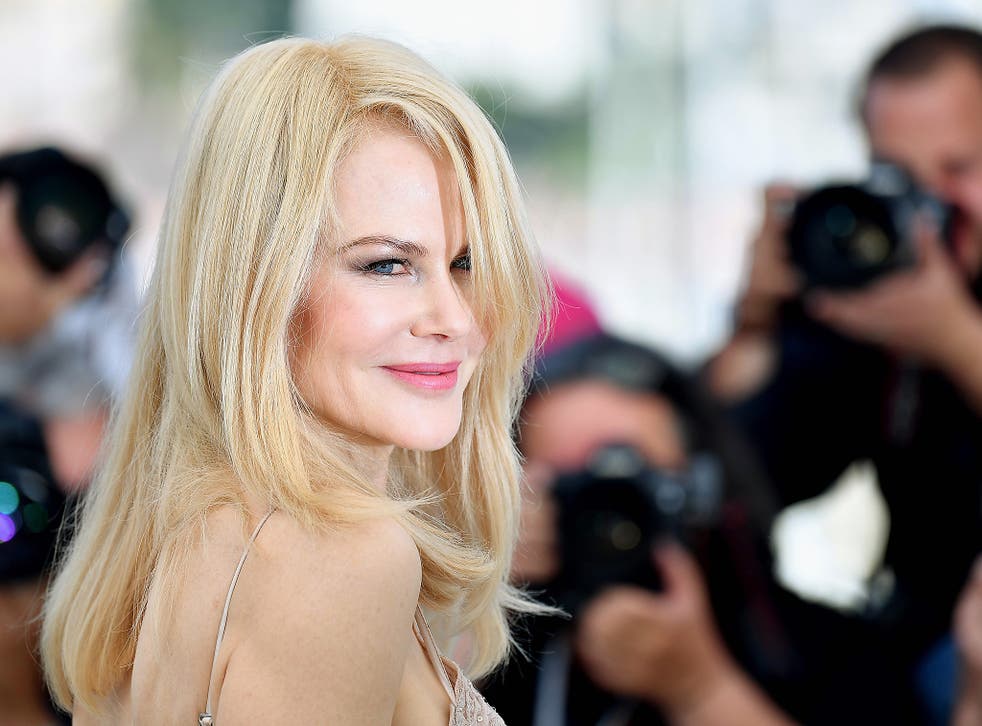 A surgeon's wife. A 1977 punk. A Civil War era headmistress. A feminist lesbian mother. It's been quite a Cannes for Nicole Kidman. Returning to a film festival where she's experienced extreme highs and the odd low in the past, the Australian star has graced the Croisette this past week with three films and a television project. Two in competition, two out of it, Kidman's Queen of Cannes status was cemented the moment the official selection was announced.
Off the back of her Oscar/Golden Globe/BAFTA-nominated role as a real-life mother in Lion and her much-praised turn as one of the "mothers of Monterey" in TV drama Big Little Lies, it's turning into quite a year for Kidman. Next month she turns 50, but the real celebrations have been in Cannes for the diversity of her performances. Brave choices with daring directors – it's a long way from the days of Kidman starring in duds like The Peacemaker and Practical Magic.
True, John Cameron Mitchell's out-of-competition title How To Talk To Girls At Parties left most cold. Based on the Neil Gaiman short story, this tale of an alien cult in Croydon during the year of punk and the Queen's Jubilee celebrations was Kidman's second movie with Cameron Mitchell, after the brutal Rabbit Hole. Here, complete with platinum-streaked hair, Kidman unleashes her inner rebel as Boadicea, the smoking, snarling queen bee of the local punk scene (critics carped that she was channelling both Toyah Willcox and, for the accent, Dick Van Dyke).
Yet Kidman has faired much better in the main event. In Yorgos Lanthimos' The Killing of a Sacred Deer, she plays Anna, the loving wife to Colin Farrell's surgeon, who has formed a bizarre attachment to a young boy. An increasingly bleak suburban nightmare, it's Greek tragedy played out in the blackest of humour. Early on, she and Farrell engage in one of the more surreal sex scenes at this year's festival. "General anaesthetic?" she asks, before draping herself across the bed in an out-cold pose wearing just her underwear as Farrell masturbates.
Early comparisons were made to Kidman's turn for Jonathan Glazer in his much-undervalued 2004 film Birth, a psychodrama in which her character forms a bond with a boy who claims to be her dead husband reincarnated. Sacred Deer is pitched at a different level – the horror of the situation escalating wildly in the second half – but certainly it's clear Kidman has a taste for the macabre, for the controversial, for the provocative.
She and Farrell also take centre stage in her other competition entry, The Beguiled. Directed by Sofia Coppola, it's based on the Thomas Cullinan novel that was previously filmed by Don Siegel in 1971, with Clint Eastwood. Set in a Virginia girls' school during the Civil War era, Kidman plays the God-fearing headmistress Martha Farnsworth, who provides shelter and care for Farrell's wounded Yankee soldier when he is found by one of her pupils.
Beautifully shot by cinematographer Philippe Le Sourd, Kidman offers another note-perfect performance in a film that takes its sweet time before snapping into focus. Leading her girls in nightly prayers, but keeping a loaded gun in her cabinet, Kidman is in restrained form here, and all the better for it. For those who don't know the story, it would be unfair to give away the final act's events, but suffice it to say, underneath her prim exterior beats the heart of a ruthless pragmatist.
Arguably, the best of the Kidman Cannes quartet was her work in Jane Campion's Top of the Lake: China Girl. The second season of Campion's elegant procedural, this time relocated to Sydney, with all six episodes screened back-to-back on Tuesday afternoon – a first for the movie-centric Cannes. Reuniting us with Elisabeth Moss' damaged cop Robin Griffin, the season kicks off in grim fashion with the discovery of the body of an Asian prostitute washed up, inside a suitcase, on Bondi Beach.
Kidman, with her blonde locks turned into a grey frizzy mass, plays Julia, mother of spirited 17-year-old Mary (played by Campion's own daughter Alice Englert) who becomes embroiled with the plot. A staunch feminist who has left Mary's father for a woman, Kidman's Julia sees her in punchy form: raw, argumentative, emotional. Their first on-screen collaboration since 1996's The Portrait of a Lady, after this sublime TV excursion you'll want to see them collaborate on another movie.
Access unlimited streaming of movies and TV shows with Amazon Prime Video Sign up now for a 30-day free trial
Sign up
All this certainly marks a change from Kidman's last time in Cannes, when she starred in the much-derided Grace of Monaco, which opened the 2014 edition. Olivier Dahan's tale of Grace Kelly's marital woes to Monaco's Prince Rainier III did Kidman no favours at all ("as dramatically inert as star Nicole Kidman's frigid cheek muscles", wrote trade paper Variety). But Kidman stood by the film, amid the poor reviews, in-fighting between the director and studio mogul Harvey Weinstein and even criticism from the children of Kelly and Prince Rainier.
Still, Kidman has faired better than most of her Hollywood peers in Cannes. She opened the 2001 festival with Baz Lurhmann's musical Moulin Rouge!, playing siren Satine in a role that would later garner her a first Oscar nomination. Also marking her first public appearance since her high-profile divorce from Tom Cruise, it was the beginning of a new phase in Kidman's career and personal life. She's since married country singer Keith Urban, settling down in Tennessee, but the risk-taking movie choices haven't stopped.
The obvious example was her subsequent return to Cannes in Lars von Trier's Brecht-inspired Dogville. As Grace Mulligan, a much-abused woman who takes her revenge on the townsfolk of a 19th century rocky mountain town, Kidman truly bared her teeth. She hit the festival again with Lee Daniels' steamy 2012 romp The Paperboy, in which she played Charlotte Bless, an Alabama native embroiled in a relationship with a serial killer (a film that everyone still remembers for Kidman peeing on Zac Efron).
Frequently, Hollywood analysts claim her films don't make money – with flops like her remakes of Bewitched and The Stepford Wives – although she managed to arrest that issue by playing the villain in mega-hit Paddington. Now she's lined up for a role in the forthcoming Aquaman (she has form in the DC Comics universe, having starred in Batman Forever). But after this cracking Cannes, it would be a shame to see Kidman sucked into the Hollywood blockbuster treadmill. She's much too interesting an actress for that.
The Cannes Film Festival runs until 28 May
Register for free to continue reading
Registration is a free and easy way to support our truly independent journalism
By registering, you will also enjoy limited access to Premium articles, exclusive newsletters, commenting, and virtual events with our leading journalists
Already have an account? sign in
Join our new commenting forum
Join thought-provoking conversations, follow other Independent readers and see their replies