Not such a green and pleasant land after all...
New film Sightseers shows rural Britain at its creepiest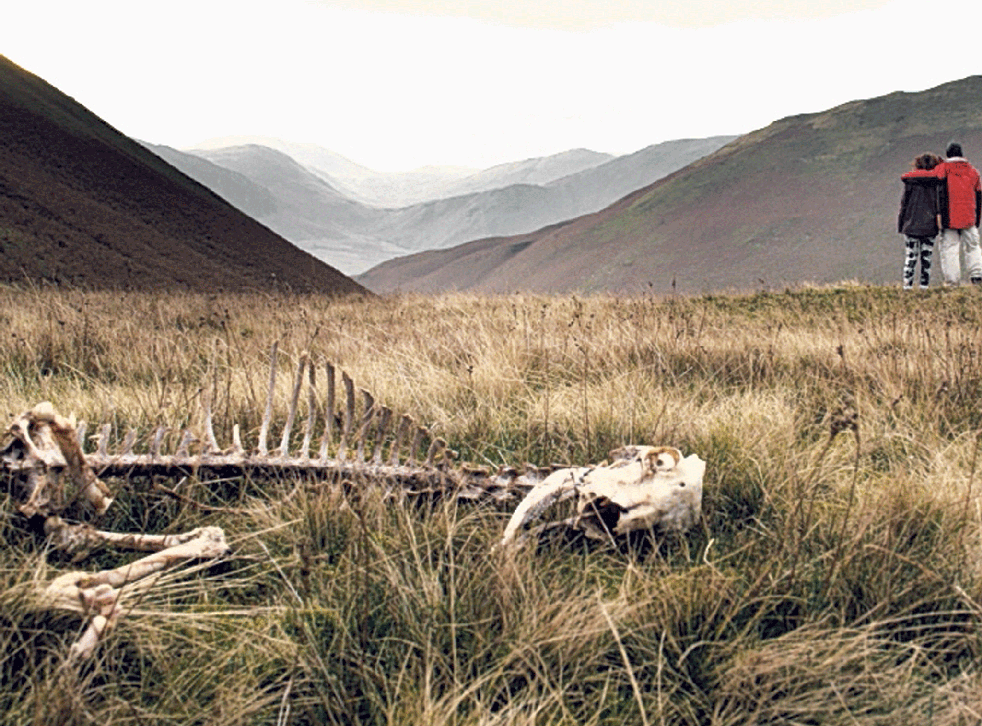 What do you think of when you think of the great British countryside? Verdant fields and winding lanes? Charming tea shops and historic houses? Sightseers, the story of a couple on a British caravanning trip, and the latest film from Kill List director Ben Wheatley, has all of the above. It also has spree killing, dog-kidnapping and loud sex in a motorway lay-by.
This might not be chocolate-box Britain, but this eerier, anarchic vision of rural life is just as traditional, if not more so. It stretches back into our pagan prehistory, winds through the 15th- and 16th-century witch trials, and was cemented by a sub-strand of psychedelic folk and British horror movies of the 1960s and 70s. Most famously, there's The Wicker Man (1973), a film so iconic, that even Chris Crowley, the chairman of Britain's Pagan Federation can forgive it its sins. "I think most pagans really like that film. I mean, it is a cult classic, but that doesn't mean we do anything like that either."
Sightseers, with its chicken sacrifices and soundtrack use of Donovan's "Season of the Witch", nods towards a British horror tradition. It also encompasses very funny moments of black comedy, and a much less British antecedent; the spree-killer road movie à la True Romance, Bonnie and Clyde and Kalifornia.
In these films, the homicidal lovebirds drive across vast expanses of land, as desolate as their amoral souls. There's a reason why all these films were shot stateside, says Wheatley. "I think the thing that American road movies have, is that they don't have any roundabouts, so you can go a lot further in a straight line. I wouldn't like to see Dennis Hopper riding around a roundabout on his chopper in Easy Rider. It would have been a bit awkward."
In fact, as Sightseers illustrates, there are plenty of spots in rural Britain as awe-inspiring as they are potentially creepy. Kit and Holly in Badlands may have had the badlands of South Dakota, but Chris and Tina in Sightseers have the lunar landscape of Honister Pass in the Lake District and the imposing Ribblehead Viaduct in North Yorkshire.
"You forget how remote you can get [in Britain]" says Harvey Edgington, broadcasting and media manager for the National Trust. "Once you get into the ponds and the woods, and it's night and maybe you're alone, the scale doesn't matter. When you're scared, you're scared." He lists some of the film industry's favourite creepy locations as the "dark and forbidding" Frithsden Beeches wood at Ashridge in Hertfordshire, where The Descent (2005) and Sleepy Hollow (1999) were shot and Frensham Ponds in Surrey, which was the lake in Eden Lake (2009) and the Nile in The Mummy (1999).
This, and not Satan worshipping, is also what pagans are all about, says Crowley (no relation to Aleister): "Pagans see themselves very much as being part of nature and in tune with the natural cycle." Yet despite this shared viewpoint, directors of British horror movies and real-life pagans have not always seen eye to eye. This probably has something to do with film-makers' habit of depicting pagans as orgiastic sacrificers of small fluffy animals and virgins etc. "I mean obviously paganism celebrates the life cycle and so in honouring the seasonal year, you're aware of, y'know, fertility and things like that," says Crowley, "But people who don't know any better assume that we're all having a wonderful sexy time." And are they? Banish thoughts of Britt Ekland's nude cavorting in The Wicker Man or the semi-nude fireside dancing in Sightseers – not true, says Crowley. "Did you notice the terrible summer we had? Nobody's going to be out there in that."
'Sightseers' is released on Friday
Register for free to continue reading
Registration is a free and easy way to support our truly independent journalism
By registering, you will also enjoy limited access to Premium articles, exclusive newsletters, commenting, and virtual events with our leading journalists
Already have an account? sign in
Register for free to continue reading
Registration is a free and easy way to support our truly independent journalism
By registering, you will also enjoy limited access to Premium articles, exclusive newsletters, commenting, and virtual events with our leading journalists
Already have an account? sign in
Join our new commenting forum
Join thought-provoking conversations, follow other Independent readers and see their replies