Nuri Bilge Ceylan: 'Death was always with us – and that is a good thing'
With his dark and witty new film in the cinemas, the Turkish director talks to Jonathan Romney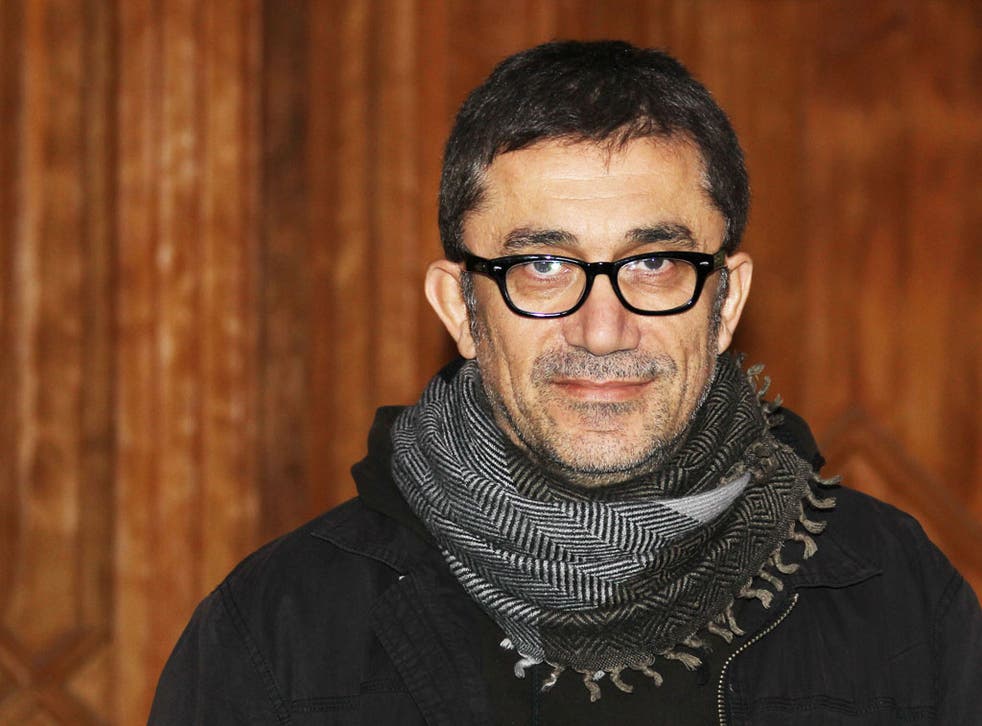 It's not your average police drama, that's for sure. Not only do we never quite get to grips with what happened and how, but it takes well over an hour for the film to even reach the crime scene – in which time police and suspects drive around a Turkish mountain landscape in the dead of night, poking around in pitch darkness or arguing at length about yogurt.
Nebulous as it might sound, Once Upon a Time in Anatolia is utterly absorbing. And it consolidates the status of Turkey's Nuri Bilge Ceylan as one of today's great directors – an artist whose unapologetic seriousness, tempered by mischievous wit, makes him as close as we have now to a Bergman or a Tarkovsky.
Nuri Bilge Ceylan – pronounced "Bil-ger Jey-lan" – certainly appears high-minded, with little time for pulp pursuits. Once Upon a Time... is his second quasi-thriller; its predecessor, Three Monkeys, came across as a Bosphorus-bound variant on film noir. But don't bother reaching for comparisons with Forties Hollywood thrillers or hard-boiled scribes such as Raymond Chandler or James M Cain. "I don't read crime books, I never have," he says. "But sometimes Dostoevsky novels ... I mean, The Brothers Karamazov, that's a crime story." He must have watched some thrillers, at least? He furrows his brow, then volunteers, "The only one I've watched is Polanski's film ... what's it called? Chinatown. And I didn't like it that much."
Sitting in a London hotel, Ceylan – speaking mainly English – has a habit of chuckling quietly at questions, as if highly amused to be taken so seriously. The 53-year-old director has saturnine looks that worked to his advantage when he stepped in front of the camera in his own Climates. That film brought acting offers, but he has always turned them down. "My voice isn't suitable – it's not easy to understand," he says in low, smoky (and perfectly comprehensible) tones.
Ceylan came to cinema late, making his first short at 36. His first features – the self-financed Kasaba (1997) and its almost sequel, Clouds of May – were shot in the rural area around Yenice, in the Northern Aegean province of Çannakale, where he grew up. He has always made extremely personal films. His early casts included his parents, while 2002's Uzak (Distant) – the film that made his international reputation – was shot partly in Ceylan's own Istanbul flat, and could be read as a veiled self-portrait, its protagonist a world-weary bourgeois bohemian. Then came Climates (2006), a troubling depiction of a relationship's breakdown. It starred the director and his wife, Ebru Ceylan, but was definitely not about their marriage, Nuri has always insisted: the pair are still together, and co-writers on his last two films.
Once Upon a Time... is about a murder inquiry that takes time to get going – because the suspects can't remember where the body is buried. The idea came from Ceylan's other co-writer, Ercan Kesal, who, as a doctor, once took part in just such an investigation. Setting the hunt at night wasn't a moody existential touch, Ceylan says, but the way it works in rural Turkey. "Public servants start doing these jobs after five o'clock in order to get overtime."
The course of events in Anatolia's case history is open to conjecture, but Ceylan swears that he's not out to perplex. "I don't like puzzles. But in real life, we have to deal with half of reality, and we have the habit, or the reflex, of guessing the rest – because we're always lying to each other; everybody's protecting himself. If the audience doesn't join in the process, it's impossible to make it deeper, like literature."
Ceylan was born in Istanbul, but when he was two, his father, an agricultural engineer, moved back to his own home town, Yenice, and Nuri and his older sister had a rural upbringing. But the setting of Once Upon a Time... is nowhere near the countryside of Ceylan's youth; Anatolia covers a vast region of western Turkey. While he no longer spends much time in his childhood haunts, Ceylan says rural Turkey brings him continual sustenance. "Where I lived, death was always with us, in the middle of life – and that's a good thing. In the last few years, I went to the country for relatives' funerals, and I saw that they created lots of rituals to cover the sadness of loss. Observing that really calms me."
As Turkish as it is, Once Upon a Time... has a decidedly Russian flavour, because of Ceylan's passion for that country's literary greats, Chekhov in particular. "Russian literature is ... maybe the biggest influence in my films." More than film? "Definitely. If I didn't see reflections of Turkish people in Russian literature, I wouldn't use it. But it's valid for all humanity."
Access unlimited streaming of movies and TV shows with Amazon Prime Video Sign up now for a 30-day free trial
Sign up
A consistent thread in Ceylan's career is stills photography, which he took up in his youth, then briefly turned into a career before moving into film. Images of his work from the Eighties show a streak of Athena-poster kitsch, all sex and surrealism. But his recent output is something else: wide-format portraits of his country and its people; Bruegelesque winter views of Istanbul, towns and villages. Ceylan only practices photography now as an occasional hobby, he says. Nevertheless, he has collected his recent output in a book – Turkey Cinemascope (I haven't seen it, but one proud owner advises me to invest in a sturdy coffee table before I even think of getting a copy).
In the mid-1970s, a turbulent time for Turkish politics, Ceylan studied engineering at Istanbul Technical University. It was known as a left-wing university, and extreme-right gangs would demand to see students' ID cards and beat the holders – or worse – if they were from ITU. "Every day there was fighting, shooting and killings." Ceylan has his own hair-raising stories of beatings and narrow escapes. But he has never wanted to make a film about that period, nor about Turkish politics. In Once Upon a Time..., a prosecutor watches a policeman rough up a suspect, then drily comments, "Is this how we'll get into the EU?" – but it's a throwaway aside. Ceylan prefers the "inner life" to politics.
The quasi-autobiographical Uzak, whose hero drifts moodily around a wintry Istanbul, suggests its director might be something of a hermit. A key location was Ceylan's old flat, now the office of his production company. Back then, Ceylan was a one-man show; presumably, he now runs a bigger operation? "No, there's not even one person working in my office. Even I don't go there; I generally stay at home writing and reading. I like being alone."
In Turkey, Ceylan shuns the limelight. He never appears on TV or gives interviews, unless he's taking a film to Cannes. "There I'm open to everyone ... but in Turkey I shut myself off. I don't generally answer the phone, unless I know it's a friend."
Yet Ceylan is a more social creature than that suggests. He wrote his last two films in a trio with Ebru and Ercan Kesal. "We meet every day. We discuss a scene, and I give them homework. I also write and we read to each other ... [but] the last decision is always mine."
You wonder, though, if Ceylan gets the last word when it comes to his and Ebru's seven-year-old son. "It changes you, having a child. Suddenly you're full of compassion. It's changed my cinema life too. I take him to all the animations," Ceylan says – but he won't name any favourite titles. Of course not. Imagine what it would do to his reputation as a moody Dostoevskian if he confessed to being a sucker for Kung Fu Panda 2.
'Once Upon a Time in Anatolia' is on general release
Join our new commenting forum
Join thought-provoking conversations, follow other Independent readers and see their replies