The Saturday Interview
Olivia Cooke: 'Northerners think we're s*** at everything'
The 27-year-old Brit has realised that starring roles in dramas from Ready Player One to House of the Dragon are arriving because of her talent. It's about time she acknowledged that, she tells Annabel Nugent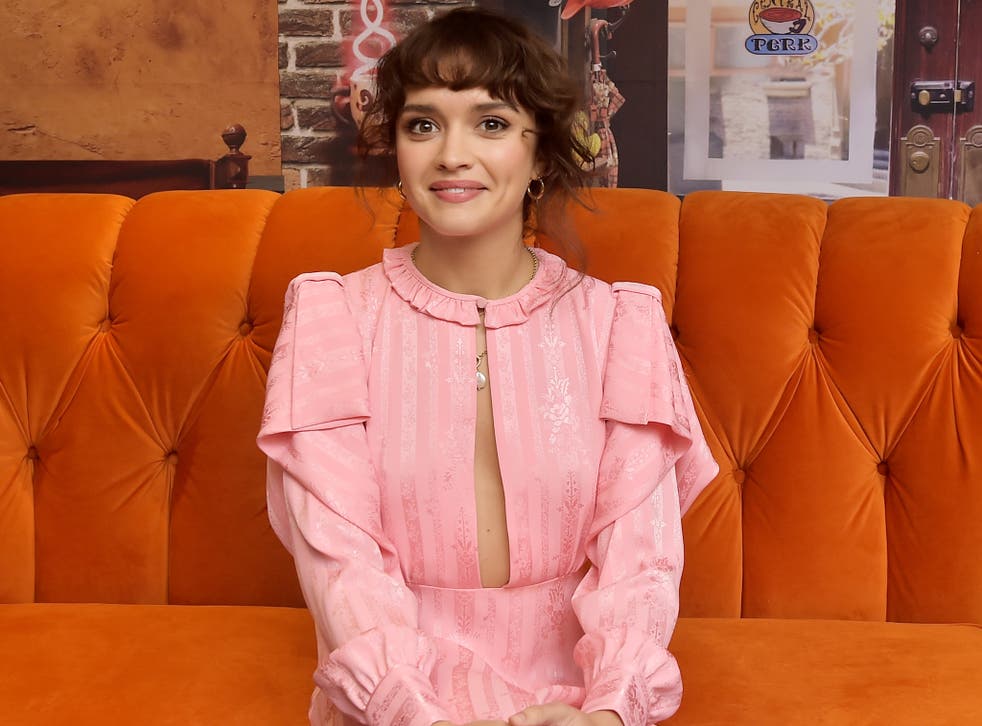 Olivia Cooke swears like a sailor. On our Zoom call, the word "f***" features heavily – yet she looks so cherubic that you'd never imagine she was such a potty-mouthed Mancunian joy. She is dressed in a puffy-sleeved floral number with a wide ruffled collar and her hair loosely pulled back, save a few curls that frame her signature feature: a pair of giant, inquisitive eyes. 
Directors love isolating her face in the lens, specifically her eyes – whether they're fixated in terror in 2014's screamer The Quiet Ones or in a near-constant state of rolling backwards in 2015's Sundance winner Me and Earl and the Dying Girl. They were ominously vacant when she played a budding psychopath opposite Anya Taylor-Joy's rich-girl sociopath in 2017's Thoroughbreds, and then devilishly winking as the antiheroine of ITV's Vanity Fair adaptation. Her role in the forthcoming Game of Thrones prequel House of the Dragon will surely make some cinematic use of them, too. 
In the 27-year-old's next outing though – the multi-Oscar-nominated Sound of Metal – it's not Cooke's eyes that have our attention but the tufts of hair crawling above them, bleached blonde in service of her latest character. "It's mad how many comments the eyebrows have gotten," she laughs. They've since regressed to brown, but she is considering a return to peroxide in the future. 
Sound of Metal tells the story of Ruben, a punk rock drummer played by fellow Brit Riz Ahmed who suddenly, catastrophically, loses his hearing. Cooke plays Lou, his partner in art and in life. When we first meet the couple, they are in a two-person band, gigging their way through the South's sweatiest dive bars. They spend their nights screaming into microphones and their mornings sleeping in the sunlit Airstream RV they've made their home. When Ruben unexpectedly becomes deaf, the couple's fragile existence is violently shaken. Cooke is remarkable as Lou, showing off the versatility and vulnerability she's already displayed in micro-budget dramas such as 2016's Katie Says Goodbye, in which she plays a waitress in rural Arizona. She would've been a shoo-in for next month's Oscars' supporting actress race for Sound of Metal if only she had been given more screen-time. 
Singing screamo, though, presented a new challenge. Cooke, who cites childhood flute lessons as her only real musical endeavour, feigns a tortured look to the camera. "I mean it's one of those things, isn't it?" she says. "You think if you're able to convince yourself that it's a character then you'll be fine but still every fibre of my being was mortified at the fact I was on stage screaming my head off."
She does, however, confess to a predilection for karaoke. The song choice, Cooke says, depends on how pissed she is: Bonnie Tyler's power ballad "Total Eclipse of the Heart" if she's hammered, or "I Bet You Look Good on the Dancefloor" by the Arctic Monkeys if not. But bombastic sing-alongs were never going to cut it for Sound of Metal. To get over her nerves, the actor underwent voice training with Margaret Chardiet, aka Pharmakon, a throat-shredding master of the noise music genre emulated by Cooke's character in the film. 
The awards buzz over her latest feature has put the actor in reach of movie-star status. Not that she cares. If Cooke was ever going to grace tabloid covers in a pulled-down baseball cap eating a salad, it would have been after her lead role as the ingénue of Steven Spielberg's 2018 tentpole Ready Player One or perhaps during her five-year run as Norman Bates's quirky love interest on the hugely popular Bates Motel – a prequel series to Alfred Hitchcock's Psycho, available to watch in the UK on BBC iPlayer. 
"I'm in good stead now because I've worked solidly but never reached celebrity status, which I'm pleased about. I'm pretty anonymous still because I don't go to all those parties," she says, gesticulating into the air with a flick of her wrist. Cooke and her friends – a bunch of whom are actors as well – are not the type to attend "the f***ing opening of an envelope".
It is unsurprising, then, that she is more comfortable in indie territory. She looks back fondly on making Sound of Metal, "which felt as close to guerrilla-style shooting as possible". She remembers the suffocating heat of filming in the Airstream with Ahmed at the height of summer; they only had two or three takes to get it right. Director Darius Marder was shooting on film, she explains, which – she dials her voice down to a melodramatic whisper – "is verrryyyy expensive". 
As a birthday present, Cooke's mum gave her a USB's-worth of old home videos. "Oh my god, I was just gurning for the camera at every possible moment," she cringes. One such clip can be found on her Instagram feed: a pint-sized Cooke is gleefully chugging from a capped bottle of whisky. "I think I'm just trying to make everyone laugh and have a good time." That was probably the genesis of it, she says of her impulse to perform.
Cooke's wasn't your run-of-the-mill path to acting. There was neither a pushy stage mum nor a prestigious drama school education. Instead, she dropped out of state school in Oldham for her big break in BBC's 2012 drama Blackout. Christopher Eccleston played her dad. Later, in the same month that she received a rejection letter from Rada, Cooke was cast in her first movie role for The Quiet Ones. Her first season on Bates Motel in 2013 was followed by four more, as well as a string of US roles that kept her stateside. 
The actor moved back to the UK last January. She was homesick for the chippies, a decent brew, her mum's stew and Sunday roasts. "Everyone says the food here is s*** but I missed it," she tells me. More than anything Cooke pined for Gogglebox, Love Island, Saturday Night Takeaway and the feeling that comes from "being part of a nation of telly-watchers". She explains how "in America, they don't have that same culture". The curls dangling by her temples bounce a little as she laughs at herself for equating Gogglebox with "culture".
Then the actor adopts a more serious tone. "I also felt like I lost a part of my personality that didn't really translate over there." Indeed, it is hard to envision her extremely British, pitch-black humour landing among American audiences. "Taking the piss out of each other and no one getting offended" is another thing Cooke missed during her time abroad. 
Still, kickstarting her career in the States had its perks. Being pigeonholed "because I'm working class or because of my accent wasn't an issue because people just saw me as English", she shrugs, before stipulating, "I've said something like this before and somehow the tagline became that I couldn't get a job in the UK, which isn't true. But I do wonder whether having a Northern accent would have held me back or meant I was more typecast here."
Navigating celebrity is difficult for any young actor, presumably more so for one who is as candid as Cooke seems. When her guard slips, which it does occasionally, you can imagine yourself meeting her in a club loo and exchanging life stories before parting ways and never seeing each other again. "There's a ton of stuff I've said in interviews that I look back on and I'm like: f***ing hell, rein it in!" she says mock-theatrically, adding that she's not going to repeat them now for fear of being doubly embarrassed.
"There have been times when I've been really disgruntled about one thing that kept being brought up and then I say something really disgusting just for that one thing to be dispersed, and then of course that disgusting thing ends up being the headline." She rolls her eyes good-humouredly, but her tone belies a sincere irritation. "You quickly learn to be wary of these things."
Cooke has learnt other things too, including how important it is to work with people "that you actually like" (not naming any names) and also that she is, in fact, good at what she does – it's only taken a decade for her to recognise it. "Saying you're good at something doesn't mean a fairy somewhere is gonna die," she says she found herself realising. "It feels so weird to say it as a Northerner because we're always thinking we're s*** at everything."
While the past year is mostly considered to have been a cinematic drought, it was good to Cooke. In October, she starred as the title character of the Irish caper Pixie. Now, in Sound of Metal she delivers a bruising performance that more than holds its own opposite Ahmed's Oscar-nominated one.
Next, she will lead the sci-fi drama Little Fish as one half of a couple fighting a memory-erasing virus, and later will portray a young spy in the company of Kristin Scott Thomas, Gary Oldman and Jonathan Pryce for the forthcoming Apple TV adaptation of Mick Herron's Slow Horse novels. Not to mention her part in House of the Dragon, one of the most eagerly anticipated shows ever to be made. 
"I'm in a place where – thank God – I'm not looking over my shoulder at what other people are doing any more." Cooke adopts a soft, mantra-like tone to remind herself: "You're doing great and there's no point lamenting what you haven't got or what you've said no to." She's happy, she tells me, before letting out a self-deprecating laugh. "For once." 
Sound of Metal is available on Amazon Prime Video from 12 April and released in cinemas from 17 May
Join our new commenting forum
Join thought-provoking conversations, follow other Independent readers and see their replies