the saturday interview
Christopher Nolan and Cillian Murphy on Oppenheimer: 'Taking that risk on behalf of us all – there's nothing bigger than that'
The blockbuster director and 'Peaky Blinders' star talk to Jacob Stolworthy about bringing to life the man who masterminded the creation of the atomic bomb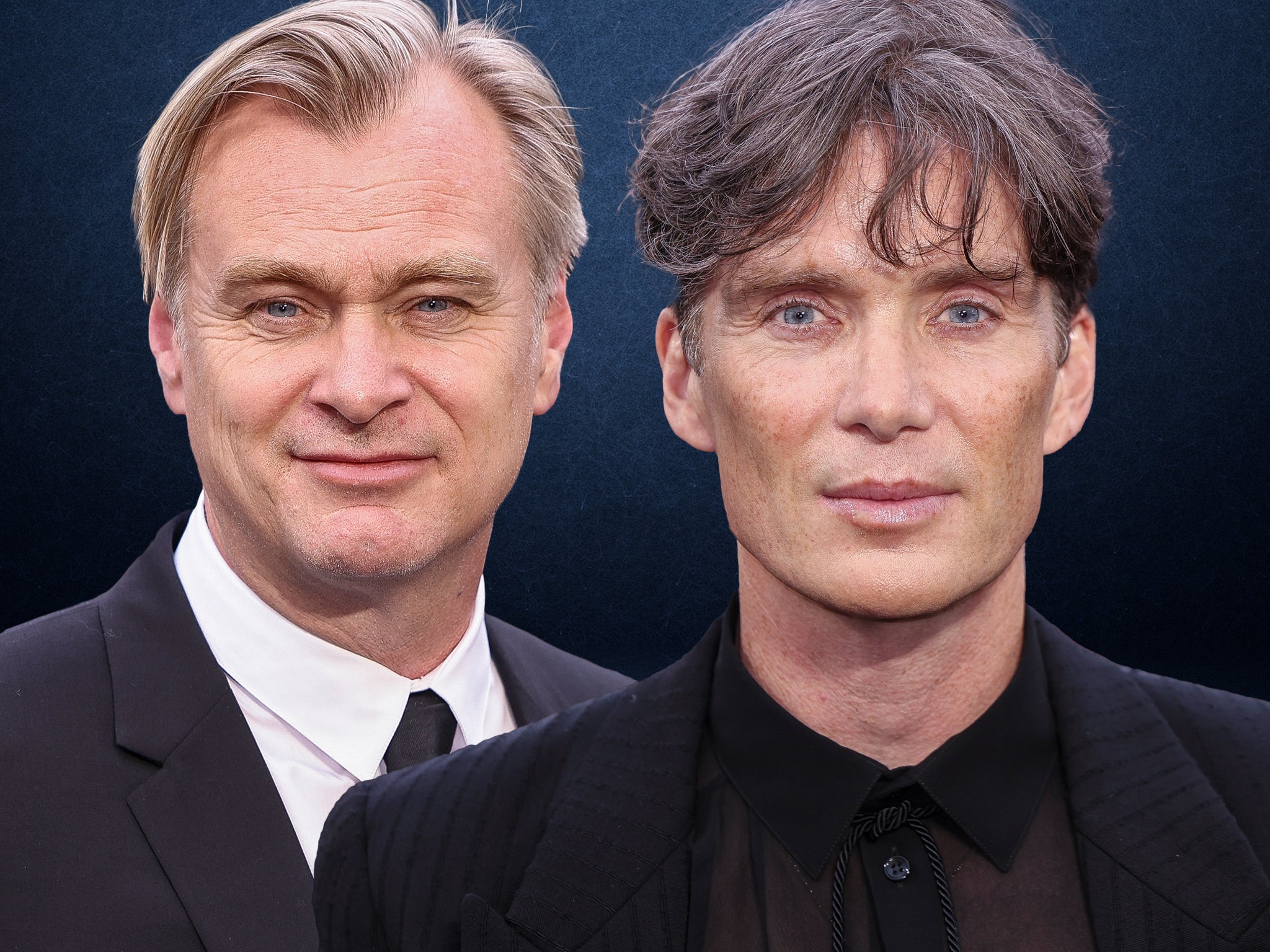 I think Oppenheimer is the biggest film I've ever made," Christopher Nolan says without a hint of irony. It's a striking claim from someone who has directed some of the most gargantuan blockbusters of the past 15 years – but it's not inaccurate. At the heart of the biographical drama, which stars Cillian Murphy as the man who masterminded the birth of the atomic bomb, lies a truth of planetary scale. When the weapon was first tested – an event now known by its codename, Trinity – there was a chance that it might wipe out all of human existence. A prospect such as that would probably deter most people from proceeding, but not Oppenheimer; he pushed the button anyway.
"The film I wanted to make couldn't have been done smaller," Nolan says of the $100m (£77.7m) film one day after its world premiere in Paris. "It's not about money, it's not about budget – the magnitude of the story is what attracted me to it. The fact that Oppenheimer and his fellow scientists couldn't completely eliminate the possibility that they might set fire to the atmosphere and destroy the entire world, but still triggered the test – the idea of someone taking that risk on behalf of all of us and all our descendants. There's nothing bigger than that."
The film hinged, though, on finding the right individual to bring Oppenheimer to life. Murphy, 47, had worked with the filmmaker five times before – on the Dark Knight trilogy (2005-12), Inception (2010), and Dunkirk (2017) – but in supporting roles; always Nolan's bridesmaid, never the bride. This time round, he was wanted for the top job and, one chilly day in October 2021, the Irish actor received a call from Nolan informing him so. It was an instant yes.
"In typical Chris fashion, he didn't tell me he was writing a script," a visibly tired Murphy tells me on the final day of the film's press tour; in just 24 hours, he will leave the UK premiere alongside his co-stars in solidarity with the actors' strike in Hollywood. "There was no build-up or warning; he just called me out of the blue and said, 'Would you like to play him?' I'd be lying if I said I didn't desperately want to play a lead for him. I think any actor in the world would want to work with Chris, whatever size the part. It was a dream."
Cillian Murphy chooses the Christopher Nolan film he would double bill with Oppenheimer
Nolan has long been one of the world's premier directors. After breaking onto the indie film scene with Following (1998) and Memento (2000), the London-born Nolan delivered the one-two punch of Batman Begins (2005) and The Prestige (2006), showing that he could steer projects of any size to both critical and commercial success. By the time The Dark Knight became the highest-grossing film of 2008, he had been handed the keys to Hollywood.
Oppenheimer is Nolan's 12th release – and it could be his least commercial one yet: a chewy, three-hour-long pressure-cooker of a film that's partly shot in black and white, and told in, you guessed it, non-linear form. It's well known that the writer-director opts to shun CGI in favour of practical effects: he had a rotating corridor created for mind-bending thriller Inception, brought in real battleships while filming the intense Second World War drama Dunkirk, and crashed a real 747 plane in the complex, divisive Tenet (2020). For Oppenheimer, he went one further – he recreated an atomic blast.
It was just one of the challenges Nolan set himself, to be able to create the film in the way he desired. That vision doesn't depict the Hiroshima and Nagasaki bombs that caused such suffering and destruction – an estimated 129,000 to 226,000 people were killed by the two detonations, which left a lasting trauma that still affects Japan (and, one could say, the entire world). To this day, Western filmmakers have only partially engaged with the true horrors of the atomic bombings. This is Nolan's interpretation of Oppenheimer's story.
For Murphy, it's a big moment in his movie career. Earlier this month, he listened on as his Oppenheimer co-star Robert Downey Jr told him that his life would change now that he had been cast as the lead in "this huge film". The suggestion, though, that this is Murphy's breakout role was confusing to some. After all, the actor burst onto the scene more than two decades ago with his appearance in Danny Boyle's post-apocalyptic horror 28 Days Later (2002). Since then, he's gained worldwide recognition as the face of Steven Knight's period gangster show Peaky Blinders, released on the BBC in the UK and on Netflix practically everywhere else. What did Murphy make of Downey Jr's suggestion?
"Honestly, and I know every actor says this ad nauseam, but I don't think about it," he explains. "Peaky Blinders is a phenomenon – it's all over the world and people adore it – but you can never think about that ancillary aspect of the work, because then you wouldn't do it properly."
Access unlimited streaming of movies and TV shows with Amazon Prime Video
Sign up now for a 30-day free trial
Sign up
Access unlimited streaming of movies and TV shows with Amazon Prime Video
Sign up now for a 30-day free trial
Sign up
Nolan's "encyclopaedic" knowledge of Oppenheimer protected Murphy from becoming too aware of any pressures his director was facing. Instead, he searched for a way to "connect with and find the truth" of Oppenheimer "in every moment" of the film. In preparation, the actor watched David Lean's 1962 epic (and noted Nolan favourite) Lawrence of Arabia "in terms of the scale and the life-story aspect". Also on the homework list was Miloš Forman's Amadeus (1984), "because of Salieri and Mozart, that kind of competitive relationship", which was echoed in Oppenheimer's dealings with the slippery philanthropist Lewis Strauss (Downey Jr), an increasingly obstructive figure in Oppenheimer's life in the years following his creation of the bomb.
The remainder of Murphy's supporting cast, a who's who of Hollywood, all deliver. There's Matt Damon on surly form as Manhattan Project director Leslie Groves, Emily Blunt as Oppenheimer's admirably patient wife Kitty, and Florence Pugh as Jean Tatlock, the psychiatrist who had an extramarital affair with Oppenheimer. The multitude of physicist roles (there are a lot) are played by actors including Josh Hartnett, Benny Safdie, David Krumholtz and Kenneth Branagh – and for good measure, there's even Tom Conti as Albert Einstein, and Gary Oldman playing yet another world leader after his portrayal of Churchill in Darkest Hour: the American president Harry S Truman. 
It was the assembling of this huge ensemble around Murphy that helped to convey the grandiosity Nolan was after. "Scale in cinema is a peculiar thing," he says. "Does it come from actions and effects? Or does it come from the most exciting actors of the day coming together to tell a story that's about the moment the world changes for ever?"
Indeed, for such an expensive film, Oppenheimer is surprisingly dialogue-heavy. Reviews have compared the scenes that focus on the hearings exploring Oppenheimer's involvement in the Manhattan Project with similar ones in Oliver Stone's JFK (1991) and Nixon (1995) – and there's more than a little Alan J Pakula and Sidney Lumet in the film's political intrigue. It's also filled to the brim with unsettling close-ups; in some scenes, it feels as if you'd be able to touch Murphy's chiselled cheekbones should you reach out and try.
However, he bristles at the reminder that his face will be blasted on cinema screens around the world – in Imax, no less – all summer long. "I love watching Christopher Nolan's films when I'm not in them," he says. "You don't have to freak out about the size of your ears or whatever. I don't make films so I can look at myself. I really don't. Having said that, I did want to watch this movie with an audience, as that's how it's designed."
It's how every Nolan film is designed. But with great power comes greater need for box office success. This could be seen as a corollary of making such large films, and I ask Nolan if he feels that this becomes reductive when it comes to measuring the true success of a release. "I don't have an honest answer to that question," he says, before tackling it rather honestly.
"It's a combination of factors. My impulse is to tell a story, but I'm not a filmmaker who works in a vacuum. I'm not a filmmaker who purely makes a film for themselves. I make a film that I want to experience with an audience, and I make them at budget levels where you really have to try and find the widest crowd. I enjoy that form of communication. I think the Hollywood blockbuster, at its best, can reach people in a way that few other forms, including other forms of movies, really can, all around the world. Beyond that, box office numbers tend to be a little bit of an abstraction."
The project marked a significant departure for the writer-director: it's his first film centred on a real-life figure. Despite having American Prometheus as a resource, he found that he still had to grapple with the extent of Oppenheimer's brainpower. This is why the middle section of the film – focused on the construction of a top-secret lab in the New Mexico desert where Oppenheimer and his team could design, and test, the bomb – came as a relief to Nolan.
"Oppenheimer had a whole other level of intellect than anyone we know, but it was useful to see him named as the director, literally, of the Los Alamos lab, and realise that what he had to do, in those three years, was bring together this disparate group of talents. He wasn't the smartest person there, but he was the guy bringing everyone together to get the most out of their talents. That's absolutely what I have to do as a director."
Despite making blockbusters that require him to spin hundreds of plates for an extended amount of time, Nolan is showing no signs of burnout. He is a director who consistently releases new films every three years, often commencing work on the next one months after completing the last. Will this regularity continue going forward? It seems a break is not on the horizon just yet. "I find it hard to imagine not wanting to make films," he says, a childlike enthusiasm momentarily cutting through the seriousness. "I will do this for as long as somebody would support me in doing it."
Whenever that project comes to fruition, you can bet Murphy will "always say yes" should Nolan give him the call – even if it means having to endure seeing his face projected on giant screens. "No project is risk-free, but if you're working with one of the greatest living filmmakers, I think you've got a good shot at knowing it's going to be good."
But the wait might be a little longer once Oppenheimer is released. Nolan acknowledges that following a project of this scale will take some doing. "It gets a bit more challenging to find subject matters that are different enough and also build on what you've learnt as a filmmaker, so you slow down to a degree. But I love filmmaking, and in terms of budget, I would do it at whatever level I was able to. It's something I'll always do."
'Oppenheimer' is in cinemas now
Join our commenting forum
Join thought-provoking conversations, follow other Independent readers and see their replies