Owen Wilson interview: After hard times, the actor is back on track in Zoolander 2
Wilson returns as Hansel in the sequel to the fashion world satire after 15 years. He tells Kaleem Aftab about his friendship with Ben Stiller, his own wardrobe choices and how he doesn't always understand the script he's given
Kaleem Aftab
Wednesday 10 February 2016 23:05 Comments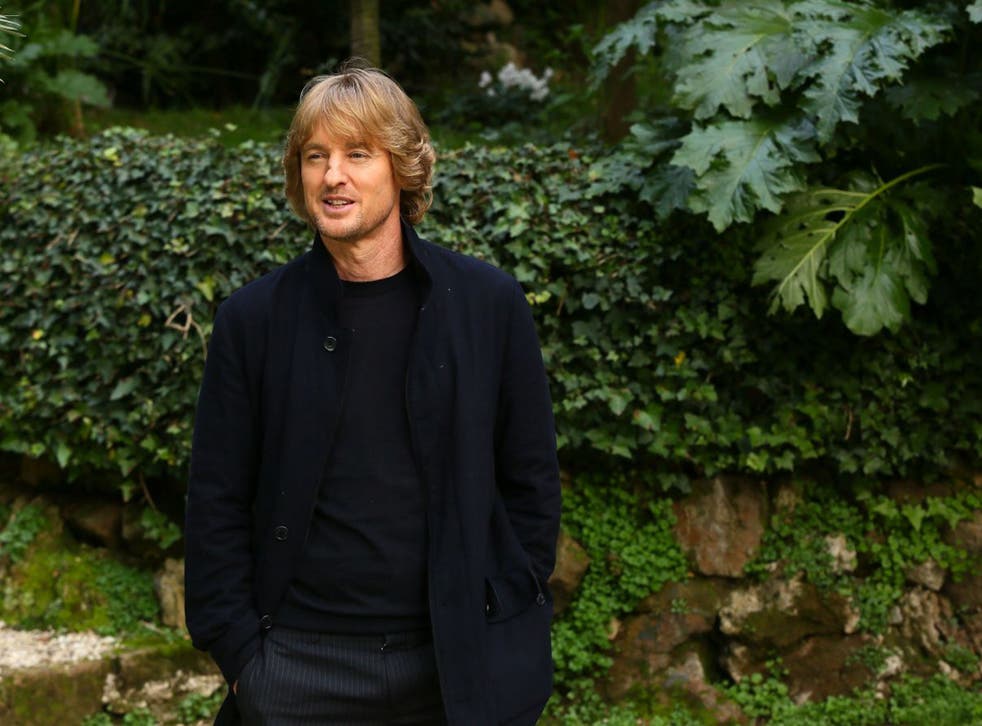 Owen Wilson has an annoying handshake. It's a finger touch, followed by a quick pull away. The so-called "dead fish". I need not fret, though, because as Zoolander demonstrates, first impressions don't last.
As Wilson is quick to remind me, the reason it has taken 15 years to make a sequel is that "the first one didn't do very well." It seems hard to believe, given that "Blue Steel" has gone on to become the most famous pose on Earth, but in 2001, the film was dismissed like a piece of fluff on a jumper.
It didn't help that the comedy, starring Wilson and Ben Stiller as supermodels who doubled as terrorists was released two weeks after the World Trade Centre attack. Its premise – and constant celebrity name-dropping – bore striking similarities to Bret Easton Ellis's novel Glamorama. The author once told me that he got an out-of-court settlement from the film-makers, because of the similarities, although this has never been verified.
Still, time has been kind to Zoolander. "I noticed that when I was travelling, there were a lot of people who came up to me quoting Zoolander," says Wilson. "Ben said he had the same experience and a kind of following developed."
Catwalk at Zoolander 2's New York premier

Show all 13
The fashion world embraced the film to the extent that the announcement for the sequel was made on the Paris catwalk. Stiller, as Derek Zoolander, and Wilson, as his kindred spirit Hansel, broke the internet when they strutted their stuff for Valentino during fashion week last year. "We were kind of nervous doing it. And you're thinking to yourself, why are you so nervous? All you have to do is walk," recalls Wilson.
"The reaction from the crowd when we walked out there in character, was better than we imagined. It made us think, it's like we are making Star Wars, or something."
The loud clothes worn by Hansel are far from Wilson's reserved everyday wardrobe. "My biggest fashion faux-pas is probably not taking enough chances. I tend to be very safe. I think you have to roll the dice a bit more. After I did that Valentino show – those pyjamas I wore, at first, I thought this is ridiculous. Who would wear those? Then I started to wear them. The reaction I would get from people – 'Gosh, I love those pants' – and then I started thinking, I need to do this more, take more chances." He looks down at the black shirt, and black jeans that he is wearing, and seems bored by his own choices.
Now 47, Wilson says that he has lost count of the number of films that he has made with Stiller. It is 13. They met in the mid-Nineties when Wilson auditioned for a role in The Cable Guy, a Jim Carrey black comedy that Stiller was directing.
"I don't know if the relationship has developed over time. It's a little like these characters [in Zoolander]. There isn't a big arc. From when we first became friends, walking around New York, I think that we are still sort of laughing at the same things and our dynamic is still pretty similar."
Access unlimited streaming of movies and TV shows with Amazon Prime Video Sign up now for a 30-day free trial
Sign up
Zoolander 2 Exclusive Interview With Penelope Cruz, Will Ferrell, Kristen Wiig & Justin Theroux
The relationship actually began with Stiller writing Wilson a fan letter. "I think it was when he saw Bottle Rocket. He wrote me the nicest letter, saying how much he loved the movie, which meant a great deal, because no one saw Bottle Rocket, and saying that he hoped we might work together on something, some day, and that sure came to pass."
Bottle Rocket was the first film that Wilson wrote with his other great collaborator, Wes Anderson. They roomed together at the University of Texas, where Wilson studied as an English major. It was Anderson, who dreamed of being a movie director, who first encouraged Wilson to write, and then alongside his brother Luke, to act in Bottle Rocket. Wilson and Anderson went on to write Rushmore (1998) and The Royal Tenenbaums (2001), for which they received an Oscar nomination for Best Original Screenplay.
"I picked up Oliver Sacks' last book, On the Move: a Life, and his family sounded very accomplished. It made me think about the Tenenbaums a little bit. That movie, I loved that movie. I think my favourite scene is when Gene Hackman and Danny Glover are in the kitchen. They have a contretemps. Gene says, 'Are you moving in on my woman?' And Glover asks, 'What did you say?' 'You heard me, Coltrane.' Glover then says, 'Did you just call me Coltrane?' 'No, but if I did, you couldn't do anything about it.' Just so it doesn't seem arrogant that I'm quoting this line, Wes wrote that line. I'm really appreciating it as a fan."
As if to reinforce his point, he says that The Grand Budapest Hotel, in which he appears, but did not write, is his favourite of his former roommate's films.
The Hackman/Glover exchange has racial undertones that touch on the lack of diversity in Hollywood. I ask Wilson for his thoughts on the current row.
"I've just been taking note that it's controversial, with the Academy Awards, Spike Lee, and then another person boycotting. Then I read recently that the Academy has already addressed it, or is addressing it, by changing the voting, so I'm just following it, in the same way as everyone else."
He's also following the Republican and Democratic candidates' debates but offers not much more detail on the topic politics. Perhaps it's unsurprising, given that he once told Jonathan Ross that he was more excited about visiting the Playboy mansion than he had been meeting President Clinton at the White House.
Indeed, it is his short-lived relationships that have made Wilson gossip column fodder. He has fathered two children, most recently in 2014 with his personal trainer Caroline Lindqvist, though his representatives released a statement saying that he was not in a relationship with her. He has another son, born in January 2011, with Jade Duell, but the relationship only lasted for six months after his birth. He has also had high profile relationships with Sheryl Crow and Kate Hudson.
The major black cloud in Wilson's life comes in the form of reports of a suicide attempt in 2007, when he was said to be suffering depression. Wilson released a statement asking for his privacy to be respected at the time, and has been wary of doing interviews ever since, often walking out if he believes that the journalist is angling to ask him about the incident.
All that can be said with any certainty, is that he pulled out of making Tropic Thunder with Stiller, and hasn't written another film script since. Perhaps the truth will only ever be known if Wilson pens another movie. "If I do write another script, it would be something more personal to me."
He says that when he meets up with Stiller, or Anderson for dinner, "the stuff that we tend to laugh at, our own failures and shortcomings, that we can see in each other, or ourselves, that kind of thing is funny." In Zoolander 2, Stiller seems to be poking fun at Wilson's reputation when he has his character, Hansel, impregnate almost a dozen people, a harem of characters, known collectively as "the orgy".
The original Zoolander featured a cameo from David Bowie. "I think Ben and I were surprised that he agreed to do the first movie. He was just a cool, lovely guy. But then the sad news from a few weeks ago. Of course, I thought about that day, but more, Wes has used a lot of Bowie, especially in The Life Aquatic with Steve Zissou. I was listening to some of those songs, watching some of them on YouTube."
In recent years Wilson's career has hit the heights. In 2011, he starred in Woody Allen's best film of the past decade, Midnight in Paris, in which he played a screenwriter transported back to 1920s France, where he meets figures such as Luis Buñuel, Salvador Dalí and F Scott Fitzgerald.
He also starred in Paul Thomas Anderson's bewildering adaptation of Thomas Pynchon's Inherent Vice. "I couldn't understand the movie," he admits, as I nod in agreement. "I didn't understand the script either."
It sounds like something Hansel would say, but that's fine, because Wilson, not for the first time in his life, is so hot right now.
'Zoolander 2' is released on Friday
Register for free to continue reading
Registration is a free and easy way to support our truly independent journalism
By registering, you will also enjoy limited access to Premium articles, exclusive newsletters, commenting, and virtual events with our leading journalists
Already have an account? sign in
Join our new commenting forum
Join thought-provoking conversations, follow other Independent readers and see their replies