Point Break $100m remake: What's the point, dude?
​The 1991 action thriller starring Keanu Reeves and Patrick Swayze has been remade into a globe-trotting, 3D extravaganza. Why bother, asks Tim Walker, they'll never top a soulful flick that changed the face of film-making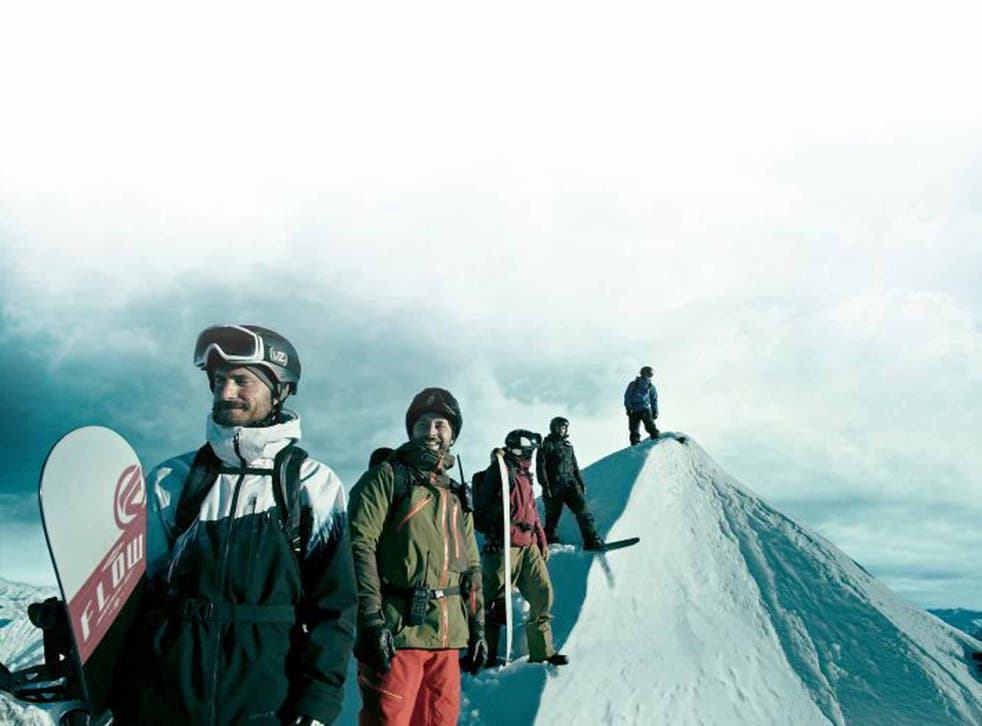 In 2010, the Walker Art Centre in Minneapolis asked members of the public to vote on which of almost 200 artworks from its collection ought to be included in a new, crowd-curated exhibition. The piece that attracted the most votes was Break Point, a 1998 work by Fiona Banner, the Turner Prize-nominated YBA known, among other things, for her excellent taste in movies.
Break Point consists of a 14ftx9ft canvas covered in red text, describing in painstaking detail what is surely the most celebrated scene from the 1991 action thriller Point Break: Keanu Reeves pursuing Patrick Swayze on foot through the alleys and backyards of a Los Angeles neighbourhood. As the chase reaches its climax, the text piles up, word on word, until it's little more than a scarlet blur.
Now, 25 years after the original, Point Break has been reconstituted as a globe-trotting, $100m (£69m) action extravaganza, with that scene turned into a motocross pursuit down the side of a Swiss mountain. Even in Imax 3D, nothing in the new film is nearly as exhilarating as the foot-chase, shot on handheld 35mm. It's fair to say that few fine artists are likely to be inspired by the remake.
In the 1991 version, Reeves plays rookie FBI agent Johnny Utah, assigned to investigate "the ex-Presidents", bank robbers who pull off their heists in rubber masks of Reagan, Nixon, Carter and LBJ. Convinced the crew are surfers, he goes undercover and is drawn to the waves by the charismatic Bodhi (Swayze) – who turns out to be the man beneath the Reagan mask.
In fact, Point Break moves away from the bulked-up action of the Reaganite Eighties towards a lean, Gen X cynicism, depicting the Beach Boys' dream of southern California as a bad trip. Almost every surfer in the film is a criminal. In 1991, Reeves was between Bill & Ted movies, and Utah represents a breed of post-Schwarzenegger, post-Stallone action star: John McClane as most bodacious dude.
If it reinvented Reeves as an action hero, years before Speed or The Matrix, then Point Break also turned Swayze – the heart-throb of Dirty Dancing and Ghost – into a magnetic villain. Bodhi is a pseudo-Buddhist thrill-seeker in search of enlightenment and the ultimate rush, whatever the cost. Thanks to Swayze's all-or-nothing performance, his motives make a twisted spiritual sense.
Point Break is a more soulful action flick than most of its predecessors, powered by adrenaline, not testosterone – perhaps in part because it was made by a woman. Kathryn Bigelow, who at the time specialised in classy, mid-budget thrillers, would later become the first woman to win an Oscar for Best Director, for her 2009 Iraq war drama The Hurt Locker.
The film also features several memorable supporting performances: from Gary Busey, as Utah's over-the-hill partner, Pappas, playing against his previous type as a young surf bum in 1978's Big Wednesday; from John C McGinley as their ball-breaking FBI superior, rehearsing for his later role as a ball-breaking doctor in Scrubs; and from Lori Petty, as the third wheel in the Utah-Bodhi bromance.
Point Break is packed with quotable lines ("I caught my first tube this morning, sir") of a sort that's sorely lacking in most modern action movies. And then there are the set pieces: the foot-chase; two skydives, one without a parachute; the failed FBI raid on the home of a rival surfer gang, which ends with Utah almost getting his face shredded by a lawnmower. Pop quiz, hotshot: which real-life LA rock band's frontman shoots himself in the foot during that raid scene?
Access unlimited streaming of movies and TV shows with Amazon Prime Video Sign up now for a 30-day free trial
Sign up
Often described somewhat condescendingly as a "cult classic", Point Break casts a long cultural shadow. In 2003, it was turned into a popular stage show, Point Break Live!, which at each performance calls on an unrehearsed audience member to take the role of Utah, reading Reeves's lines from cue cards. The parody, which debuted in Seattle, has since played in cities across the US.
The Fast and Furious franchise began modestly in 2001 as a pretty shameless Point Break rip-off, set in the world of street racing, with Paul Walker and Vin Diesel in the Reeves and Swayze roles. Today, it is a multi-billion dollar concern. If only the film-makers had left Bodhi alive for a sequel, we might now be watching Point Break 10 ("110 per cent pure adrenaline"?), instead of the pallid remake.
In the latest version, Bodhi is played by Edgar Ramirez – a fine Venezuelan actor, hampered here by dire material – as a trustafarian serving sixth-form spiritualism with a side salad of Occupy Wall Street, to justify blowing up gold mines and raining down stolen US cash on stereotypically impoverished South Americans. He whines about the one per cent, yet his exploits are funded by a Eurotrash playboy who throws boat parties that would put Leonardo DiCaprio to shame.
In short, it's nonsense, and not the fun kind. The original, on the other hand, is one of the movies I suggest prospective visitors to Los Angeles watch on the plane – a list that also includes the likes of Chinatown and Heat, in case you're sceptical of its calibre. Point Break was shot up and down the LA County coastline from Manhattan Beach pier, where Utah buys his first Day-Glo surfboard, to Neptune's Net, a much-loved Malibu seafood joint.
That famous foot-chase, meanwhile, comes to an end at Ballona Creek, a concrete river channel that flows through Culver City. Utah, his ankle injured from a fall, has his gun trained on the masked man that he knows is Bodhi. Unable to shoot his soul brother, he instead fires wildly into the air, yelling as Bodhi escapes to fight another day.
It's a grand gesture that was repeated many years later by English country bobby Danny Butterman (Nick Frost), in Edgar Wright's loving homage to the action genre, Hot Fuzz. Earlier in the film, Danny has offered his uptight colleague Nicholas Angel (Simon Pegg) the option of watching a DVD of Point Break or Bad Boys II. Frankly, it's no contest.
"I won't argue that it was a no-holds-barred, adrenaline-fuelled thrill-ride," Angel concedes, once their Point Break viewing party is over and Utah has – sort of – got his man. Although, he adds: "There's no way you could perpetrate that amount of carnage and mayhem and not incur a considerable amount of paperwork."
'Point Break' is released on 5 February
Join our new commenting forum
Join thought-provoking conversations, follow other Independent readers and see their replies