The race of his life, again: Ben Johnson - the disgraced athlete makes his case on screen
Drug cheat tells Geoffrey Macnab about the movie of the Seoul 100m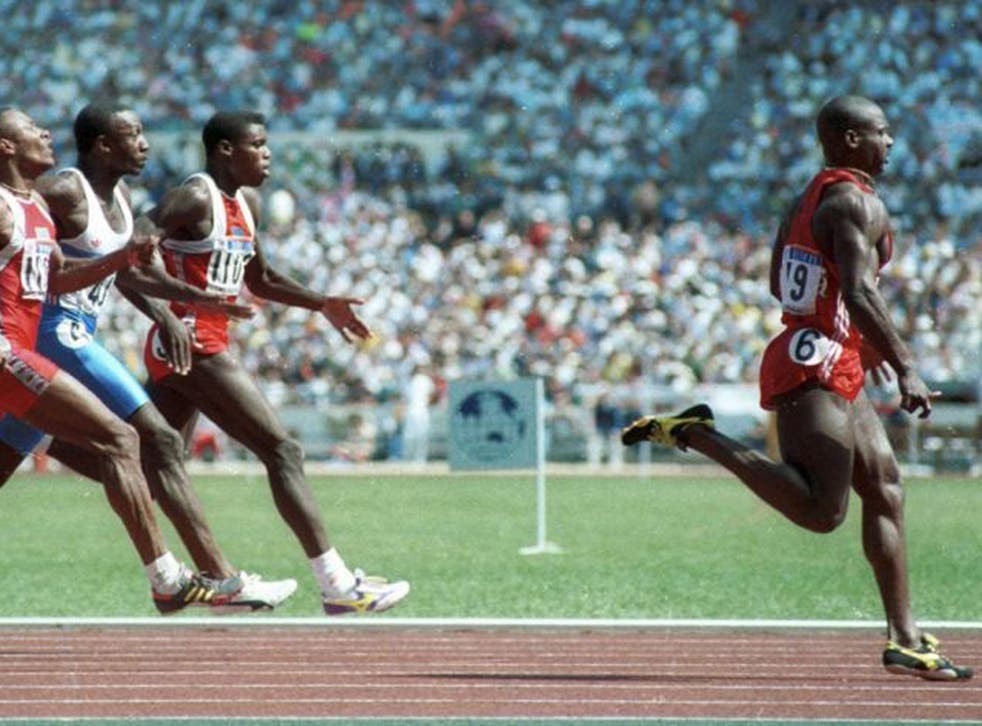 Almost quarter of a century after being disqualified from the Seoul Olympics after one of the biggest scandals in Olympic history, sprinter Ben Johnson is hoping to make his mark in the movies. He has plans for a biopic which will tell the story of his Jamaican childhood, his great rivalry with Carl Lewis, and of his rise and very sudden fall as a sports star. In the meantime, he is one of the participants in British director Daniel Gordon's excellent new feature documentary 9.79*, which looks at the 100-metre final in Seoul from the perspective of all eight athletes who competed in it. Johnson approves of the film and has been at the International Documentary Festival Amsterdam to support its screening.
When I meet him in an Amsterdam hotel, he is sitting on his own in a corner of the lobby . Not that he needs to hide. Although he was once the most notorious sportsman on the planet, younger attendees at the festival don't recognise him and many don't even remember the race. The Canadian athlete beckons me to take a seat opposite him. "He [Gordon] approached me and said he wanted to do something on the 1988 race – what the guys are doing now and what happened 24 years ago," Johnson recalls of why he agreed to appear.
"I said to him that it is going to be very hard for you to get all of us guys to agree if you approach it on a drug level. I said to him that if you approach it the other way, where you [ask] the guys, 'what are you doing, how [do] you see what you are doing now in your life'... then you have a better chance of getting all eight guys to confront..." his voice tails off.
Johnson is a strange mixture of defiance, pride and wariness. A thickset man, slightly shorter than you might imagine, he is initially friendly and forthcoming, talking effusively about his love of football and his plans to open Ben Johnson sports bars, but as soon as you touch on what then BBC commentator Des Lynam called at the time, "the most dramatic story out of this Olympics or any others", he becomes very defensive.
Gordon's film is the sports doc equivalent to Kurosawa's Rashomon. Eight athletes talk about the same race, an event that lasted under 10 seconds, but their accounts are all subtly different. Most of the athletes in the race failed a drugs test at one time or other.
"I know it takes at least 24 years to expose the real truth, what really happened," Johnson muses. "It's a great documentary." The point, though, is that the "truth" still remains elusive and highly subjective. Johnson's version of the story certainly isn't the same as that of his arch-rival, Carl Lewis.
Johnson talks to me about the race that continues to define his life in an utterly unsentimental way. As he sees it, he was the best athlete. "I don't care. It was my job to win. I did it but things happen. I deal with the problem and I move on."
There is a poignant moment early in the film in which we see Johnson in his basement with a huge box of old medals, most of them gold. It looks as if he is keeping them out of sight on purpose, as if bashful about the failed doping test. "No, no, no," he protests at the idea that he might be ashamed of them. "I've got too much things to hang on the wall. I need a museum." He explains that soon those medals from a quarter of a century ago will be on display.
Put it to Johnson that he must have an extraordinary strength of personality to bounce back from his shaming in 1988 and he quickly agrees. "It wasn't easy but God has built me this strong to cope with these kind of problems. People always said to me that they take their hat off to me for what I went through. I say: ' What do you mean by that?' They say: 'Well, you [didn't] try to do anything or commit suicide or get yourself into more trouble. You kept a low profile and you kept humble.'"
Johnson never told his mother, to whom he was utterly devoted, that he was taking steroids. "If I'd have told her, she'd have told me, 'no, don't do it'." When his gold medal was stripped, she stood by him. "She always told me, be careful of people, don't take anything from anybody... I always kept that in the back of my mind and the one time I let my guard down, I got nailed." The former sprinter sees himself as more sinned against than sinning. Not that he blames his coach, Charlie Francis, who admitted introducing him to steroids.
"Even when he died [in May 2010], I was right beside his bedside. Charlie didn't do anything bad... what Charlie did is no different from any other coaches in the world today."
Johnson still has enough swagger to suggest that if he was running on the same hard surfaces as Usain Bolt, he would have gone just as fast. "The material they use now is very hard and whatever power you put on the track, it gives back. If I was racing him back in my day or I could live again in this time, he would never catch me!"
'9.79*' will be released in a full-length version in the UK next year
Join our new commenting forum
Join thought-provoking conversations, follow other Independent readers and see their replies