The Independent's journalism is supported by our readers. When you purchase through links on our site, we may earn commission.
Interview
Rebecca Front: 'You can make dark, sinister, weird jokes without being deeply offensive'
The actor talks to Alexandra Pollard about people heralding the death of comedy, being a catastrophiser amid a pandemic, and her new film, psychological horror 'Repression'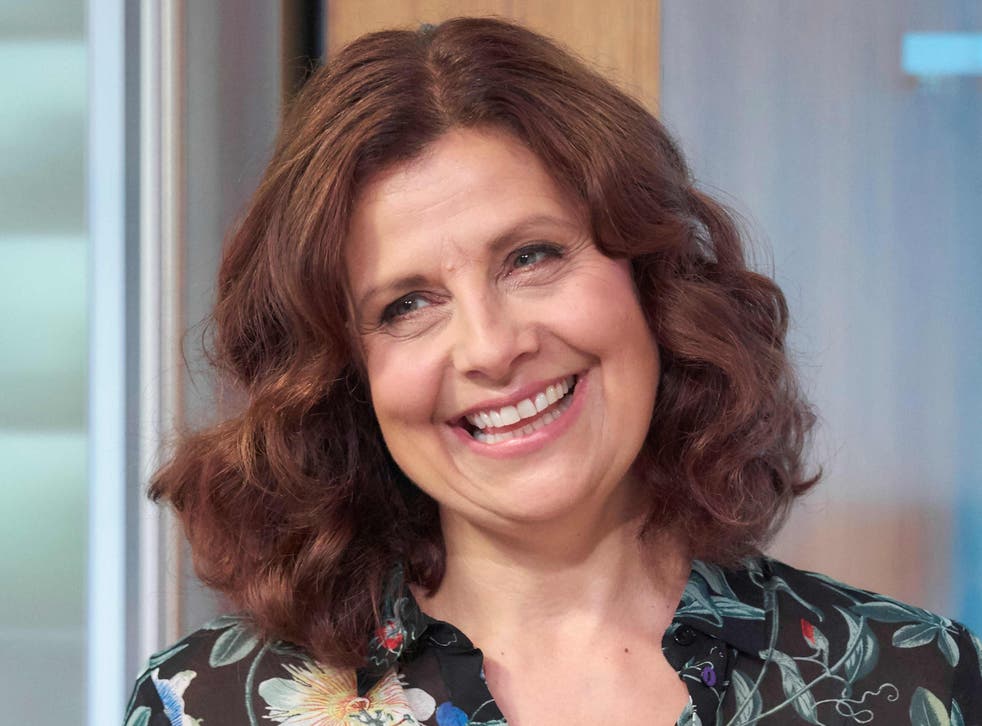 Rebecca Front has a few words for Todd Phillips, the Hangover director who thinks the world is now too "woke" to make comedy. "I just think get over yourself," she says brightly, "and maybe think a bit harder about how to do it in an interesting way. You can make dark, sinister, weird jokes without being deeply offensive."
She should know. In Noughties black comedy Nighty Night, Front played a wheelchair user whose sociopathic friend (Julia Davis) leaves her to struggle up a hill while she whizzes past in her car. In The Other One, the strangely sweet class-clash comedy that aired this year on BBC One, she plays a bitter middle-class eccentric who announces that she's glad her husband's dead while she's giving his eulogy. And as hapless MP Nicola Murray, she starred in one of the most envelope-pushing, expletive-laden comedies of all time: Armando Iannucci's The Thick of It. Take the moment vituperative spin-doctor Malcolm Tucker (Peter Capaldi) is informed that Murray and her team have lost the last six months of immigration data. "I'm going to need all of my f***ing energy to f***ing rip all your bodies to bits with my bare hands and sell off your f***ing flayed skin," he tells them. "As a sleeping bag. To a f***ing normal person." Gentle comedy this is not.
"I sort of agree with the theory that you should be able to make a joke about anything," says the 56-year-old, speaking over the phone from her home in London, "but I firmly believe that joke has to come from the right moral and ethical place. If it doesn't, that's when it becomes sick and awkward and I personally hate that kind of comedy."
When Front first started out in the business while studying at Oxford, alternative comedy was starting to rear its head, driven by the likes of Stewart Lee, Rik Mayall, Dawn French and Jennifer Saunders. "And that was the cry that went up: 'That's the death of comedy now, because we can't make jokes about ethnic minorities and mother-in-laws and women's bodies,'" recalls Front. "And actually, it's heralded a golden age of really brilliant comedy. You just need to have a moral compass about it. You're just thinking, 'Is this just offensive because I think I should be allowed to say this word? Or is this actually going to be a clever observation.' So I absolutely don't think that it's now impossible to be funny anymore."
Front even manages to wring some comedy out of her new film, the lofty psychological horror Repression (initially titled Marionette). It stars Thekla Reuten as Marianne, a child psychologist who starts a new job in a remote Scottish town and becomes convinced her 10-year-old patient is controlling her future. As Marianne's suspiciously polite colleague Maureen, Front is a delicate balance of genial and deceitful, seizing a fairly small role with both hands. "The note I was given was, 'You don't need to play the horror,'" she explains. "Elbert [van Strien, the director] knew that I'd done comedy, and although she's not a comedy character at all, he did want there to be light and shade in it."
Adapted by Van Strien from a Dutch-language short he made 27 years ago, it is a moody, tortuous film, full of plot twists and high concepts. Schrodinger's cat comes up a lot. "I have to confess I really didn't know much about it at all," says Front of the 1935 thought experiment, which poses the possibility of two simultaneous realities. "So quite early on in the rehearsal, I had to go off into a corner and Google on my phone what they were talking about." Still, the complexity of the thing is what drew her to it. "You can do a straightforward horror in which there's a young boy with some sort of God complex, but it's so much more interesting if you then start to wonder how much power he does have, and what level of reality we are on. And the story fractures."
Front hasn't done much horror before. Comedy is her bread and butter, though she's known in some quarters for her dramatic roles: as Mrs Bennet in the ITV period drama Death Comes to Pemberley; as Vera in the sci-fi series Humans; and as Chief Superintendent Jean Innocent in the detective drama Lewis, alongside Laurence Fox. Front and her former co-star made headlines recently over a text exchange he shared on Twitter. Fox asked Front why she had blocked him. "Oh lol," she replied. "I think it was the #AllLivesMatter stuff that finally tipped me over the edge." After explaining to Fox the myriad ways black lives are "systematically undervalued", she concluded that "fond as I am of you, looking at your Twitter feed I just felt uncomfortable about the company you're keeping". Fox screenshot the exchange and posted it online with the hashtag #AllLivesMatter. He later deleted it, apologising for sharing a private conversation – though not for his opinions.
Perhaps understandably, I've been asked not to mention the F-word (Fox) today, though we do touch on some things that would surely make him wrinkle his nose. This is, after all, the man who believes there is "something institutionally racist about forcing diversity on people". Front, on the other hand, is delighted that TV is starting to broaden its horizons. "That can't come too soon," she says. "Television's so much more representative in terms of colour and gender and voice. When I watch dramas, it's starting to look a bit more like when I go out of my house and walk down the street. We've still got a long way to go, but gosh when I was growing up, we still had the Black and White Minstrels on TV." The variety show, which ran on the BBC until 1978, featured white performers in blackface mining racial stereotypes for laughs. "It was very unusual to see anybody of colour on TV," she continues. "It was quite unusual to see women doing anything other than maybe cookery shows… even women being funny was relatively unusual. Thank God it's changing."
Did the dearth of funny women on television affect her own ambitions? "I think I was starting to get interested in comedy at quite a pivotal moment," says Front, who grew up in Essex with a children's author mother and illustrator father (he designed the title logo for The Beatles' Rubber Soul album). "It was around the beginning of alternative comedy, and French and Saunders, Victoria Wood, Julie Walters and Jenny Eclair were suddenly big names. I was a few years behind and was able to think, 'Well this is a whole new world. This is something I can do.'" Which is not to say that there were no funny women before then, of course. "Women have always been funny. I got asked so many times in interviews when I was younger, 'Can women be funny?' And you just think, 'Oh my GOD, just hang out with me and my friends in a pub. Yes women are funny.' But it was much more about the opportunity to be funny."
The coronavirus pandemic has slightly dampened Front's opportunities to be funny on-screen – but next week, she starts filming something for the first time since lockdown. She's been something of a trailblazer when it comes to frank discussions of mental health, freely discussing her struggles with anxiety, claustrophobia and hypochondria well before the taboo around such things began to dissipate. I wonder whether the pandemic worsened those anxieties. She says not. "Normally, there's a rolling background hum of, I'm a bit worried about this 'symptom', and then it will flair up, usually because I'm stressed about something else," she explains. "But I've found with this that not only have I not been as terrified about the actual disease as I thought I would be, but that background hum has quietened down. I think because I've been saying to myself that I don't want to go to a doctor, so I've just shut that voice down for a while. I didn't think I was able to do that."
All her life, Front has been "a terrible catastrophiser", she says. "I spend my life worrying about things and sometimes having panic attacks about things, and when you really do foresee the worst possible outcome in every scenario, and then something like this happens, you sort of think, 'OK, I know how to deal with this.'" She laughs. "I've been dealing with this my whole life." Something like this is a dark-comedy goldmine in the right hands. I hope Iannucci rings her up pronto.
Repression is streaming on Amazon Prime Video now 
Register for free to continue reading
Registration is a free and easy way to support our truly independent journalism
By registering, you will also enjoy limited access to Premium articles, exclusive newsletters, commenting, and virtual events with our leading journalists
Already have an account? sign in
Register for free to continue reading
Registration is a free and easy way to support our truly independent journalism
By registering, you will also enjoy limited access to Premium articles, exclusive newsletters, commenting, and virtual events with our leading journalists
Already have an account? sign in
Join our new commenting forum
Join thought-provoking conversations, follow other Independent readers and see their replies