RJ Cutler on his Billie Eilish film: 'She belongs to the world now and that's a lot to carry'
The documentary maker talks to Annabel Nugent about shooting 'a family story', the 'miraculous' relationship between the singer and her brother Finneas, seeing them in conflict, and capturing Eilish at that 'life moment where you have one foot in childhood and one in adulthood'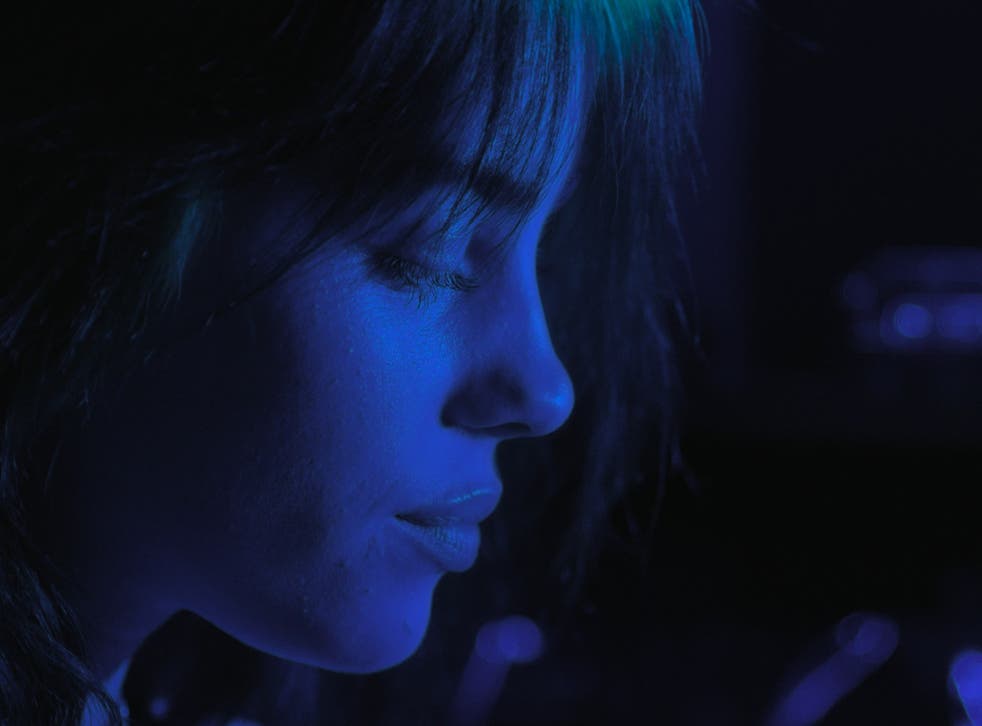 Celebrity documentaries are advertised as a peek behind the curtain. Get to know your favourite star, for real. But when the star in question is Billie Eilish – whose cachet isn't merely girl-next-door relatability but a radical authenticity – the task at hand becomes more complicated. How do you peel back artifice that is not there?
At 19 years old, Eilish is one of the world's biggest pop stars. Her songs have garnered more than 15 billion combined streams and she is currently the seventh most listened to artist on Spotify. On a tour bus in Texas last year, she recorded the theme for the next James Bond film, No Time to Die. Her slingshot to stardom is mind-boggling – even more so given the heavy lyrics and macabre aesthetic that have fuelled her rise. In that way, Eilish is a perfect subject for RJ Cutler, who directed the newly released Apple TV+ documentary Billie Eilish: The World's a Little Blurry. The filmmaker has routinely locked his lens on individuals whose work has shaped eras, for better (he explored the life of beloved comic and actor John Belushi in 2020's Belushi) or worse (The World According to Dick Cheney looked at George W Bush's infamous vice president). But in fulfilling this genre's promise of a grand unveiling, Eilish complicates things.
Since the release of her 2017 EP Don't Smile at Me, the pop-goth artist has built her fanbase by being genuine. Even her music signals intimacy. Eilish rarely sings above a whisper and her songs incorporate noises like the slurp of her dental braces being removed. What says "unfiltered" more than excess saliva? And so for an artist who enjoys connecting with her audience unmediated, it is an interesting choice to enlist Cutler as her go-between for The World's A Little Blurry. "It's a process built on trust and accessibility," Cutler tells me over Zoom from his home in Los Angeles. "You can't make a film like this without a subject who's open to trusting you."
Certainly, Eilish's origin story is compelling material for a filmmaker. The tale behind her breakout single "Ocean Eyes" – which she recorded with her brother, best-friend and constant collaborator Finneas in his bedroom for a dance project when she was 13 – is practically sacred text in Eilish mythology. Everything else about the musician feels ripe for documenting too. That she was homeschooled. That her parents Maggie and Patrick were once semi-successful actors. That she is teetotal within an industry and demographic that loves to brag about getting wasted. The fact that her full name is Billie Eilish Pirate Baird O'Connell alone begs some explanation. For Cutler, it was her sibling relationship with Finneas that was most fascinating, and is something he describes in quasi-spiritual terms: "It's magic. Something miraculous is happening there. So my first question is, what is that connection? It's ineffable." The answer, in part, Cutler finds in archival footage provided by her family.
"Billie has two things that are distinct to this moment in time," Cutler explains. "One is that she's a person born in 2001 meaning every minute of her life is recorded somewhere. The second is that she has parents who recognised early on she was involved in something remarkable and chose to chronicle it."  That "something remarkable" Cutler is referring to is the singer's 2019 debut album When We All Fall Asleep, Where Do We Go? – co-written and produced by her brother, it went on to earn the musician five Grammys. So while the director does offer some customary snippets of grainy footage to coo over (a baby Billie is held up over a piano as her tiny feet dance across its keys), Cutler has dedicated the most time to home videos of Eilish as we know her now: a talented teenager with a dye job – in some scenes, stormy blue; in others, her signature raven black with toxic green radiating from the roots. Footage ripped from the GoPro camera their mum set up in Finneas's bedroom shows the duo experimenting with lyrics, practicing secret handshakes and generally shooting the s***. "We see them thinking, we see them creating, we see them in conflict, we see them in fear, we see them creating art and it's beautiful," Cutler gushes.
Eilish is her own creative director – something that no doubt plays into her it's-really-me appeal. Cutler draws a clear through line from the teenager's notebook (where she scrawls potential lyrics between drawings of monsters, spider webs, flames, naked figures, disembodied feet, "hairy vaginas" and dicks) to the tracks she records with Finneas in his bedroom. An early scene sees the singer conceptualising an idea for a music video. In the backyard of her childhood home – a two-bedroom bungalow in Highland Park, Los Angeles, where she still lives with her parents – the pop star sits her mum down by a small table with a glass on it. "Then I will take a drink," Eilish instructs her mum to do so, suddenly panning to the garden to point out a dead rat before careening the camera up toward her own manic expression and then back to her mum. "Then as I look at the camera, the black [liquid] will drip from my eyes." The scene cuts to Eilish in a studio getting a device hooked up to her eyes. The person that's rigging the contraption commends her as "a f***ing trooper" for agreeing to the physically uncomfortable experience. "It's my idea," laughs Eilish, making it clear that she is not a pawn in her career.
Even beyond the home videos, the documentary is intimate. Footage of Eilish performing in front of 200,000 people is shot to feel personal. Cutler discarded the sweeping camera movements generally used when filming music performances in order to pull focus on Eilish's connection with her audience. "I want to feel Billie breathe," he told his director of photography Jenna Rosher. It is intimate, and yet Eilish is rarely alone. If not Finneas, then one or both of her parents are either on-screen or within earshot. "This is a family story," declares Cutler matter-of-factly. "Within a minute of meeting Billie and her family, I knew that." It feels fresh to see even the documentary's most outlandish moments grounded in the context of family and domestic space. First, Eilish walks a red carpet wearing a head-to-toe bootleg Louis Vuitton sweatsuit with matching bucket hat and face mask. Next, the same elaborate outfit is seen bundled up in Maggie's arms as she unceremoniously shoves it into a washing machine on their patio. 
Much of the way Cutler describes Eilish and her family buys into the myth surrounding her. He waxes poetic about the sibling connection ("It was the same beating heart Billie and Finneas heard in the womb as they were gestating"). It sounds like the stuff of legend. His documentary is then appropriately epic in length, spanning two hours and 20 minutes with an intermission. Its first half mostly comprises the good times. Eilish ricochets on stage with all the energy of a bullet freed from a machine gun. The stages gradually get bigger and bigger, culminating in a staggering performance at the music festival Coachella. Post-intermission though, is the reality check. Her legs are wrapped in slime-green Kinesio tape to ease the pain from her shin splints and the singer has suffered a torn hip flexor. Most of all, she is visibly drained from the constant emotional labour that is asked of her.
"It wasn't hard to recognise that there's a burden that she carries being Billie Eilish – that's not easy. She's carrying the pain and the joy of… " he pauses, and my first thought is that he thinks he's coming off as over the top, but rather than peddle back, Cutler doubles down: "I want to say, she's carrying the pain and joy of a generation, but really she belongs to the world now and that's a lot to carry." It's hard to dispute him, having seen the visceral way her fans respond to her, weeping en masse at her concerts. And with Eilish – who seems to possess an unending cache of energy and patience reserved for her fans – the devotion feels reciprocal. 
Access unlimited streaming of movies and TV shows with Amazon Prime Video Sign up now for a 30-day free trial
Sign up
Her fans, Eilish says early in the documentary, are a part of her. Because she too is a fangirl. She knows what it's like to love a celebrity so much that it hurts, so much that your mum considers getting you therapy. Eilish's past infatuation with Justin Bieber is another thread that Cutler ties into his greater narrative of her coming-of-age. "I've always been interested in this life moment where you have one foot in childhood and one in adulthood," says Cutler. "And here is this extraordinary artist on the verge of so many things. Forget being a pop star, she's also a girl becoming a woman." As much as we witness Eilish doing things unrecognisable to most of us, we also see her get a driver's licence and fawn over her first car, a matte black Dodge Challenger she receives as a 17th birthday present. I defy anyone not to empathise as she pleads on the phone with her (now ex-) boyfriend to put in a bare minimum of effort into their relationship. It turns out, boys are mean to teenage superstars too.
Empathy is something Cutler returns to regularly in our conversation, and something he connects to the one request Eilish made when they first met. She wanted the documentary to be like The Office. In interviews, her heavy-lidded eyes – which often denote a Gen Z brand of ennui – become animated when she talks about her favourite comedy series. But watching The World's A Little Blurry, it's hard to see the connection. Cutler was confused too but says that with hindsight it now makes sense. "It's that John Krasinski look to camera. That glance which in the show Krasinski [who plays Jim Halpert in the American remake] does ironically. As if to say, 'Can you believe this s*** I have to deal with?'"
"There are two or three moments where she looks straight down the barrel of the camera. In those moments, she's saying to you: 'I see you and I see you seeing me, and here we are,'" he says.
In an age of Instagram Live, celebrity documentaries feel increasingly redundant – at least in their traditional "tell-all" sense. Doubly so for someone like Eilish, whose persona is as much built online as it is on candour. But The World's a Little Blurry shows that there is still merit in the observations of an outsider. For those who don't know Eilish, Cutler's documentary is a tender and comprehensive story about her ongoing rise. For Billie acolytes, it will no doubt be more fodder for the myth.
Register for free to continue reading
Registration is a free and easy way to support our truly independent journalism
By registering, you will also enjoy limited access to Premium articles, exclusive newsletters, commenting, and virtual events with our leading journalists
Already have an account? sign in
Register for free to continue reading
Registration is a free and easy way to support our truly independent journalism
By registering, you will also enjoy limited access to Premium articles, exclusive newsletters, commenting, and virtual events with our leading journalists
Already have an account? sign in
Join our new commenting forum
Join thought-provoking conversations, follow other Independent readers and see their replies