From Billie Eilish to Phoebe Bridgers: How ASMR crossed over into pop
Soft, spooky whispers have become a dominant force in everything from folk to hip-hop, and it's only going to get bigger, writes Ed Power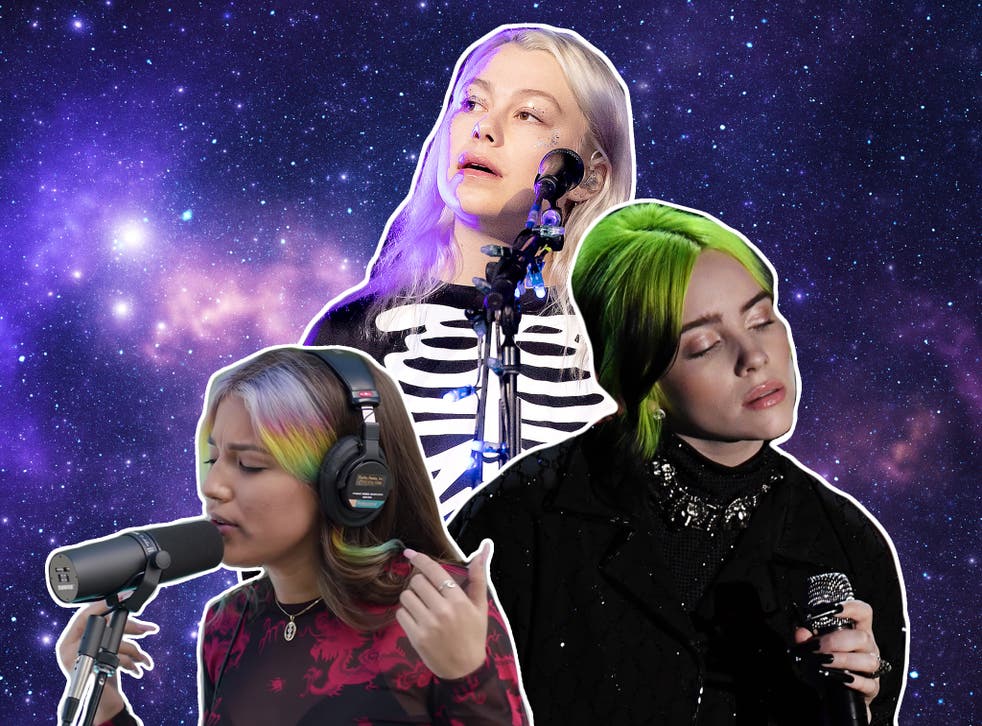 The colours are soft and marshmallowy. The vibe is spooky slumber-party. And the singing is a soothing medley of coos and mumbles.
"Some people say whispering is bad for you," says singer-songwriter Alaina Castillo. "We're just going to call this acapella singing you to sleep. A lot of you guys say my voice is nice and pleasant."
Castillo, a 20-year-old Houston Texas native, is introducing an intimate performance recorded for YouTube in 2019, which has notched up in excess of 4.5 million views. It's called "Sing You to Sleep". Which is exactly what Castillo tries to do over the next 20 minutes. Her voice is low and comforting, even when she is wrapping her tonsils around lyrics such as "Like I wanna drown, like I wanna end me" from Eilish's "Bury a Friend". "Damnit," reads one of the comments. "She's just TOO calming." Welcome to the next big thing in music: ASMR pop.
ASMR is one of those weird branches of internet culture impossible to imagine in the pre-digital age. Standing for "autonomous sensory meridian response", it refers to the "tingles" some people experience when hearing calming noises. The sound of someone softly brushing their hair or crinkling paper, for instance. Or singing "Bury a Friend" acapella.
The trend has been bubbling under for some time. But suddenly it's everywhere. Billie Eilish, arguably the biggest name in pop at the moment, has been widely described as the first ASMR superstar. Indie darling Phoebe Bridgers has explicitly cited ASMR as an influence. And there's a powerful ASMR sensibility to new artists such as Castillo, songwriter Martha Skye Murphy, critically lauded avant-garde composer Ana Roxanne and dance producer Isola, whose recent EP1 was praised by Resident Advisor for its "little ASMR triggers".
You can hear it, too, in the bedroom pop of artist such as Clairo, whose early hit "Pretty Girl" was essentially ASMR-with-synths, and in the hushed rhymes of rapper 21 Savage, who has actually released a song called "ASMR". At a time when we're all stressing out at home and looking for an escape hatch out of reality, the soothing sounds of ASMR have acquired a new appeal. Whisper it, but ASMR is everywhere.
The year ahead is set to be a big one for Castillo, who has been compared both to Clairo and arena star Ariana Grande, and who is presently racking up 2.5 million monthly listens on Spotify.
But what's most interesting about Castillo is that she owes her rise not to radio airplay or the support of streaming services but to the ASMR community, where her relaxing videos, such as "Sing You to Sleep", have generated millions of views since 2018.
This rapid ascent underscores the degree to which ASMR has started to seep into pop, to the point where "ASMR" has become a synonym for cooed, intimate vocals. Incidentally, when Castillo says "whispering is bad for you" she is jokingly referencing the unsubstantiated claim that prolonged speaking at low volumes can damage the vocal cords.
Enjoy unlimited access to 70 million ad-free songs and podcasts with Amazon Music Sign up now for a 30-day free trial
Sign up
YouTube could have been designed especially for ASMR artists, who have built huge audiences – and in some cases earn substantial livings – from videos brimming with whispering and crinkling. They are enormously popular – which may explain why the ASMR sound has started to cross over into pop.
Singers have been obviously whispering on record for decades. Recall Jane Birkin cooing to Serge Gainsbourg in "Je T'aime", for instance. Or Bjork tiptoeing through the verses of "It's Oh So Quiet". But there's a tell-tale drowsy and personal quality to ASMR, and to the music it has influenced. "Billie Eilish … and her very special way of recording vocals is, I think, influenced … by ASMR," said musician Chilly Gonzalez in a deconstruction of Eilish's "Bury a Friend" posted to YouTube. "That is when people might take a piece of paper and crinkle it really closely into the microphone. I think Billie Eilish might be one of the first people to turn this into music."
Gonzalez isn't the only one to pick up on that aspect of Eilish's music. Several ASMR artists have delivered tributes to Eilish, re-interpreting her album When We All Fall Asleep, Where Do We Go? as ASMR spoken word. Eilish's record label, Universal, actually reached out to popular ASMR practitioner Gibi – like many in the community she declines to reveal her real name – and commissioned a track-by-track ASMR "cover" of the record.
"I definitely think that Billie Eilish's sound has ASMR-qualities to it," says Dr Craig Richard, professor of biopharmaceutical sciences at Shenandoah University and founder of the ASMR University website. "Her music and vocal style is gentle, relaxing, comforting, and conveys a personal connection. These are core aspects of ASMR-stimulating scenarios."
"As awareness and understanding of ASMR grows, the culture is finding it everywhere, whether intentional or not," adds Curt Ramsey, a Virginia counsellor who offers therapy through ASMR. "I've seen so many ASMR covers of songs on YouTube. It's becoming more of an intentional endeavour to weave ASMR into the fabric of everyday life. You're probably aware of the intentional use of ASMR in commercials and shows [in 2018 McDonald's released a promotional video, "ASMR with John Goodman"]. From my perspective, much of this is done because ASMR is popular, it's hot."
There is definitely a general increase in interest in ASMR in pop culture, says Dr Giulia Poerio, of the University of Essex Department of Psychology, who has conducted extensive research into ASMR. She cites London-born, Atlanta-raised rapper 21 Savage as a hip-hop artist whose music draws on ASMR.
"We know from research that ASMR triggers also have physiological and emotional effects so it may be that artists are incorporating ASMR to enhance the emotional power of their work and make it more multisensory," she says. "Perhaps to enhance other emotional effects of music, such as music-induced chills." Eilish has never explicitly claimed a link to ASMR, it's worth noting. "I've never seen a quote or statement from Billie Eilish or her brother [Finneas, Eilish's co-writer] stating that ASMR was a conscious influence during the recording of that album," says Richard.
"I think Billie Eilish gets full credit for her own style and she probably would have recorded it that way regardless of the awareness of ASMR at that time. But because many people believe she was influenced by ASMR, it has had an accidental knock-on effect to make ASMR more influential within the music industry than it would have been without this association."
Eilish may be staying schtum on ASMR. Other artists have been more vocal. Grammy-nominated Phoebe Bridgers name-checked ASMR vlogger Itsblitzzz as an influence on her hushed and in places very relaxing second solo record, Punisher (the album is occasionally quite dark too – though this merely throws into relief the blissed-out bits). In October, she went so far as to shoot a 40-minute relaxation video in which she quietly oohed and aahed as Itsblitzzz treated her to a facial massage.
"I have been watching ASMR videos since I was a teenager, before they were all that," Bridgers told Pitchfork. "They were called 'whisper' videos back then. I was doing a school paper on the lymphatic system and I stumbled upon all these weird massage videos that were specifically for people to fall asleep to. I would watch them for hours at the school library. Maybe a year or so ago I was trying to fall asleep and stumbled upon this hipster wellness."
One common factor uniting ASMR practitioners and many newer pop artists is that they started out recording in their bedrooms. This, it is theorised, is why they share a sense of dreamy intimacy.
"Billie Eilish recorded her album in her bedroom, and it resulted in a very personal sound," says Richard. "Most ASMR artists on YouTube record in their bedrooms or in other personal or home spaces. A recording environment can have a strong influence on the production. Music artists who may be trying to record ASMR-inspired productions in their personal space will likely produce something very gentle, comforting, and personal for listeners."
Not everyone is convinced that ASMR is the future of pop. "There's certainly a segment of pop music, particularly with young female artists, who specialise in breathy, ethereal vocals," says Lisa Hafey of the blog Essentially Pop.
"But that's been going on for as long as pop music has been around, and certainly a lot longer than ASMR has been a thing. ASMR is that tingling, pleasant sensation ... do I get that feeling from listening to breathy singers? No."
For artists such as Bridgers, however, ASMR isn't necessarily about triggering a physical sensation. The pleasure lies in the way it takes you out of the world for a few minutes. Which is also, of course, pop's ultimate raison d'être.
"Sometimes when I'm writing and I want something in the background, I'll put an ASMR video on really low," Bridgers told Pitchfork. "It gives you a brain fog and makes you fall asleep and you can get sucked into it, but also it stops you from listening to your life."
The impact of ASMR on the wider culture is likely to grow more pronounced, some experts believe. Castillo singing amid the fairy lights might just be a taste of what's ahead.
"I could see artists being just as intentional, blending ASMR into their music in a way that creates a deeper connection with and further relaxes the listener," concludes Curt Ramsey. "I believe there is a growing desire for a proper and more widespread use of ASMR in the culture: ASMR barber shops, ASMR spas, ASMR counsellors, more purposeful ASMR movie scenes or whole TV series, and ASMR musicians. We're not quite there yet, but I believe it's coming."
Register for free to continue reading
Registration is a free and easy way to support our truly independent journalism
By registering, you will also enjoy limited access to Premium articles, exclusive newsletters, commenting, and virtual events with our leading journalists
Already have an account? sign in
Register for free to continue reading
Registration is a free and easy way to support our truly independent journalism
By registering, you will also enjoy limited access to Premium articles, exclusive newsletters, commenting, and virtual events with our leading journalists
Already have an account? sign in
Join our new commenting forum
Join thought-provoking conversations, follow other Independent readers and see their replies