Rogue One: 5 new things we learned from the film's visual guide
From the origins of Galen Erso and Orson Krennic's friendship - to the very different character Jyn Erso nearly became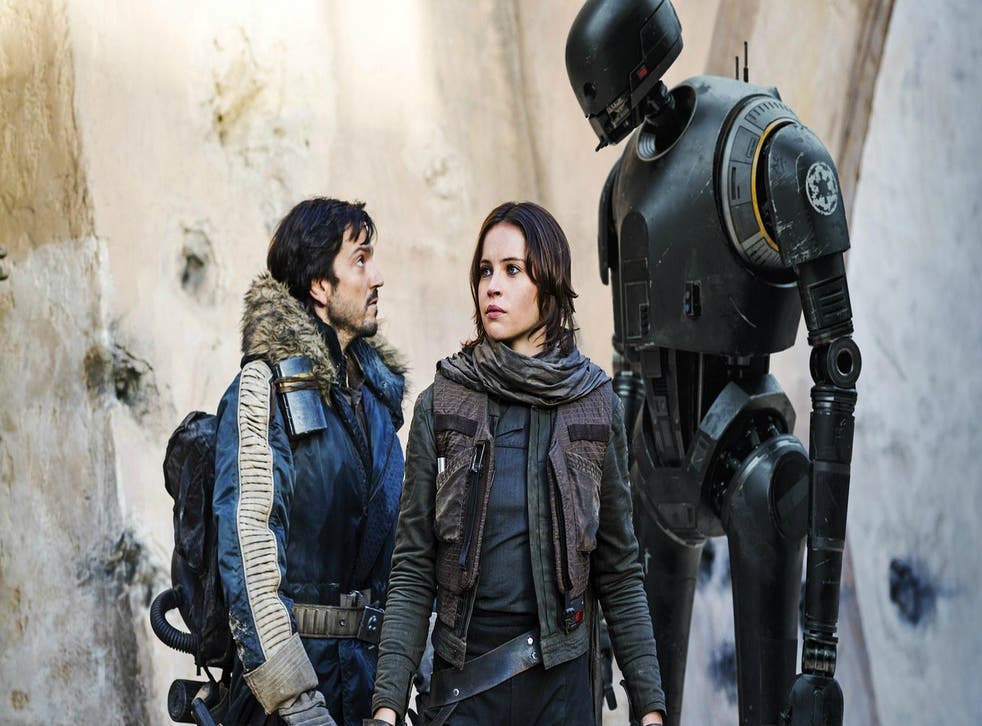 Rogue One has been out in cinemas for a couple of weeks by now, meaning the more dedicated of fans have potentially seen the Star Wars entry not once, but numerous times. Undoubtedly to pour over the film's details in an effort sink as deeply into the worlds of Jedha or Scarif as possible.
However, with a universe as vast and plentiful as the Star Wars franchise, it's inevitable that every detail won't make its way to screen; which is exactly where Rogue One's Ultimate Visual Guide steps in.
Rogue One, of course, follows a wayward band of Rebel fighters brought together for one improbable mission: steal the plans for the Death Star. These events, of course, directly link into the first scenes of A New Hope; when Princess Leia is seen concealing the plans in R2-D2 before she's captured by the Galactic Empire.
The film largely centres around Felicity Jones' Jyn Erso: a criminal misfit who becomes entangled in the Rebellion's ambitious, and resolutely dangerous, schemes. Donnie Yen, Diego Luna, Jian Wen, Forest Whitaker, Alan Tudyk, Riz Ahmed, Mads Mikkelsen and Ben Mendelsohn also star.
We pored over the pages of Rogue One: The Ultimate Visual Guide to see what morsels of new information we could uncover.
1. How Galen Erso and Orson Krennic first met
In their youth, both Galen and Krennic found themselves enrolled in the Brentaal Futures Program, an educational institute intended to help developing prodigies blossom; Krennic was adept in architecture, while Galen was a master of both music and chemistry.
The two began working together; though Galen was slightly older, he still shrank back in the shadows of Krennic's outsized charisma and adept skills in manipulation. After graduation, Krennic helped Galen to get a visiting professorship at the Institute of Applied Science on Coruscant, where he began his specialisation in kyber crystal research.
Rogue One: New clip finally sees the Star Wars spin-off's villain in action
2. Why Galen aided Krennic in building the Death Star
Galen owed an incredible debt to Krennic, when he helped him and his family escape captivity on the Separatist-aligned planet Vallt; though this was actually a clever manipulation on Krennic's part to ensure Galen would aid him in the Death Star construction - even going so far as to arrange living quarters for the Ersos in Coruscant.
It was, however, Galen's wife Lyra who first came to truly understand the truth of their situation: that they were merely prisoners of the Imperial war machine, and that Galen's knowledge was being used to create an incredible destructive force.
3. Cassian Andor's tragic childhood
In Rogue One, Cassian mentions that Jyn isn't the only one who lost everything at the hands of the Empire, though he never elaborates as to what that means. Turns out, Cassian's father was killed during a protest at the Carida military academy against the expansion of Republic militarism.
This led to a lifetime of rebellion, drawn into anarchist movements during the rise of the Empire and eventually recruited by General Draven into the growing Rebellion.
[SPOILERS] 13 scenes from Rogue One's trailers cut from the film

Show all 13
4. Jedha's ancient origins
Though Jedha's spiritual connections are made clear in the film, there's more to be learnt here: as the planet boasts some of the earliest architecture known to exist in the galaxy, their carvings creating connections amongst dozens of ancient faiths.
Indeed, the Force has existed as a recorded concept within the galaxy for well over 25,000 years; though the Jedi Order is the most famous to believe in its power, there are other schools of study and worship which have evolved in parallel on different planets - though they may not have mastered the same manipulation of its powers.
One of these is the near-extinct order of the Guardian of the Whills, devoted to protecting the Temple of the Kyber in Jedha, which both Chirrut Imwe and Baze Malbus belong to.
5. Jyn Erso's alternate background
An earlier verison of the story set Eadu as the first mission in the film, seeing Jyn Erso not as an outlaw, but a seasoned rebel agent who attained the position of Sergeant.
Rogue One: A Star Wars Story is in cinemas now.
Join our new commenting forum
Join thought-provoking conversations, follow other Independent readers and see their replies