interview
Romola Garai: 'Actresses now are not physically unsafe in the way that they were when I was younger'
The Golden Globe-nominated star of Atonement and The Hour plays Karl Marx's daughter Eleanor in Miss Marx. She talks to Geoffrey Macnab about her character's anarchist ideals, #MeToo, and the industry's punishing beauty standards
Tuesday 15 September 2020 15:45 Comments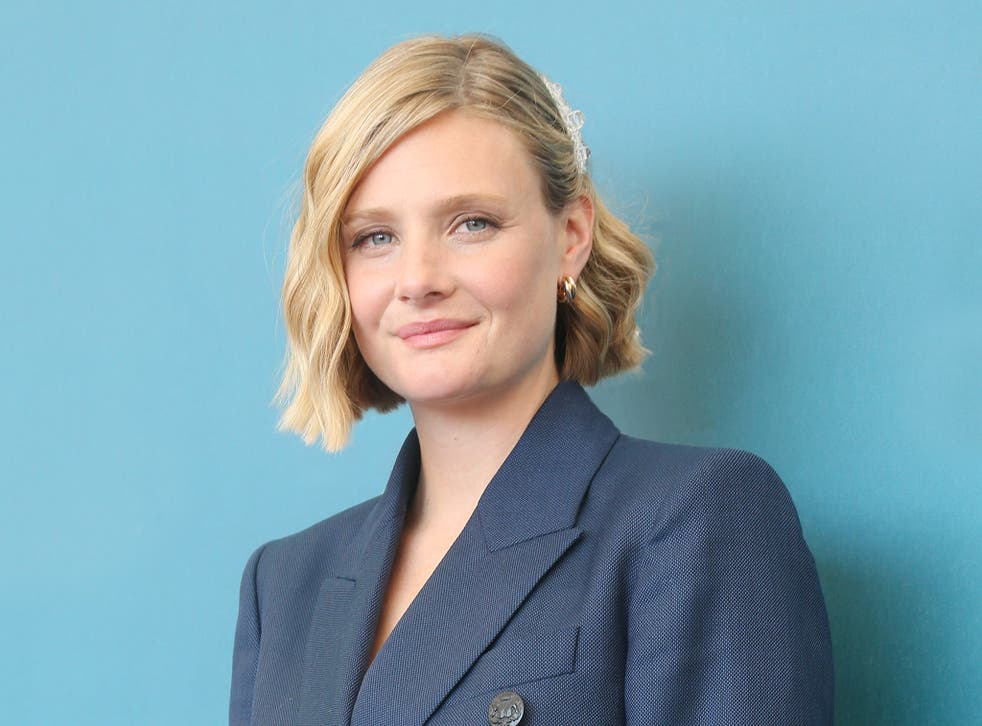 A balmy Sunday afternoon on the Venice Lido and Romola Garai is in the dining room of the Hungaria Hotel, discussing Marxism and anarchism. It's the day after the premiere of Miss Marx. In the film, the Bafta and Golden Globe-nominated star of Atonement and The Hour plays Karl Marx's youngest daughter, Eleanor. She gives a performance full of a zest and humour which belies the often grim circumstances of her character's life. At one stage, we see her in her bonnet and long skirts, belting out the communist anthem "The Internationale" on a boat in the middle of a river.
Miss Marx is not a typical costume drama. Its Italian director Susan Nicchiarelli (whose previous feature was a biopic of rock star Nico) includes blasts of punk music on the soundtrack, as well as rapid-fire montage sequences of the barricades during the Paris commune. The film also addresses the gender politics of its period head-on – and that, for Garai, was the main attraction.
"I did a film about the suffragettes a few years ago and her name had cropped up in my reading around that movement," Garai says of how she first encountered Eleanor. "When I was sent the script, I was vaguely aware she was a trade unionist and I remembered the circumstances of her death and that was it. I basically knew two things about her. Oh, and that she was Marx's daughter, so basically nothing."
The more she learnt about Eleanor, nicknamed Tussy by her friends, the more she warmed to her. "She was full of joy, infectious joy, lust for life. Even in the unbelievably riven and fraught socialistic circles of the time, where they all hated each other, and they were all falling out with each other all the time, all the anarcho-communists and the anarchists and the social democrats, everybody loved her. She was a unifying figure."
There are obvious overlaps between Garai and Eleanor. Both are polymaths. Garai reels off Eleanor's accomplishments: "She was obviously a political theorist like her father; a trade unionist; an activist. She founded schools and taught people in those schools herself; she went in the evening to teach people to read and write, at the end of a long day making speeches; she organised socialistic conventions; she fought with police in the street; and she learned Norwegian to translate Ibsen into English."
Garai may not yet be a Norwegian speaker, Ibsen translator or have had too much experience of fighting the police on the streets, but she boasts almost as many interests and accomplishments as Eleanor. Not only is she a successful stage and screen actor, she is also a writer and director. Her debut feature, horror picture Amulet, is out in the UK shortly. She is an ardent campaigner, too, particularly when it comes to women's rights. She once campaigned to have lads' mags banned from supermarkets, and described herself as "a ticking grenade of gender anger".
Garai has also been a vocal supporter of #MeToo. In 2017, she spoke openly about a grisly experience with Harvey Weinstein – the former film producer, now convicted rapist – when she was 18. She alleged that he called her in for an audition, summoned her to his hotel room and then greeted her wearing only a dressing gown. Does she think the #MeToo movement and the imprisonment of Weinstein have led to real changes in the film industry? "#MeToo for me seemed to be a conversation just about women being safe in the workplace," says Garai. Weinstein was "a serial rapist", she adds. "The industry had been essentially protecting him – he wasn't just a pervy guy but a physical threat to women."
Garai had glimpsed the danger on the day she went to his hotel room. "I knew that I was taken advantage of. I felt very angry about the circumstances of the audition. I didn't realise I was physically in danger. We all, many people, apart from those who suffered at his hands, under-estimated the threat level from people like that."
Things are better in that regard. "When young women go to work as actresses now," she says, "they are not physically unsafe in the way that they were when I was going to work when I was younger. I hope that is the case."
Access unlimited streaming of movies and TV shows with Amazon Prime Video Sign up now for a 30-day free trial
Sign up
She continues: "I think #MeToo has forced a conversation about ensuring women are physically safe in their working environments. And then there is a conversation about representation that had been happening before Weinstein and has been building to a crescendo over the last 10 years, where we are finally seeing acceptance at the highest echelons that to have an industry where 90 per cent of films are being directed by men, that is not just a quirk of history – that is active discrimination. There is no way you can support those kinds of figures unless you acknowledge your industry is institutionally sexist."
That sexism comes in many forms. Garai works with PiPA (Parents and carers in Performing Arts), which has shone a light on the lack of childcare on movie sets. "If you call up an actor who has a young child," she says, "and say, 'I'd like you to come to an audition tomorrow and I want you to learn 8 pages of dialogue,' that's just discriminatory." Garai frowns. "If you discriminate against carers, you are going to lose talent and the best way to include those people is just to act like a f***ing human being."
In Miss Marx, the men continually let poor Eleanor down. She is in a relationship with a charming ne'er do well, Edward Aveling (Patrick Kennedy), who cheats on her continually and only pays lip service to the principles she believes in so fervently.
"I think that he claimed his association to socialism and atheism because he wanted to be associated with rebels," she says of the man to whom Eleanor was devoted, "not because he deeply and profoundly believed in the tyranny of capitalism. I think he was a bit of a faker. She really believed that stuff, particularly about women and female emancipation."
Nor was the great Karl Marx himself progressive when it came to gender politics. He may have educated his daughters, but he still "knocked up the maid" and then refused to acknowledge he had fathered her child, instead leaving Friedrich Engels (disconcertingly played by Gregory's Girl's John Gordon Sinclair in the film) to shoulder the blame. "These people claimed to be progressives," says Garai. "They claimed the mantle of liberation and yet there was clearly inequality in all of their relationships with women."  
The way she sees it, this rank male hypocrisy persists in 21st century society. "Even after Freud and all the advances in psychology, we are still wrestling with the minute problems of gender politics," she says. "It's not just about winning the vote. You can still be in a patriarchal relationship and be controlled by someone who has more freedom than you, and deny yourself the rights you intellectually know you should have and yet on a personal level just don't seem to allow yourself." As she discusses the injustice of it all, growing ever more fervent, Garai begins to sound more and more like Eleanor.
When Garai was starting out, the only outlet for creative women in the film business was acting. Now, as the industry resets, "they will understand that being creative is the door to a huge number of different jobs. They can become sound engineers, musicians, cinematographers."
However, she worries that old pressures and prejudices remain. Women appearing in films still have to conform to strangely antiquated notions about what constitutes female beauty.
"It's good to have a greater diversity of body shape on screen," she says. "I don't think it's a good thing there is only one kind of beauty. Obviously, women have suffered greatly at the requirement to be beautiful and their existence is dependent on their beauty. It's really because I live in a country where vast numbers of people are suffering terribly from the culture of food that we have. You end up with a huge problem around obesity but I work in an industry where a lot of people just have managed eating disorders. That's presented as, 'Doesn't she look great!' but you might know that the person spends their whole life restricting their calorie intake so significantly that, as far as I am concerned, they have an eating disorder."
When it comes to her own diet, Garai tries "to eat like my granny ate. I try and eat vegetables. I try to cook and eat normally and not worry about it at all because, quite frankly, that path for women can be a pretty lonely and ugly road if you worry about it too much."
Garai's career has had its share of peaks and troughs. Early on, after she broke through in films like Nicholas Nickleby (2002) and I Capture The Castle (2003), she looked set for a glittering international career. Then the Dirty Dancing sequel, Havana Nights (2004), happened. The film, in which she starred, was not well received. "They haven't asked me back," she laughs, then quickly changes the subject.
The upside of never quite becoming a household name is that Garai is able to "live a totally normal life". She takes her children to school. If the other parents do know who she is, "they don't pass comment". But she still gets her share of plum roles, like Eleanor in Miss Marx. Over the last 20 years, she has had a varied and very successful career on stage, in cinema and on TV.
She also now has a sideline as a writer-director; Amulet was well received in Sundance. Why horror? Garai's answer reveals her pragmatic side. "After I had made my short film [Scrubber in 2012], I started writing adaptations that were closer to the work I had done as an actor. The scripts that I was writing were just too expensive. I think as a first time filmmaker nowadays, you really have to keep your budget really, really low. Basically, someone came to me and said, 'If you can make a genre film for less than a million, you can do it.'"
Whereas she had hit a brick wall with her earlier scripts, Amulet was immediately optioned and went into production a year later. "There has always been a market for horror," she says. "It was easier for me to get in the door rather than making a film all set in a car with two actors for £20,000."
Not, of course, that making a horror film required her to compromise. "I was given a lot of creative freedom," she explains. "The film is pretty weird and goes to some pretty dark places. No one ever told me not to do that. And horror has always been a great genre for talking about gender. Often, men and women in their relations and birth are a huge part of that genre."
Besides, Garai cheerfully adds, "I think I have a very dark sensibility".
Miss Marx is screening this week at the Venice Film Festival. Garai's debut feature as director Amulet is released in the UK later this year
Register for free to continue reading
Registration is a free and easy way to support our truly independent journalism
By registering, you will also enjoy limited access to Premium articles, exclusive newsletters, commenting, and virtual events with our leading journalists
Already have an account? sign in
Join our new commenting forum
Join thought-provoking conversations, follow other Independent readers and see their replies