Interview
Rosamund Pike: 'How do you feel when someone calls you an English rose? Objectified'
In Marjane Satrapi's 'Radioactive', the star disappears into the role of physicist Marie Curie. She talks to Clarisse Loughrey about the joys of playing unruly women and her hopes for the Bond franchise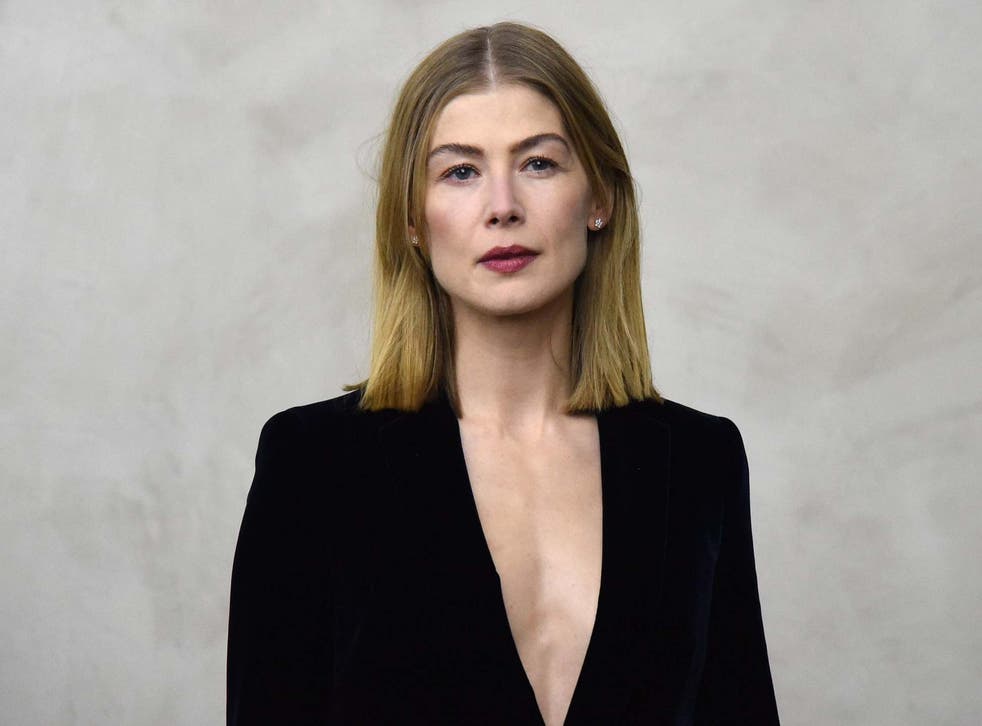 Leer en Español
Unruly women! Difficult women!" Rosamund Pike is on a mission. Her cut-glass accent turning defiant, the English actor is reeling off the kinds of roles she covets. "It's fun to say things that people aren't expecting to be said, you know?" Introduced to the world as a Bond girl, a vision of arctic elegance in 2002's Die Another Day, Pike turned expectations on their head when she landed the role of Amy Dunne in 2014's Gone Girl. Reese Witherspoon, Natalie Portman and Charlize Theron had all thrown their names into the hat, but it was Pike who delivered a performance of pure, bewitching callousness – still one of the greatest portrayals of psychopathy on screen. She hasn't wavered since.
In 2017's Hostiles, Pike played a frontierswoman whose family is slaughtered before her eyes. A year later, with an eyepatch and a hunched poise, she morphed into the late war journalist Marie Colvin for Matthew Heineman's A Private War. Now, as the star of Marjane Satrapi's Radioactive, she tackles a titan of modern science: Marie Curie, the Polish-French physicist who became the first woman to win a Nobel prize and the first person to receive the honour twice.
But this isn't feminist history reduced to coffee table book maxims and cheap empowerment. Pike gives us a Curie who lacks in social graces – she doesn't mince her words, bristles at any sign of pity, and flirts with men by praising the content of their academic papers. She's far too preoccupied with changing the world to worry about being likeable. "We've always had the male genius," says Pike. "We've always been entirely tolerant of, 'Oh, he's a genius. So, of course, he's difficult.'" But as initial reactions from the film's test screenings laid bare, "try to put the genius woman in front of people, and they have a go at her for not being nice".
Much like its subject, Radioactive is a wonderfully knotty film – adapted from Lauren Redniss's graphic novel, it encompasses all the victories and tragedies of Curie's life. We're shown the depths of her love for Pierre Curie (Sam Riley), her husband and co-conspirator; the elysian highs that came from the pair's discovery of two new elements, polonium and radium; and the ways in which radiation sickness sucked the life from both of them. At age 46, Pierre fell under the wheels of a horse-drawn cart and was killed instantly. Curie died later, aged 66, of aplastic anaemia. Pike describes the pair as "innocents"; there's something ghoulish about the sight of Curie clutching a vial of radium as she sleeps, like a lethal comfort blanket.
Yet Satrapi refuses to settle for straight biography. This is, after all, the director behind 2007's Persepolis, her animated memoirs about growing up during the Iranian Revolution, and 2014's The Voices, which stars Ryan Reynolds as an accidental serial killer who's convinced he can talk to his pets. Her work infuses heartbreak with all the powers of dreams and imagination – as fanciful and witty as it is devastating.
Here, she tussles with Curie's complicated legacy, in hallucinatory sequences that depict advances in radiotherapy, the dropping of the atom bomb on Hiroshima, nuclear tests in Nevada, and the Chernobyl disaster. Curie is not only a witness to these events but she floats through them in the film's climax – only partially comforted by the words of her late husband: "You threw a stone in the water, the ripples you can't control." As Pike argues: "You've got to do something radical when you're dealing with a radical mind like Madame Curie." An earlier cut of the film opened with Hiroshima – "an alarming and frightening" approach, which she believes "would have set the tone for what we're dealing with here, which is a film that's not easy, not palatable, not nice, not friendly".
There are signs the film industry's begun to accept that female empowerment doesn't necessarily equate to perfection and that our feminist heroes don't all act like Wonder Woman. Take the unstoppable rise of Phoebe Waller-Bridge, who's chased Fleabag and Killing Eve with a writing gig on No Time to Die. As a former Bond girl, Pike's delighted by the news. "I was wildly jealous that I wasn't going to be in this one," she says. "That's going to be original, funny. It's going to take us to another place. It's going to keep the franchise moving forward, which it has to do."
She pauses, laughs: "I feel that Marie Curie took the same pleasure as Phoebe Waller-Bridge in shocking people." Curie's later years were plagued by infamy, after the press got word of her affair with fellow physicist Paul Langevin, a married man. Even when the scandal threatened to botch her chances at a second Nobel prize, she never felt the need to explain herself.
Pike has a tendency to flit between topics, chasing a trail of thought like a truffle pig sniffing out intellectual morsels. It's a clear sign of a busy, creative mind – a result, presumably, of having two opera singer parents who ferried her around Europe as a child. She later attended boarding school on scholarship and, when she was 17, landed an agent thanks to a National Youth Theatre production of Romeo and Juliet. After graduating from Oxford, she was offered Die Another Day. It was to be her screen debut.
Access unlimited streaming of movies and TV shows with Amazon Prime Video Sign up now for a 30-day free trial
Sign up
Her role as Miranda Frost, a blue-blooded fencing champion turned double agent, was something of a double-edged sword – it catapulted her into the spotlight, but stuck her with labels like "icy blonde" and "English rose", descriptors that suggest stunning looks and zero personality. "How do you feel when someone calls you an English rose?" she muses. "Objectified. Think of a more interesting way to describe me, you know?"
She's reminded of the time she once sat for portrait artist Stuart Pearson Wright, who confessed to her that "it's really difficult doing young women because there all these expectations of beauty. It's innate, whereas, if you're sketching a man in his fifties, you've got full licence to express character and life lived and all of that." That candid conversation between subject and artist came to cement Pike's own feelings about the industry and wider preoccupations with youth and beauty. "I didn't really ever feel comfortable in that space," she adds.
Her escape has been her work. When she acts, a strange kind of mutation occurs. Pike's never been one for grand, physical transformations – a simple wig will do – but she can seemingly relock her bones in new positions and take on an entirely different air. For Marie Curie, she took her cues from surviving photographs of the physicist.
"She always looked slightly impatient," she says. "She doesn't really have time to stop and, where possible, she's actually not stopping. She's either in motion or she's talking to somebody." While Pike wouldn't describe herself as a method actor – she doesn't have formal training, nor does she insist on staying in character on set – she's certainly a thorough researcher. For Radioactive, she took chemistry lessons four times a week. Ahead of starring in 2005's video game adaptation Doom, she attended a human dissection class.
In the past, she's described an approach where she allows a character to enter her body, then relinquishes herself to subconscious action. A little part of them tends to stay behind. "After playing Marie Colvin and Marie Curie – those two Maries who came into my life very close together, they left a long legacy in my body on a cellular level," she says. "You know, people might read this interview and say, 'Rubbish,' but I really will stand by it. I think that these characters, these strong emotions, your body remembers them on a cellular level." Sometimes, she'll rewatch one of her earlier films and, at the most extreme moments, find her heart racing again. Few get the opportunity to live a second life like that.
"What is it you plan to do with your one wild and precious life?" she says, quoting from the poet Mary Oliver. "Acting is the perfect solution to that."
Radioactive is now available to download to own and comes to DVD on 27 July
Register for free to continue reading
Registration is a free and easy way to support our truly independent journalism
By registering, you will also enjoy limited access to Premium articles, exclusive newsletters, commenting, and virtual events with our leading journalists
Already have an account? sign in
Register for free to continue reading
Registration is a free and easy way to support our truly independent journalism
By registering, you will also enjoy limited access to Premium articles, exclusive newsletters, commenting, and virtual events with our leading journalists
Already have an account? sign in
Join our new commenting forum
Join thought-provoking conversations, follow other Independent readers and see their replies