Sandra Hüller interview: Actor talks Toni Erdmann remake, In the Aisles and being the face of German cinema
As German cinema is enjoying a renaissance at the Cannes Film Festival, we catch up with its star Hüller, on set of her new film 'In Den Gängen' ('In the Aisles')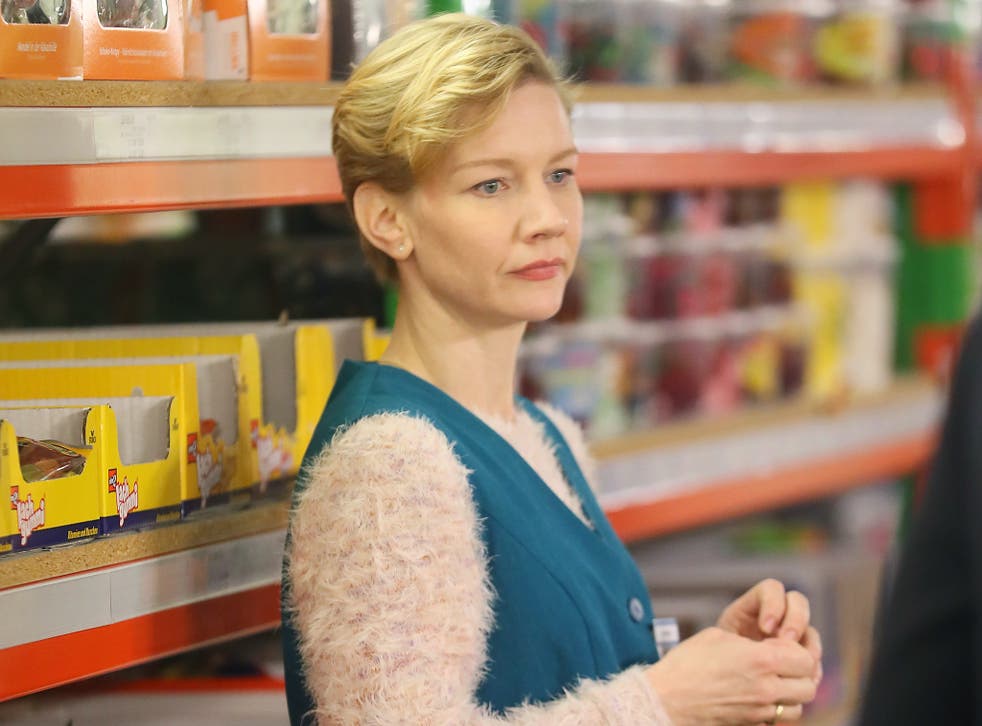 German cinema is experiencing a renaissance. At the Cannes Film Festival, Fatih Akin's In the Fade will be competing for the Palme d'Or. Last year, two of the biggest foreign-language hits at the UK box office were Sebastian Schipper's Victoria and Maren Ade's Toni Erdmann.
German born actress Diane Kruger is often celebrated for her excellent taste in fashion and inimitable ability to spot trends, and she seems to be showing the same sense of intuition at the movies with her starring role in In the Fade. Remarkably after more than a decade of being an international star, it's the first time that she's acting in her native tongue. She plays a mother grieving after the death of her husband and son in a terrorist attack.
Even Jack Nicholson wants in on the sudden craze for German films. It's been reported that he was so enamoured by Toni Erdmann that he wants to star in a remake.
Also in Cannes in the Un Certain Regard sidebar will be Valeska Grisebach's new film Western about German workers on a construction site on the Bulgaria and Greece border. And In Critic's Week are Tehran Taboo by Ali Soozandeh and Ella – Sketches on a Departure by Oliver Adam Kusio.
The success seems to have inspired the German government too. The German Film Fund will receive an increased investment of 55 per cent in 2018 from the state.
British audiences have already woken up to the new confidence of German cinema. The success of Victoria and Toni Erdmann came despite the marketing barriers the films seem to present: an almost three-hour German comedy and a two-hour thriller shot in one-take. But they won audiences over because they are audacious, brilliant films.
Toni Erdmann director Ade's acceptance into the upper echelons of the filmmaking universe will see her be a member of the jury at Cannes.
Now German cinema is pushing its stars, hoping get the same sort of name recognition as their French counterparts. Actors pushed to the forefront include Paula Beer, who stars in the French-German co-production Frantz, just been released in the UK, and, of course, Sandra Hüller.
The international success of Toni Erdmann made Hüller the face of German cinema. Her performance as a management consultant, whose father tries to get her to work less and play more, has had audiences and critics in raptures.
Access unlimited streaming of movies and TV shows with Amazon Prime Video Sign up now for a 30-day free trial
Sign up
I went to meet the 39-year-old on unexpectedly warm spring evening on the set of her new film, In Den Gängen ("In the Aisles"). It's directed by Thomas Stuber and is an adaptation of the short story by Clemens Meyer about the relationships that develops between after-hour workers in a supermarket. As shelves are being stacked, the workers are able to escape the troubles and toils of their personal lives and live out some of their fantasies.
"It's a very heartfelt book,' says Hüller. "It loves its characters very much, it's like a fairy tale."
Her character Marion works in the confectionary section and for her, work is an escape from her bully of a husband. She is attracted to the new guy at work, played by Victoria star Franz Rogowski, who will soon be seen in the upcoming Michael Haneke film, Happy End and an as-yet-untitled Terrence Malick picture.
For Hüller, working on this film provided her with the opportunity to be at home. After the whirlwind few months that followed the debut of Toni Erdmann in Cannes, a journey that saw her win several Best Actress awards, including European Award for Best Actress, she is enjoying sleeping in her own bed at the end of the day's shoot.
Hüller is from Suhl in eastern Germany, and resides in Leipzig, where she is often seen appearing on stage. She has a four-year-old daughter and seems happy to be away from the more bustling scenes of Berlin, Munich or Hamburg.
"Berlin has always been too big for me and I get lost very quickly and then get unhappy and scared," she says. "It's really lovely to be able to go home after work and that's also the beautiful thing about performing in the theatre."
Except she's so in demand as an actor that on her day off the week before we meet on the In The Aisles set she travelled to Munich where she has started shooting the third instalment of the hit German franchise Fack Ju Göhte, playing a fierce teacher dealing with problem students.
"I like the idea of really doing very different things in the movies," says Hüller. "I've never done an out-and-out comedy before and I'm really curious to see whether I can do it."
She's also learning how to deal with fame. It's not something that comes naturally to Hüller, who first rose to prominence in 2006 starring in Hans-Christian Schmid's Requiem.
Huller was stunning as Anneliese Michel, an epileptic who was accused of being possessed by the devil in Germany in the mid-1970s. Priests performed exorcisms and by the age of 23, Michel was dead. It was a case that shocked Germany. Hüller brought the character back to life three decades later by humanising her plight with a gritty, realistic performance.
She won the Best Actress prize at the Berlin Film Festival for Requiem and was feted as the next big thing in European cinema around the globe.
"That was a big surprise and I couldn't handle it," she recalls. "I didn't know what to do. I had been doing theatre for seven years and I didn't even know what the Berlinale [Berlin Film Festival] was, then from one day to the next everything changed. I was overwhelmed."
She didn't feel a similar experience with Toni Erdmann after it's sensational Cannes debut. "Well I'm 12 years older now and I feel more safe with myself."
The German Film Board jumped on her success, asking her to become a face of German cinema. She accepted, but you get the sense that it was a decision made out of obligation rather than choice. "It's not something that is really under my control," she explains. "I was asked to do it and said yes, and I'm really proud to do it. But I can't really speak for German films in general, as I still mainly work in theatre and haven't done so many movies. Let's just say, it's not the job I trained for."
As for the proposed remake of Toni Erdmann that is rumoured will feature Bridesmaids star Kristen Wiig, Hüller is excited by the prospect, "I'm really curious, I'm going to watch it, definitely," she says. "I'm a big fan of both actors whose names are currently attached to the project, and who knows if it will happen, but it's a different thing and I'd like to see it."
As for her own career, more than working in a Hollywood movie, she'd love to work in London's West End: "I'd love to do it, in English of course," she chimes. "But you have gorgeous actors in your country, why would you let a German actress come and steal those roles."
But self-effacing comments aside, this German actress could easily come to the London stage and be seen as the heir to Isabelle Huppert and Juliette Binoche.
The Cannes Film Festival runs 17 to 28 May; 'Toni Erdmann' is out on DVD and 'In The Aisles' is out next year
Register for free to continue reading
Registration is a free and easy way to support our truly independent journalism
By registering, you will also enjoy limited access to Premium articles, exclusive newsletters, commenting, and virtual events with our leading journalists
Already have an account? sign in
Register for free to continue reading
Registration is a free and easy way to support our truly independent journalism
By registering, you will also enjoy limited access to Premium articles, exclusive newsletters, commenting, and virtual events with our leading journalists
Already have an account? sign in
Join our new commenting forum
Join thought-provoking conversations, follow other Independent readers and see their replies