How the world's biggest Star Wars convention helped (briefly) restore my faith in humanity
This year's Star Wars Celebration proved a surprising escape into a better, kinder world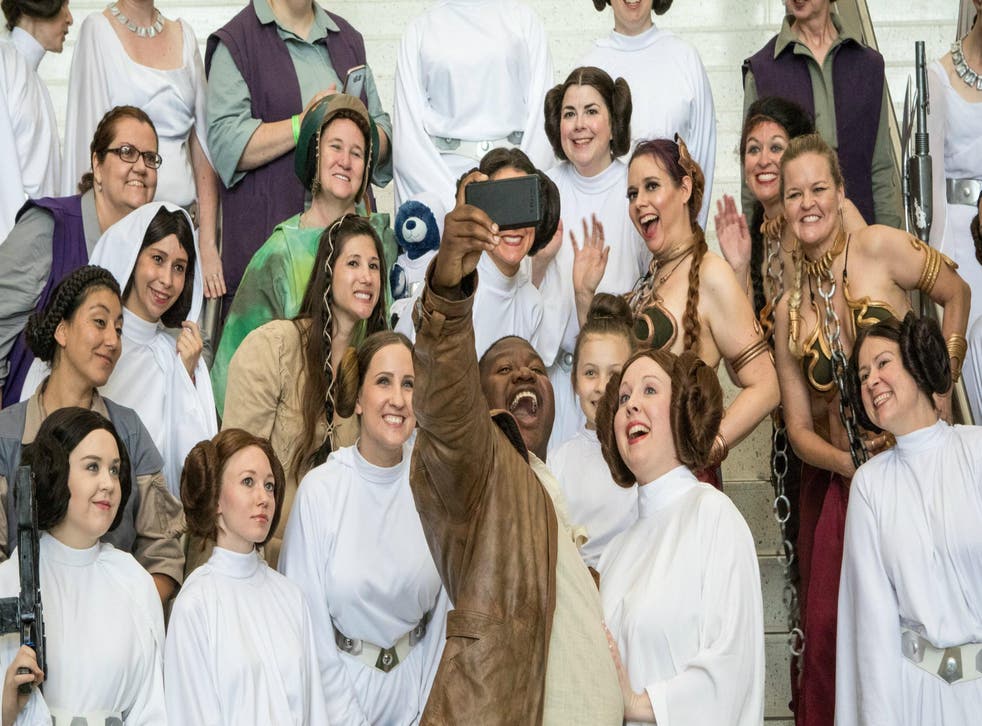 It had been announced a few days prior that Hayden Christensen (Anakin Skywalker) would be attending this year's Star Wars Celebration in Orlando, Florida, the largest (and most hardcore) gathering of the franchise's fans in the world. But, wait; aren't people supposed to hate the prequels? Wouldn't he be immediately, viciously booed offstage and chased out of the building?
Turns out, a fairly great testament to just how warm, welcoming, and open a place Celebration is lies in how readily embraced into the fold he was, like an old member of the family; no hint of judgement, or nerdy rage in sight. Somebody got him to sign a jar of sand; he laughed, everybody hugged, and the party continued.
There's always an air of cynicism to be found in this kind of grand-scale, corporate-sponsored event, or even in the fervent dedication of Star Wars fans in general. The constant hero-worshiping of George Lucas, a man who made a movie about spaceships going "pew-pew" at each other could have been tiresome, and so could the fact BB-8 seemed to receive a more enthusiastic reaction from the crowd than its human co-stars when it rolled onto stage at The Last Jedi panel, all while about five more BB-8s loitered in the lobby.
Fandom always has its weird excesses, its illogicalness, and I'll admit I had a few moments of total bewilderment watching people freak out over somebody dressed as Chef Gormaanda from the Star Wars Holiday Special. But never, for a moment, did I ever feel like I didn't belong there or wasn't entirely welcome. Star Wars really does offer the kind of world that brings people together, simply because it believes in a world in which anyone can be the hero, and in which good always triumphs (eventually).
It's that attitude you could see quietly filter its way down to the show floor. Everywhere, you could see strangers connecting, even in the briefest of smiles and most casual of nods, and kids running gleefully around in their Leia and Finn outfits together, beaming from ear-to-ear because they'd come to the place where they were free to act out the heroics of the films.
Certainly, those on stage blessed their audiences with as much praise as humanly possible. Sure, they were facing the crowds that probably paid for their house, but it was easy to feel the sincerity there, too. Rian Johnson, who directed The Last Jedi, turned up the night before his film's panel to weave through the queue of people camping overnight. The next day, he sat there grinning like a child on Christmas Day, while snapping pictures of the audience on his trusty film camera.
Star Wars: The Last Jedi Celebration 2017 - The Last Jedi Panel
Furthermore, Mark Hamill's tribute to Carrie Fisher felt surprisingly candid and emotional for an actor so used to dealing in showmanship and humour, as he confessed to the audience that being there – working through his emotions with the people Fisher dedicated so much of her life to – had transformed into a kind of therapy for his own grief process.
Maybe I didn't lose my mind when BB-8 rolled onto the stage, and maybe I don't quite feel at peace with those prequels, but Star Wars Celebration offered me a strange revelation about why I've always counted myself as a fan, especially as this new generation of films start to roll in.
Not everyone will feel as equally represented by Star Wars, certainly; the franchise, like Hollywood at large, still has a long way to go, though The Last Jedi's introduction of Asian-American actress Kelly Marie Tran, playing a major role, was particularly applauded. That said, it's a franchise that has always, and increasingly, boasted some of the most heroic, interesting, and complex women – both onscreen, and across the various mediums of the expanded universe.
Access unlimited streaming of movies and TV shows with Amazon Prime Video Sign up now for a 30-day free trial
Sign up
A trend that all started with Carrie Fisher's Leia, making it particularly hard to approach this year's Celebration without a heavy heart, and a quiet sense of mourning in the knowledge that, only last year, she attended the event in London, teasing her co-stars and pampering her beloved dog Gary. She had a whale of a time then, as she did at every convention. Though not always comfortable with those strange excesses of fame, Hamill and her daughter Billie Lourd made it clear she loved being Leia with every fibre of her being.
Star Wars has become a place for women to celebrate their own self-worth, from Fisher, to Daisy Ridley, to the voice of Star Wars Rebels' Sabine, Tiya Sircar, to each fan in the audience. It was striking not only how much pride the studio displayed in its female characters – in multiple tributes, extending even to their very own segment in a Disney World fireworks display – but how that pride was so equally shared by the fans. The Heroines of Star Wars panel, which introduced the new female-led initiative Forces of Destiny, saw the audience erupt into cheers at the mention of each character: from Jyn, to Padme, to Ahsoka.
Attendees of all ages came dressed as their favourite female characters; what was particularly heartening to see, though, was just how varied these appearances were. Some came dressed in the bulky Mandalorian armour of Sabine, others in the ultra-feminine gowns of Queen Amidala. There were Leias in her Hoth snowsuit, Leias in her classic white dress, and (of course) a few slave Leias, too. Star Wars is a place where femininity has no strict definition, and it's that ever-expanding meaning that makes it hard for me not to fall head-over-heels with each passing year.
Those dark parts of the internet will inevitably bitch and whine about the fact Rey has so clearly taken centre stage as The Last Jedi's hero, standing strong at the centre of its poster with lightsaber held aloft, or about the fact the lead of the latest Star Wars videogame, Battlefront II, is the female commander of elite Imperial unit the Inferno Squadron. But, I didn't feel a whiff of that at Star Wars Celebration. For a weekend, at least, it was nice to live in that kinder, better world.
Register for free to continue reading
Registration is a free and easy way to support our truly independent journalism
By registering, you will also enjoy limited access to Premium articles, exclusive newsletters, commenting, and virtual events with our leading journalists
Already have an account? sign in