The Beatles film Help, released 50 years ago, signalled the birth of the 'metrosexual' man
The film's moptop haircuts and dandified fashion introduced a new style for the modern Englishman, says Martin King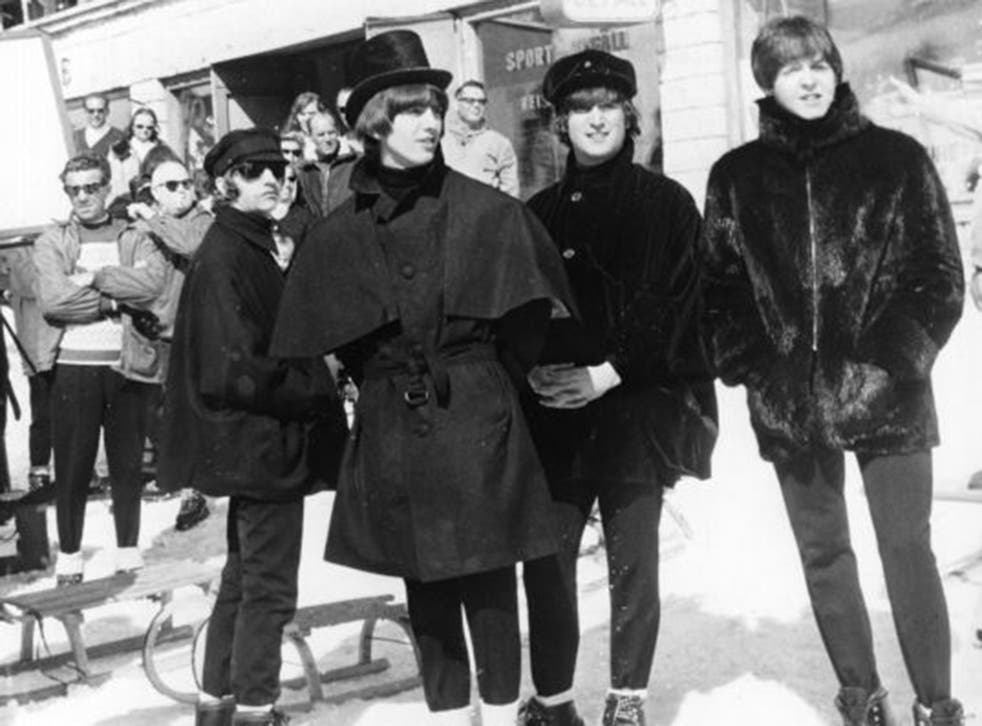 It's 50 years since the release of The Beatles' second feature film, Help! Whatever you may think of the film itself (which got very mixed reviews) this rollicking film of "good, clean insanity" provides a wonderfully unique window on to the social changes that men saw in the 1960s.
As Alex Bilmes recently wrote in Esquire, The Beatles "made it not just OK but insanely desirable to be a stylish, successful, smartarse British man". The representation of masculinity embodied in Help! is a key stepping stone to more obvious displays of gender fluidity that were to emerge in later decades.
The late music journalist Ian MacDonald said that The Beatles were critical to popular culture in the 1960s because of their global fame and the media interest in their activities. He argued that they were therefore a prism through which social changes were magnified and reflected.
Their first feature film, A Hard Day's Night (1964), had provided a global audience with the chance to see a mockumentary about a day in the life of The Beatles at the height of Beatlemania. Despite their exuberance, feminised appearance and a number of queer moments (such as Lennon batting his eyelids and saying "give us a kiss" to a bowler-hatted gent in a railway carriage), the film had much in common with the new-wave, kitchen-sink dramas of the early 1960s. It presented the most famous men on the planet as trapped by their day job; the work central to their male identity.
The Beatles: Inside and Out: Photographs by Robert Whitaker

Show all 12
But Help! sees them as men at play, in a Technicolor international travelogue ranging from London to the Bahamas. Here it is not work but style, upward mobility and independent, exotic living that become central to their identity as Sixties Englishmen. There is also no central romantic plot, a significant break with cinematic convention.
Described by Chris Hutchins in his New Musical Express review at the time as "100 minutes of nonsense", the plot of Help! revolves around the attempt of a rogue Eastern religious sect to retrieve a sacrificial ring sent to Ringo by a fan. Yes, it's silly.
The beginning of the film emphasises a shift from reality to fantasy. First The Beatles are seen in black and white, wearing black roll-neck sweaters and Beatle boots in what looks like an out-take from A Hard Day's Night. The next time that they appear, they're in colour. Like Dorothy in The Wizard of Oz, they have travelled from the black and white "reality" of Kansas (read Liverpool) to the dazzling fantasy world of Oz (read pot-fuelled swinging London, 1965). Director Dick Lester brings a style-over-substance-fantasy approach which pre-empts other key Sixties texts, such as Batman and The Avengers, that bring the extraordinary to the ordinary.
This ordinary yet extraordinary nature of The Beatles is established in a memorable early scene where they arrive in a limousine in a terraced street and walk up to the doors of four adjoining terraced houses. As John, Paul, George and Ringo step through four separate front doors, they enter one large communal room filled with contemporary designer furniture.
This transition is another that mirrors the shift from the black and white reality of 1964 to the Technicolor hyper-reality of 1965. It is also reflective of the potentially different lifestyle opening up for men in the mid-1960s. The house is a fantasy world where expectations created by the outside are subverted by the inside view. They are men reclaiming the indoors, independent and homosocial.
Access unlimited streaming of movies and TV shows with Amazon Prime Video Sign up now for a 30-day free trial
Sign up
Bearing this in mind, Mark Simpson's 1994 "identification" of the metrosexual clearly has its roots firmly in the period. Simpson describes the typical metrosexual as a young man with money to spend, living in or within easy reach of the metropolis, who could be gay, straight or bisexual. The Beatles in Help! undoubtedly fit these criteria: they dramatise the increasing feminisation of men's visual appearance, characterised by increased hair length and an ever more dandified dress sense.
The clothes worn by The Beatles in Help! are a development of the mod style of the early 1960s. Suits are worn with coloured roll-neck sweaters, coloured shirts begin to be introduced, along with materials such as corduroy and denim and the addition of capes and hats. A scene where the band are seen recording on Salisbury Plain wearing a camped-up version of military attire is just one example from the film where The Beatles are juxtaposed with traditional sartorial symbols of masculinity and subvert them.
Two years after Help!, The Beatles would push the boundaries of male attire and masculine possibilities still further, frolicking in the psychedelic foliage of Magical Mystery Tour. But the initial thrust of change is nowhere better depicted than in Help!, a film that encouraged nothing less than the re-imagination of the Englishman.
First published in The Conversation, at theconversation.com
Metrosexual moments
1965: Hairdresser Leslie Cavendish first met The Beatles when Jane Asher, who was one of his clients at Vidal Sassoon, asked him to cut her boyfriend Paul's hair. The band's long, blunt bangs launched a thousand mop tops and ushered in the trend for unisex hairstyles.
1980: Adam Ant, Spandau Ballet and Co launched the second (new) wave of metrosexuality. With their sparkly makeup, gravity-defying hair and camp poses, pop's biggest male stars were prettier than the girls (and sex symbols, too).
1985: As men were being laid off from industrial jobs, "The New Man" stepped up at home. Sensitive, new age types who were happy to cook dinner, change a nappy and clear up afterwards, they were a radical departure from their father's generation. Their poster boy? The Athena man, of course.
1998: When the captain of the England football team wears a patterned sarong on a night out, you know you've reached a watershed moment for modern masculinity. David Beckham has also been known to wear pink nail varnish and push an Alice band through his perfectly highlighted hair.
2004: Russell Brand's circulation-defying skinny jeans, guy-liner, plus a he-vage dripping with necklaces marked a new era of male 'grooming'. Since then, half of men aged 18-55 describe themselves as 'metrosexual' and the male UK skincare market is currently worth an estimated £600m.
Kate Wills
Register for free to continue reading
Registration is a free and easy way to support our truly independent journalism
By registering, you will also enjoy limited access to Premium articles, exclusive newsletters, commenting, and virtual events with our leading journalists
Already have an account? sign in
Register for free to continue reading
Registration is a free and easy way to support our truly independent journalism
By registering, you will also enjoy limited access to Premium articles, exclusive newsletters, commenting, and virtual events with our leading journalists
Already have an account? sign in
Join our new commenting forum
Join thought-provoking conversations, follow other Independent readers and see their replies