The problem with Zack Snyder's female characters - from Sucker Punch to 300
The filmmaker's repeated theme of female empowerment driven from suffering illustrates the need for more diverse voices in cinema, says Clarisse Loughrey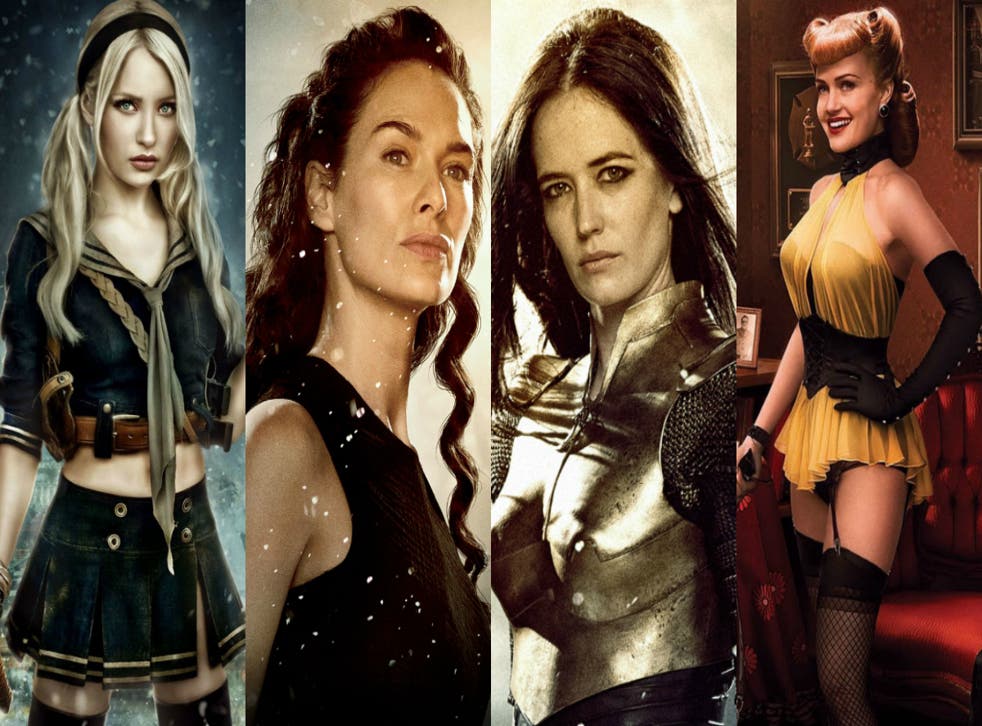 If there's a single word to describe the women who populate the films of Zack Snyder, it's "strength". Valkyries of the battlefield; etherealism sharpened to a knife's edge, fearsome and unforgiving in their glory. The offer to take on the great Amazonian herself, Diana Prince (AKA Wonder Woman), must have made Snyder's week.
Yet there's disappointingly common ground that binds these warrior women together, Diana Prince's fixed origins excluded; one which undermines Snyder's claims of a gender-balanced viewpoint and further elucidates Hollywood's failure of its female heroines.
Power isn't native to these women; not in the way it's so naturally accorded to its male heroes. The strength of these women is almost entirely defined by an act that exists to render its victim powerless. The characters of Sucker Punch, Queen Gorgo, Sally Jupiter, and Artemisia are all rape survivors.
Cynically, it's easy merely to decry it all as B-movie shocks or at worst, grotesque titillation. Yet it's clear from the structure of Snyder's narratives that he intends sexual assault to be the evil that leads to empowerment. In Snyder's cinematic world, women are victims who seek to overcome their own victimhood through acts of vengeance.
Snyder's only original property, Sucker Punch, acts like a manifesto to those ideas. The fantastical action sequences that litter its run-time are Snyder's purest form of spiritual empowerment; but it's empowerment that services these women entirely in the overcoming of the brutal, daily sexual assault and humiliation they face in their own realities. Their strength and heroism isn't innate with themselves, but is awoken entirely in the vengeful rage against those who have forced them into powerlessness.
In Frank Miller's original 300 comic series, Queen Gorgo exists as little more than a phantom; the white-clad vision of Sparta for which King Leonidas and his men fight so bravely on. Snyder sought to bring Gorgo (Lena Headley) towards the narrative's centre for his adaptation, allowing her to take on an active role in which she must persuade the Spartan Council to send aid to her husband, trapped at Thermopylae.
However, Gorgo's final victory at the council is attained only after her power is stripped at the hands of politician Theron (Dominic West), who rapes her as a deluded kind of payment for his support in the council. She attains final vengeance when she kills him in a moment of rage and unveils his deceit to the council. Snyder's narrative manipulation of power here becomes startlingly clear when Theron's words during her assault, "This will not be over quickly. You will not enjoy this"; are echoed by Gorgo as she stabs him.
Though directed by Noam Murro, Snyder still penned sequel film 300: Rise of an Empire, and handed the historical military commander Artemisia (Eva Green) a similar backstory. Though Greek-born, her alliance with the Persians isn't driven from the same desire for power that corrupts 300's villainous Ephialtes, but derives from her enslavement into sex work by Greek hoplites and her eventual rescue by a Persian emissary.
The accuracy of Snyder's Watchmen adaptation sees the filmmaker merely take his cues from comics writer Alan Moore; yet, here, its female characters are once more defined by the act of sexual assault. Silk Spectre II (Malin Åkerman) must overcome the disturbing realisation she is the product of a consensual union between her mother (Carla Gugino) and her attempted rapist (Jeffrey Dean Morgan).
Access unlimited streaming of movies and TV shows with Amazon Prime Video Sign up now for a 30-day free trial
Sign up
Indeed, Silk Spectre's most active participation in the film's narrative is arguably how her own coming to terms with such news sparks Dr. Manhattan (Billy Crudup)'s renewed investment in humanity's future, which eventually proves the key factor in preventing the race's complete annihilation.
Thankfully, Lois Lane and Wonder Woman are far too entrenched in the DC cinematic universe to undergo Snyder's narrative manipulations. Nor did he pen the script for either Man of Steel or Batman v Superman: Dawn of Justice. Yet, still, a small touch of the auteur's influence remains on the film's focus on its women; with both Lane and Wonder Woman sourcing their power conversely to the men around them.
The terrorist leader (Sammi Rotibi) in Batman v Superman who attempts to utilise Lois Lane (Amy Adams)'s gender as a disarming tactic, to leave her powerless in this fraught situation, is met with a quick, chastising reply: "I'm not a lady, I'm a journalist." This begs the question as to why those two things are mutually exclusive but nevertheless, Lane's reclaim of her hold on the situation is apparent.
The problem with Snyder's female characters doesn't lie with his intentions; the idea of utilising his baroque, larger-than-life female heroes to carve a narrative in which victimhood gives way to empowerment has the potential to be a force for good, even of hope and inspiration. The issue, moreover, lies with its repeated use; driving an implication that a woman's power isn't native or naturally born like so many of his male characters, but can only be driven out of total disempowerment and suffering.
Zack Snyder's rather misguided treatment of female characters confirms one thing: the dire need for more female voices in mainstream cinema to offer a diversity of female empowerment that matches up to the real diversity of female experience.
Register for free to continue reading
Registration is a free and easy way to support our truly independent journalism
By registering, you will also enjoy limited access to Premium articles, exclusive newsletters, commenting, and virtual events with our leading journalists
Already have an account? sign in
Register for free to continue reading
Registration is a free and easy way to support our truly independent journalism
By registering, you will also enjoy limited access to Premium articles, exclusive newsletters, commenting, and virtual events with our leading journalists
Already have an account? sign in
Join our new commenting forum
Join thought-provoking conversations, follow other Independent readers and see their replies