Tim Burton - Prince of darkness
Tim Burton's new movie is another of his eerie, twisted fables. He tells Gill Pringle how his strange childhood gave him a taste for the bizarre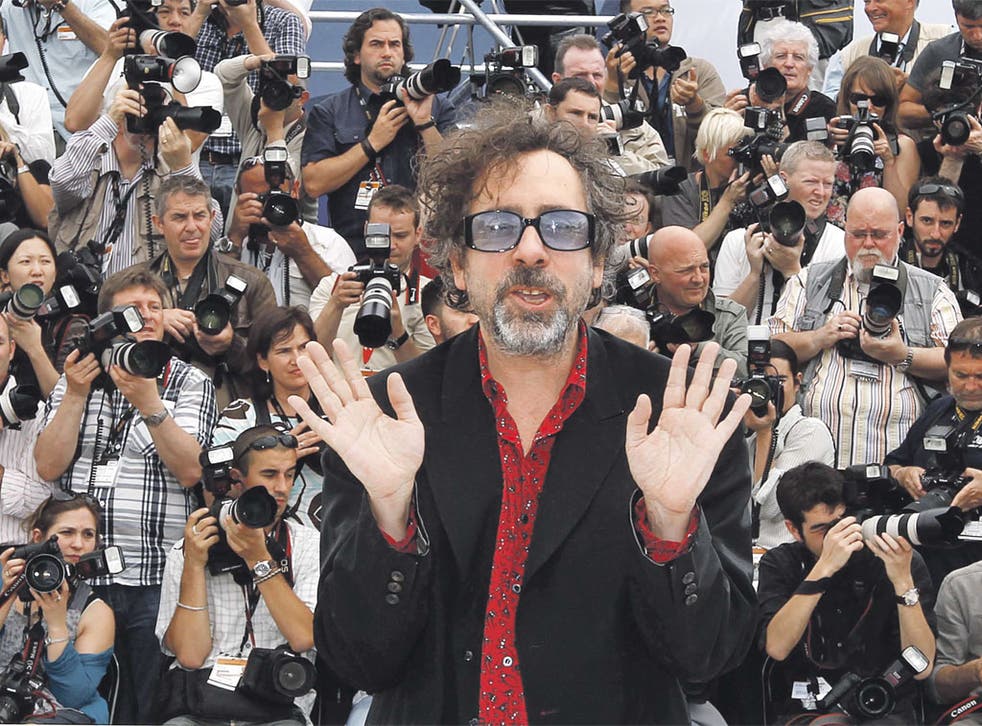 "Any time I take a road trip, I always stop off at a pet cemetery," says Tim Burton with such enthusiasm he could be describing a favourite vacation spot. "They're quite emotional. There's something strangely touching, and weird, about them."
There can be few directors more intrigued by ghouls and the after-life than Burton, whose films, including Sleepy Hollow, Beetlejuice, Corpse Bride and Dark Shadows, regularly feature the dead. In his latest film, Frankenweenie, he once more plunders the grave for inspiration while, at the same time, serving up a strangely autobiographical tale, utilising memories of his own parents, childhood dog, school classroom and teachers.
"Mr and Mrs Frankenstein of the film are the optimistic versions of my parents, although in some ways I had a slightly more troubled relationship with my parents [than that in the film]. And Frankenweenie was based on my own childhood dog, Peppi. If I could have brought him back to life, I would [have]. I did it in film instead," reflects Burton, who made his four-legged-Frankenstein movie not once but twice, first in 1984 as a live-action short and today as a black-and-white stop-motion animation 3D feature film. The first version resulted in his being sacked by Disney. In comparison, today's re-imagining was heralded with much trumpetry during a recent weekend of festivities at Disneyland attended by the company's top brass and the film's celebrity voice talent, including long-time Burton collaborators Winona Ryder and Martin Landau.
But back in 1984 the novice film-maker was accused of wasting the company's resources on a film too dark and scary for young audiences. If making films too dark and scary for young audiences has since proved a winning formula for the director, then Disney has also long forgiven their protégé, successfully collaborating on Nightmare Before Christmas, James and the Giant Peach and Alice in Wonderland.
Far from feeling any sense of vindication at finally getting his original vision of Frankenweenie made, Burton says instead: "I've been through those 'full circle' moments a few times, and its more funny than anything. It just makes me laugh. It just shows you how absurd life is. I've been hired and fired by Disney three different times. I'm used to it."
Raised in Burbank, California, in the shadows of that venerable and world-famous studio, Burton studied animation at the California Institute of the Arts, where his short film Stalk of the Celery Monster resulted in his being hired by Disney's animation department.
Reflecting on those early Disney days, he says: "I was in this strange kind of fairy-tale-princess world in the sense that I was at Disney at a time when I was able to do whatever I wanted to do for a couple of years, and draw whatever I wanted to draw. I got a chance to make Vincent and Frankenweenie. I knew I was lucky at the time and yet it was kind of like that show The Prisoner – you're held captive in this very wonderful place.
"It was weird doing things that I knew nobody was ever going to see and yet I got the opportunity to do them."
Frankenweenie comes to life, so to speak, as the result of a school science fair, something Burton, now 54, remembers fondly: "I recall being one of those kids where every day was a science fair, you know what I mean? It's like well, 'here, let's mix this up and see if it blows up'.
Access unlimited streaming of movies and TV shows with Amazon Prime Video Sign up now for a 30-day free trial
Sign up
"I was just one of those kinds of kids. There was a lot of us around then. 'Let's set fire to this!' That was the problem – we'd turn everything into a science fair," smiles the director who extended a personal invitation to one of his favourite former high-school teachers to attend the Frankenweenie premiere. If Burton has artfully employed his reputation as the artistic recluse, it comes as a surprise to learn he was something of a jock at school.
"I played baseball," he reluctantly admits. "My dad was a baseball player. He had been a professional athlete, and so it's easy for me to relate to that sort of dynamic with parents and kids, pushing and pulling them one way or the other."
His mother, Jean Burton, once opened a cat-themed gift shop, lending the notion that she, too, was quirky before quirky became fashionable.
"I don't know about that," Burton frowns today. "I found it more horrific than quirky but that's my opinion. Opening a cat store in Burbank was just a very strange idea. I don't think it did very well."
His childhood memories are less than rosy: "When I was younger, I had these two windows in my room, nice windows that looked out onto the lawn, and for some reason my parents walled them up and gave me this little slit-window that I had to climb up on a desk to see out of. I never did ask them why.
"But my parents are dead now, so I guess the answer will remain unanswered as to why they sealed me in a room. I guess they just didn't want me to escape."
Feeling more empathy for the monsters in the popular horror movies of the day than he did with the adults in his life, he says: "I don't know why but I always related to characters like Frankenstein. I think a lot of kids do; its easier to relate to the monster in the sense of he's alone. Growing up, you could feel those feelings and the way you felt about your neighbours is like they're the angry villagers.
"I was never scared of monster movies. I could happily watch a monster movie but if I had one of my relatives come over, you'd be terrified."
If he still identifies with the misfits he celebrates on screen, then in his private life he has found happiness and peace within his 11-year union with Helena Bonham Carter, whom he met while making Planet of the Apes. Adopting his partner's British homeland, the couple have a nine-year-old son, Billy, and five-year-old daughter, Nell.
On screen he has collaborated with Bonham Carter six times, most notably in Charlie and The Chocolate Factory and Sweeney Todd: The Demon Barber of Fleet Street.
He has found comfort in that close bond, just as he did with his earlier romantic partner Lisa Marie, who featured in his films Ed Wood and Mars Attacks! His greatest muse, however, remains Johnny Depp. First working together on Edward Scissorhands in 1990, the pair would re-team for a further seven movies. However Frankenweenie, a quintessentially American tale, features neither the very British Bonham Carter nor Depp.
Perhaps in response to a barrage of web chatter criticising his repeated teaming with both Bonham Carter and Depp, he's a little sensitive when asked why Frankenweenie doesn't include at least a cameo from Depp.
"Well, you know, we have to go on with our lives. And we don't do these things just to do it. We're not going for some Guinness Book of World Records [thing] here."
With no immediate plans to work with Depp he adds: "I don't know [when we'll work together again]. How many films did the Three Stooges make? I mean, there's other records to be broken."
Having become close friends over the years, the reason for their frequent collaboration is simple: "I like it when actors bring ideas to the table, which is why I often work with the same people who I knew will bring something to it. Johnny and I have this sort of process where we speak in the abstract with each other and yet can still somehow sort of understand each other," says Burton who, when we meet, is dressed in his signature black wardrobe and shades worn even indoors. "I've got coloured underwear and socks on, but wearing black saves about a half-hour of my day. I don't have to sit there and go, 'gee, does this blue go with the yellow shirt and the green pants?'"
Also a noted artist, Burton's sketches and storyboards have appeared in travelling exhibitions featured at The Museum of Modern Art in New York and at Los Angeles Museum of Art.
He is as skilful at directing stop-motion animation as he is with live action. His two previous stop-motion movies, Corpse Bride and Nightmare Before Christmas, (the latter directed by Henry Selick) both received Oscar nominations, although he has been singularly overlooked for any major nominations for his live-action films including box-office hits Beetlejuice and the Michael Keaton-starring Batman in 1989 and Batman Returns in 1992.
Incongruously, given his reputation for shyness, he says it's the actual fan encounters that give him more pleasure than even box-office millions.
"That means more to me than anything. And sometimes you get people that show you tattoos that are quite strange, based on your work. That's always an interesting one, strange places, strange tattoos," he says, going on to reveal how he has seen his own face tattooed on body parts more than once.
Like many children who feel their parents don't understand them, Burton the youngster found solace with his childhood dog: "I like all dogs but, again, dogs are like people or animals are like people. I'm sure if you like cats, I'm sure you've had a favourite cat. I've had maybe two or three out of a series of pets that you really connect with. I think it's the same with people, you never quite know which one you're going to have that kind of emotional connection with."
At present, the Burton-Bonham Carter household is lacking any similar kind of four-legged friend.
"I don't have a dog because you travel," says the director who famously lives next-door to his partner, in a domestic arrangement that is likely the envy of any married couple. "My kid has a tortoise and three terrapins but that's about all we can handle at the moment."
'Frankenweenie' opens the London Film Festival next week. It goes on release on 17 October
Join our new commenting forum
Join thought-provoking conversations, follow other Independent readers and see their replies