Toy Story 4 stars and filmmakers: 'There are nine horrible versions of the film that no one should see'
The cast and creators of the returning Pixar classic examine the legacy of an eternal franchise that has had its sexual politics updated in its latest outing. Clarisse Loughrey reports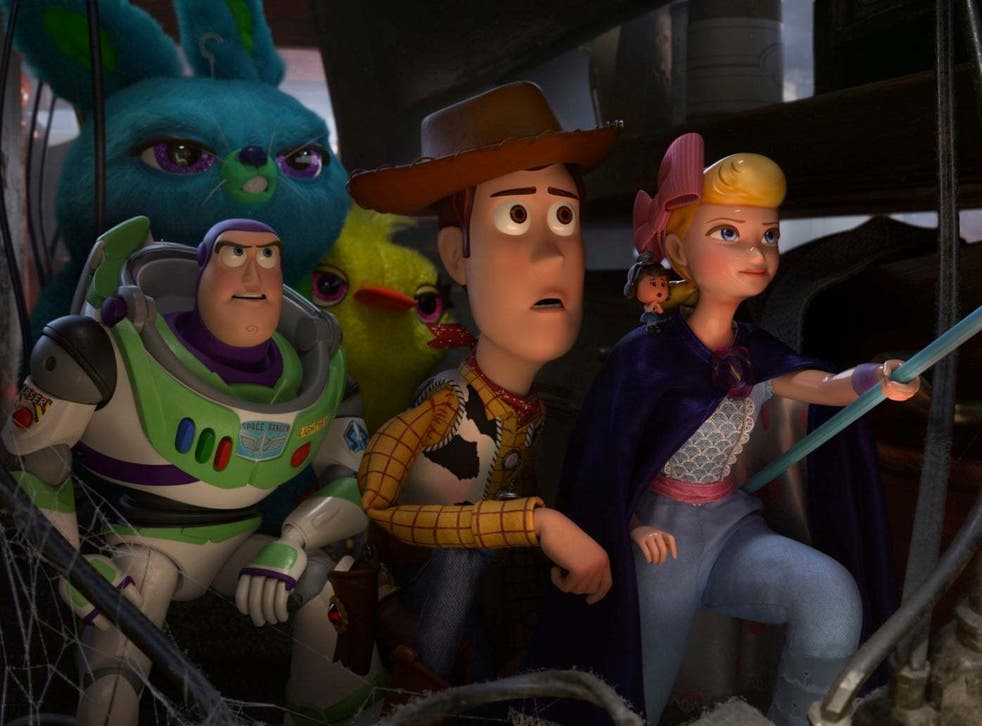 If you ask Tom Hanks what it's meant to him to have spent the last quarter-century voicing Sheriff Woody, he'll probably tell you the same story. We open on Disneyland, where he's with his family watching Fantasmic, a night-time show where cheery, colourful floats wind their way down the park's river to a soundtrack of Disney hits. Suddenly, his daughter – in her thirties – bursts into tears. "What's wrong?" he asks. She points to the back of a steamboat, packed with dancing characters. At the very back are Woody and his pal, Buzz Lightyear. "Dad, you will always be on that boat," she tells him. "Dancing for the rest of time, so long as Disneyland is here." For Hanks, it's the moment it dawned on him: he'd helped to create something eternal. "It's some sort of talisman that we all carry with us now," he says.
It's a common theme over the weekend of interviews held to promote Toy Story 4, as the cast each share their own profound moments of realisation. For Annie Potts, who voices Bo Peep, it was during a boat trip down the Amazon last summer, when she spotted a local boy playing on the banks in a Woody T-shirt. Tim Allen, the voice of Buzz, is most taken aback by our own surroundings, as the cast holds court right in the centre of Walt Disney World's Toy Story Land, our conversation periodically interrupted by screams from the nearby Slinky Dog roller coaster. "It just overwhelms me, all of a sudden," he says. "It's become part of the zeitgeist. I am humbled by it."
You can't exactly blame these actors for feeling a little philosophical. That's always been Pixar's effect on us. Coco put us into a blind panic about death and our own impermanence, while Inside Out handed us a map to our own brains before reassuring us that sadness is an important and necessary part of life. Toy Story 4, meanwhile, dives straight into the realm of existential terror. Although most of us had assumed that Woody's story had come to an end in 2010, when a trilogy of films concluded with the toys bidding farewell to their owner Andy as he left for college and welcoming their future with toddler Bonnie, this new outing reveals that the sheriff has had a tough time moving on. He's fulfilled his purpose and guided Andy to adulthood, but what comes next? It's at this moment that Forky, voiced by Tony Hale, comes crashing into his life. He's a spork who's been willed into existence after Bonnie piles on some googly eyes, popsicle feet and pipe-cleaner arms. As Hanks explains: "He is a bunch of stuff that has been empowered by the imagination of his creator and that's what being a toy is." Woody helps Forky ease into life beyond that of a mere utensil, all while discovering his own raison d'être isn't limited to Andy's world.
As much of a surprise as it is to discover Woody's journey didn't end with Toy Story 3, the franchise has never come with guarantees. Even the first film, released in 1995, was part of a last-ditch effort to save Pixar – then owned by Steve Jobs – from bankruptcy, as part of a three-picture deal with Disney. Toy Story went on to score three Oscar nominations and $373m at the worldwide box office, but that didn't exactly make things easier. "Every time one ended, I thought we were saying goodbye," Hanks says. "I think the riskiest one was the second one, because the test was: can the people of Pixar live up to the gravitas of the first one? And it's happened every time."
Toy Story 2 started out life as a direct-to-video sequel, before getting bumped up to a theatrical release, prompting the team at Pixar to throw out the entire film and start from scratch. The third instalment was nearly produced entirely without Pixar's involvement, before the studio was bought outright by Disney in 2006. Yet what we'd perceive of as development hell is really just business as usual for Pixar. Last year, a small flurry of media attention erupted around Potts's revelation that roughly 75 per cent of the script for Toy Story 4 had been thrown out. The Pixar team had a pretty good laugh about everyone's sudden concern. "We do that every day, that's a Tuesday," says director Josh Cooley. An integral part of the studio's process has always been the ability to, as producer Mark Nielsen explains it, take a project and "tear it back down, rewrite it, put it back up. Every four months, we do the same thing." For every film, there are about 10 different iterations in existence. "There are nine horrible versions of Toy Story 4," Cooley says, to which Nielsen adds: "That no one should see."
Clarisse Loughrey sits down with the cast of Toy Story 4
Yet Toy Story 4's production has been inexorably woven into a far more significant part of Pixar's history. In 2017, John Lasseter, who headed up both Pixar and Walt Disney Animation Studios, announced he'd be taking a six-month sabbatical, as sexual harassment allegations from throughout his tenure at the company surfaced. By that point, Lasseter had already passed over directing duties on the film to Cooley. A year later, Disney finally severed ties with Lasseter, with his last contribution to Pixar being a story credit on Toy Story 4. At the same time as the allegations about Lasseter were first published, screenwriting duo Rashida Jones and Will McCormack both stepped down from the film, refuting a report claiming Jones had been sexually harassed by Lasseter and instead citing "creative" and "philosophical" conflicts arising from "a culture where women and people of colour do not have an equal creative voice". As the pair pointed out, nearly every Pixar film has been directed by a white man, with exceptions being Brenda Chapman, who received a co-direction credit after being fired midway through production on Brave; Korean-American director Peter Sohn, who led The Good Dinosaur; and Filipino animator Ronnie del Carmen, who co-directed Inside Out.
All eyes now turn to Lasseter's replacement at Pixar, Pete Docter, and there's a palpable sense of hope within the animation industry that he'll be able to make the right changes to the company. "We all want this studio to outlive us all," Nielsen says. "And we want people at Pixar to be able to have their voices heard. We could always be better, but we are steering towards that. There are some really exciting projects in development right now that are coming out." One of these is currently being overseen by Domee Shi, who directed last year's Academy Award-winning short Bao, a story about a steamed bun that comes to life, that's really a heartbreaking allegory of the empty nest syndrome. "She's incredibly talented and has something special in store," Nielsen says.
It's ironic, in a way, that Toy Story 4 arrives at the close of one chapter and the beginning of another, since that's entirely what the film is about. "Every character in this movie has gone through a transition or is struggling with going through one," Cooley says. And it's Bo Peep who's undergone the biggest change of them all, returning to our screens after her notable absence in Toy Story 3, where it was revealed the porcelain figurine had been sold off by Andy's family. "I don't think I even knew that they were doing [Toy Story] 3 until it was ready to come out. I was busy, I didn't think of it," Potts says. Not only does this new film let a fan favourite step into the spotlight, but it does right by her character. No longer is she merely the coy, eyelash-fluttering romantic interest for Woody, but she's an emotional equal to him, allowing him to grow by challenging his deepest beliefs. As we discover, she's now living free and happy as a lost toy – the antithesis of everything Woody stands for.
The 30 best Disney films

Show all 30
Bo Peep will soon find her place within Disney's growing canon of smart, strong female role models: from Rey in Star Wars and Captain Marvel, to Frozen's Elsa, and Pixar's own Merida and Mrs Incredible. "It's a great equalising and balancing thing that's happening now," Potts says. "And women are second to none. We are not the second sex." Yet, most crucially, Bo also comes from an authentic place: she is a female character shaped by women, sharing their own stories and viewpoints. Stephany Folsom, who previously worked on Thor: Ragnarok, co-wrote the film's script, while an entire team of female animators (nicknamed "Team Bo") were put in charge of the character's redesign, which includes a refashioning of her hoop skirt into a handy cape. "I met that group and I thought they were all sensational women – I mean, they had thought of everything," Potts says. The actor couldn't be happier with the result. "When I saw the thing," she says. "I told Josh [Cooley] afterwards, 'Thank you so much for putting this crown on my head'."
Access unlimited streaming of movies and TV shows with Amazon Prime Video Sign up now for a 30-day free trial
Sign up
Toy Story owes a lot to how in sync its actors and their characters are (outside of Robin Williams in Aladdin, it was arguably the first animated movie to sell itself on its A-list voice cast), and the franchise's fourth instalment is certainly no different. The catalyst for the film's action, Forky, couldn't conceivably be voiced by anyone other than Hale, who's best known for his equally neurotic, overstimulated characters in Arrested Development and Veep. In fact, Pixar even animated Forky using dialogue from the two shows just to prove he was a perfect fit. "Playing this character, I felt like I resonated so much with him," says Hale. "I'm just as overwhelmed." And it's obvious, too, since Hale occasionally betrays his own self-doubts and existential strife, specifically when describing his involvement in the film. "It kind of hits me in waves," he says. "Because, initially, I'm kind of, like, did you guys make a mistake? Am I supposed to be here?" No wonder he fell so in love with the film's message, which sees a spork who thinks he's destined for the bin learn: "You have tremendous value. You have tremendous purpose."
Latest trailer released for Toy Story 4
Keegan-Michael Key and Jordan Peele, longtime comedy partners, were allowed to run rampant as Ducky and Bunny, two escapee carnival prizes. Much of their dialogue was improvised, as Cooley notes: "They can literally read each other's minds." Keanu Reeves, meanwhile, was picked to play Duke Caboom, Canada's Greatest Stuntman (in reality, an Evel Knievel-like motorcycle stunt toy), during a blind casting session, where the filmmakers listened to the voices of 15 different actors, their headshots turned over for total anonymity. They invited the actor to Pixar to discuss the character and, by the end of the meeting, Reeves had jumped up on the table to demonstrate Duke's now-trademark action poses. It was only after he was cast that they discovered the actor's love of motorcycles (he even co-owns a company that builds high-end custom motorbikes).
The filmmakers also had a stroke of luck when it came to casting Gabby Gabby, a doll left to gather dust on an antique store shelf because of a malfunctioning voice box, only for her to rise up as a Godfather-like figure, surrounded by ventriloquist's dummy goons. "I thought [they'd] done weird background research on me," Christina Hendricks, who nabbed the role, confesses. As it turns out, the actor had spent her childhood desperately asking her parents to get her a ventriloquist's dummy, only for her to buy herself one years later. It now lives happily in her office.
And how does she digest the experience of joining one of the world's most iconic franchises? "I still think I'm dreaming," she says. "It's a household name, we all have had it in our lives." Reeves puts it simply as: "An honour and a dream." After all, these actors have learned from those who have seen first-hand the effect these movies have had on the world. Toy Story has a life far beyond this quadruplet of movies: whether in the parks, in the many shorts and spin-offs produced (Forky is set to receive his own Disney+ series in November), or simply in the memories of those who grew up with these characters. "No matter how old you are now, when you see one of these movies, you're the same age you were when you saw it the first time," Hanks says. "There's not a bump, there's not a jolt, there's no nostalgia, nothing ages poorly, it's exactly as it was and as it always will be."
Toy Story 4 is in UK cinemas on Friday 21 June
Join our new commenting forum
Join thought-provoking conversations, follow other Independent readers and see their replies