Who are the next wave of superheroes leaping from small page to big screen?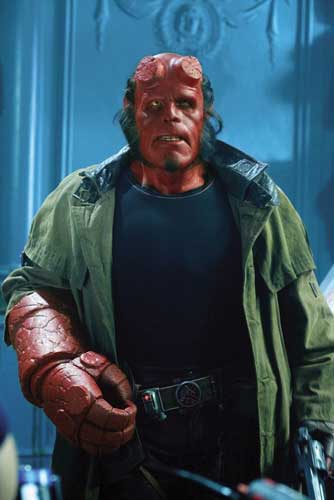 This has been a bumper year for silver-screen superheroics. From Iron Man to The Dark Knight, Hancock to Hulk, Hollywood has been pouring money into tales of comic-book derring-do, and audiences have been lapping them up (the Batman epic alone took over $400m in its first three weeks in the US).
Released this week and hoping to follow them to box-office success is film-maker Guillermo Del Toro's Hellboy II: The Golden Army, based on Mike Mignola's comic and boasting the fantastical production design that made a smash of Del Toro's Pan's Labyrinth.
As for Spider-Man, the character who kick-started this decade's superhero movie boom with features directed by Sam Raimi in 2002, 2004 and 2007, a fourth might follow – though a spin-off starring the last movie's baddie, Venom, currently looks more likely. (A major Broadway musical adaptation is also in the works, with songs by U2's Bono and the Edge.)
It's possible to read these films through various lenses – a war-on-terror subtext here, a critique of cultural infantilism there – but by the highly variable standards of superhero movies throughout the years, it can fairly be considered a vintage crop. Even so, there are any number of sophisticated stalwarts of the comic-book canon who have yet to reach our screens, and any number of nuances lost from those that have – it's no mean feat, after all, to condense into two hours a character who might have existed for decades in numerous permutations.
Watch a trailer for 'Hellboy II'
Here we take a look at some outstanding examples of stand-out superheroes who will be coming soon to a theatre near you – and a few who probably never will...
The Shadow
Arguably the first superhero of the mass-media age, The Shadow had dozens of incarnations in pulp fiction, comic books, movies and TV. But the character originated, in 1930, on radio, where biff-pow fight scenes don't work so well. Accordingly, this crime-fighter was more cerebral than physical.
A righteous yet creepy presence with the power to "cloud men's minds" – at least in the version that made a star of Orson Welles – he was a master detective and master of suggestion, a kind of bridge between Sherlock Holmes, Dracula and Batman. His secret identity remained as varied as the media in which he appeared, but often combined east-Asian exoticism with urbanite sophistication. There's been little activity since an uninspiring 1994 movie starring Alec Baldwin, though Raimi, who made the distinctly Shadow-ish Darkman in 1990, holds the rights to the character.
The Spirit
The age of the costumed superhero was underway by the time Will Eisner created his signature character, which ran as a newspaper strip from 1940 to 1952, but The Spirit also had much in common with the detectives of pulp fiction and film noir.
Only a domino eye-mask differentiated his appearance from the classic gumshoe's suit, jacket and hat and, like Chandler and Spillane's heroes, he had barely any private life (or "secret identity").
Access unlimited streaming of movies and TV shows with Amazon Prime Video
Sign up now for a 30-day free trial
Sign up
Access unlimited streaming of movies and TV shows with Amazon Prime Video
Sign up now for a 30-day free trial
Sign up
A terrific draughtsman, Eisner combined suspense, horror, humour and romance in his expressive, fluid lines, building a menagerie of foes and sidekicks to surround his hero. Over the last half-century, the critical standing of the character and his creator have continued to grow – the comic-book industry awards are called Eisners – but there have been few new adventures. This Christmas, however, sees the release of a major movie written and directed by Frank Miller, a giant of revisionist 1980s comics who brought his Sin City series to the silver screen with Robert Rodriguez and saw his graphic novel 300 adapted by Zack Snyder. The Spirit movie will use the same immersive CGI approach.
Miracleman
One of the most searching investigations of what superhumanity might actually be like, the Miracleman series originated as Marvelman, a British comic that ran from 1954 to 1963. Two decades later, UK comics legend Alan Moore revived the character, retaining the basic idea of an all-powerful hero who takes over the body of an everyday man when he speaks a magic word, but setting it against a grim social backdrop and using it to question morality and examine the operation of power. Some brilliant, disturbing work followed, culminating in the horrific decimation of London and the imposition of a totalitarian superherocracy.
Following Moore's run, Neil Gaiman (the author behind The Sandman and American Gods) picked up the reins to tell stories of everyday life in this supposed utopia but for more than a decade, the series has been in legal limbo: ownership of both the completed stories and character rights remain unclear. A movie adaptation? You'd be lucky to get hold of a second-hand paperback.
Megaton Man
Woo! Boasting a ludicrous war-cry, a 12-year-old's intellect and a body like a condom stuffed with walnuts, Megaton Man was a full-frontal parody of Reaganite apple-pie jingoism in superhero form.
In a 10-issue run beginning in 1984, artist-writer Don Simpson told the story of reporter Trent Phloog, who, on speaking the word "Overkill", transformed into the Man of Molecules, sworn enemy of Bad Guy and an integral part of the US nuclear deterrent. Paying consistent visual tribute to Eisner, Simpson also pastiched numerous superhero comics, Garry Trudeau's Doonesbury strip and east-coast liberal intellectualism.
The character and his sizeable supporting cast have made irregular appearances ever since, and are now published by Image Comics, owned by Todd McFarlane – who revamped Spider-Man in the 1990s and was involved in the legal squabbles over Miracleman.
Dr Manhattan
Alan Moore and Dave Gibbons's DC mini-series Watchmen, which ran from 1986 to 1987, remains the definitive work of 1980s superhero revisionism, ransacking the tropes of genre storytelling while probing ideas of vigilantism and super-humanity in ways unprecedented in mainstream American comics. On the vigilante side is Rorschach, a semi-psychotic descendant of the Spirit; on the superhuman side is Dr Manhattan, a scientist endowed by a nuclear accident with control over matter at a quantum level and functional omniscience. Like Megaton Man, he is weaponised by the US government – here still under Nixon's control – and like Miracleman, he more or less rejects human society.
Dr Manhattan, who comes in fetching Yves Klein blue, will be played by Billy Crudup in next year's movie adaptation – something of a miracle itself, given the 20-year struggle to bring the miniseries to the screen. Terry Gilliam, Darren Aronofsky and Paul Greengrass came and went, but Zack Snyder has promised to deliver a faithful account of Moore and Gibbons's work.
Hellboy
Artist-writer Mike Mignola has said that Hellboy – a red demon with filed-down horns and a giant right hand made of stone, summoned during the war by Rasputin on behalf of the Nazis – is partly based on his father, which makes you wonder. In fact, Hellboy is a goodie, raised by the American authorities to become "the world's greatest paranormal investigator", and a gruff, taciturn hero somewhere between Clint Eastwood and the Fantastic Four's Thing.
Created in 1993, the series straddles war, noir, horror and superhero conventions with strong elements of fantasy archetypes. Little wonder that horror-fantasy writer HP Lovecraft is often cited as a source, or that the work appealed to Del Toro. His successful 2004 live-action movie was followed by a couple of animated features faithful to the comics, and now Del Toro's own, even more fantastical sequel, Hellboy II: The Golden Army.
'Hellboy II' (12A) opens on Wednesday. The BFI, London SE1 (www.bfi.org.uk), is running a comic-book movie season until 31 August
Join our commenting forum
Join thought-provoking conversations, follow other Independent readers and see their replies