The Big Sick's Zoe Kazan on new Broadway play, Islamophobia and co-writing first film with partner Paul Dano
The actress plays girlfriend in a coma in the comedy 'The Big Sick' which is inspired by the relationship between co-writers 'Silicon Valley' star Kumail Nanjiani and his wife Emily V. Gordon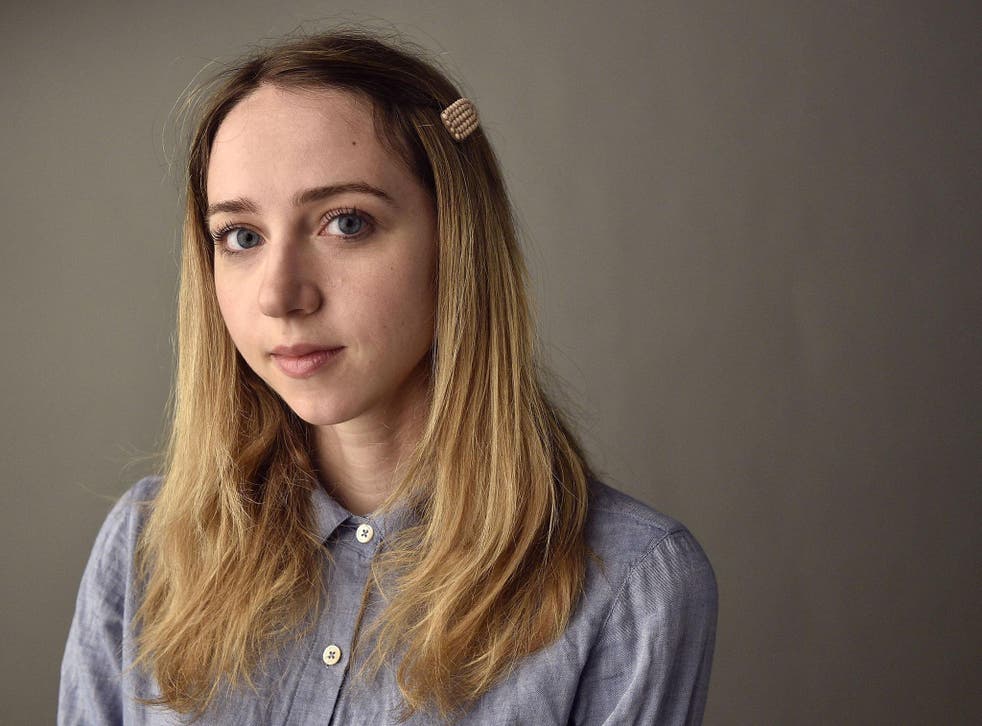 "This year has been very busy," announces Zoe Kazan, perched on a sofa in London's Soho Hotel. "I've been wearing a lot of different hats." It's no exaggeration by the 34 year-old actress, playwright and screenwriter. Best known for the 2012 romantic comedy Ruby Sparks, which she wrote and starred in with her off-screen partner Paul Dano, these past months she's been working on a play, After The Blast, that's unveiled off-Broadway this autumn.
She's also co-adapted Richard Ford's book Wildlife with Dano, which marks his directorial debut. And then there's The Big Sick – a comedy that, in the US, is becoming the sleeper hit of the summer. Co-written by Silicon Valley star Kumail Nanjiani and his real-life spouse Emily V. Gordon, the film is inspired by their relationship. Nanjiani plays Kumail, an aspiring comedian in Chicago; Kazan plays Emily, a graduate student.
The film deals with the early months of their time together, when the Pakistani-born Kumail – unbeknownst to Emily – keeps their coupling a secret from his strict Muslim parents. Then she contracts a life-threatening illness and is put into a medically-induced coma for eight days. As a storyline, it sounds more suited to a daytime soap than a comedy. But The Big Sick manages to be both touching and funny.
The prospect of playing "girlfriend in a coma", to borrow from The Smiths song, may not sound appealing, but Kazan was struck by the honesty of Gordon and Nanjiani's writing. "They were very brave to write something so personal about such a difficult time in their life," she says. "I would imagine, if I was going to write something autobiographical, it would be very hard for me if people wanted to change things."
Kazan, petite and blessed with captivating blue eyes, was a little disappointed when she met Gordon for the first time. "I felt kind of let down because we were so similar already," she says. "She showed up wearing a shirt that I owned! She just seemed like somebody I already I knew. And one of the reasons it's fun to transform as an actor is that you're stepping away from yourself: the way you change your body impacts the way that you feel and it produces a different kind of self."
In a summer where puerile (and expensively assembled) comedies like Snatched and The House have disappointed, The Big Sick has found an audience. Partly because it deals honestly with the immigrant experience in America – specifically the anti-Muslim sentiment that's increased since Donald Trump entered the White House. Has the film inadvertently become more resonant in the months since they shot it? Kazan thinks for a while before answering.
"What I see quite a lot online are people of colour saying, 'It's always been this way. Now there's just a spotlight on it.'" While it would be short-sighted to lay blame entirely at Trump's door, she adds, "I do think that the anti-Muslim sentiment that has been reinforced and stoked by some of the policies of this administration make it feel all the more important to bring this movie into the world, partially because it's not polemical."
In her eyes, The Big Sick is not inherently political, despite touching on Islamophobia. "I think its power is in its emotionality. My dearest wish is that people who might feel like they're on the opposite side of the political spectrum from me will still take a chance on this. I don't think we're trying to shut anybody out of the conversation; the movie is coming with its arms wide open. I think it invites people in rather than pushes them away and that seems like an important thing to put into the world."
Born in Los Angeles, Kazan comes from a Hollywood family: her mother Robin Swicord is a screenwriter/director (nominated for an Oscar for co-adapting David Fincher's The Curious Case of Benjamin Button) and her father is writer Nicholas Kazan. This makes her granddaughter to Elia Kazan, who directed Marlon Brando in On The Waterfront, though she denies her surname ever really gave her any kudos. "I think it's a lot less important than other people think it is," she says.
Access unlimited streaming of movies and TV shows with Amazon Prime Video Sign up now for a 30-day free trial
Sign up
Kazan is not the sort to ride on another's coattails. "If I didn't feel responsible for my own success and failure that would be hard for me," she says. So far, her acting roles have been indie-centric – films like Meek's Cutoff, Me and Orson Welles and What If. Would she take a Marvel movie if the offer came along? "If I was offered a Marvel film, I would not be turning it down!" she laughs. A blockbuster would, she says, free her up financially. "There are other reasons to do a Marvel movie, but you have to take care of your economic life."
Kazan isn't the sort who fancifully lives in an artist's garret; New York – where she lives with Dano, whom she met in 2007 on the play Things We Want – is expensive. There's rent to pay. "It's one of the things I feel I learned growing up with parents who are writers… sometimes you are taking a job so you don't have to worry about money for the next bit of time. Sometimes a job is just a job and that doesn't make it less important."
Still, money worries aside, Kazan is an artistic purple patch right now. A slice of "speculative fiction", After The Blast – her fourth play – sounds intriguing. "It's about a world in which we've destroyed our environment and had to retreat underground." Then there's the Dano-directed Wildlife, starring Jake Gyllenhaal and Carey Mulligan in a story about a boy witnessing his parents' marriage fall apart.
Co-writing together with Dano was surprisingly fluid. "It's been very easy actually, compared to acting together!" she smiles. "We've worked together many times at this point and I would say this has probably been the most seamless collaboration … It's been so beautiful. We've been together a long time now and it's beautiful to watch your partner grow in a new way. He's a very natural director and I've been waiting a long time now to watch him do this."
Yet, when it comes to being in front of the camera, Kazan can't shake the feeling that it's the "hat" that's the most difficult to hold onto. "As I've gotten older, I have allowed myself to say 'no' more often. But it's not easy," she says. "I think most actors feel like their career could evaporate at any time. The uncertainty of not knowing where your next job will come from, even if you have a lot of work behind you..It's very hard to feel that stability."
'The Big Sick' opens on 28 July
Register for free to continue reading
Registration is a free and easy way to support our truly independent journalism
By registering, you will also enjoy limited access to Premium articles, exclusive newsletters, commenting, and virtual events with our leading journalists
Already have an account? sign in
Register for free to continue reading
Registration is a free and easy way to support our truly independent journalism
By registering, you will also enjoy limited access to Premium articles, exclusive newsletters, commenting, and virtual events with our leading journalists
Already have an account? sign in
Join our new commenting forum
Join thought-provoking conversations, follow other Independent readers and see their replies