How I assembled the Avengers: Daughter of cancer patient Stratford Caldecott explains how Hollywood's biggest stars came together to grant a dying grandfather's wish
Marvel to give 60-year-old fan exclusive advance screening of new Avengers DVD following worldwide support for #CapForStrat campaign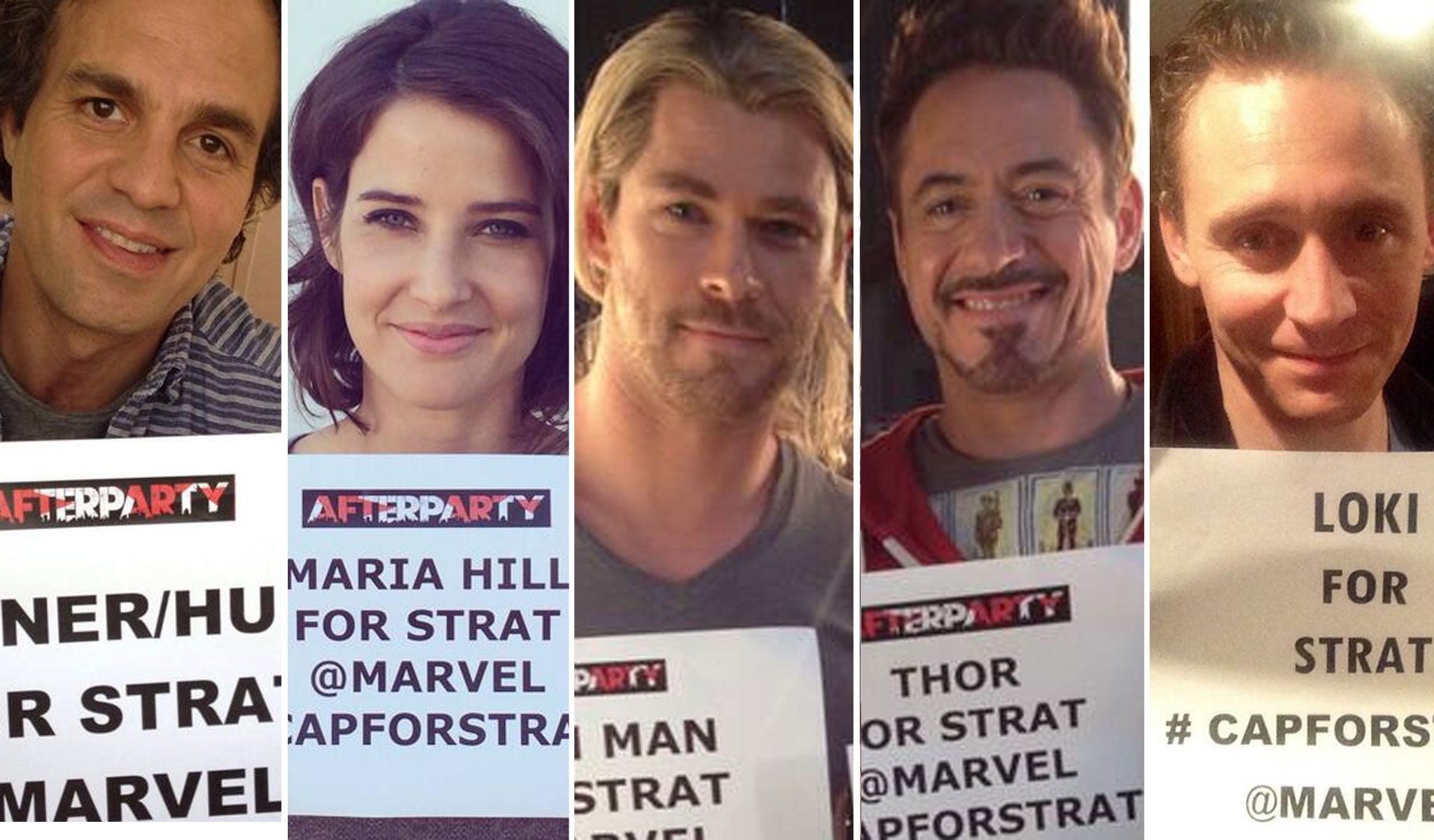 A grandfather dying from prostate cancer has had his final wish granted by some of Hollywood's biggest stars, after his daughter persuaded actors from Marvel's Avengers films to support his cause on social media.
A huge fan of comic books from an early age, Stratford Caldecott, 60, was diagnosed with cancer in October 2011 and became too ill to see the latest Avengers film, Captain America: The Winter Soldier, in the cinema.
The DVD release is not until August, and doctors feared that Mr Caldecott would not be around to see it. That was until his daughter, Sophie, intervened.
Coining the Twitter hashtag #CapForStrat, Ms Caldecott encouraged stars on social media to post selfies in support of her father – and the response was overwhelming.
Speaking exclusively to The Independent, she said: "Mark Ruffalo (who plays the Hulk) was the first, and seems to have been encouraging the others to join in. He told me his dad had prostate cancer too, so I guess that's why this resonated with him."
Samuel L Jackson followed, and before long Mr Caldecott had the backing of Thor (Chris Hemsworth), Iron Man (Robert Downey Jr) and Captain America himself (Chris Evans).
Ms Caldecott said that eventually Christopher Markus, one of the writers who worked on the Avengers films, got in contact to say he might be able to help.
In pictures: The Avengers assembled
Show all 11
"They must have so many requests like this," Ms Caldecott said. "So we were completely stunned that they got in touch and said that they had heard of our request.
"They are going to send someone round to his house with the film, I guess for security reasons, so dad can watch it in his bed – he can't really sit anymore, for long."
Access unlimited streaming of movies and TV shows with Amazon Prime Video
Sign up now for a 30-day free trial
Sign up
Access unlimited streaming of movies and TV shows with Amazon Prime Video
Sign up now for a 30-day free trial
Sign up
The #CapForStrat campaign was also shared by ordinary fans around the world – but Ms Caldecott explained that they didn't reveal it to her father until Marvel had got in touch.
"We didn't want to get his hopes up for nothing," she said. "The first 'superhero for Strat selfie' we showed him was Mark Ruffalo's, and he was stunned - his first comment was 'this feels like a dream', and then 'Green is my new favourite colour!' (because of the Hulk, obviously).
"He doesn't like the limelight, but is so very touched. It means a lot to him that this isn't just about blessing his last days, but also about a wider campaign to raise awareness about prostate cancer."
Ms Caldecott described the family's anger when her father was diagnosed with an advanced stage of the cancer after almost a year of illness and extensive testing.
"In the US, men over a certain age are regularly checked for prostate cancer just as a matter of course, but it just didn't seem to be on the medical profession's radar here in the UK at all," she said.
"Prostate cancer doesn't always show up in blood tests, so to be checked effectively for it you have to use other methods. That's the main thing we'd like to get across in terms of cancer awareness. We always thought doing a simple blood test would be enough."
Mr Caldecott has experienced being a grandfather for just six months, after his daughter had her first baby in November.
Ms Caldecott said: "We all have down moments when it hits us anew that even all of this can't make dad's illness go away, or change the fact that we're losing him, but we're trying to put off thinking about that while we still have time left to celebrate him and enjoy this time together."
She said that while the campaign initially started out as a way to make dealing with the cancer "bearable", the significance of comic books went beyond just a simple distraction for her father.
"His whole life he has loved comic books and collected them as a child, and through his illness he has found great relief in the escapism of watching the Marvel films and TV series," Ms Caldecott said.
"But it's kind of more than just escapism for him - he loves the comics so much because they are all about themes of hope, good fighting evil, and a greater good.
"That's why they have inspired him his whole life, and that's why it's so fitting that this world has become associated with the struggle that people have with cancer."
For more information about how prostate cancer might affect you, visit prostatecanceruk.org
Join our commenting forum
Join thought-provoking conversations, follow other Independent readers and see their replies