5 major talking points from the new Star Wars: The Force Awakens poster
Discussing everything from Rey's positioning to the 'new Death Star'
Jack Shepherd
Monday 19 October 2015 13:53 Comments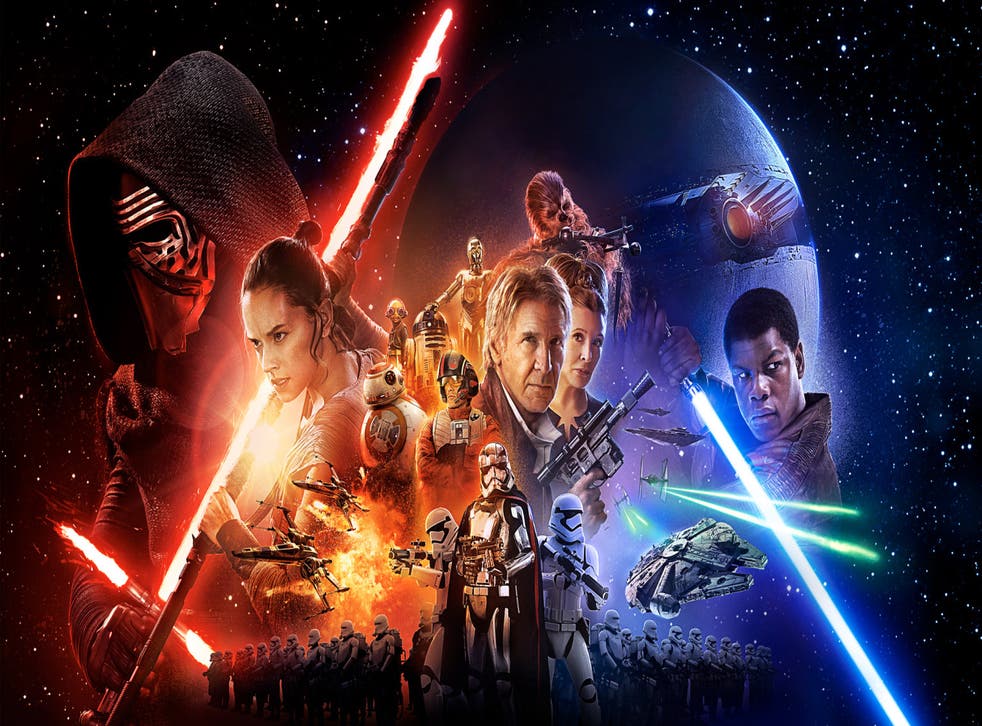 With only hours before the release of the final Star Wars: The Force Awakens trailer, Disney has decided to put out the film's official poster, much to the internet's excitement.
People have been analysing the poster like crazy, asking questions such as; what's that Death Star-thing in the background? Who's that creature next to R2D2? Where's Luke?
To help you out, we've dissected the poster piece-by-piece, rounding up the 5 major talking points that have taken internet forums by storm.
1. Rey's positioning
In the main poster, Daisy Ridley's character Rey is at the center, presumably because she is the main character. Very little is currently known about her, but the way she's holding her staff in line with Kylo Ren's red lightsaber alludes to her possibly being in line with the dark side.
Her staff also acts as a barrier between the dark and light sides of the poster. Some have taken this to mean her character will be unsure of which side of the force to follow. There's a fan theory currently going round that she is Han Solo and Leia Skywalker's daughter, making her a relation of Luke and Anakin Skywalker, the latter of which became one of the most feared villains in all the galaxy: Darth Vader.
2. Where's Luke?
When the announcement came that Harrison Ford, Carrie Fisher and Mark Hamill were returning to the series, everyone got very, very excited. However, the promotional material has barely shown Luke at all, speculators concurring that he will be the film's big reveal, much like Yoda was in The Empire Strikes Back.
But what will he be revealed to be? Will he have turned to the dark side, as his father did? Will he be a wise Jedi Master, like Ben Kenobi? Or is he actually on the poster already, just wearing a metal mask and holding a red lightsaber? After all, Hamill is the second highest billing, why would they not promote him now?
3. Who is this Kylo Ren guy anyway?
That guy with the metal mask, that's Kylo Ren. The chances of him being Luke are incredibly small (unless Disney cast Adam Driver as a decoy which is extremely unlikely). So who is he? According to the his wiki, not much is known about him until his thirties, at which time he had aligned himself with the dark side of the Force, built himself a lightsaber and decided to work with the head of the First Order, Snoke - Andy Serkis's character in the film.
Most people believe he will somehow be related to Luke - whether as his son or even nephew (someone has to be Han and Leia's offspring, apparently) - or a worshipper of Darth Vader - as hinted at in the fist trailer in which someone is holding a burnt Vader mask.
Access unlimited streaming of movies and TV shows with Amazon Prime Video Sign up now for a 30-day free trial
Sign up
4. What's that Death Star thing in the background?
You would have thought that, after two failed attempts at making a planet-sized weapon, they wouldn't make another but it looks like the new bad guys - the First Order - have designed a new killer planet, this time called the Starkiller base.
Unlike the Death Star, however, this isn't a mechanical planet: it's an ice-planet turned into the First Order's stronghold. According to the Star Wars data bank, it has a "fiercely destructive new weapon capable of destroying entire star systems".
5. Who's the little guy next to R2D2?
Apparently we've actually seen this character before in the main trailer: she's the one who gives Leia the lightsaber.
"She? How do you know its gender?"
Well, we don't know for sure, but it's widely believed that's Maz Kanata standing next to R2 - a CGI character played by Lupita Nyong'o.
According to the Wikia, she is a female pirate who owned a castle "which played host to travellers, smugglers and other riff raff."
Perhaps another CGI comedy relief character like Jar Jar? (Please no, JJ.)
Register for free to continue reading
Registration is a free and easy way to support our truly independent journalism
By registering, you will also enjoy limited access to Premium articles, exclusive newsletters, commenting, and virtual events with our leading journalists
Already have an account? sign in
Join our new commenting forum
Join thought-provoking conversations, follow other Independent readers and see their replies