Women at Wonder Woman screening given gift bag containing diet pill pamphlet and dish sponge
'It felt a little absurd,' said an audience member
Christopher Hooton
Wednesday 14 June 2017 10:16 Comments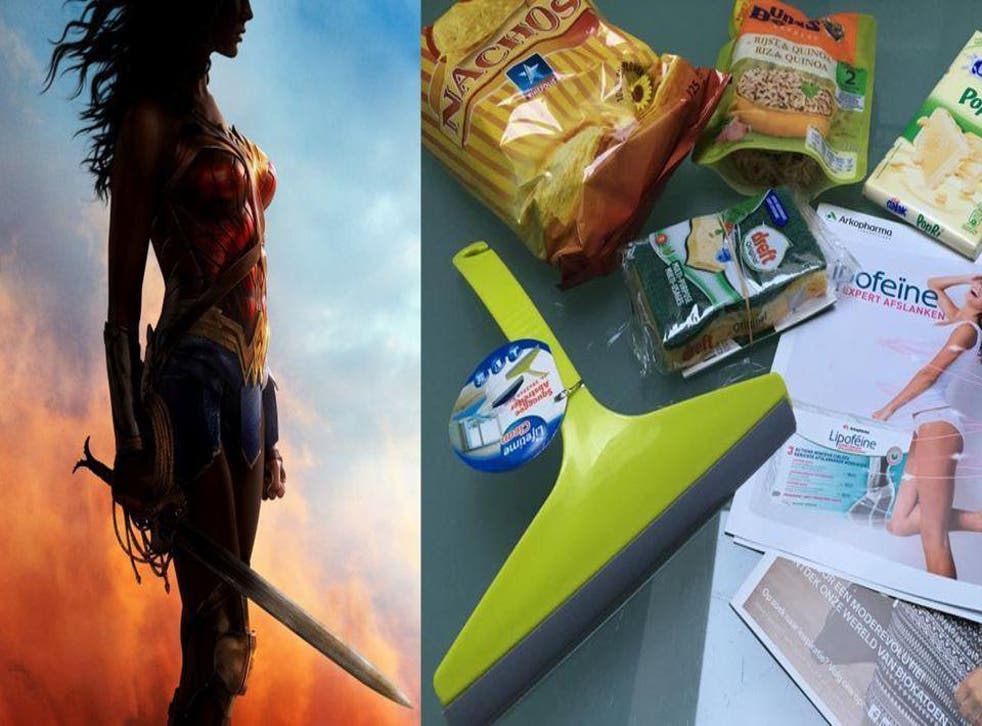 Belgian cinema chain Kinepolis has been accused of being tone deaf with gift bags it gave to attendees of a women-only showing of Wonder Woman that contained several items to help with household chores.
The bags, which said 'Cool things inside...' and were distributed at the 6 June screening, reportedly contained a scourer, bathroom wiper, dish sponge and a pamphlet for slimming pills.
Wonder Woman, directed by a woman (a rare thing for a blockbuster), has been hailed by some for its feminist identity and message.
"It felt a little absurd," Diana Goodwin, an audience member at Kinepolis, told Belgian outlet VRT.
"Especially when you're watching a movie that completely revolves around a strong, female superhero.
At the very least it's ironic and inappropriate that women get a scourer and an ad for slimming pills put under their noses pushed during the movie."
Kinepolis said it did not intend for the gifts to come across as misognyistic, explaining they were provided by its sponsors.
"We would like to apologize for this oversight," the chain tweeted, "and understand the reactions.
"We will take appropriate action so that this will not occur in the future."
Register for free to continue reading
Registration is a free and easy way to support our truly independent journalism
By registering, you will also enjoy limited access to Premium articles, exclusive newsletters, commenting, and virtual events with our leading journalists
Already have an account? sign in
Join our new commenting forum
Join thought-provoking conversations, follow other Independent readers and see their replies