Bicentenary of Dickens's birth sparks off a battle of the bonnets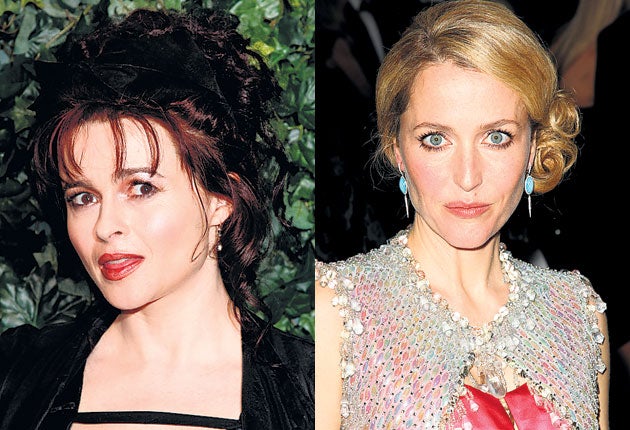 Such is the frenzy of filming activity surrounding the bicentenary of the birth of Charles Dickens that two of Hollywood's best-known actresses, Helena Bonham Carter and Gillian Anderson, find themselves in a battle of the bonnets as they both prepare to play the role of Miss Havisham in Great Expectations.
Ms Bonham Carter will appear in a feature film being directed by Mike Newell and based on a script by David Nicholls. Filming is due to start in October and the movie will be released in 2012 to mark the anniversary.
Ms Anderson, best known for her role in The X Files, has been cast in a three-part television drama due to be screened at Christmas.
In a further twist, both projects are being produced by the BBC.
The casting has already set up several other head-to-head contests including the villainous role of Magwitch, which will be played by Ralph Fiennes in the BBC Films and Number 9 Films movie project, and by Ray Winstone in the BBC1 drama. Douglas Booth will play Pip in the television play while Jeremy Irvine – who is also cast in Stephen Spielberg's movie version of War Horse – will take the same part in the film.
The clash is a feature of a wide programme of film and television projects planned for next year's Dickens celebrations. The best-selling crime writer Martina Cole is adapting Oliver Twist as a modern-day gangster series called Twisted for Sky television. The same novel is being adapted as a 3D film in which Oliver and the young thieves use the urban pursuit of free running to leap between London buildings.
Ms Bonham Carter, 45, who is currently filming the gothic horror tale Dark Shadows with Johnny Depp, played the future Queen Mother in The King's Speech. She and Ms Anderson, 42, are more youthful figures than Martita Hunt, who was 50 when she appeared in the classic 1946 adaptation of the story, starring Alec Guinness. The character of Miss Havisham was described by Dickens as a "witch-like waxwork".
"I can absolutely see both of those actresses being able to embody Miss Havisham really well," said Adrian Wootton, chief executive of Film London, who is helping to co-ordinate the Dickens 2012 activities.
"You can imagine Great Expectations with Helena Bonham Carter very vividly because she is incredibly good at playing those distinctive, idiosyncratic parts and Miss Havisham is nothing if not idiosyncratic. And Gillian Anderson has a powerful emotional register. The fact that this part is being played by younger but highly established actresses makes it very exciting."
Mr Wootton said that a feature film of A Christmas Carol was also being made to coincide with the bicentenary In addition, the BBC is adapting Dickens's unfinished novel Edwin Drood for screening on BBC4 next year.
Join our commenting forum
Join thought-provoking conversations, follow other Independent readers and see their replies