Foxcatcher: New trailer released starring Channing Tatum and Steve Carell
Bennett Miller's forthcoming drama has been tipped as an Oscars favourite
Jess Denham
Thursday 03 July 2014 10:58 Comments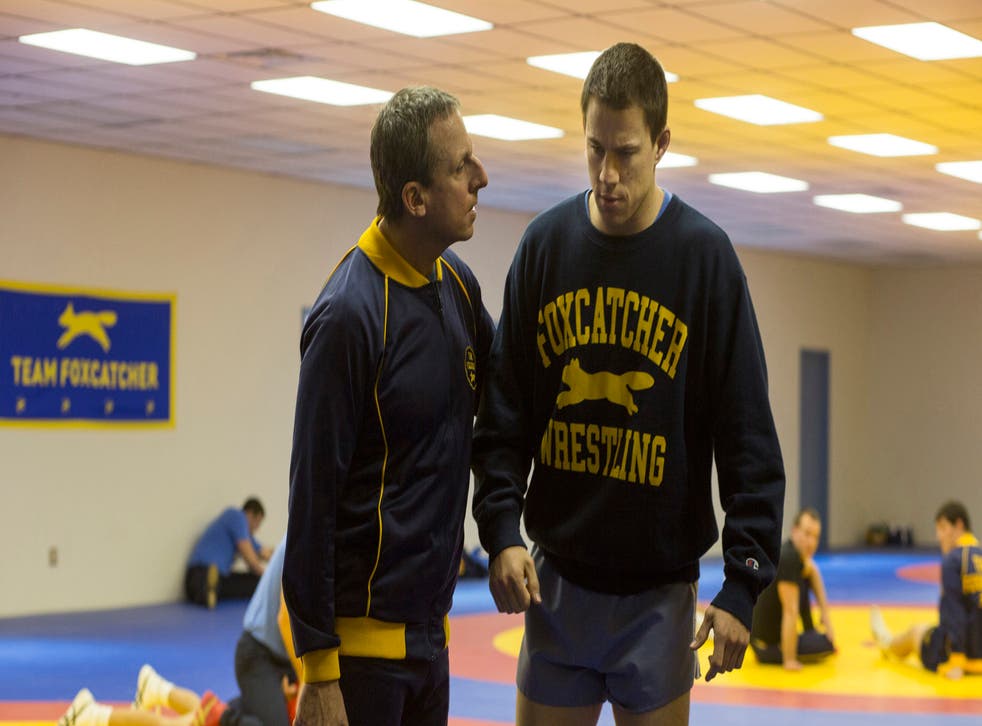 A new trailer for hotly-anticipated drama Foxcatcher has been released, starring Channing Tatum and Mark Ruffalo as Olympic gold-medallist wrestling brothers.
Directed by Moneyball's Bennett Miller and based on a true story, the film follows the lives of Mark and Dave Schultz as they are coached by violent multimillionaire John Eluthere du Pont (Steve Carell) and head towards tragedy.
Tatum plays Mark, in a challenging role that differs from his usual parts in rom-coms and action movies. The US actor, 34, was praised for his performance at the Cannes Film Festival in May, as were Ruffalo and Carell.
"This is more than just some piece of metal, it's about what the medal represents, the virtues it requires to attain it," says a motivated Mark in the trailer, before smashing his head aggressively into a mirror. Cue scenes of vigorous training, competition, triumph and inevitable devastation.
Carell has been tipped for an Oscar next year, despite Miller, who won Best Director at Cannes, admitting that the Dinner for Schmucks star was not obvious casting.
"It obviously doesn't resemble anything (Carell) had done before," he said. "It was so far outside of his comfort zone. I had never seen Steve in anything that would give any material evidence that he could do it."
Oscar-tipped films for 2015

Show all 10
Tatum and Ruffalo spend six months learning to wrestle and spent time with Mark Schultz and friends of the brothers. Tatum has admitted to finding it strange being watched by the real-life Mark as he played him.
Vanessa Redgrave makes a brief appearance in Foxcatcher as du Pont's mother Jean, while Sienna Miller plays Dave Schultz's wife Nancy.
Foxcatcher is due for UK release on 9 January 2015.
Register for free to continue reading
Registration is a free and easy way to support our truly independent journalism
By registering, you will also enjoy limited access to Premium articles, exclusive newsletters, commenting, and virtual events with our leading journalists
Already have an account? sign in
Join our new commenting forum
Join thought-provoking conversations, follow other Independent readers and see their replies