Jennifer Lawrence photobombs Taylor Swift and wins for American Hustle at Golden Globes
Lawrence picked up the award for Best Supporting Actress in Los Angeles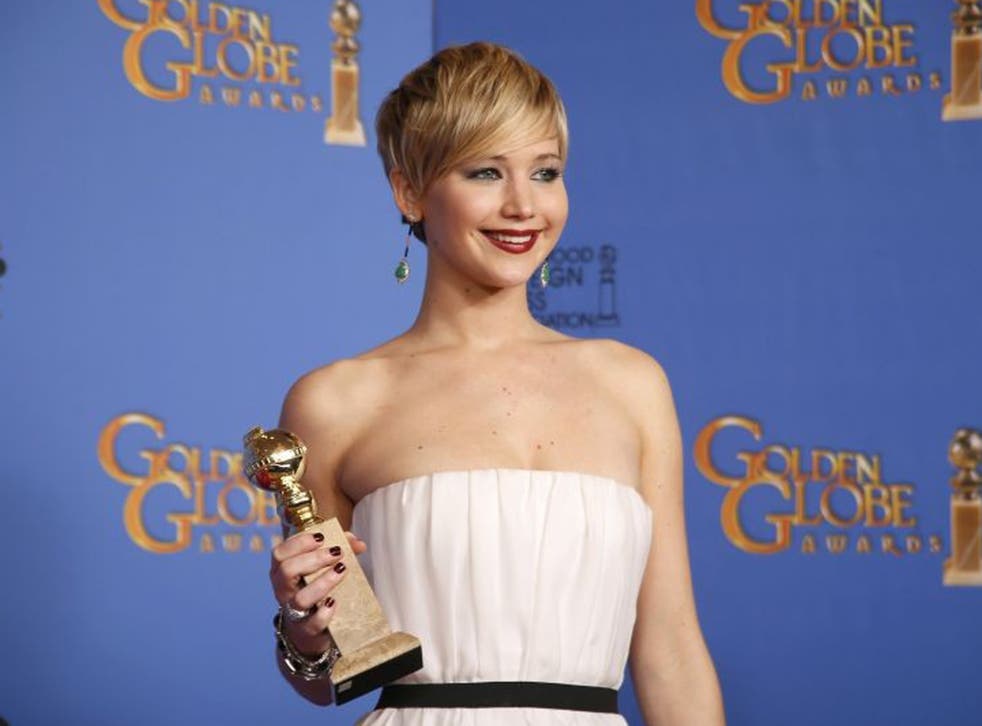 Jennifer Lawrence picked up the first award at the Golden Globe Awards in Los Angeles last night for her role as needy housewife Rosalyn Rosenfeld in crime comedy American Hustle.
The Hunger Games star admitted to feeling fearful as she took to the stage to accept her award for Best Supporting Actress. "Don't ever do this again," she told the crowd. "It's so scary."
Lawrence went on to praise director David O Russell and her cast members before continuing: "I actually did watch all the movies this year – not all of them, but you know what I mean.
"I don't know why I'm so scared, I don't know why I'm shaking so much," she said.
Lawrence beat off competition from Kenyan rising talent Lupita Nyong'o for 12 Years a Slave, Julia Roberts for August: Osage County, June Squibb for Nebraska and English actress Sally Hawkins for Blue Jasmine.
Golden Globes 2014 winners

Show all 12
The 23-year-old actress described her American Hustle character as "dumb as a fox (…) always screaming and drinking and you don't know why" in an interview with USA Today.
Lawrence won the Golden Globe for Best Actress in a Comedy or Musical last year for her role as troubled character Tiffany in Silver Linings Playbook, after being nominated in 2011 for her breakthrough performance in Winter's Bone.
The same award this year went to her American Hustle co-star Amy Adams for her role as con artist Sydney Prosser.
Shortly before the Golden Globe Awards ceremony began, Lawrence was snapped creeping up to photobomb singer Taylor Swift as she was being interviewed.
"I was going to come in and push you down the stairs," she joked "I was like, she'll crack up. She would really love that."
"That's so funny," Swift replied, as the friends hugged.
US presenter Ryan Seacrest posted a picture of the moment on Instagram with a caption reading: "The single most important photo from the #goldenglobes red carpet".
Lawrence managed to avoid any on-stage blunders, after memorably proclaiming "I beat Meryl!" at the awards in 2012, a reference to her fellow nominee Meryl Streep, who was up for her role as Margaret Thatcher in The Iron Lady.
She later tried to explain that she had been quoting a line from The First Wives Club, after receiving criticism for her choice of acceptance banter.
Read more:
Jacqueline Bisset first Brit to win
Fond farewell for Breaking Bad as Bryan Cranston wins top award
Register for free to continue reading
Registration is a free and easy way to support our truly independent journalism
By registering, you will also enjoy limited access to Premium articles, exclusive newsletters, commenting, and virtual events with our leading journalists
Already have an account? sign in
Register for free to continue reading
Registration is a free and easy way to support our truly independent journalism
By registering, you will also enjoy limited access to Premium articles, exclusive newsletters, commenting, and virtual events with our leading journalists
Already have an account? sign in
Join our new commenting forum
Join thought-provoking conversations, follow other Independent readers and see their replies