Harvey Weinstein claims his wife stands by him '100%' amid sexual harassment allegations
Designer Georgina Chapman has yet to comment herself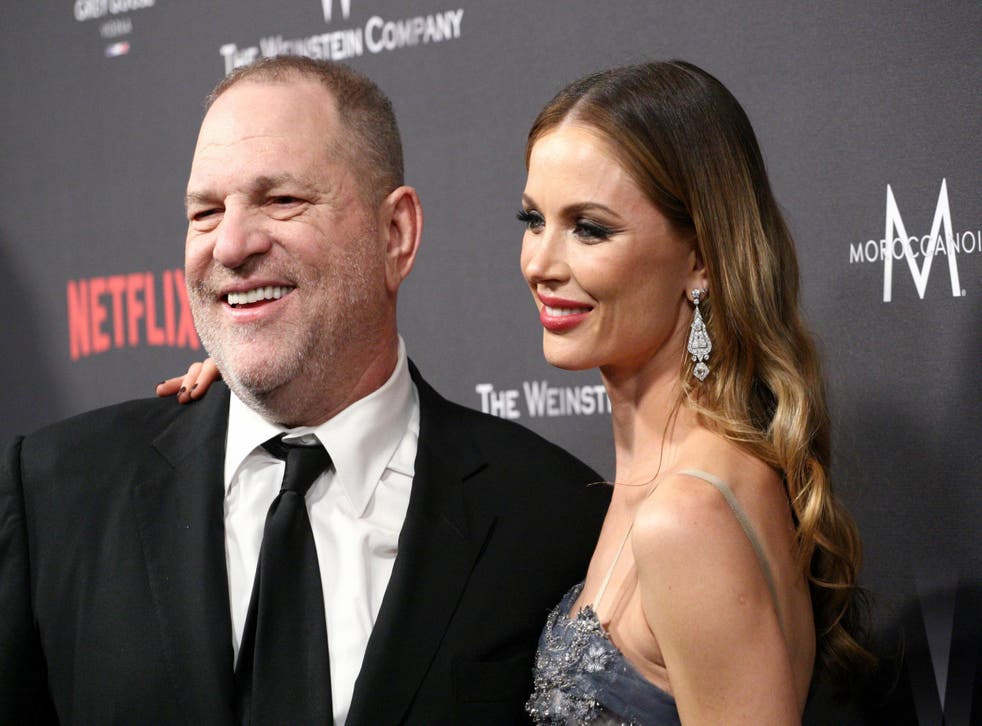 It's been four decades since Harvey Weinstein, a young man from a hardscrabble New York background who carried with him a passion for movies, burst onto the creative scene.
It was 1982 – Mr Weinstein and his brother, Bob, who had together established the Miramax Films production company, obtained the rights to two British films produced on behalf of Amnesty International. One of them, The Secret Policeman's Other Ball, the film of a London benefit concert featuring Sting, Bob Geldof and Eric Clapton, became his company's first hit.
Since those humble beginnings, the young man, from Flushing in the New York borough of Queens, has become a become a signed-up member of America's movie elite. Over the years, he's helped produce films including Shakespeare in Love, Gangs of New York, Pulp Fiction and The English Patient, accepted an honorary Order of the British Empire (OBE) and married British fashion designer Georgina Chapman.
Now, the 65-year-old is in the news for other reasons. This week, he has been forced to deny a barrage of historical sexual harassment allegations.
Confronted by claims that he harassed Ashely Judd and at least one other actress, along with models and female employees, the man who subsequently founded The Weinstein Company, has, with his lawyers, issued a succession of strange, shifting statements that have veered from an undertaking to become a "better human being" to outright denial.
The developments came after the New York Times NYT published an investigation that said the producer of some of Hollywood's most successful films had reached at least eight settlements with women.
Among the recipients were a young assistant in New York in 1990, an actress, Rose McGowan, in 1997, an assistant in London in 1998, and an Italian model in 2015, the newspaper said.
Mr Weinstein initially told the New York Times: "I appreciate the way I've behaved with colleagues in the past has caused a lot of pain, and I sincerely apologise for it. Though I'm trying to do better, I know I have a long way to go."
Bill O'Reilly gets the SNL treatment after allegations of sexual harassment
He said he "came of age in the 60s and 70s, when all the rules about behaviour and workplaces were different. That was the culture then."
Access unlimited streaming of movies and TV shows with Amazon Prime Video Sign up now for a 30-day free trial
Sign up
He subsequently said he was working with therapists and planning to take a leave of absence to "deal with this issue head on".
Later, Lisa Bloom, a lawyer advising Mr Weinstein, said in a statement that "he denies many of the accusations as patently false". She also said he was "an old dinosaur learning new ways".
She went on to add: "The New York Times allegations, if true, would constitute sexual harassment. However, Mr. Weinstein denies many of them and was not given a fair opportunity to present evidence and witnesses on his side."
In the latest update, in a interview with the New York Post, Mr Weinstein claimed his British wife was standing by him "100 per cent" and said the New York Times had "a vendetta" against him.
World news in pictures

Show all 50
"I have had tough conversations with my family, really tough ones but my family is standing with me," he told reporters. "I have a journey and I have to prove to every person that's out there that I'm worthy of them and I have to prove to my family the same thing."
He said that the next time he saw the editor of the Times, it would be "across a courtroom".
"The Times had a deal with us that they would tell us about the people they had on the record in the story, so we could respond appropriately, but they didn't live up to the bargain," he said.
"The Times editors were so fearful they were going to be scooped by New York magazine and they would lose the story, that they went ahead and posted the story filled with reckless reporting, and without checking all they had with me and my team."
When asked about the Times report that said he had reached at least eight settlements with women, he told the Post: "No company ever talks about settlements, and neither does the recipient, so I don't know how the Times came to this conclusion, but it is pure conjecture, the reporters have made assumptions."
The Associated Press said representatives for The Weinstein Company did not respond to questions about the mogul's status. The company's board of directors was to meet to discuss his future. If Weinstein was to be ousted or step down, the leadership could potentially be transferred to his brother Bob, who serves as co-chairman, and David Glasser, the president and chief operating officer, it said.
McGowan, who was reportedly paid $100,000 (£76,500) in a settlement from Weinstein after an alleged incident in 1997 when she was 23, said on Twitter: "Anyone who does business with __ is complicit. And deep down you know you are even dirtier. Cleanse yourselves."
Weinstein claimed to the Post his wife, Georgina Chapman, a designer for the Marchesa fashion brand, is supporting him. Ms Chapman, 41, who was born in Richmond, Surrey, set up the label with Keren Craig in 2004. Ms Chapman has yet to comment and Marchesa did not immediately respond to inquiries.
"She stands 100 per cent behind me. Georgina and I have talked about this at length," he said. "We went out with Lisa Bloom last night when we knew the article was coming out. Georgina will be with Lisa and others kicking my ass to be a better human being and to apologise to people for my bad behavior, to say I'm sorry, and to absolutely mean it."
A spokesperson for the Times said: "We are confident in the accuracy of our reporting."
Register for free to continue reading
Registration is a free and easy way to support our truly independent journalism
By registering, you will also enjoy limited access to Premium articles, exclusive newsletters, commenting, and virtual events with our leading journalists
Already have an account? sign in
Register for free to continue reading
Registration is a free and easy way to support our truly independent journalism
By registering, you will also enjoy limited access to Premium articles, exclusive newsletters, commenting, and virtual events with our leading journalists
Already have an account? sign in
Join our new commenting forum
Join thought-provoking conversations, follow other Independent readers and see their replies